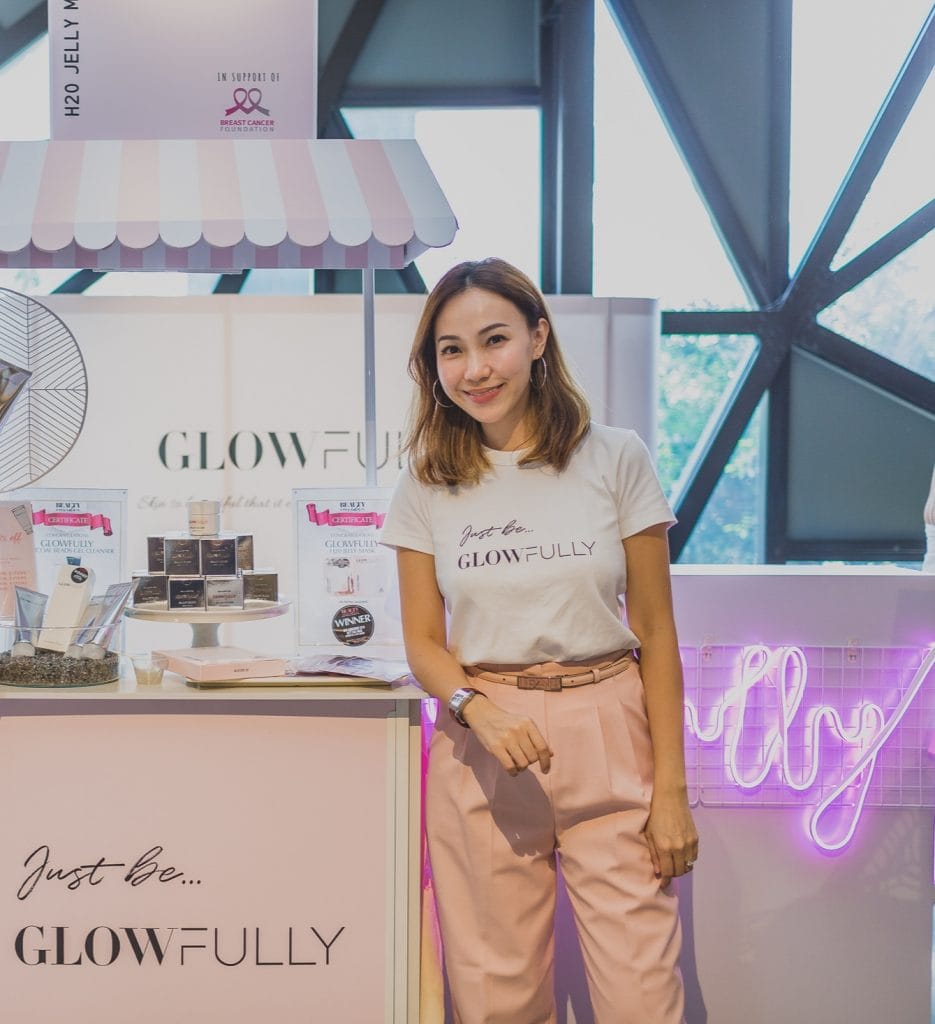 Charlene Sim, the founder of Glowfully, has answered the one question most of us have in our mind — "What the heck is a clean grooming product?" While the Westerners have turned it into a privilege derived GOOP-y mess, Sim's stance on the term is simple. The ingredients she used for Glowfully has to not contain any "high risk" cancer triggering ingredients, a disease her late mother suffered from.
Here, Sim takes us through what exactly makes Glowfully that fantastic to use and we're not just saying it, her products have won some pretty big league awards too.
—
Hello Charlene, what I usually like to do to start of an interview is to get a founder to elevator pitch their brand… so…. go!
Hi! My name is Charlene and I am the founder of Glowfully.
Back in 2018, I left my job to become a full-time caretaker for my late mum, who was battling stage four breast cancer. After conducting deeper research into what ingredients she should avoid, I learnt about the harmful ingredients found in everyday products and how toxic it could be to our health. This inspired me to create a brand that resonated with my belief that skincare could be clean, simple and effective. And so, Glowfully was born! 
View this post on Instagram

At Glowfully, we are dedicated to making clean and effective skincare products tailored for the local climate. All our products are formulated with non-toxic ingredients, making it suitable for all skin types whether you have sensitive skin, acne-prone skin, eczema or even if you are a teenager with no prior skincare experience.
—
What was so interesting is that Glowfully says that it's "formulated specially for SG skin", what exactly is Singapore skin?
Our products are formulated specially to target two common skincare issues that Singaporeans face.
1) Hot and humid weather: With online shopping, consumers can easily access cult beauty products around the world. However, many do not realise that these highly-raved products may not necessarily be ideal for our local climate. I personally experienced this with a certain skincare product that worked perfectly in colder, drier countries but caused adverse reactions on my skin when I was back in Singapore. 
Our team understands that humid weather conditions like ours call for lightweight formulas that can be easily absorbed and are not overly nourishing for our skin. Some formulas can be too rich for our humid climate, which can clog our pores and cause breakouts. 
2) Sensitive skin: Sensitive skin is a common struggle among local consumers. Naturally, Asian skin tends to be more sensitive as our stratum corneum is thin, making us more prone to irritation from environmental conditions and chemicals. 
That's why at Glowfully, we use many soothing ingredients like aloe vera, chamomile and allantoin in our products. We steer clear of controversial ingredients that can irritate sensitive skin, such as synthetic fragrances and sodium lauryl sulfate (SLS).
—
View this post on Instagram

To me, I think "clean beauty" sometimes can be misleading or fear mongering. Can you explain what the term means to you?
There is no universal definition of clean beauty, but it is generally defined as beauty products that are free from ingredients that may be of health concern to the consumers.
At the beginning of Glowfully's journey, my goal was to eliminate four key ingredients from our formulas — Parabens, Phthalates, Formaldehydes and SLS. Along the way, we outdid ourselves and went beyond these four. Our formulas are also free from Triclosan, Synthetic Fragrances, PEGs and Siloxanes. We also strive to be as transparent as possible about what goes into our products, such that our customers do not have to worry about what they are putting on their skin and whether it would harm their health.
On a personal level, "clean" is part of my lifestyle and not merely a beauty trend. Having a strong family history of cancer, I deem myself and my daughters as "high risk". To avoid any unnecessary risks for my family, using products with clean formulas is extremely important to me. Many times, I have to specially request for a full ingredient list to ensure that the ingredients are safe before I make a purchase. While it may not guarantee cancer immunity, I believe that every action adds up. 
—
In the past three years since Glowfully launched, what has been the best-selling product and why?
Our first product, the Charcoal Beads Gel Cleanser and more recently, our Healing Elixir have been very well-received.
For the cleanser, many of our customers said that it really helps them with their sensitive skin. Many cleansers in the market are too harsh and can damage or irritate our skin. Our Charcoal Beads Gel Cleanser is a non-drying, gentle cleanser that provides a deep and thorough cleanse without stripping your skin of its essential oils. The charcoal helps to absorb dirt and impurities while allantoin helps to soothe and nourish the skin. It is a great cleanser for all skin types. 
View this post on Instagram

For the Healing Elixir, many of our customers like the lightweight, gel consistency, and commented that it sits comfortably on their skin even in the hot and humid weather.
—
What about the sensorial feature of the products then? Was there a gap in the market you were looking to plug?
Both the new Glowfully Advanced Healing Elixir and Healing Elixir offer a unique sensorial experience with its gel-like textures on top of their skin benefits. I spotted a gap in the market when I realised that there were a lot of skincare products on the market that were not suitable for Singapore's climate. I also wanted to find a solution to combating common skin issues faced by Singaporeans, such as oily-combination skin and clogged pores.
View this post on Instagram

This is why I chose to specifically formulate effective skincare solutions that can nourish the skin without clogging pores or feeling sticky. I was able to achieve this with the unique skin-cooling and refreshing gel-like textures to soothe irritated and sensitive skin caused by our intense heat and humidity all year round.
—
When you also mention "carefully formulated", how careful are you?
At Glowfully, we are continuously pushing our formulas to be better with each new launch. We hope that with each new product, we can omit even more controversial ingredients to our formulations, without compromising our efficacy.
I personally use Glowfully products on a daily basis and knowing that my daughters will grow up to use them motivates me to be even more conscious about the products that we create and bring to the market.
—
The Advanced Healing Elixir seems interesting, what is it exactly?
Essentially, the Advanced Healing Elixir is a night-time moisturiser that is formulated for tropical climates like ours. It has a lightweight, gel consistency that is fast-absorbing and will not leave your skin feeling too heavy or greasy. It is also oil-free, silicone-free, fragrance-free and alcohol-free, which makes it a great option for sensitive or acne-prone skin.
View this post on Instagram

The original Healing Elixir had been very well-received by the Glowfully community, hence we decided to launch the Advanced Healing Elixir. The new and improved formula includes new ingredients like Antarcticine — for stronger anti-ageing and hydration properties, and BHA and Vitamin C too. It also boasts higher concentrations of niacinamide than the original Healing Elixir.
—

Lastly, out of curiosity, if you could put a song to Glowfully, what would it be?
"Put Your Records On" by Corinne Bailey Rae. This song is actually the singer's message to her younger self to embrace herself for who she is. I think self-love is a big part of skincare, and I hope we can empower more people to be confident in their own skin with Glowfully's products.
Once you're done with this story about Charlene Sim and Glowfully, click here to catch up with our June/July 2021 issue. 
---
RELATED ARTICLES