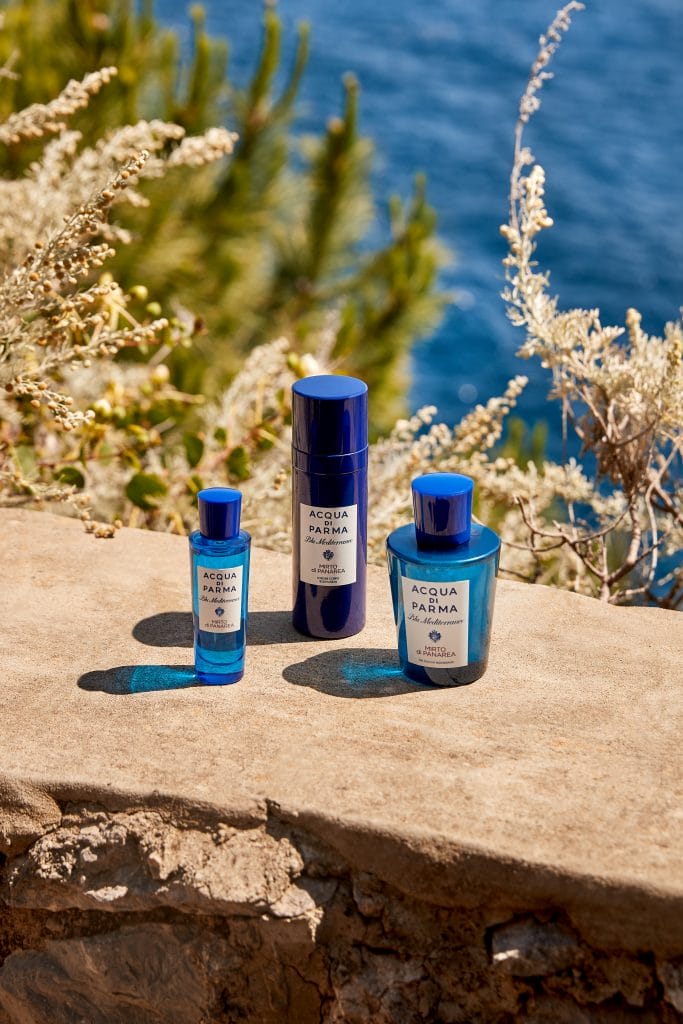 The bright blue bottle of  Acqua di Parma Blu Mediterraneo Mirto di Panarea takes one exactly to paradise in Panarea, an island in Southern Italy.
Panarea is quite literally, a piece of heaven on Earth. Not because of its strong economic growth or life expectancy but because it has a trait that most other places do not — it is virtually unspoiled by mankind, an island in the Aeolian islands that is suspended in time. The people in the land of passionate hand gestures are equally fervent with the way they live their lives. Swim, eat, drink, repeat — this is the format for the island goers of Panarea. This is luxury but laid-back. One does not need to flaunt designer goods or iced-out watches. Luxury comes in the form of a mahogany coloured body that comes from some serious tanning.
—
View this post on Instagram

This lifestyle has been captured by Acqua di Parma Blu Mediterraneo Mirto di Panarea. While other "travel-inspired" scents are more open for interpretation, this fragrance transports one immediately to Panarea where the air is as fresh as it is effervescent (camphoraceous myrtle and zesty bergamot); as it is herbaceous and warm (bitter juniper and sensuous amber).
It brings to mind an ancient Roman tale where time stood still and the sea gods and mortals would meet in the Aeolian island where anything magical could happen when the sunlight kisses the Mediterranean ocean. In a modern context, the lightness of Blu Mediterraneo Mirto di Panarea is a reference to a nap under a bright yellow umbrella — lemon zestiness like a sip of limoncello and a sea breeze accord that whispers softly to one.
—
View this post on Instagram

The fragrance's dry down is where it mimics sundown. Piney and rich mastic (a resin) add a warm depth to the juniper notes. Both combine with a sensual cedarwood that adds a warm glow to honey-like amber. Day or night. Rain or shine. Everything looks brighter, more intense and more real with just a spritz — a truly transportive experience.
Acqua di Parma Blu Mediterraneo Mirto di Panarea is available in a 30ml fragrance bottle ($100), 150ml body lotion ($82) and a 200ml shower gel ($72) at escentials ION, escentials Paragon, essentials TANGS @ Tang Plaza and on escentials.com.
This story about the best travel fragrance first appeared in our June/July 2021 issue! For the other Grooming Awards 2021 specials, click here. 
---