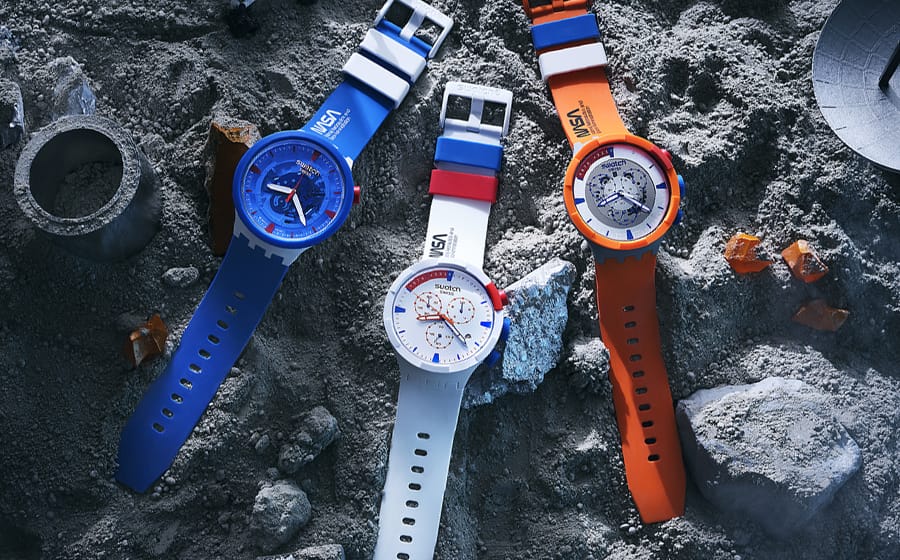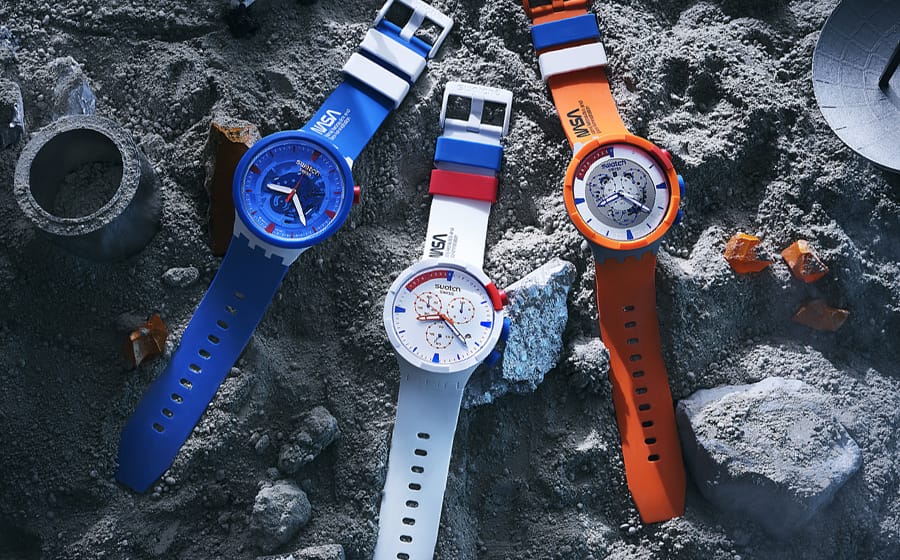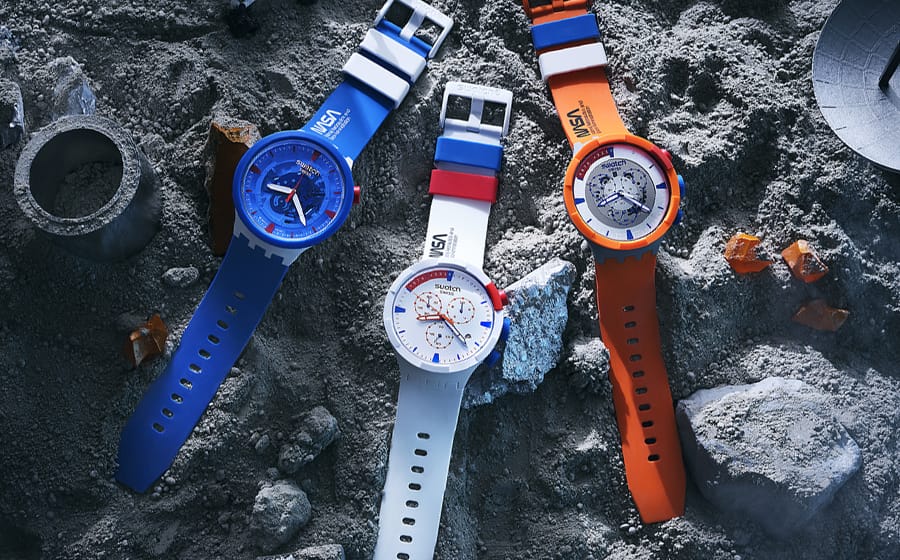 Swatch announces the release of the Swatch Space Collection inspired by NASA and its iconic spacesuits. The unknowns of space and its mysteries continue to intrigue us today just as they did centuries ago. Questions like if extraterrestrial beings and similar lifeforms beyond Earth beings exist are just the tip of the iceberg as astronomers continue to make discoveries about deep space.
Of the various space agencies, it is no surprise NASA is the household name for many given its widely covered space feats during the space race and regular references in Hollywood films. NASA even wandered into hypebeast territory when various collaborations and merchandises surfaced over the past few years. The latest of such is with uber-fun Swiss watch brand Swatch as they unveil the Swatch Space Collection.
—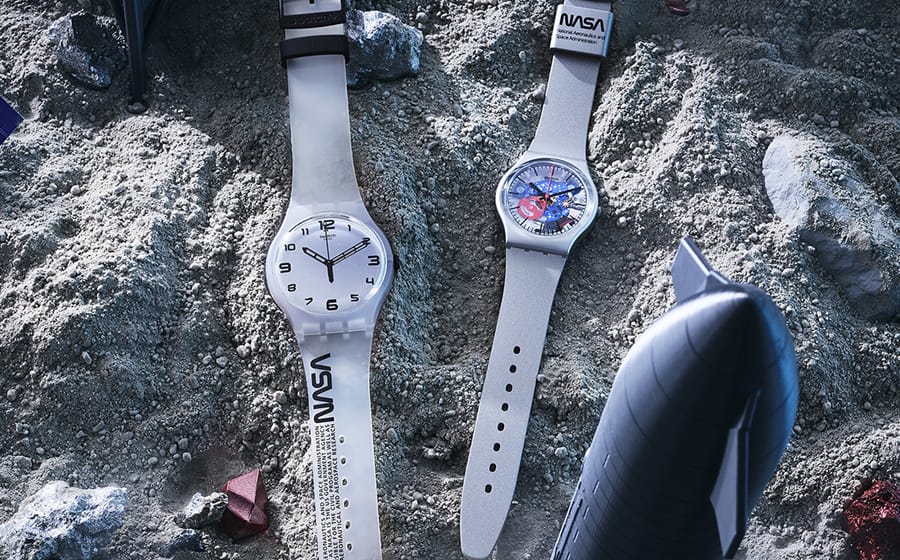 From left to right: the Swatch SPACE RACE and TAKE ME TO THE MOON
Fronting the new collection is a trio of Swatch BIG BOLD BIOCERAMIC watches (at the very top) clad in colour blocks inspired by NASA astronaut spacesuits. Swatch's pledge to sustainability sees its eco-friendly case consisting of two-thirds ceramic and one-third bio-sourced plastic used for a comfortable silk-like touch while being extremely resilient. Bio-sourced plastic glass is used in favour of conventional acrylic ones as well.
A duo of chronographs — the Swatch BIG BOLD CHRONO EXTRAVEHICULAR and Swatch BIG BOLD CHRONO LAUNCH — references the white and orange astronaut spacesuits respectively. The iconic all-white spacesuit made its debut in 1983 by NASA astronauts Story Musgrave and Donald Peterson while the highly visible orange Pumpkin Suit spacesuits are worn by astronauts for the ascent into space. Both pieces feature a chronograph positioned 10 seconds behind the traditional 12 o'clock positioning as a homage to the 10-second lift-off countdown. The third time-only Swatch BIG BOLD JUMPSUIT mimics the go-to blue jumpsuits worn for daily work and press conferences in NASA facilities.
—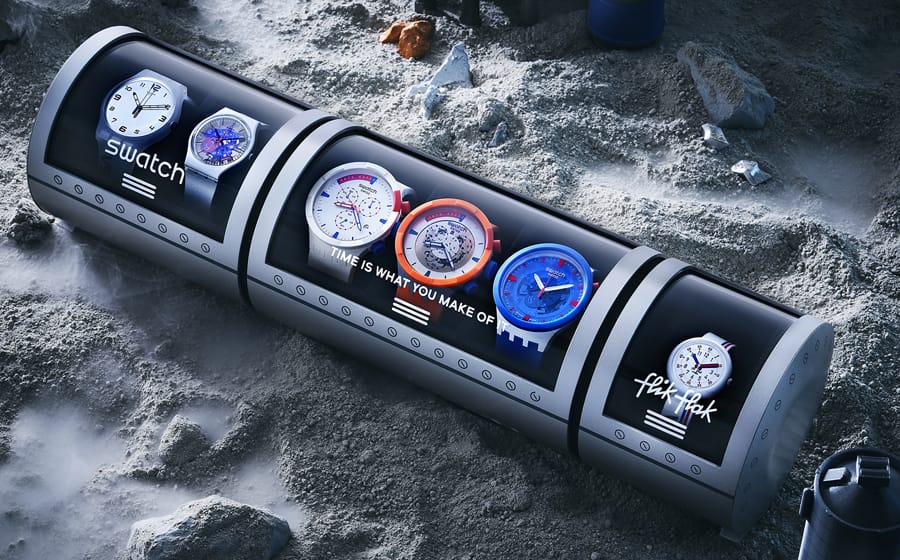 Headlining the collection in true Swatch fashion is the Swatch Space Collection exclusive box set which includes two other Swatch Space Collection pieces — TAKE ME TO THE MOON 'GENT' and SPACE RACE 'NEW GENT' and a child-friendly Swatch Flik Flak. The Swatch Space Collection is available here!
Check out our latest issue of Men's Folio Singapore June/July '21 issue after you're done shopping!
---