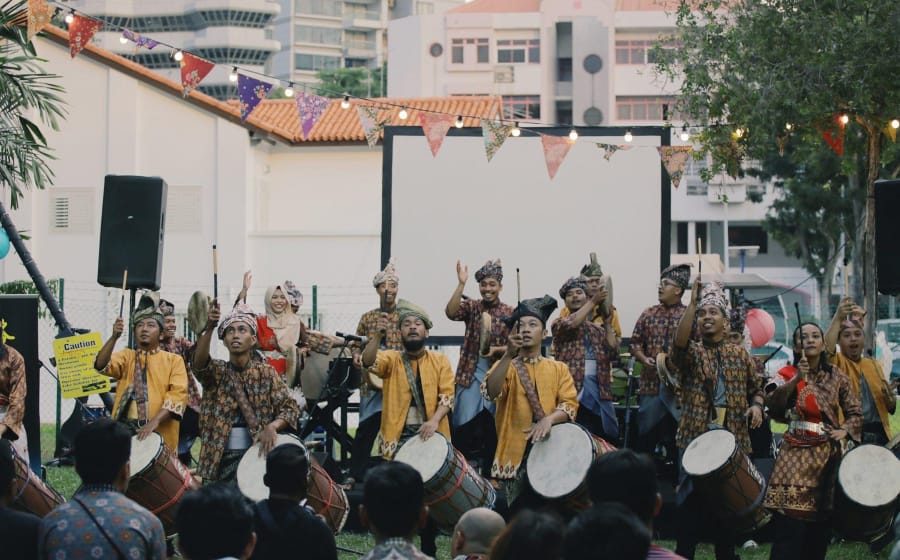 Founded in 2011 by percussionist Riduan Zanali and rebana (a tambourine used in Islamic devotional music) artist Yaziz Hassan, the infectious energy of Malayan percussion group Nadi Singapura can be attributed to the vision both men have kept a constant.
The pushing of boundaries of what a Malayan percussion group can do — beyond the use of it in religious practices or at weddings.
Here, Yaziz takes us through what exactly makes the sound of a Malayan percussion group and yes, the highlights of Nadi Singapura.
—
Hi Yaziz, for the uninitiated — what is Nadi Singapura and who does it consist of?
The Nadi Singapura ensemble is made up of young, aspiring and impartial musos who believe in uplifting their traditional drums and percussion like no other. The ensemble is led by myself and co-founder, Riduan Zalani.
We aim to position Nadi Singapura as a dynamic ensemble that adopts an innovative approach in the use of the Malay Archipelago drums.
—


—
What constitutes the Malayan percussion group sound? Is there a particular rhythm that it consists of?
Most Malayan percussion plays as an ensemble. Not a soloist. We play interlocking patterns, e.g.: Kompang, Hadrah, Marwas and Jidur playing.
Our core main rhythms: Inang, Joget, Zapin, Masri and Asli.
—
View this post on Instagram
—
Is there a performance piece that Nadi Singapura is famous for? Why do you guys like performing it?
We are famous for pieces such as Kata Kita Kota, Ketipak Dangkong and Teroka. It has festive vibes that make the audience happy.
—

—
What are the instruments Nadi Singapura uses? What does each contribute in terms of sound?
Our performances feature the most common Malayan drums found in Singapore namely the kompang, rebana, jidur and gendang.
—

—
Have you guys composed anything? Are you able to talk us through the song?
We have released three studio albums — Kata Kita Kota (2014), Bumi Tak Diam (2018) and The Soundtrack of Fatih (2020).
—
View this post on Instagram


—
How does the Malayan percussion sound different from let's say, Persian or Chinese percussion?
Firstly, the shape and size of the Malayan drum are different. Different shapes will produce a different sound. As said above, the way that we play mostly as an ensemble.
—
What does a typical Malayan percussion song sound like?
In the early days, the sound of the Malayan percussion group often accompanies Islamic rituals such as the Zikir. Now, new songs for weddings, festivals and performances been created.
—
View this post on Instagram
—
What's next for Nadi Singapura?
We will be staging a few live performances in the upcoming months! And we'll be producing the Malay Percussion Sample Packs.
If you're done reading this story about Nadi Singapura, click here to catch up with our February 2021 issue!
---