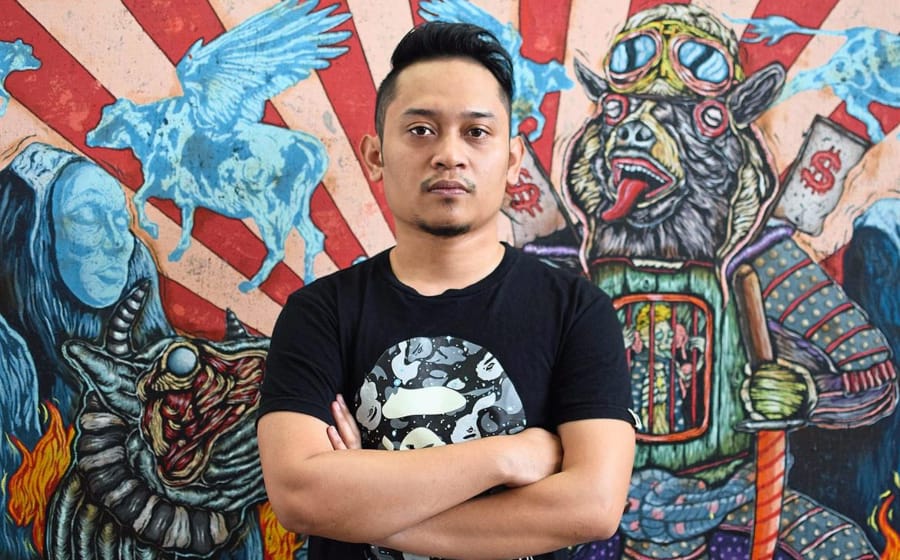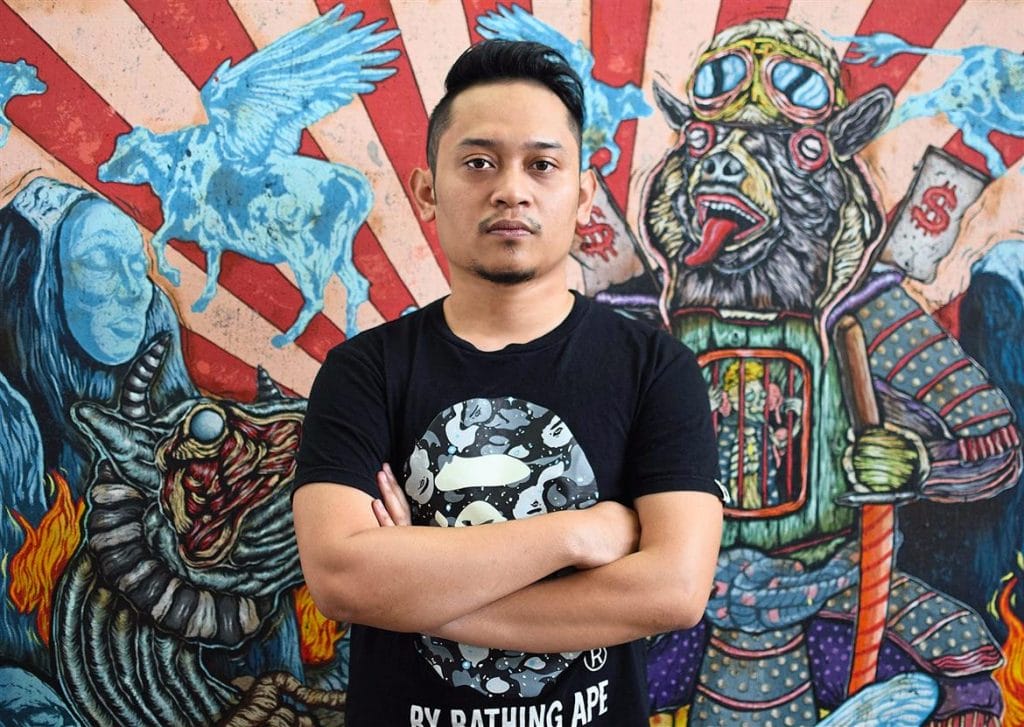 Regarded as one of the most uncompromising and hard-hitting artists of his generation, Shafiq Nordin is anything but vanilla.
Leaving the depictions of victims and casualties of geopolitical games to his less imaginative counterparts, this Malaysian artist takes no prisoners when illustrating certain nefarious forces and their evil capitalist agendas (usually as the skinless muscle-bounded beasts they are).
Drawing specific attention to the monstrous nature of imperialist ambitions and insatiable greed, Shafiq Nordin is revered for his strong imagery, unique style, coarse outlines and well-composed satire.
—
You are now 30 years old, yet you started painting and drawing at a very young age of 10. How important was it for your family to allow you to express your art? Tell us more about your first steps as an artist?
Yes. My journey into art started when I was 10 years old. At that time, cartoon characters such as Dragonball, Digimon and Pokemon were my subject matters. As they were very popular among kids, I used to bring all my drawings to school and sell them to my friends. Back then, my starting price ranged from 50 cents to one ringgit, according to their favourite characters. I also made my own comics by drawing on exercise books.
My family is my main support in this venture. They recognised my passion and allowed me to take art as a subject during high school. When I was obtaining my diploma, graphic design was my first choice and fine art was the second. I didn't have a clue about what fine art actually was. During the interview process, we were required to prepare some drawings which would help determine the course that fit us. After the process, the interviewer classified my drawings as fine art and from that day, I began my journey with zero knowledge in this world. That was my starting point.
View this post on Instagram

During my three-month degree industry training with Samsuddin Wahab, my journey and career as an artist began to unravel. Samsuddin gave me plenty of tips and steps on how to survive as an artist. It was during that time, that my interest in surrealism began to arise.
On the final year of my fine art degree show in 2012 at UiTM, my artworks surprisingly received good feedback from the galleries and collectors that visited the exhibition. HOM Art Trans, a member from the group, MATAHATI, offered a few of my friends and I an opportunity to undergo a short residency, named 'THE DOOR". It was my first step into the art scene and a stepping stone in my career as a young artist. Gathering all of the sales from our artworks, my friends and I set up STUDIO PISANG with eight members.
In early 2012, I faced an identity crisis where my artworks were accused of being similar to those of another artist. Critics said there was no originality in my works. Nevertheless, I kept on working and experimenting until I won the Malaysia Emerging Artist Award in 2014. This achievement marked the beginning of my new identity, one that is well-received among galleries and collectors. This style awarded me a Young Gun Award in 2018 and made me a finalist of Bakat Muda Sezaman (BMS) in 2019. My installation for Bakat Muda Sezaman became part of a permanent collection in the National Art Gallery (Balai Seni Negara) Malaysia.
I have explored beyond my community, by joining several international exhibitions in galleries and art fairs throughout Germany, Korea, Philippines, Singapore, Indonesia, Australia, Istanbul and France.
—
Your art is vibrant with vivid colours and fantastical beasts in surreal landscapes. Tell us more about the "psychedelic imagery" you are using and the "hidden" messages you seem to be trying to push across?
My early artwork is darker and satirical, using gore images with a dark scheme colour. These works align with the young rebellious adrenaline and political issues which have become my main focus. During that time, most young artists were brave and loud in producing artwork regarding politics in the local art scene.
The subject matter of my works, depending on the messages that I wanted to deliver, focus mainly on surreal interflow animals. During the early days of my career, there were many artists who used human figurative and therefore these animals became my main subjects in an effort to be different without making my messages too direct to the viewer. Each animal has its own character that can be linked to humans too.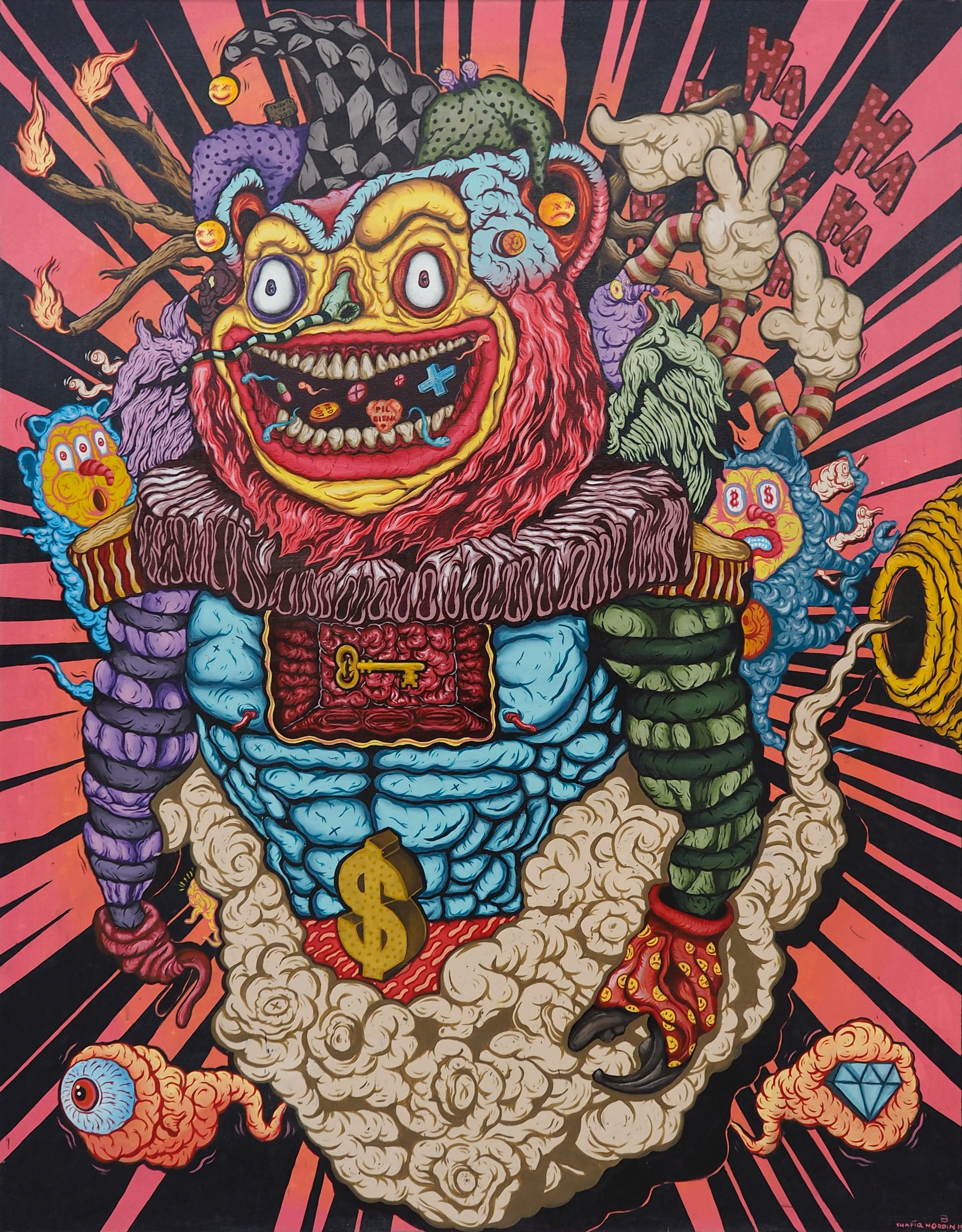 SECRET MISSION I: WE NEED GENIE by Shafiq Nordin, 155x121cm, Acrylic on Jute, 2019.
This can be seen at my first solo exhibition, the Imperium in 2013 at HOM Art Trans. Compared to my latest solo exhibition, ALETHEIA in 2018, the starting point of using vibrant colours in my works was inspired by international artists like Kaws and Takashi Murakami. I realise as an artist I need to have my own strategy, a target for the future and not only linger in my own comfort zone. These vibrant colours are used to highlight certain issues, making my work more sarcastic with hidden messages. My recent artworks now focus more on new characters that are increasingly vibrant and bolder.
Back then, my works appeared more provocative and were full of political elements, however now I merely focus on critical social issues based on my personal experiences as an artist.
—
Your work contains social and political themes (your large-scale artwork "Revolution" for instance), do you see yourself as an "engaged" artist?
Yes, I would say I am an engaged artist. I always draw inspiration from things that happen around me. This can be seen in my work titled "Revolution", where the issues behind the painting are about huge obstacles that can be brought down by unity and togetherness. From there, I realised art collectives are important as they exist for artists to help one another without allowing us to fall prey to certain individuals.
The center heart in the artwork is a symbolic representation of the key to success. Actually, I'm a film enthusiast. Therefore, most of my inspiration came from the films I have watched. For me, it's like therapy for artists who are imaginative and who constantly generate ideas that beyond normal.
—
Are there any current or past pop art artists who have influenced you?
Definitely Takashi Murakami and Kaws! I love to watch their works and journey in becoming the best contemporary artists who actively collaborate with renowned brands. This removes the limit of the potential of the artwork and the work spreads itself into other lines.
View this post on Instagram

It doesn't only sit still in galleries. The trends in the modern contemporary world are about bringing art and society closer and there's no longer a strong border between the enthusiast and the art. "If commercialisation is putting my art on a shirt so that a kid who can't afford a 30,000-dollar painting, can buy one", Haring said, "Then I'm all for it. Art is nothing if you don't reach every segment of people" (Keith Haring, 1980).
—
How do you view the current art scene in Malaysia? How important is the space given to artists in modern Malaysian society?
In these past few years, the local Malaysia art scene has shown a positive improvement due to local galleries eagerly participating in international art fairs. Thus, international galleries have some interest toward local artists and express a desire to collaborate with artists from Malaysia. This is a positive improvement compared to 10 years ago. I hope there are more Malaysian artists who receive global recognition and that more art fairs can be organised in Malaysia.
Other than solely prioritising commercial work, it is also important to maintain dedicated spaces for new media and experimental work.
—
The five words that best describe your art?
Characteristic, sarcastic, narrative, symbolic and vibrant.
—
In which city can we expect to see your next solo exhibition?
I completed my first and second solo exhibitions in Malaysia, and I dearly hope that my third will take place internationally. I received an invitation from a gallery in Taiwan to host a solo exhibition next year. I'm so excited for this solo as the concept and list of artists from this gallery are one of my favourites. I hope this exhibition can bring my name worldwide.
—
Where can we see some of your works online and are they for sale?
Most of my works and progress can be viewed on my Instagram. Also, a few of my artworks are available on G13 Gallery's website. G13 gallery is one of the local galleries that actively showcase my work in exhibitions and art fairs across Taiwan, Korea, Thailand, Singapore and Philippines. For those who have questions or seek potential collaborations, I am contactable via [email protected]
—
Tell us more about the purpose & mission of Studio Pisang — a studio which you co-founded with fellow artists Hisyamuddin Abdullah and Sabihis Pandi?
Studio Pisang was inspired by MATAHATI, a successful pioneering artist group in Malaysia. One of the successful exhibitions is MATAHATI ke MATA DUNIA where they held an exhibition in New York with their own initiative.
View this post on Instagram

Later, they founded a HOM (House of Matahati) as a platform to help young artists kickstart their careers. They formed a big competition in Malaysia specifically among young artists who want a chance to bring their work into the spotlight. The competition is called MEA (Malaysian Emerging Artist) Award and I was one of the winners in 2016.
This opportunity was actually a stepping stone for me in my career. From this competition, I had begun to be noticed by many. Thus, our goal for Studio Pisang was the same. We want to become a foundation capable of helping young artists on their journey. That is our dream and we want to contribute back. One of the other factors that we focus on is to only have a few members who are serious and active. Hisyamuddin and Sabihis are among the young artists who actively exhibit in the Malaysian art scene.
—
If you were to name one mentor who has inspired you in your life and path as an artist, who would that be?
I would say Takashi Murakami is my idol and reference. I admire his courage to readily risk and challenge himself by producing large scale artworks. His fresh ideas and collaborations impress me so much. His career has sparked courage in me; to challenge myself and create something great in the future. Plus, his generous attitude of helping young artists by starting kaikaikiki is one of the dreams that I want to achieve.
This interview with Shafiq Nordin first appeared on Men's Folio Malaysia. 
---