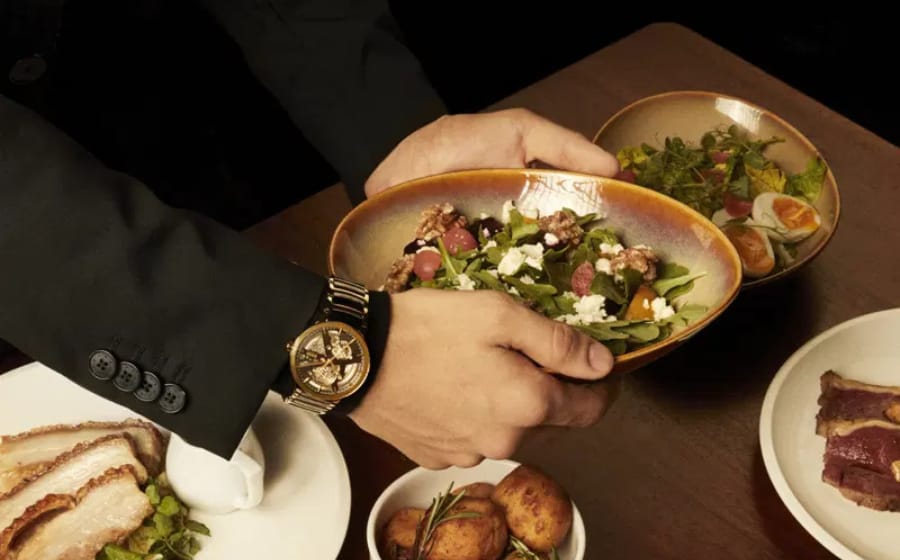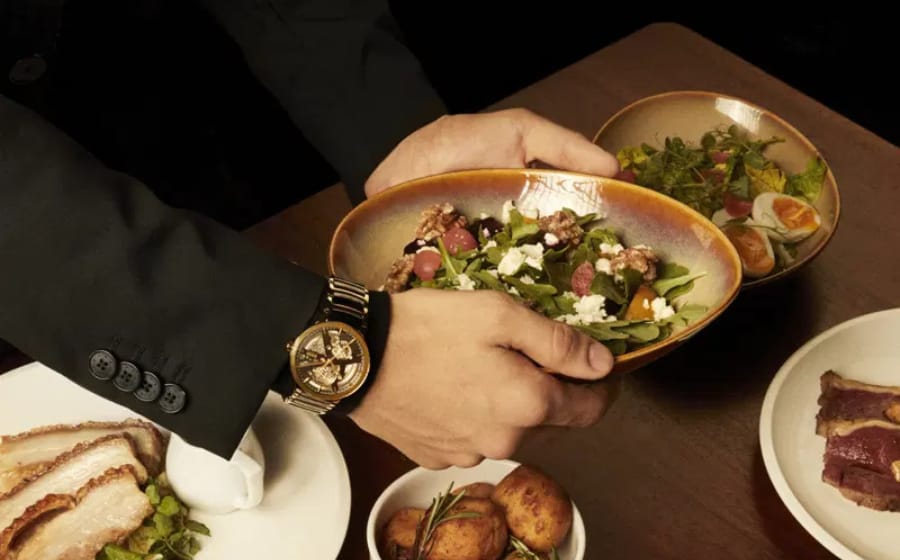 The watch above is Rado's Centrix Automatic Open Heart and the suit is by Prada.
In the non-binary world that we are lurching headlong towards, it seems the wristwatch is once again out of step with the times. This is a strange position for timepieces to (repeatedly) find themselves in, seeing as they are meant to move in lockstep with the passage of time.
From a purely functional perspective, watches are meant to reliably track the motion of our little blue orb as it turns on its axis and spins around the class G star that we vaingloriously call the sun. Whatever our cultural or societal proclivities, the watch has been on the job for centuries now, and today, a new class of tools called wearables is also making its mark here.
Some think these devices might even make wearing time on one's wrist relevant again, after the era of the smartphone put time back into people's pockets. Unfortunately, even new technology cannot keep things from going pear-shaped.
At issue here is whether there really is such a thing as gendered watches — watches meant for one sex or the other. This first problem is "sex" versus "gender" of course, but thankfully this is not exactly relevant here, because this is not that kind of story. What is a recurring issue is the matter of timepieces made and marketed specifically to one sex or the other.
Leaving aside aesthetics, the main question is about the size of the watch in relation to the size of the wearer's wrist.
Since sexual dimorphism is not that extreme in humans, the size issue (to address attendant differences in men and women) when it comes to "gendered watches" is not that relevant. In other words, watch brands might as well offer products in small, medium and large sizes, rather than target males or females.
Indeed, for brands as diverse as Apple and IWC, that has been the response for the most part. In the case of the Apple Watch Series 5, there are only two sizes, and the implication is that one might be better suited for bigger wrists. Where Apple goes, others are sure to follow, and most such wearables do not distinguish between sexes — when they do they often stumble into the same traps that watch brands do.
That aside, while there are certainly sociological, and perhaps even psychological, perspectives that could be relevant here, everything starts with the user experience. A larger person — including a person with bigger hands and wrists — might have a better experience handling a bigger watch where everything is scaled up appropriately.
Not for nothing, a small watch looks positively ridiculous on a big wrist — imagine Dwayne Johnson rocking a 34mm ticker with a leather strap. On the other end of the spectrum, think Timothée Chalamet or everyone's favourite cantankerous nebbish Larry David pushing boundaries by wearing the Audemars Piguet Survivor model. Now think of how those two would look wearing any one of the Richard Mille Bonbon watches.
This is an issue that tracks in traditional watchmaking too, especially when it comes to all that delicate handiwork. The watchmakers who handle the critical task of making overcoils for the balance springs and attaching them to their collets are typically women. These watchmakers are called regleuses, which is a colourful term in traditional Swiss watchmaking that is actually feminine.
More broadly, when women entered the workforce during the industrial revolution in Europe, many found employment in watchmaking. There are no statistics on that — and this story does not purport to present such facts — but if one were to examine photographs of people working in watchmaking, it certainly seems there was a demand for women with nimble and dexterous fingers.
Of course, things are different today, with the Bonbon for example created by Cécile Guenat, the chief designer of women's watches and jewellery at Richard Mille.
Watchmaking professionals aside, size is really the only thing that distinguishes what is made for men and what is made for everyone else. A clear case in point is the so-called boy's watch size, such as from IWC. This brand also has a nifty father-and-son pair of watches that can also be a his-and-hers set, if one is so inclined. Given that luxury watches are somewhat exclusive, it only seems right that adults get to enjoy them, regardless of sex.
Some commentators attempt to include jewellery watches as a specific type typically reserved for women, but this does not take a variety of Asian markets into consideration.
Speaking of which, the aforementioned Bonbon watches are actually purpose-made as unisex offerings instead of gendered watches. This is literally horological eye candy that acknowledges that everyone likes a bit of creativity. It is the first properly unisex collection from a major name in horology that calls itself that; on the brand's website, it is listed under both men's and ladies' watches, with the same watches listed for both.
Excluding gem-set watches from male wrists also ignores hip-hop, EDM, and a whole host of pop culture stars. One only needs to recall how Franck Dubarry combined plastic and diamonds with Techomarine watches to see how ridiculous it is to assign a sex to a watch based on the presence or absence of gems.
One brand making the case for the unisex watch that goes beyond technical watchmaking or technological timekeeping is Gucci.
—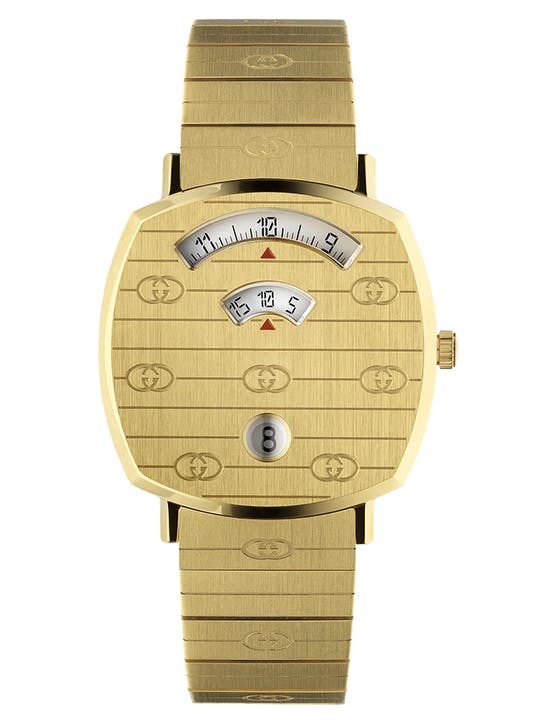 Basically a rounded square case featuring a trio of windows showing minutes, hours and date, the Gucci Grip is one of those rare design winners that everyone raves about. If it had a mechanical movement, it would certainly echo the design logic of many digital display timepieces from A. Lange & Söhne to IWC. Its yellow gold (PVD) case and bracelet also make it entirely contemporary, while also offering a cheeky commentary on smartwatch aspirations to go upmarket (you know the ones).
The Gucci Grip does lay it on a bit thick with the branding (engraved on the case and bracelet) but somehow manages to keep it classy.
Its success can be attributed to its sui generis quirky design and clean lines, but it also owes a debt to the fearless attitude of Gucci design boss Alessandro Michele, and Gucci Timepieces and Jewelry President and CEO, Piero Braga. "Gucci creates fashion watches that are different from anything else you will see in the industry. Our timepieces bring together a unique combination of Italian creativity, Swiss watchmaking and Gucci DNA. They are bold and distinctive, and designed to encourage self-expression," said Braga.
—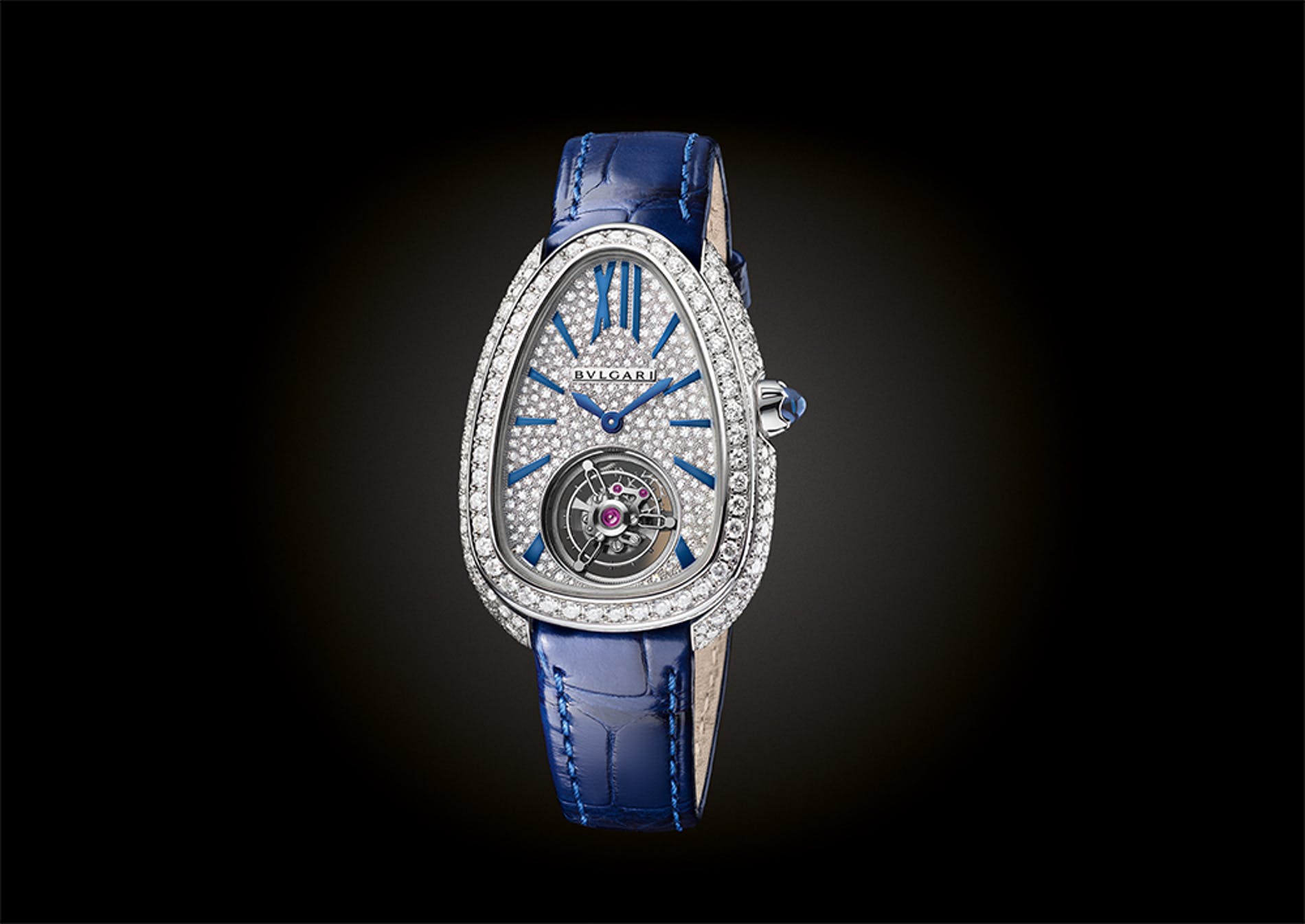 Certainly, no brands are rushing to push their ladies' models to male customers — well, with the exception of Bulgari. The Italian watchmaker and jeweller used its women's watches across the majority of its advertising throughout Southeast Asia for the entirety of 2019.

Bulgari doubled down with the Serpenti Seduttori this year with a tourbillon version, which, if you are paying attention, means that the brand now has one of the world's most inventively-shaped tourbillon movements. The crown is still a delicate affair and the overall watch is just 34mm (at its widest point). Having said that, this Serpenti is probably already amongst the favourite possessions of a true watch aficionado.
Whatever the user experience of the watch, it seems clear that Bulgari is making a deliberate point. We think it is safe to say then that Bulgari, which does have quite excellent mechanical men's models, is banking on men wanting something other than technical sports watches or clear cut gendered watches.
—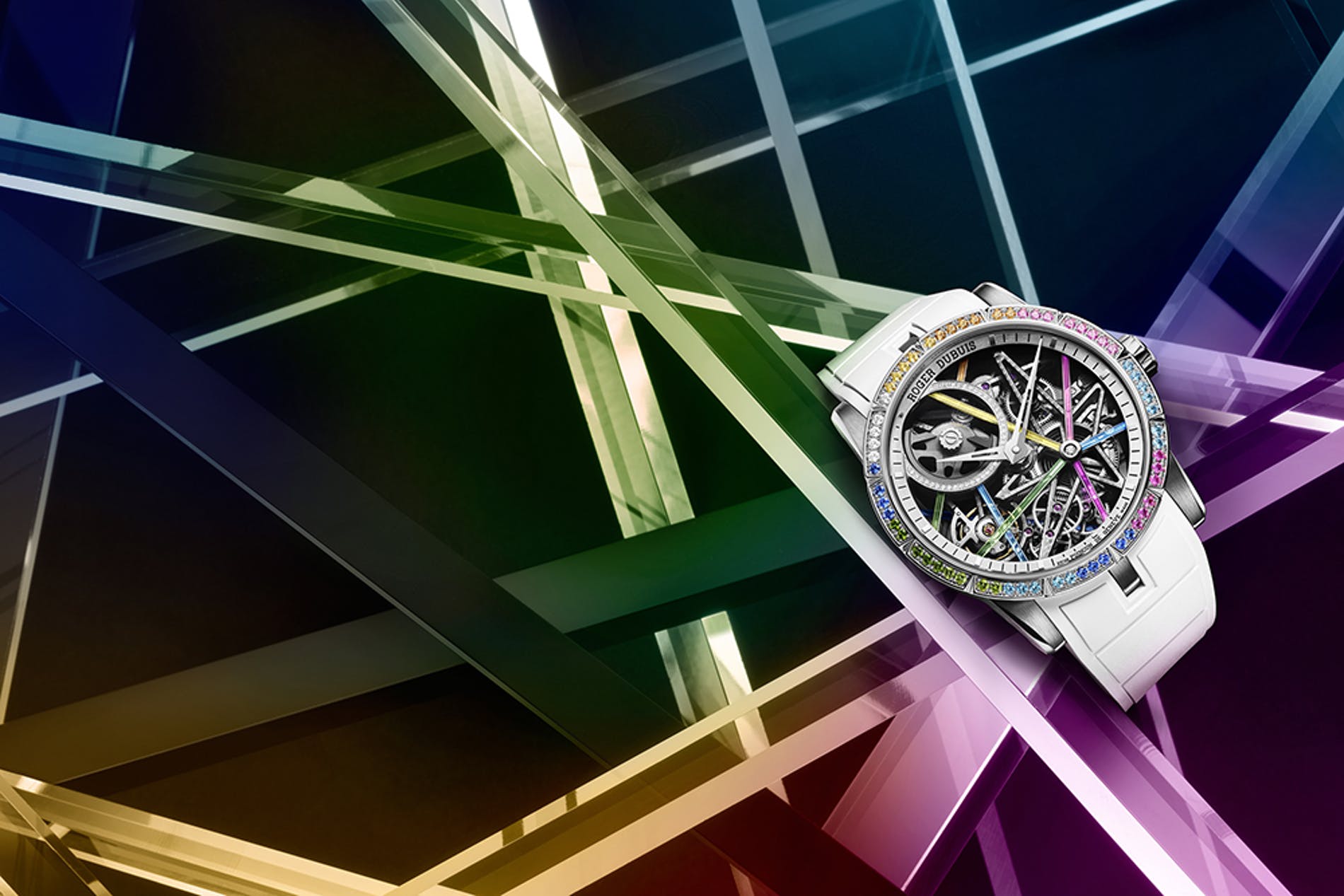 So we have a fashion label and a jeweller weighing in favour of the unisex watch as opposed to gendered watches, but what about "proper" Swiss watch manufactures? Well, the other spark for this think piece was a comment from Nicola Andreatta, the CEO of Geneva watchmaker Roger Dubuis. "For sure, I will stop (defining watches as) men's or ladies. I want us to stop talking about men's watches and women's watches; this is a bit anachronistic today," said Andreatta.
The watch from Roger Dubuis that fits into this conversation is the Excalibur Blacklight Rainbow, with a white strap and a riot of colours on the bezel and movement. Swiss brands seem to have collectively decided that white straps denote women's watches, for some reason. Certainly, a woman could carry off the 42mm Blacklight Rainbow, but so could a man. Indeed, the Excalibur collection is officially for men, and this watch is technical indeed.
The calibre's sapphire bridges are specially treated to create seven different colours in a process that both penetrates the material completely while maintaining its strength and stability. Movement bridges are functional so when special touches are applied, including skeletonising, care must be taken to preserve structural integrity.
—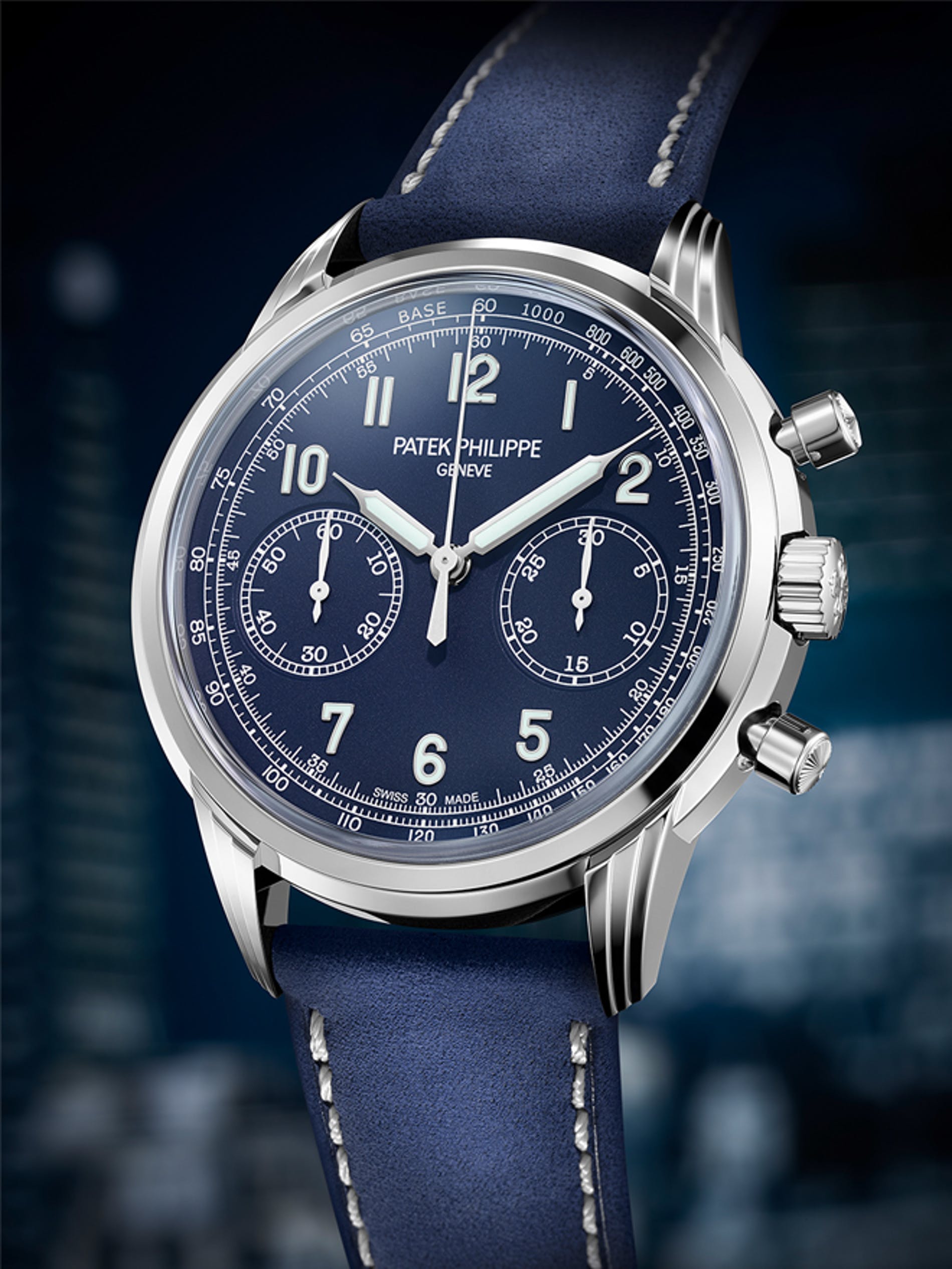 Traditional haute horlogerie also offers great examples of what might be called gendered watches, mainly in the areas of métiers d'art, dress, and even some complications.
The Patek Philippe Ref. 7071 (out of production since 2016, so one will need more than means and taste for this) stirred the hearts and minds of everyone who saw it in person, and even in photographs. The movement here was the sublime calibre CH 29-535 PS, which was much sought-after in 2009, and in fact unavailable for men at that time. Despite the fact that Patek Philippe did offer it to men in Ref. 5170 and later Ref. 5172G, all the public attention was devoted to Ref. 7071.
I had the pleasure of shooting with this 39mm watch for an in-depth review in 2012, when the white gold version was released, and can report that the mobile lugs helped the cushion-shaped watch sit quite comfortably on all manner of wrists.
—
This story first appeared on L'officiel Singapore.
---