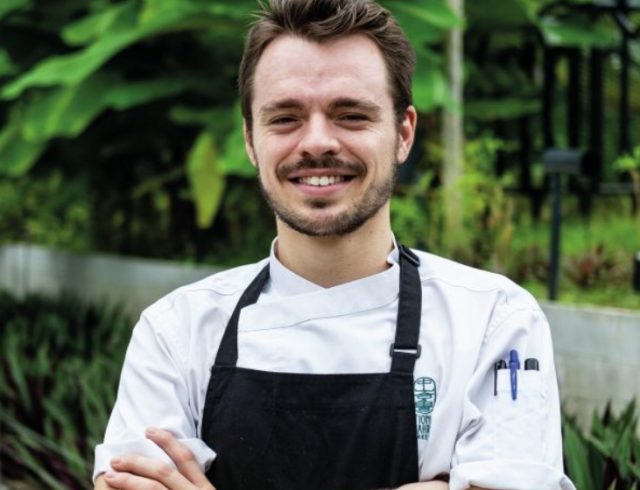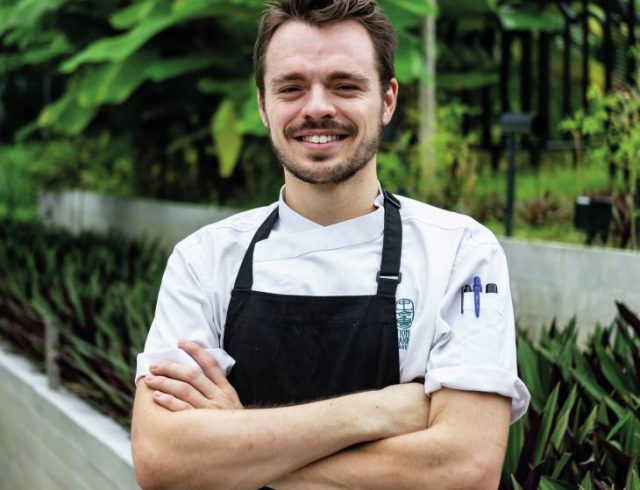 Welcome to #DeliveryDiaries, an initiative we have come up with to highlight the delivery menus of some of the gut-busting dining establishments we've been to.
In the twenty-first installment of this series, we have chef Paul Andrew from Tiong Bahru Bakery to review five of his favourites.
—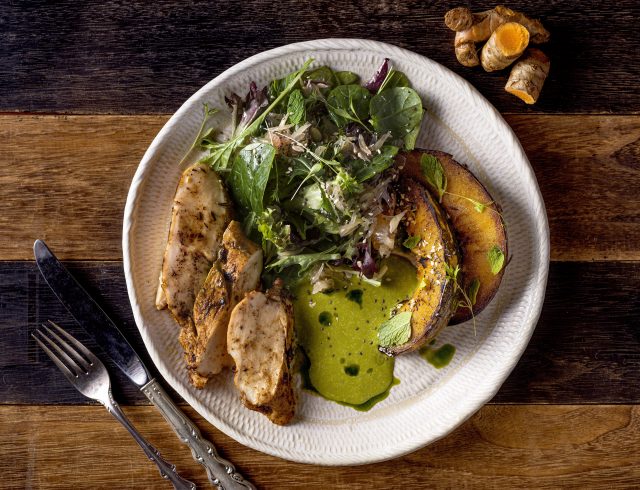 Hot Chicken Salad & Caramelised Pumpkin, $23.60
​​This fresh, yummy and plain looking salad is anything but simple. Juicy, slow-cooked chicken breast is marinated overnight with a long list of ingredients that include tamarind paste, lemongrass, garlic, turmeric, ginger, cinnamon, olive and sesame oil and lemon juice, before being sous vide at 62 degrees for 50 minutes to retain its goodness.
It's finished in the pan a la minute when a delivery orders comes in with a basting of house-made brown butter until it develops a nice shade of golden-brown and a crust outside while remaining tender and juicy inside. Kabocha pumpkin is marinated with spices, fresh turmeric, garlic powder, thyme, rosemary and some lemon zest, confit slowly in the oven and only toasted a la minute in the pan with brown butter.
The browned sweet and savoury flavours from the chicken and pumpkin are balanced out with a zesty, crunchy salad of raw diced pomelo that cuts right through, and finished with a wicked kick of acidity from smooth Greek yogurt sauce seasoned with wasabi paste and parsley oil.
—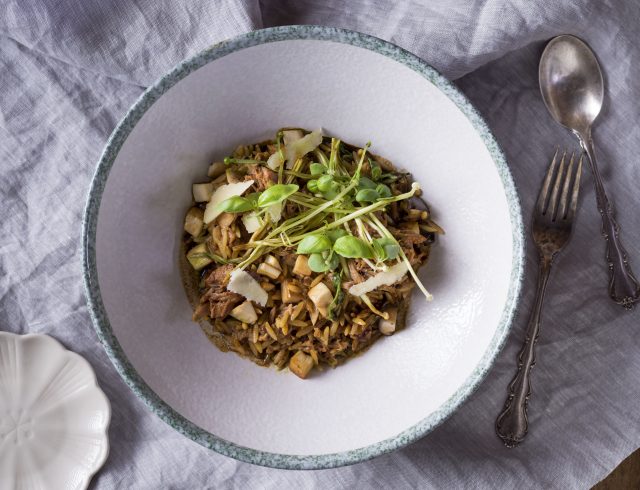 Pulled Pork Creamy Risoni Pasta, $25.90
This dish is a melting pot of culture and influences, traveling to USA, passing by Italy and France and finishing your trip in Asia. Pork shoulder is marinated like a classic American pulled pork with a spice mix of smoked paprika, brown sugar, mustard seeds and garlic for two days, but with a touch of reduced pork jus and shiitake broth that we make using the trimmings to avoid wastage.
It's slow cooked at 73 degrees for 24 hours, which leaves the pulled pork nice and juicy and a sauce full of taste. The pulled pork is tossed in the pan a la minute with risoni and finished like a risotto with butter, broth and cheese, allowing the risoni to absorb all the juice from the pulled pork.
King oyster mushroom is sautéed like a traditional French reduced pork jus and lends a crunchy texture to the dish, while raw enoki brings woody and fresh flavour that cuts through the decadence.
​​—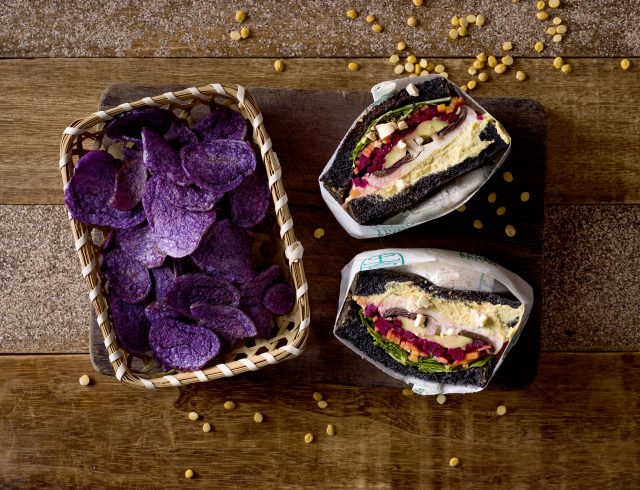 Portobello, Avocado & Humus Black Sandwich (Vegan), $22.40
​​This started out as a way to include a wholesome and tasty vegan choice, and prove to the customer that vegan dishes can also be full of flavour and texture. You'll barely notice the lack of meat.
On delivery, it's a really versatile option for any time of the day. Toasted charcoal bread filled with roasted portobello mushrooms that's cooked like a piece of meat. Fresh and acidic avocado cream, house-made dhal hummus, shredded pickles and a seasoning of cumin, curry, lime juice and tahini.
The dish sits in the intersection of acidity, sweetness and freshness — each ingredient bringing a flavour that balances the other. Served with purple potatoes chips.
​​—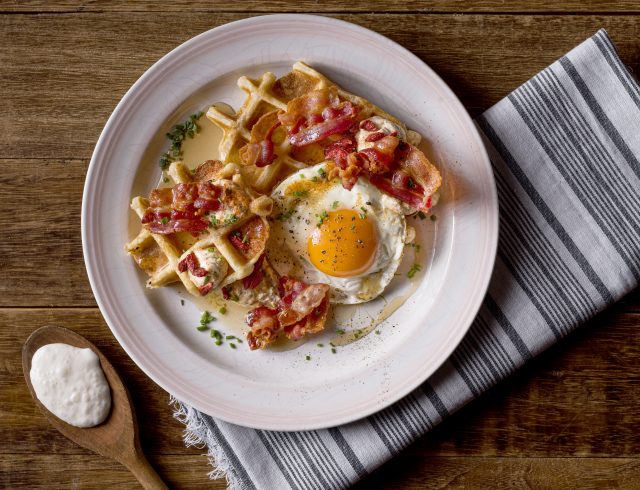 100% Sourdough Waffles, $24.80 (sweet), $27.20 (savoury) or $11.80 (two sourdough waffles and two toppings)
My mom's side of the family comes from Belgium and they used to eat one type of waffle that I really love.
"Gaufres de Liège" (waffle of the city of Liege), the dough is really thick (like a brioche) and they add pearl sugar before baking it in the traditional machine to bring on the caramelisation and crunchiness.
But for this recipe, we changed the process to follow that of a traditional sourdough without baker yeast or baking powder to proof the dough, and simply allowing the natural reaction of wild bacteria between the flour, water and air to take its course; turning it healthier, creamier inside and crispier outside, while bringing this gorgeous sour taste, banana and confit apple fragrance.
—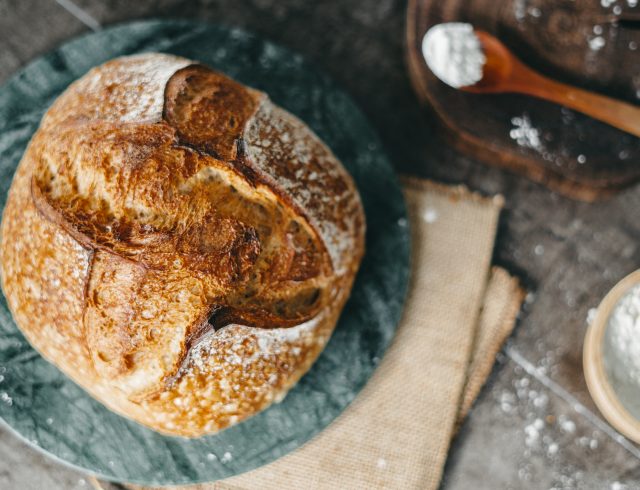 TBB Sourdough + DIY Sourdough Kit (it drops on 15 June)
A long process, slow fermentation, water, salt, flour and time — these are the ingredients of our new sourdough. My mom used to say "the simplest things are the best".
​​We are using the same natural starter as the one for the waffles, a 158-year old globe-trotting starter that I took from Brazil, passed by France before arriving here in Singapore.
The dough is fermented for a minimum of 24 to 30 hours, using high quality French flour and a lot of patience before the dough rises in the oven to get this wonderful crust, a pleasant sour taste and this amazing creamy crumb.
And you know what? The good news, it's good for your gut! The long process and the lactic fermentation pre-digest a big part of the gluten-phytate for you, so you just need to bite into it and enjoy.
If you're curious, and would like to experiment making a sourdough by yourself, we'll be offering a DIY Sourdough Starter Kit.
Make your order today from Tiong Bahru Bakery here.
---