When swathes of Singaporeans walked out of our offices for the last time two months ago, we couldn't have predicted the Rubrik's Cube of logistics that we needed to fiddle with when it came to returning to said office.
That folks, is the numero uno problem with COVID-19 — it hasn't temporarily disrupted the way we will work in the future. It has dumped a can of gasoline, lit ablaze and dumped another can of gasoline on how and why we use offices and workspaces for an extended period to follow.
We're a logical set of people and we're wondering — how will post-pandemic office spaces function as opposed to look like? What will workplaces actually stand for in the future?
Justin Chen, CEO of Singapore-based real estate concept developer Arcc Spaces has the answer.
—
View this post on Instagram

—
What sparked your interest in Architecture? Were you a fan of The Sims growing up?
As a third-culture kid growing up, we often visited many different cities. Having travelled through Africa, North America, Europe and Asia, I recall vividly being enamoured with the different settings and history behind the various cities and their built environments, particularly in our trips through the historic centers of Europe.
The story of how these buildings and environments came to be was a topic I found compelling. I came to understand architecture as a crossroad between my interests in the arts and sciences, and frankly something that seemed all that more interesting than the majors of business or engineering that many of my peers fell into. 
Frankly, much of my education rectified my incorrect view of the architect typology that was portrayed in movies.
I am thankful for the firm grounding in problem solving that my experience in architecture has equipped me with.
Note to editor: The Sims was a game almost ten years after my time. [Laughs]
—
Tell us more about your experience designing the California Apple store, was there a personal design aesthetic that you brought to the design?
Before joining Arcc Spaces, I was involved in the planning and designing retail spaces for brands such as Apple, Starbucks, Levi's, etc.
What that experience taught me was just how design and business can really be partners.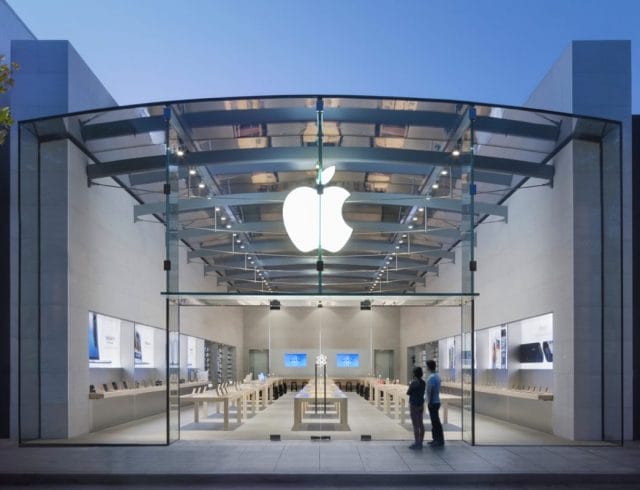 The Apple store in California.
One thing that these large brands had even back then was a deep understanding of their customers and that translated into a lot of insights into how these spaces should be designed and what features to be included.
Further to this, design was used to craft a certain experience for the customer, whether it was with Apple and their approachable Genius Bar, or Starbucks being a "third space" for patrons. We take it for granted that these are now defining characteristics for these brands, but at that time it was the beginning of my career and having the opportunity to work and engage with these avant-garde brands at the time was a truly fascinating experience that I still draw learnings from.
—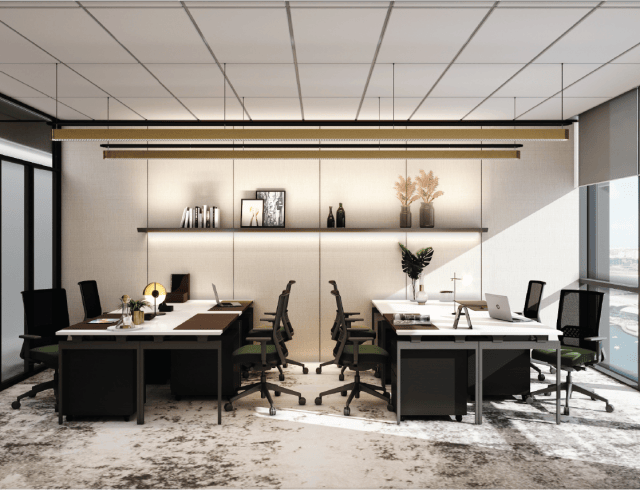 A view of the office at One Marina Boulevard by Arcc Spaces that is launching this summer.
—
It's been often said that the design of co-working spaces here are cookie cutting in their approach thanks to rapid expansion, how is Arcc Spaces different?
We're not interested in a mass product, we want to be focused and take a bespoke approach with landlords to complement their approach. By being able to address specific needs rather than taking a cookie-cutter approach is where I feel we create value. This is reflected in our portfolio and the quality of buildings/designs we choose.
It always starts with understanding firstly the outcome that the space is to achieve, its context and also its users. These three key factors form the framework from which each project comes together.
The most important factor is to understand the customer needs and wants, and create the workplace that can help our customers grow their business.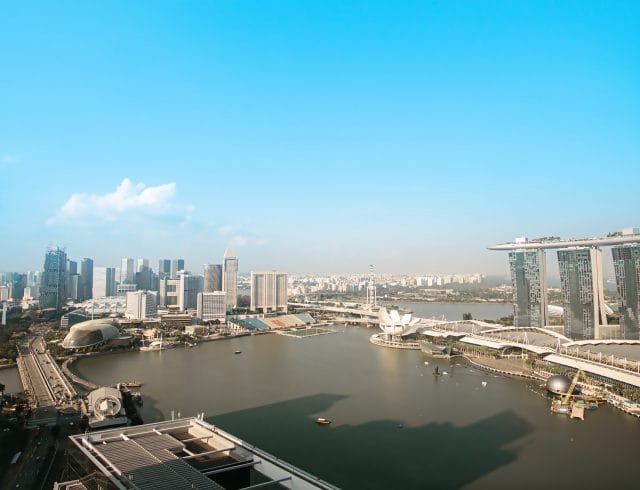 The panoramic view of the city from the windows of One Marina Boulevard by Arcc Spaces.
Arcc Spaces has been in the market with over 20 years of experience and has been evolving based on customer needs to create some leading features. Arcc 1.0 was a traditional shared workspace, 2.0 was a community-based workspaces, and 3.0 is a working ecosystem which incorporates more elements of how people work today.
We believe this approach and evolution of our philosophy helps set us apart and make us different from the other flexible workplace providers in the market today.
—
How sustainable is Arcc Spaces exactly?
As we prepare to open our new flagship space at One Marina Boulevard in Singapore this summer, we have adopted this philosophy of a long-term lifecycle approach towards sustainability.
Operational practices are important (for example, ensuring recycling bins are available throughout our spaces, or pooling resident tenants together for joint CSR initiatives) but are second to this vital first consideration.
Leveraging on our data and experience has provided us with insights into the design of the most heavily trafficked and used areas of the office, which inform the choice of appropriate and quality materials.
This is a long-term view that dictates how we consider ways to minimise replacement.
We are also reintroducing quality office furniture to the workplace through our partnership with one of Europe's leading office furniture providers, ensuring ergonomics are paired with durable materials and changeable parts to be updated rather than replaced.
Furthermore, we are pioneering office furniture as a service, being able to offer just-in-time customisation and offerings based on our client's specific needs. Not only is it more sustainable, it reduces capex and the purchasing of redundant goods.
It also allows us as operators to be more reactive to the needs of the day. If we do have objects that we have purchased but no longer need, end-of-life recycling and disposal programmes are the best approach.
This way items can be repurposed, reused or donated.
—
What do you think is the future of co-working spaces?
There's no doubt that co-working has become a global trend, as much on view here in Singapore as anywhere else.
But a new trend will come to dominate the office landscape in post-coronavirus Singapore: flexible workplaces that emphasise dedicated space functionality as much as shared spaces will deliver superior returns to shareholders.
Singapore has seen a boom in co-working spaces in recent years, with well over 30 popular locations available across the city by a variety of operators. These spaces tend to emphasis hot-desking as businesses seek to reduce rental costs and cater to a younger generation of employees.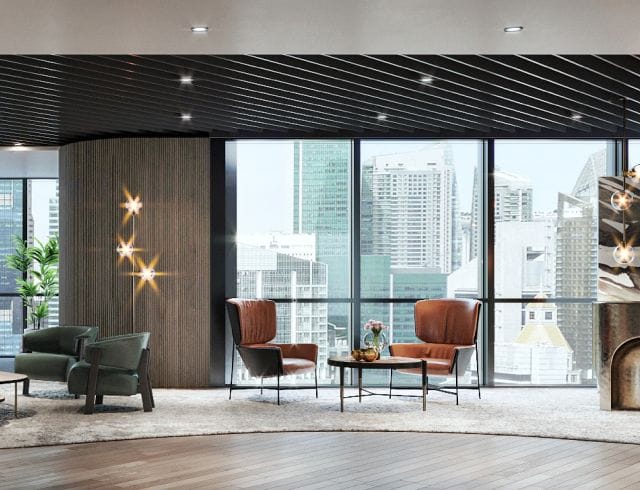 The reception and guest area at One Marina Boulevard by Arcc Spaces.
In a post-coronavirus Singapore, shared office spaces will not go away – that ship has sailed, as they say. But businesses may take a closer look at flexible workplaces that have the added benefit of the seclusion of dedicated spaces as part of the offering.
While business continuity efforts at present have resulted in a lot of the city's workforce working from home, business-as-usual will eventually resume.
When it does, start-ups and small-and-medium sized businesses that have become reliant on hot-desking models at co-working spaces may be slower to return to work than companies with their own dedicated office spaces – even if they are part of flexible workplaces with warm and friendly communities.
—
View this post on Instagram

—
Side tracking a little; are there any places in Shanghai you frequent that aren't tourist traps?
I think there's a misconception that living in a big city like Shanghai has to feel hectic and crowded, but that's not the case at all. I like to enjoy a slower pace of life as much as possible, discovering quiet pockets in the city that allow me to clear my head and reflect. This definitely sees me avoiding the busier "tourist traps".
One thing I really enjoy, though, is getting around on my electric scooter, which means I don't need a car. It allows me to experience city life at the raw street level.
Shanghai is such a beautiful city, it's really made for that kind of street-level living, taking in all the gorgeous architecture and historic scenery along locations like The Bund.
—

—
What are you up to in 2020? Any big plans?
My big focus right now is our upcoming One Marina Boulevard project in Singapore, which will be one of our first 3.0 products. This flagship space occupies approximately 19,000 sq. ft on floor 20, with breathtaking 270-degree panoramic views onto Marina Bay and the central business district. It will offer private office rooms, meeting rooms, as well as a convertible multi-functional event space, and even an auditorium.
For this project, we partnered with one of Singapore's premium award-winning design firms, Formwerkz, to create this product based on hospitality-led sensibility and human-centric design.
One Marina Boulevard provides different environments throughout the space to allow members to choose how they work, from dynamic social settings in the business lounge to intimate library space for focused work, or informal meetings in the collaboration booth.
We will also have a dedicated event management company to run small and medium-scale events that can accommodate up to 80 guests. For larger enterprise events, members can access training rooms and a 550-seater auditorium on floors 7 and 8.
In addition to One Marina Boulevard, we also recently relaunched our space at 75 High Street in Singapore and underwent a brand refresh. The new brand logo aims to redefine the vision of the company – "Bringing the World's Business Together".
75 High Street by Arcc Spaces is a seven-storey standalone building with approximately 2,500 sq.ft per floor, which offers tailor-made enterprise solutions for SMEs and MNCs to meet their special requirements such as a built-in server room, additional common areas and manager's rooms.
To increase privacy and security, each floor has their own elevator and door access cards. Corporate members can also enjoy the shared facilities and services including meeting rooms, pantries and receptions to fully utilise the floor for workspace while saving costs.
With the relaunch of 75 High Street by Arcc Spaces, a new brand logo will also be introduced to this standalone building as well as other properties under the group. The new logo emphasises the capital "A", which can be read as an arrow not only signifying direction but also an upward trajectory.
As you can see, 2020 is certainly a busy year for me with big plans in the works!
---