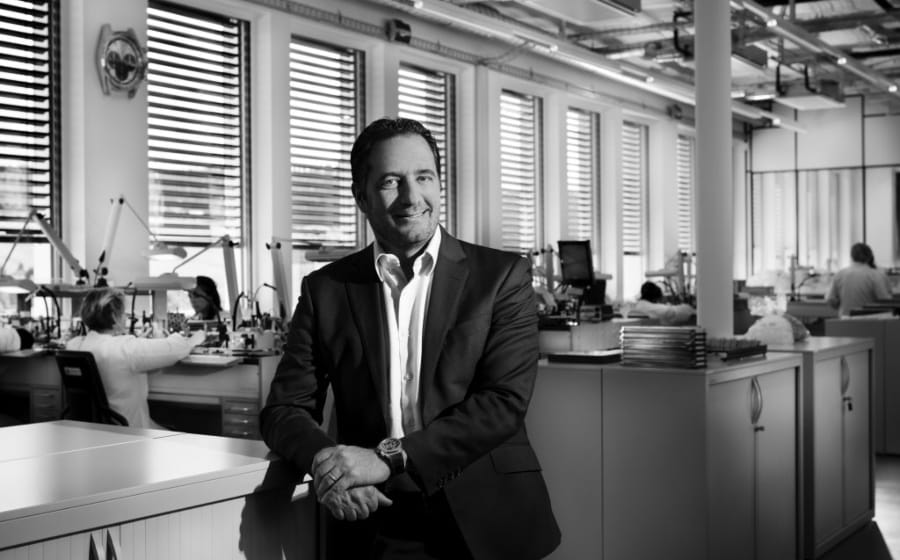 It takes guts to balance on the sashimi knife edge of what is possible in horology, and that is what Zenith has been doing for a couple of years. Well, to be fair, it has been more than a couple of years, but Zenith is one of those watchmaking brands where it truly is complicated, in that famous Facebook status way.
Most recently, the manufacture promised a revolution in mechanical watchmaking – not an uncommon affair in Swiss watchmaking. Zenith even adopted a bold mantra under the magnetic leadership of Jean-Claude Biver: the future of tradition.
Plenty of watchmaking brands dare to talk the talk, but most just quietly walk away from the spotlight. To its credit, Zenith made good on its motto and promises, delivering the first new mechanical escapement since Christiaan Huygens developed the balance spring in the 17th century.
Leading the way is CEO Julien Tornare, a man we have met several times since he took over from Biver in 2017.
—
With regards to the tagline, Zenith has looked towards the future of watchmaking a few times — you could even look at Charlie Vermot hiding the El Primero equipment as an example of forward thinking. How does Zenith remind the world about this unique legacy?
It is very important to show it in the way that you can experience, like at our exhibition; just as would see it at our manufacture (in Le Locle in Switzerland). You can see the past, the present and the future! I was lucky (in 2018) to have around one table with me eight people who worked on the El Primero; the youngest was born in 1945, the oldest in 1933.
They told me so many stories about the making of the movement; about working at Zenith at that time. You know, already at that time they had this start-up spirit. I realised that they already had the spirit of innovation and creativity back then.
This is what we are doing today with the Defy 21 and the Inventor; to show people that we are innovating and that we are creative. It is our mission, not only because of our past, because only repeating the past would be a mistake. No it is because what people are looking for today is a dynamic product. It is super important to keep in mind that the audience wants innovation.
—

—
And that is something you have today in the Zenith Inventor, with the amazing Zenith Oscillator.
We have to feed the industry, to move things forward. The new generation wants to buy watches from dynamic companies. I strongly believe that the millennials, as they are known, don't want the same watches as their parents – if they do then they will buy vintage but that's a different story.
They want watches made in the 21st century for the 21st century.
—


—
Going back to what you said earlier, about the entrepreneurship, is that something evident in the 21st-century Zenith manufacture?
Yes, but it is not enough to say it. You have to apply the start-up spirit everywhere in the company. It is not enough to just express it in the watches; you cannot achieve (the start-up spirit) by just making watches for the 21st century. We try to have a 360-degree approach to being innovative.
For example, when I took over in 2017, I told my team that if they want to receive their bonuses – whatever the performance of the company might have been – they have to show me that they implemented five innovative ideas. This applied to finance, human resources – everything really. This is part of how we apply the entrepreneurial spirit across the company to bring about change.
So, one example of this is when we opened the manufacture up for public visits – we were the first to do so. Another aspect is in the partnership with Bamford – we were the first to make it official.
I organise monthly breakfast meetings with people celebrating their birthdays that month – I ask them to come with new ideas, suggestions for things we can do better. All these things take us closer to becoming an entrepreneurial company.
We're not there yet – Swiss people are well known for being resistant to change and being a bit slow-moving…I can say this because I'm Swiss. [laughs] But we've definitely come a long way since I came on board.
—
You told us before that you wanted to reduce the number of references (SKUs) in the range. How is that going?
When I arrived, we were at 178 SKUs, which was down from 850 in the era of the pre-Great Recession under CEO Thierry Nataf. I want to get it down to 100, and we're almost there.—

—
Do you think there is one best way forward for a company like Zenith?
No, I don't think so; it depends on the kind of company of course. What I'm convinced of is that if you have history, you have to build on it. You need to consider who you are and what you have been doing.
Authenticity is important. It is a mistake to think that the current younger generation is only interested in celebrities, marketing, and this sort of thing. No, people want to understand the substance behind the brand; they want to know if the price is right because they are sensitive to this. So we have to remain authentic. I'm very proud to say that 100% of our watches have Zenith manufacture movements, and I think we have to communicate more on that. There are maybe five brands in the whole industry that can say that.
On the other hand, (with regards to the history and being true to it), just because you have a history doesn't mean you have to repeat it. You have to express yourself in a contemporary way – not just in the watches but in the company too, as I said.
This doesn't happen that often in Swiss watchmaking because you find two groups: those who are staying close to their roots, recreating their pasts, too scared to move forward from their history. Then you have newer brands, who have no such history, so they do all the crazy things they want. I don't see why Zenith can't do both (For the record, Zenith already marries heritage pieces such as the A384 with the futuristic Defy 21).
—
Has Zenith found collectors who have moved from just liking the brand to wanting to buy the watches?
I cannot tell you that we have done all of it (getting collectors keen on buying Zenith watches); we have done part of it. The business is growing for us (which we see from the numbers), and there is a lot of positive feedback. We are going in the right direction.
Jean-Claude Biver, who is known for many great things, but patience is not one of them – even he told me that I have to be patient because it took him 10 years to position Hublot where it is. Every day I focus on doing the right things so that we can get to where we want to be.
It would be very arrogant for me to say mission accomplished but I can feel that we are moving in the right direction.
—


—
Today we are seeing crazy demand for certain steel sports watches. How do these types of trends speak to real changes in people's appetites for watches?
There is a trend towards contemporary styling, is what I would say. Brands that have heritage styling in one line and another line that is more contemporary in its styling, the contemporary one is gaining market share. Even the broader market thinks so because I just met a very knowledgeable retailer who told me that the trend for vintage watches is already over; luckily we have Defy! Of course, our Pilot's watches are still vintage so we will have to work on that. I think it is important to show that we are working in the direction of contemporary styling.
This story first appeared in the March 2020 issue of Men's Folio Malaysia. 
---