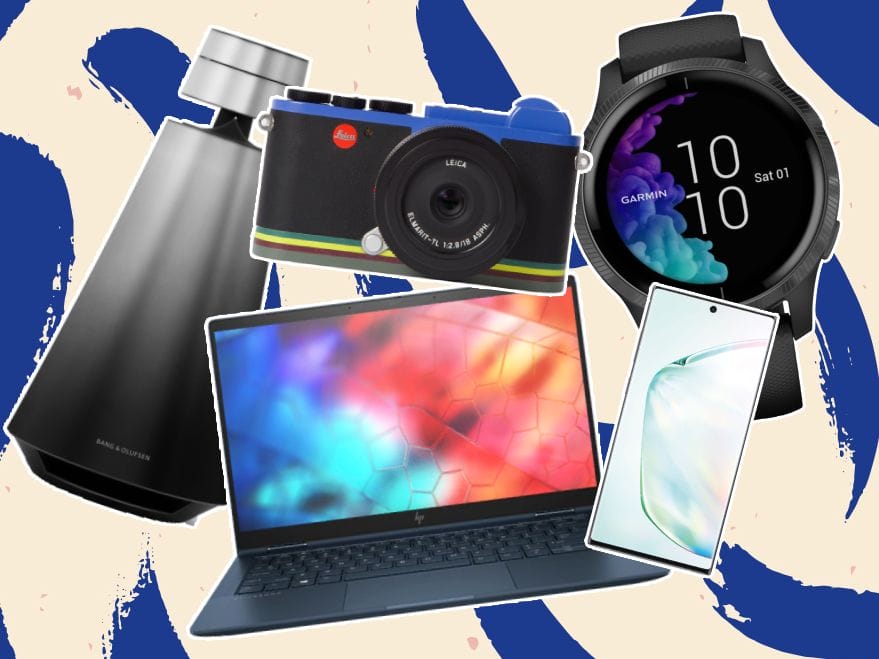 In 2019, we have seen a vast array of innovative and groundbreaking gadgets in the market — they're super-intelligent, highly functional with ultra-modern designs (and more often than not, sadly don't come cheap). With just two days into the new year, here is a curation of the top electronics in our radar, which includes a smartwatch (duh?), a top-rated wireless speaker and a Black Mirror-worthy eyewear with some major tech nerd factors.
—
B&O Beosound 1 Wireless Speaker
Designed in carefully crafted aluminium, the Beosound 1 comes with a patented Acoustic Lens Technology which provides an almost spherical sound that is surprisingly loud and nuanced. Equipped with Google Assistant voice control system, this wireless speaker takes and responds to your command intelligently and delivers up to 12 hours of wireless playtime with just a single charge.
—
Garmin Venu GPS Smartwatch
For the sake of good health, invest in the Garmin Venu GPS smartwatch. It is installed with the broadest available range of all-day health monitoring which includes a respiration tracker, pulse ox sensor, an advanced sleep monitor and even a hydration tracker.
The smartwatch is also preloaded with a few step-by-step workout demonstration videos that can be downloaded more from the Garmin Connect application.
—
Leica CL "Edition Paul Smith" Camera
When it comes to lenses, Leica trumps every manufacturer out there. Available exclusively in a quantity of 900 units worldwide, Leica CL "Edition Paul Smith" is a discretely colourful camera that comes in a bold blue top plate, embellished with stripes across the bottom of the camera and distinctive design elements with a hand-drawn sketched look.
—
Huawei x Gentle Monster Smart Eyewear
An eyewear that we probably did not know we needed but is definitely something that we want. Huawei x Gentle Monster smart eyewear combines advanced technology with premium craftmanship for a stylish and comfortable wearable device.
The dual speakers on both temples emit a vibrant and layered sound field, resulting in an impressive audio clarity while the AI speech noise-reduction system allows you to get a linear beam of noise reduction when communicating.
—
Philips 3200 Series LatteGo Coffee Machine
The Philips 3200 Series LatteGo is a fully automatic espresso machine that offers five unique beverage options ranging from espresso to Americano to latte macchiato.
What's so fantastic about this machine is that it contains no tubes or hidden parts, so users can clean up the entire system easily under the tap. Trust us, the cleaning process takes less than 20 seconds.
—
HP Elite Dragonfly
Some brands prefer it bigger, but HP wants its laptop to be lighter and bigger at the same time. Known as the world's first business convertible made with ocean-bound plastic, the HP Elite Dragonfly weighs only 990 gram with a 30cm x 20cm dimension, giving a new level of freedom to those on-the-go.
This cutting-edge technology comes in a stunning dragonfly blue finish and packs with HP's latest systems and software including 4×4 LTE antenna, HP WorkWell, HP Sure Sense, HP Sure View Gen3 as well as a HP Privacy Camera.
—
Samsung Galaxy Note 10+
The Galaxy Note 10+, which is touted as the stylish entertainment device, is designed with top-notch features such as a gaming console, a movie-tech camera and an intelligent pen. But the major focus is on the quad cameras — allowing users to capture ultra-HD pictures in four different lenses — ultra-wide, wide, telephoto and depth vision.
On top of that, the advanced super steady camera system stabilises the slightest of shakes when taking videos while other features like live focus and an AR doodle function to add some fun elements to your videos.
—
This story first appeared on the Malaysian online edition of Men's Folio. 
---