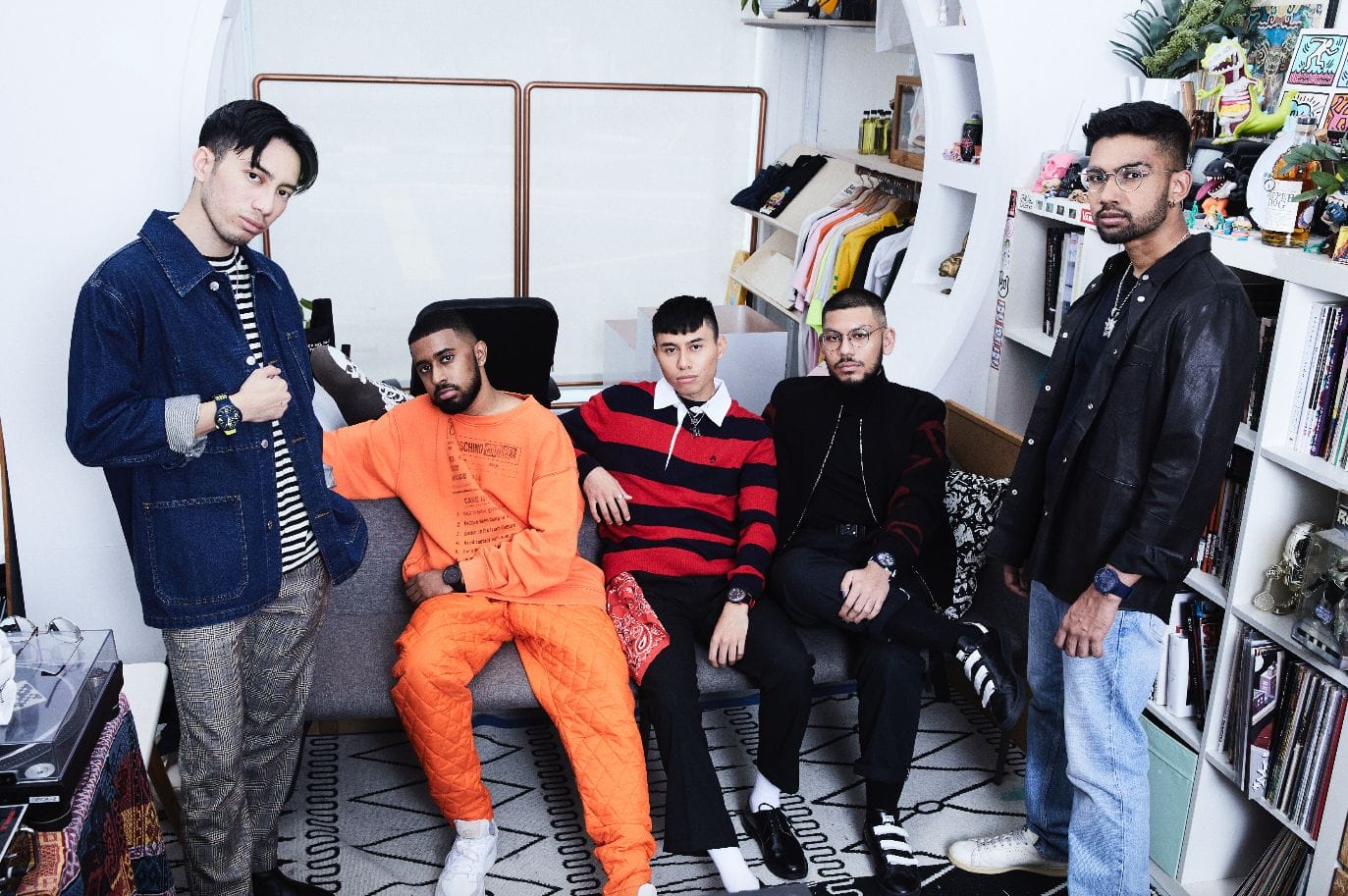 The 47mm case of the Swatch BIG BOLD watches requires an equally substantial personality to pull off – namely, the Island Boys Collective whose star power is on the rise.
From left: (On Izzraimy) Swatch BBNEON in resin with rubber strap, Sandro Denim jacket, cotton sweater, (On PRAV) Swatch BBBLACK in resin with rubber strap, Moschino Cotton sweater; Onitsuka Tiger Technical fabric joggers, (On Izzadely) Swatch BBBLOOD in resin with rubber strap, Brooks Brothers Wool shirt, (On Imran) Swatch BBCREAM in resin with rubber strap, Paul Smith Wool bomber jacket, (On Shafeeq) Swatch BBNAVY in resin with rubber strap, HUGO Leather shirt, cotton T-shirt
—
How did the Island Boys Collective (IBC) come about?
Izzraimy: One year ago, my brother Izzadely and I worked at a sneaker cleaning store while planning for this business. We sat down one day and decided to name it Island Boys. Before Island Boys came, we all worked together under PRAV's brand .WAV(Y) and ever since then, we have been all over the world doing what we do.
PRAV: Everything felt really organic, we have all been homies for the longest time, and everyone was part of the .WAV(Y) crew, so it was just something that blossomed over time.
Izzadely: The name Island Boys actually came about when I was at my dance crew's breakdance class. My dance instructor had a talk with us at the end of the class, and he told us about how we should be proud of our style, who we are, and where we are from. Not sure which part of the talk this was, but in between, he said something along the lines of "Singapore is an island, and we are all Island Boys". at name stuck with me ever since, and I proposed to use it when we were thinking of a name to use for the business.
Imran: I had always seen the boys around, at events, at .WAV(Y). After a little while, I started doing little projects just for fun, and eventually, Izz pitched the idea of Island Boys to me. I've always thought that no man is an island – everyone needs a support system in anything they pursue, especially work, so it just made sense.
Shafeeq: Izz got me a job at the same sneaker cleaning store after I had left my full-time job. We then left that job together to focus on what we do now. I actually love telling this story.
—
What is the number one theme that every piece of your work stems from?
Izzraimy: We always come back to the street culture we grew up loving, so we try to add a little touch of it for every piece of work we do – which most of the time is fun, energetic, and a pinch of nonsense.
PRAV: Hip-hop, definitely! We are all so immersed in the culture since we were kids, and it always inspires us in whatever work that we do!
Izzadely: We like to have fun with everything that we do, or else it's just going to feel like an ordinary job.
Imran: Everything I make, I try to insert a little bit of fun. Life is too short to be serious all the time.
Shafeeq: The theme definitely revolves around having fun. You can see a touch of that in whatever we do, whether it's dancing and going crazy while shooting events, or the effects we use in our videos and photos.
—
Swatch BIG BOLD is all about its signature style – what is the one item in your wardrobe that makes any outfit fly?
Izzraimy: My tie-dye Helmut Lang Spring Tee that I love so much. Also, my custom engraved Island Boys bracelet that a brand gifted us – sentimental, never took it off since.
PRAV: I would have to go with my pair of Adidas Yung 96's. It is a super comfy pair of sneakers and goes along with practically any outfit while making it fly.
Izzadely: My custom necklace from Hanya Seah. I love things that have a certain meaning or sentimental value. I made a letter "D" pendant for my name on my birthday, and she gifted me a "1998" pendant. I wear the two necklaces together with every out t.
Imran: I love my Rick Owens DRKSHDW Ramones. They're my go-to pair of sneakers – surprisingly comfy and great for any occasion.
Shafeeq: My chain that I wear every day. I feel naked without it on now. It adds a touch of "me" to everything I wear.
—
How much time do you wish there is in a day?
Izzraimy: Hmm, good question. I make use of every single hour of my day, but if I had a choice, I'd want 48 hours a day. 24 hours to do work and another 24 to sleep.
PRAV: I would love more than 24 hours so that I can do way more stuff, but as Diddy would always say, "We all have the same 24 hours, no excuses."
Izzadely: Whatever it is, definitely more than 24 hours.
Imran: Maybe slightly more than 24, a nice number, like 30. I think I'd be able to get a full eight hours of uninterrupted rest.
Shafeeq: I'm alright with 24 hours a day, actually. It's not the amount of time, but how you use that time.
—
What is your dream project if you have a million dollars to spend on it?
Izzraimy: If I have a million dollars right now, I will use it to fund every single passionate/self-driven start-up business and company in Singapore, which includes our own brand. I don't think it'll cut it for me if I were to spend it all on ONE project. I want to start as many journeys as possible right here.
PRAV: I would definitely love to give back to the culture and help fund the ideas of people who have been supporting our movements so much because we wouldn't be doing what we do without their constant support. I would also love to invest it in .WAV(Y) and IBC and create an insane festival with artists that we love and vibe out together daily.
Izzadely: Definitely a project that gives back to the people and the culture, something that can make a change. Creative work aside, I've always wanted to do something that can help people in need.
Imran: Much like everyone else said, I'd love to work on something that could bene t the culture. There're a million great ideas that I think would help the street culture here, and I'd love to be able to make those happen.
Shafeeq: I'd use it to support all my friends' businesses/passion projects immediately. The dream IBC project would be to produce more personal videos and probably travel a little bit while creating content together.
—

Just for kicks, who do you think has the best style in the crew?
Izzraimy: Just for the kicks, me. [Laughs] I'm narcissistic like that, but I try to switch up in a week – from formal to street to looking like I just got out of a cave. If I have to choose someone in the crew, I'd say my brother Izzadely.
PRAV: Love everyone's style in the crew and always taking notes to get inspired by them, but you've gotta love your own style so I would say myself. [Laughs] The boys are probably going to roast me for this.
Izzadely: My brother Izzraimy, for sure. When I was starting to dress up, I got a lot of inspiration on how to style certain things from him. He always dares to try something new and be confident about it, but I think I have pretty good style now too.
Imran: I think everyone has their own style that they wear amazingly, but I suppose if I had to pick someone, it'd be Izz. He's always turning up dressed fly.
Shafeeq: Izz does. Everyone here has their distinct style, but Izz can look good in anything. The worst part is that he knows it.
—
Photography Jeff Chang
Styling Bryan Goh
Grooming and Hair Christian Maranion using Marc Jacobs & Schwarzkopf
This story first appeared in the November '19 issue of Men's Folio.
---