With the summer holiday season approaching, cravings to get out of the country are intensified with the smell of the briny ocean, sunscreen, and margaritas. Yes, if only we could just jet off on a whim to a private villa and frolic on the glorious beaches of Boracay… If you have plans for a summer getaway, you'll definitely need to be appropriately dressed for the occasion. Showcase that summer bod you've been working hard for and hit the pool or beach with our top designer swimwear picks.
Calvin Klein Shorts

No  swimwear repertoire is complete without a graphic 'CALVIN KLEIN' elasticated waistband. The layered drawstring shorts help accentuate that abdominal V line that you've worked hard for.
Dolce & Gabbana Pineapple Motif Shorts

Instead of going full-on and bright this summer break, opt for this monochrome polka-dotted pineapple-print number from Dolce & Gabbana for surprisingly lively vibes. Having zipped pockets also means you can keep your change safely for that pre-dip Popsicle.
Polo Ralph Lauren Swim Shorts

Nothing screams a Santorini vacay like a pristine white summer trunk. Completed with an iconic pastel blue Polo logo, throw on a pair of designer shades and sip on a glass of cocktail while you bask in the sun. Yes, please.
Thom Browne Nylon Applique Shorts

This shark and surfboard appliqué shorts pay homage to the movie Jaws with Thom Browne's signature colors- red, navy and white, finished with his signature striped grosgrain tab.
Diesel Polyester Shorts

These relaxed-fit shorts, inspired by pool parties of Miami, are decked in flamboyant neon and pastel hues. The representation of a fun summer getaway in a single piece, if you ask us.
Prada Cotton Blend Swim Shorts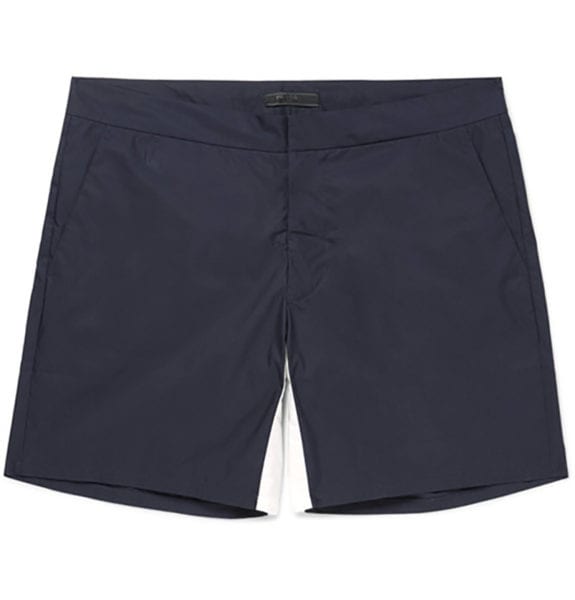 We love a versatile, transitional piece. This doubles up as a pair of smart shorts after you're done at the beach. Put on a linen shirt and some comfy espadrilles or slides, and you're set for brunch. Available at Prada Paragon and Mr Porter.
Moncler Polyamide Swimming Trunks

This pair of Hawaiian surfer-print boxer shorts is given an authentic Moncler touch at the waistband and a button clasp so that you don't lose your shorts while surfing a giant wave. 
Gucci Nylon Swim Shorts

A weekend jaunt to Southeast Asian islands? Embrace oriental whimsy this summer with a Bengal tiger motif nylon shorts to beat the tenacious heat.
Paul Smith Artist Stripe Print Shorts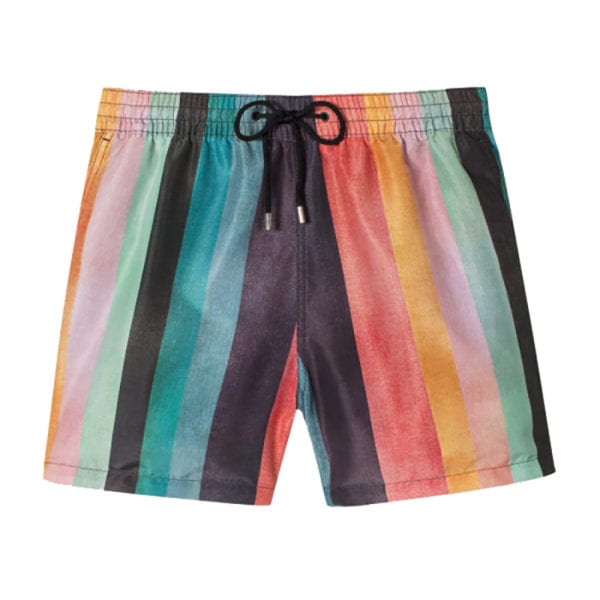 Can you believe this signature Paul Smith striped pair is made from recycled bottles? It is quick drying, eco-friendly and also unapologetically vibrant. Save the Earth Paul Smith-style, one swimming trunk at a time.
---