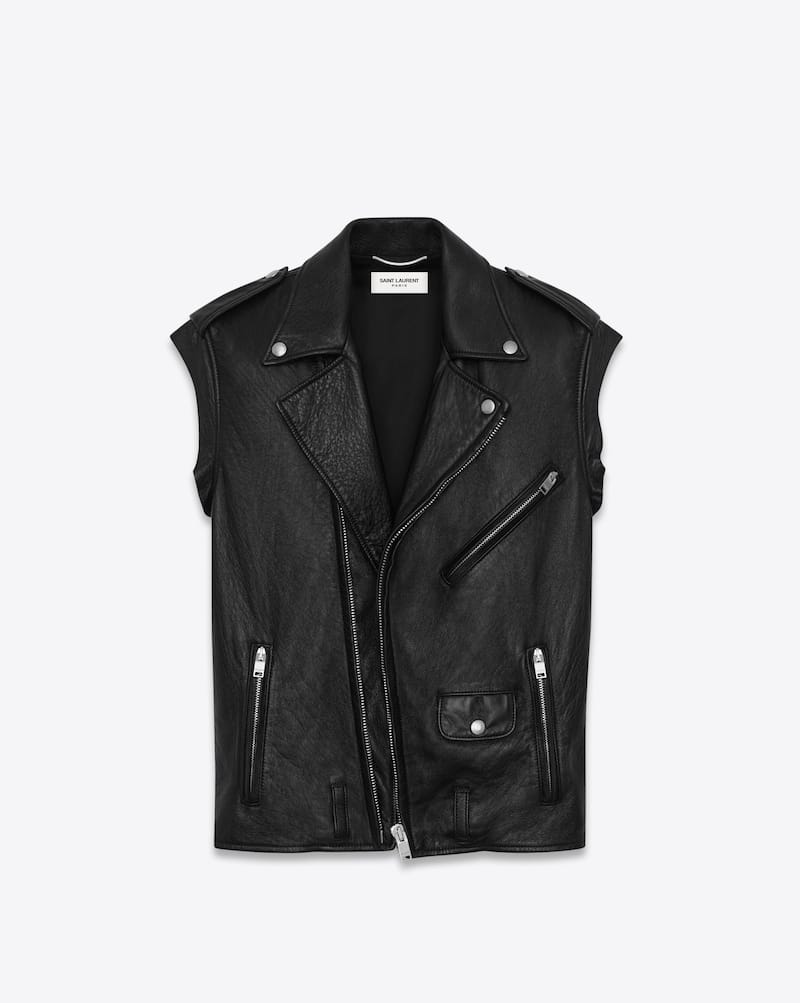 It has been about a year since Anthony Vaccarello arrived at Saint Laurent. Earlier known for his bold, micro mini dresses with cut-outs, the Brussels-born designer was the natural choice to succeed Hedi Slimane. Putting a pause on his namesake label, Vaccarello then focused his attentions on a brazenly sexy womenswear debut (largely inspired by a YSL leopard print dress from 1982 and the house's muse Paloma Picasso) for the French house, before following up with the recent Fall/Winter 2017 collection in Paris.
In the menswear department, he has eschewed runway showings, instead letting his refreshed SL classics speak for themselves. The two main themes of his introductory effort: deconstruction and detail. The former is seen in a multiplicity of manners — a tie-dye check on vintage-style button downs is his take on a dissected plaid, and there is no shortage of sleeveless blazers and shirts designed with frayed edges. The concept extends even to Saint Laurent's court sneakers, which now feature what the brand calls "deconstructed paillettes".
Streetwear is another clear focus of Vaccarello's, with hoodies bearing a new Saint Laurent graphic logo, and five-pocket denim designed with off-seam pockets and SL embroidery. Tailoring has also seen a reboot — jackets are now cut shorter and boxier, with lowered pockets. If the ready-to-wear and footwear is generally understated (there are, of course, peacock pieces like a beaded and embroidered denim jacket, and a bronze nylon anorak), the leather goods are where Vaccarello's incredible eye for detail shows. Leather jackets include zipper pulls with heart-shaped metal tabs, accessories large and small have a new metal Saint Laurent plaque, and bags are decorated with more (removable) tags than before. And with Vaccarello calling his first collection a "work in progress", we can't wait to see what he has in store for his second.
---