Here at Men's Folio we're firm believers that a good suit will help you conquer the world. And if there's nothing on the shopping racks that fits you like second skin, we say go bespoke. Unlike made-to-measure suits that are cut from existing patterns, a bespoke suit is entirely handmade, cut from scratch to meld to your body seamlessly. Below are 10 tailors that offer bespoke clothing, perfectly tailored to your needs.
1. Q Menswear
Founded upon two main design principles – colours and proportion – Q Menswear focuses entirely on their customers and their own voice. Step into the store and you'll see whisky bottles lined in a neat row, alongside mannequins dressed in their latest designs. Founder Chong Han San is influenced by Italian suit-making, with designs featuring softer and sleeker lines. 
Q Menswear, 116 Telok Ayer St, Singapore 068585, T: 6636 6939
2. Kevin Seah Bespoke
Not just your average tailoring workshop, Kevin Seah Bespoke also houses Singapore's first shoeshine and patina bar. His workshop is dressed with vintage leather club chairs for the full sartorial experience. If you're up for a little pop of colour, Seah offers multi-coloured buttonholes to jazz up a plain suit. Choose from a wide variety of summer weight fabrics, which suits Singapore's climate. Lightweight canvassing and lighter shoulder pads are added to make sure you stay cool — in both ways.
Kevin Seah, 55B/C Boat Quay, Singapore 049844, T: 6532 2018
3.  Kay-Jen 
Originally a one-man operation run by Matthew Lai, Kay-Jen is a brand focused on minimalist designs. A relatively new contender in the market, it does well with younger consumers thanks to its modern contemporary styles, while continuing traditional techniques of suit-making. Kay Jen stays true to its younger clientele, offering a fused suit deal at $880. The bespoke tailor has also recently merged with Dylan & Son to form Kay-Jen Dylan.
Kay Jen, 120 Telok Ayer Street, Singapore 068589, T: 6221 1852
4. Dylan & Son Sartorial
Having a seamstress and a tailor for parents honed Dylan Chong's eye for detail and structure at a young age, pushing him to open his own shop in 2010. Keeping up with the Neapolitian tradition of suit making, Dylan has placed several twists in his designs. The brand has its own PRISM capsule collection, featuring viscose blend suiting cloths in vibrant unique colours. Dylan & Son brings in seasonal fabrics for an added touch of personalisation. 
Dylan & Son, 120B Telok Ayer St, Singapore 068589, T: 6221 1852
5. Aston Blake
This tailor does not skim on the details. Aston Blake is a British-Australian owned label that aids customers in choosing styles not only based on preference but also their professions and body-type. The brand holds true to their quality and detail by whipping out a body scanner to make precise measurements. In addition, personal preferences and purchase histories are kept in folders to ensure speedy service during your next visit. 
Aston Blake, Millenia Walk, 89 Club Street 2nd Floor, Singapore 069457, T: 6337 3504
6. The Bespoke Club
Home to over 5,000 European fabrics, The Bespoke Club is definitely one of those clubs you want to join. This tailor is a hot pot of haberdashery with a lounge-like interior to boot. Carrying the widest selection of Scabal in Singapore, The Bespoke Club is gunning to be the number one choice for millennials eager for their first dapper look.
The Bespoke Club, Suntec City Mall Tower 1, North Atrium Entrance, #01-484,  Singapore 038983 T: 6734 4167
7. The Prestigious Bespoke
No one knows the art of bespoke tailoring better than Master Tailor Thomas Wong. The former President of the Singapore Master Tailor Association leads a six-person team of tailors and apprentices in his workspace. His disciples are graduates and students from a menswear course at Lasalle School of the Arts started by him four years ago. Holding true to his mantra of "no outsourcing", all garments are hand stitched in-house, with Master Wong overseeing all production of his garments. 
The Prestigious Bespoke, 62 Boat Quay, Singapore 049850, T: 6705 6708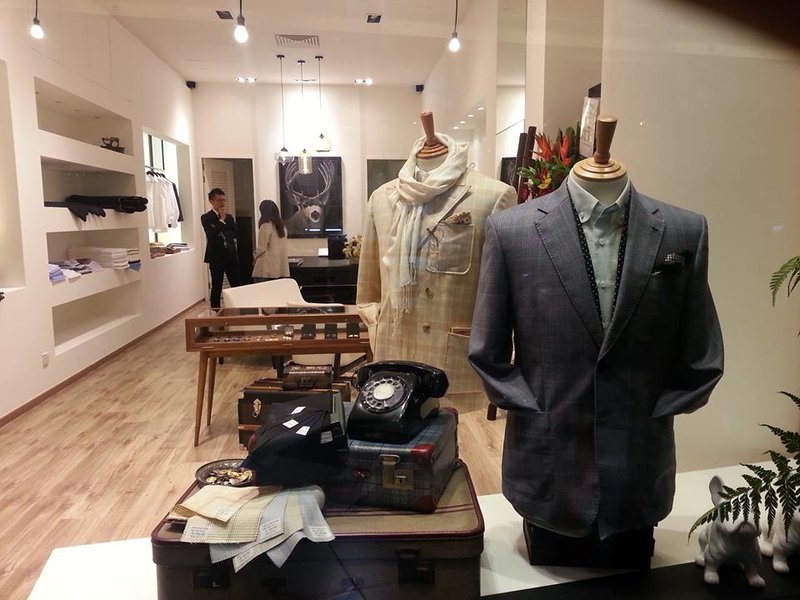 8. Mr Bulli & Sons
A little bit of eccentricity never killed anyone! At Mr Bulli & Sons, a group of young and upcoming tailors bring you sartorial dressing with a twist. With a quirky name, Mr Bulli & Sons specialises in mixing eye-catching prints with the art of bespoke tailoring. They carry an exclusive range of fabrics from Italy, United Kingdom, Turkey and Japan. Their collection includes a series of unique pocket squares guaranteed to turn heads. 
Mr Bulli & Sons, #01-69, 9 Raffles Blvd, Millenia Walk Singapore 039596, T: 9154 5507
9. Graziaa
With their founder trained by masters at London's Savile Row (including Paolo Zegna), it is no wonder Graziaa promises only the best quality and design. Now run by the second generation of tailors, Graziaa carries only the best fabrics from luxury labels such as Ermengildo Zegna, Holland & Sherry, and Scabal. A fan of the suppressed waist, Graziaa perfects their trademark to bring out an individual's body shape. 
Graziaa, Chevron house #02-27, 30 Raffles Place, Chevron House, Singapore 048622, T: 9159 3605
10. CYC The Custom Shop (LKY's tailor)
Singapore's classic tailor CYC rounds up this list. With an esteemed clientele including late minister mentor Lee Kwan Yew, CYC is known for cultivating long-lasting relationships with their customers. Founded in 1935, CYC is renowned for their tailoring methods steeped in tradition and culture. Their years of experience is most apparent in the fine craftsmanship and muted hues of their garments. Most of all, their signature methods include a traditional elegant fused collar. 
CYC The Custom Shop, 9 Raffles Place, #01-21, Republic Plaza, Singapore 048619, T:6538 0522
---