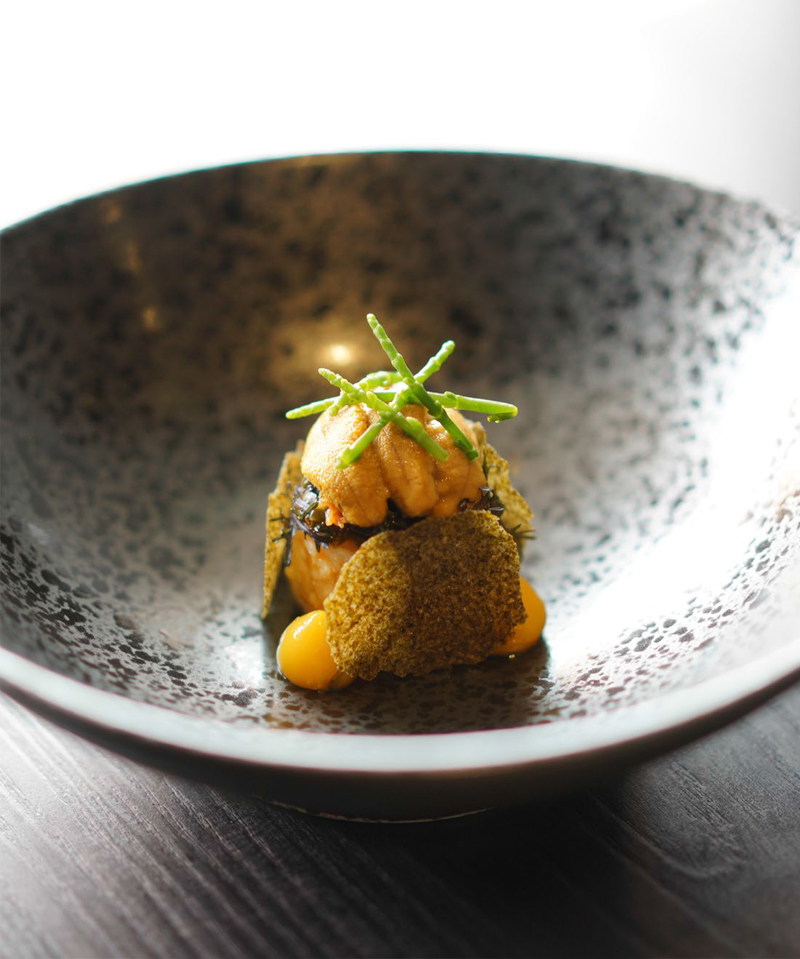 Nestled amongst old shophouses along Keong Saik Road is fine dining establishment Meta. The restaurant serves mostly French cuisine with a modern Asian twist. Greeting you as you walk through the doors of the cosy space is an open kitchen, chic black marble flooring, metallic furniture, and warm ambient lighting designed by celebrity ID Peter Tay.
With the open kitchen concept, diners can take a gastronomic journey, where they can see their meals prepared at the grill before being delivered to the table. The restaurant serves up seasonal menus with inventive, tantalising dishes that utilise the season's best produce. Chef Sun, known for his sharp and precise culinary style, has previously worked at Tetsuya's in Sydney and Waku Ghin in Singapore.
Hailing from South Korea, his Korean-influenced dishes are must-tries. For appetisers, there is the Wagyu beef tartare bulgogi. Carefully crafted, the bite-sized pastries look like pieces of art. Oysters are also given the Korean treatment – fresh and succulent Irish oysters are served with ginger, lemon, and gochujang (a Korean fermented condiment) for tinges of citrus and spice.
Do not be fooled by the seemingly simple Korean seafood pancake. Sun backs it up with his grandma's stamp of approval. "That's one of my grandma's recipes," he says. The pancake is simple yet flavourful. The garnishes, consisting of pickled daikon and sea asparagus, are not just for presentation. The sharp acidity of the picked radish cut through the flavourful oil, and the dipping sauce is a merriment of soymirin, Korean chilli flakes, sushi vinegar, and spring onions.
For mains, there is Sun's Guksu, a seaweed capellini pasta that is sprinkled with a generous dose of Australian spanner crab, and has hints of yuzu kosho that adds a spicy kick to the briny broth. End your meal with Meta's Black Woods dessert. Although its name suggests a chocolate overload, it is made with sesame paste, matcha sponge cake, dark chocolate sorbet, and chocolate tuiles. The twist: Gochujang puffed rice that gives a hot and savoury punch after the sweet flavours have dissipated from your palate.
It is clear why this restaurant is listed under the Michelin Guide for Innovative cuisine. Chef Sun swerves from the usual bold tastes of South Korean fare to present a unique take on his motherland cuisine.
---