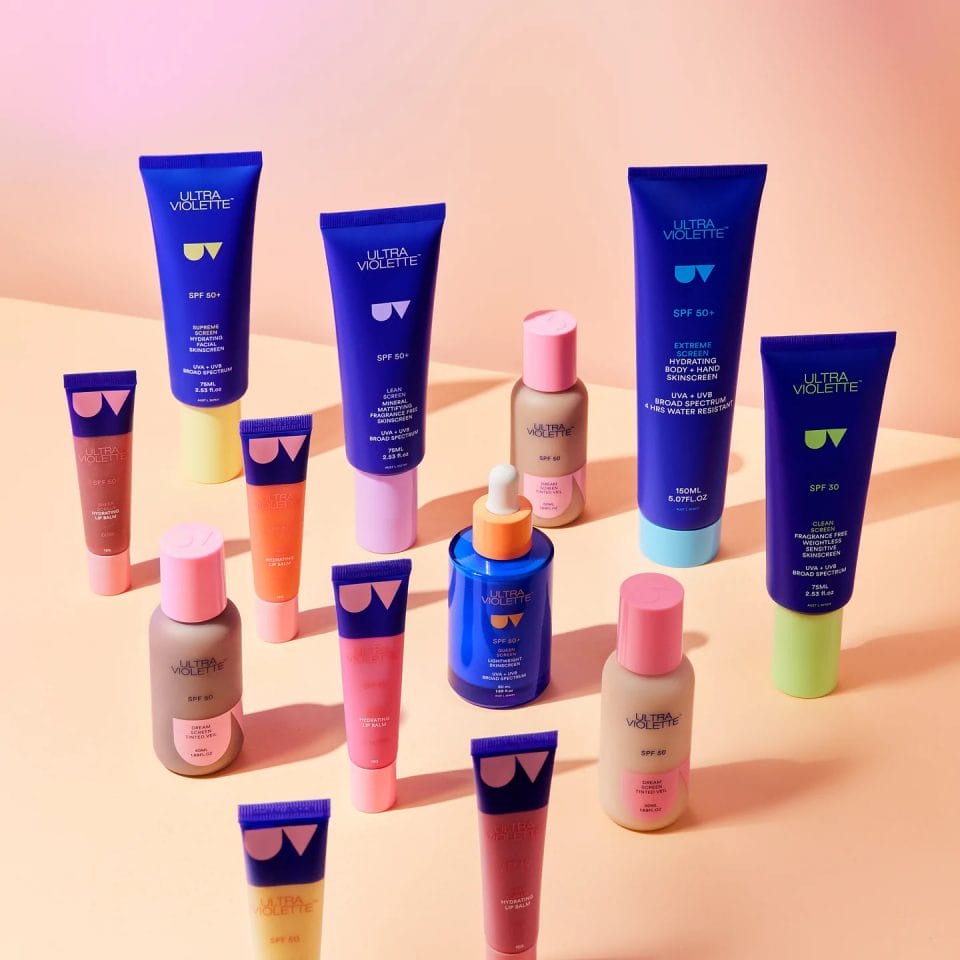 The premise of Australian sunscreen brand Ultra Violette is simple. Sure, you can stick to your holy grail and use it on the daily but your skin is always changing. With too many drinks the night before, you might wake up as a reanimated corpse like in a H.P Lovecraft movie (that is what the brand's Luminising Sunscreen is for) or if you've been doing your diligence, feel free to use anything. This democracy of choice — pick it, use it, love it — is exactly how Ultra Violette has changed the game of sunscreens. You now have options.
In co-founder Ava Matthews's words, the Australian brand creates "sunscreen and skincare for everyday wear"  but one has to bear in mind what he, she or they have to use it for and what exactly they are using.
"For Australian suncare, it's technology and innovation-driven. How we created our Ultra Violette sunscren wardrobe was to make sure that we have an option for every region, skin tone and skin type. The fact is that we've used the most modern and innovative sun filters and combined them with skincare ingredients. As you know, Australia is the hardest place to get a skincare pass because we've got the ozone layer right above us which means our products need to be high-powered. If you're wearing Australian skincare, you know it's going to work."
"If you're looking at a sunscreen made or sold in America, it uses really old school filters that were developed in the '90s or even earlier. Ours at Ultra Violette uses a combination of modern filters; ones that were approved for us in 2015 onwards that are much more current."
View this post on Instagram

With the technological know how and experience in the beauty industry (Matthews and her co-founder Rebecca Jefferd have experience in development and branding), Ultra Violette has another trick up its sleeve. Its size in comparison to larger competing conglomerates meant that it could tap into the zeitgeist: using a sunscreen is great but wouldn't quickly launching a sunscreen that had skincare benefits be even better?
Let the product do the talking and wowing for social media buzz and applause amongst industry experts and customers, but most importantly, customers be they first-time users or serious-skincare users have to love using it all the time.
The brand's first range took two years for development (in context, Glossier took four and as for big brands, the process can take eons) before launching in 2019 and before I talk about the process, I have to talk about the big picture. Skincare swung three ways; pastel-coloured, minimal or clinical. Ultra Violette quite literally, burst onto the scene with colours.
View this post on Instagram

"To be frank, our branding won't change anytime soon. You have to understand we launched when Glossier was at its peak and everything was millennial pink. Before that, everything was black, white, and minimal. Suncare can be really clinical and we wanted to flip that off its head. Two years was a long time for us but not everything was developed as we sometimes make tweaks to our products. We've done this before and this isn't our first time so we knew which hoops to jump through and which to skip past."
Matthews actually mentions that the Ultra Violette sunscreens are rigorously tested quite a few times in the interview and the proof, if you've read the above 550 words so far, is in the efficacy of the product. If we could, we could have just simply mentioned that Ultra Violette's products are the end-all-be-all to sun protection but instead, we'll let Matthews perform her pitch.
"A good sunscreen has to feel nice, look nice and smell nice. It has to also be efficacious because there's no point in making a product that doesn't do what it says on the bottle. That seems really obvious but there are a lot of products that do that. You're constantly being sold things you might not need but sunscreen is the one thing you need.""
View this post on Instagram

Now, the loaded question I was miraculously allowed to ask Matthews: Ultra Violette's sunscreens start at $39 for a hydrating body & hand product before capping off at $55 for a serum and they are entering a market where the #1 best selling sunscreen is a Japanese drugstore brand that retails for $15. What then, were the concerns Jefferd and her had?
"There needed to be a sunscreen in the Singapore premium space and where the product was fully functional but had skincare benefits. Some of them do the job by protecting you but they don't suit everybody. When we created the wardrobe, we knew that not everybody might wear the same formula every day. There're the immediate gratification and the results that follow. A lot of our products have this ingredient called PENTAVITIN® which is a 72-hour hydrator. Additionally, a lot of them have Vitamin C in them as well that continues to brighten."
View this post on Instagram

Here comes the second bomb. I decided over the course of our conversation that Matthews would be willing to answer another loaded question; what is Ultra Violette doing in terms of sustainability? After all, its sustainability measures are only listed on its help-center page.
"Sustainability is something that's increasingly important to us and it's hard to do an overhaul. But, we're working on improving ourselves with every new product we launch. To be honest, it's hard to find a tube that's made of more sustaianble materials that can hold a formula with high SPF as such formulas break down so easily. You'll get a tube that breaks or a bottle with a neck that breaks so you need a tougher material for sunscreen."
"It's a work in progress but it doesn't make sense for us to move to materials that degrades a product or breaks upon shipping."
View this post on Instagram

In a previous interview I had with a grooming influencer, I pitched a question about the rampancy of sun protection tips on TikTok and how a wide generation of Gen Zers and millenials were oddly, only now discovering that it was important. His answer, unsurprisingly, was that he too was becoming obsessed with it and I'd like to chalk it up to the good work that brands like Ultra Violette is doing.
View this post on Instagram

To resonate across a wide global audience, a brand today has to talk to you; not up in a way that seems cheesy and manufactured or down in a way that belittles you. A brand almost has to take on a persona like a real person is talking to you and there has to be equal parts humility and humour to it. Ultra Violette unsurprisingly, has mastered the art of digital speak — "TLDR: just buy this one! Scorpios, duh! Our UV MVP" — which Matthews herself used to do before.
View this post on Instagram

"I've lived in New York so I understand what being global means and the Australian aesthetic is cool but it only resonates in some markets more than others. If I was walking in Soho in New York and I saw this, could I see it amongst the high end brands? We're very adaptable and everything we create is our own piece. We're small and nimble enough to adapt the space or medium that Ultra Violette appears in."
And to end off the story, here is a proposal for a space where Ultra Violette sunscreens should appear in: your table top where it becomes your new HG.
Once you're done with this story, click here to catch up with our September 2022 issue! 
---
RELATED ARTICLES