Bali has been voted one of the best destinations for a short getaway — a heaven on earth to kick back, unwind and still have all the city's convenience at the palm of one's hands. Men's Folio was invited to Hu'u Villas at Seminyak, Bali for a weekend to experience the island's charm and to find out what is making the world go back for more.   
The ride from the airport to Hu'u Villas at Seminyak was a relatively long one as the town was located at the center of Bali, and hunger started to kick in. The trip's host, Justin Foo from Ask Media Communications, greeted us at the entrance of the villa and ushered us next door to Sea Vu Play after ropping our bags at the reception. The nautical theme Seminyak restaurant was inspired by maritime traditions, pirate folklore and tales of the sea. More than just thematic, Sea Vu Play oddly makes one feel like they are home after travelling the sea for months. Although the place might seem superficially light-hearted, they take food and beverages served from their menu very seriously. Fed salads and soups, fish and chips, roast chicken and pizzas; the food was more than just satisfying, it really satiated the palate for a hearty taste. As the skies turned darker, we retired to our villas to rest up for the next day.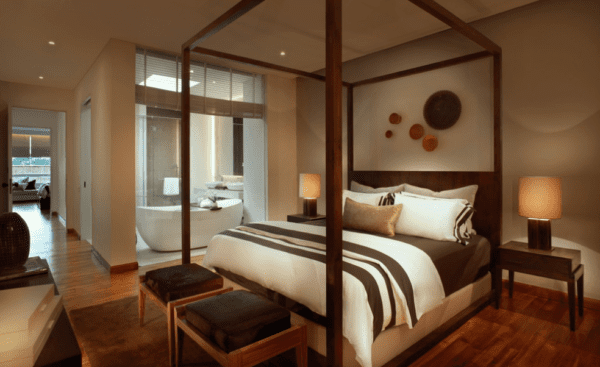 Each villa at the Hu'u resort comes with a private swimming pool, with landscape gardens, plush interiors and exteriors. The villa brings indoor living out, fusing contemporary comfort with understated extravagance. Passing through the communal kitchen, the wide living space with posh furniture greeted us. With glass-panelled walls that led to the pool, the ground level of the villa appears seamlessly integrated. 
The master bedroom's balcony overlooks the landscape of the private outdoor pool, with a luxurious bed and a private toilet. With a massive egg-shaped bathtub, rainforest shower and double sinks, the naturally lit bathroom is complete with polished floors and backlit mirrors. The second bedroom has two separate single beds, a similar naturally lit private bathroom with a spacious rainforest shower. Designed with style and comfort in mind, Hu'u Villas did not disappoint. Deep sleep and being well-rested was almost guaranteed with such well furnished amenities.
The soft morning hues of sunlight peeked through the glass panels, as soothing burble filled the villa. The day's first stop was Fortitude Bali, a bespoke fitness gym that offers unique and customisable programmes for different needs. Our coach, Yunus, customised a HIIT programme that had all of us sweating buckets halfway through it. We went through a series of burpee, abs and lower-body interval workout, that included pedalling hard on the stationary bike and lifting weights from side to side.
Breakfast was served at Clean Canteen, a few steps away from Fortitude. Inspired by chefs who use quality ingredients in street food, Clean Canteen brings to Bali a menu packed with spices of Asia and western classics. The ingredients used are real and fresh, organic, pesticide-free and of course, made from scratch home-made ingredients. Their aim is to bring all the different diets to a single table — whether one is vegetarian or has food allergies — yet still want to enjoy the same food. Clean Canteen wants to encourage guests to eat a little healthier and happier. 
The afternoon was spent lounging at the villa's private pool for some calm and peaceful me-time. The relaxing landscapes and generous pool space will make anyone forget their skin wrinkling but alas, good times are always short and it was time to gussy up for the main highlight of this trip. Tucked at the back of Sea Vu Play, right next to Hu'u Villas, The Den is well within walking distance. Known as the bar within a bar, The Den serves as the stomping grounds for Bali's finest DJs and her music fans, producing good vibes, quality beats and of course, classic drinks specially crafted with premium ingredients. The endless flow of alcohol and pumping music had the crowd going wild that night. The night felt so young, and it was then that Bali's magic was truly felt. 
The streets of Bali is not something a Singaporean is attuned to — amidst the chaos is a warm hospitality that makes one feel very at ease. Watching the streets fly pass us as we make our way to the airport and taking in all our charms, we made a vow to visit Bali again.
---
Luxify listings
Powered by