HUENINGKAI of TOMORROW X TOGETHER graces the cover of an exclusive edition of the Men's Folio December/January 2023 issue.
"I'm very flexible. I'm willing to try new things and challenge myself," HUENINGKAI says with an expressive gesture, "I believe that I can truly learn to grow as a person once I accept the changes instead of running away."
He is the youngest member of BIGHIT MUSIC's fourth-generation boy group entry TOMORROW X TOGETHER, which makes music that sits comfortably between the fluorescent idealisation of teenage melodrama and the anthemic bliss of pop songs — a distinctive blend for which their debut single "Crown", serves as its anthem. In 2019, their debut mini-album, The Dream Chapter: STAR entered the Billboard 200 chart at No. 140, making it the highest charting debut album by any male K-pop group in history and cementing the group as one to watch. Straying from the conventional, the five-member starlets are known for their distinct individualism, where their unique point of view and adolescent experiences formulate songs of effortful chemistry geared towards a sense of honesty and relatability for audiences.
HUENINGKAI is wearing the Tissot PRX Automatic Chronograph in stainless steel with matching integrated bracelet; Bottega Veneta Wool-blend jacket, wool-blend pants on the cover.
Speaking with HUENINGKAI, it becomes clear that being an artist is much more than just a presentation of perfection. The shapeshifting singer/songwriter, rapper and dancer is best known for being expressive — in "Lonely Boy" and "Good Boy Gone Bad," his voice raptures with heartbreak and angst, gripping at every inch with anger and regret that mirrors storm clouds ebbing to the sun. It becomes a recurring feature in TOMORROW X TOGETHER's songs and its vulnerability is indeed a rare trait amongst new groups emerging into the scene.
"Like how earlier generations of K-pop artists have shaped the industry today, I believe that the challenges the current generation of artists — including TOMORROW X TOGETHER — are tackling now could enrich the future K-pop industry," says the young artist who is making aware of how the group and him have been finding their own conviction and ultimately, their own voice.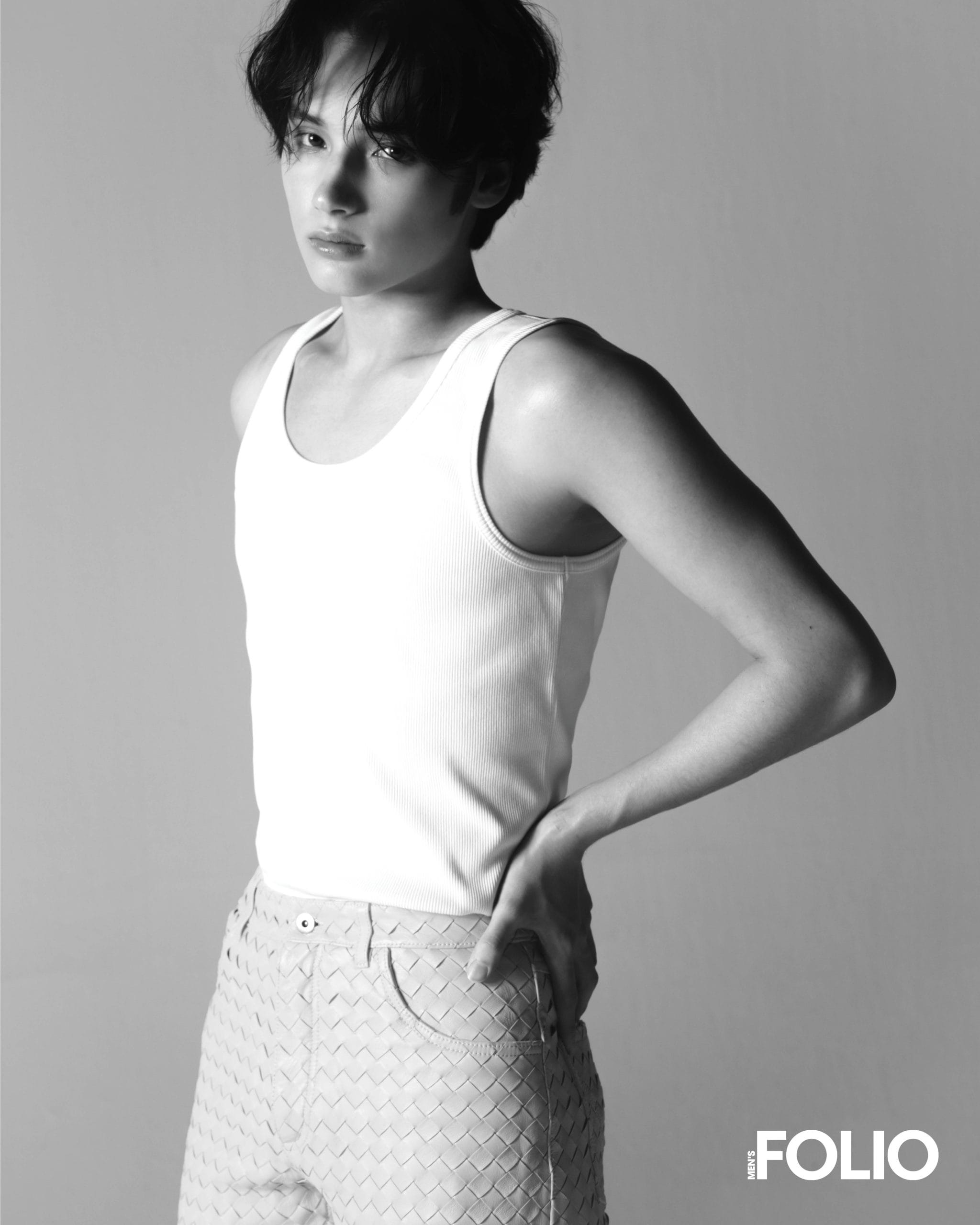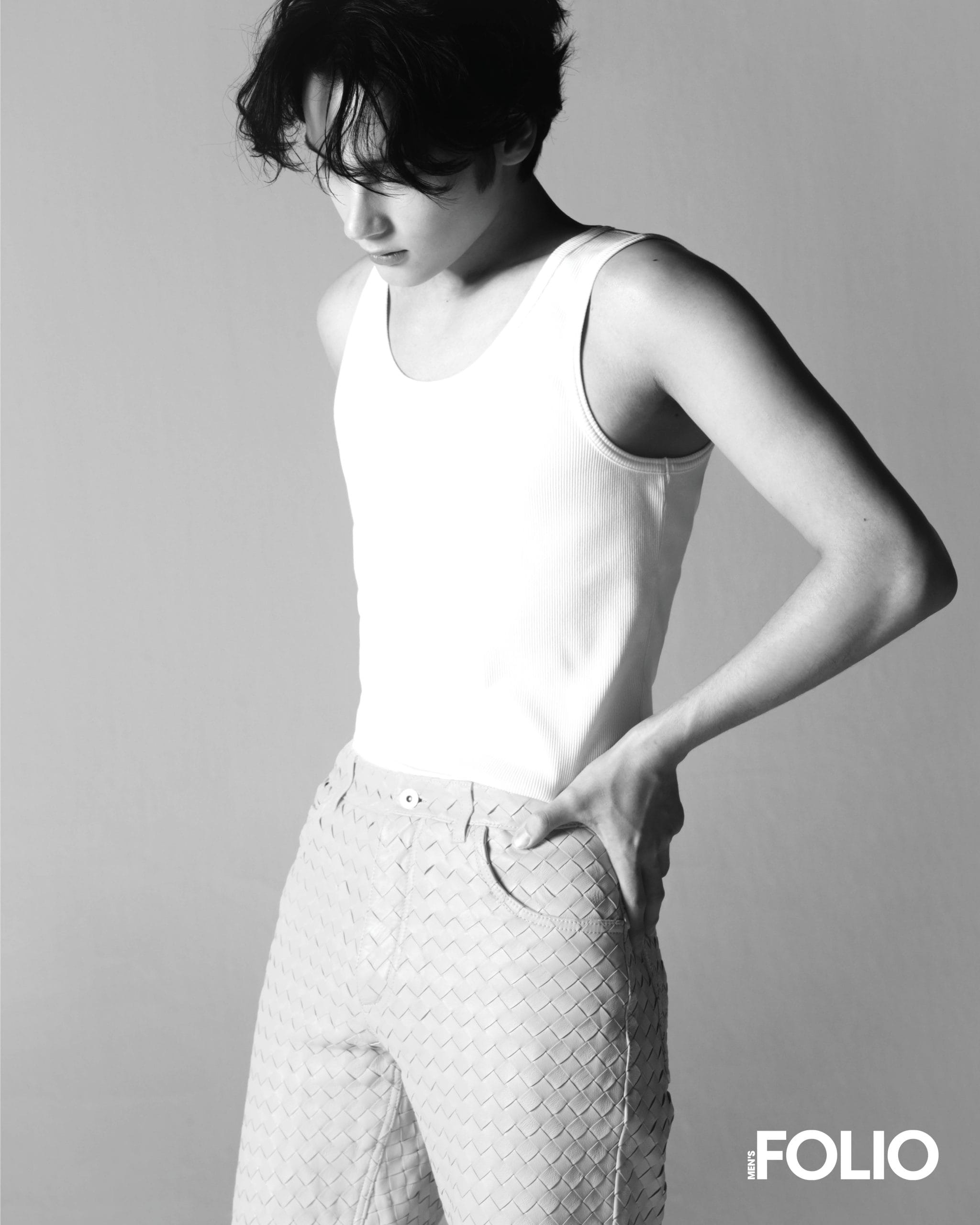 Bottega Veneta Cotton rib tank top, leather intrecciato weave pants
Hello HUENINGKAI! We are delighted to have you as our January 2023 cover star. The release of TOMORROW X TOGETHER's next comeback — The Name Chapter: TEMPTATION — has been highly anticipated, could you tease what fans can expect from it?
We always like to keep our new releases as a surprise to our fans. But one thing I can share at the moment is that it will be epic! The songs and the choreography greatly represent TOMORROW X TOGETHER as the artists we strive to be. I'm so excited to try out a brand new chapter with our fans, MOA.
What was the preparation for The Name Chapter: TEMPTATION like?
It was a mixture of nervousness and excitement. Preparing for a new album always give me butterflies, especially because we don't know how it will turn out until we take the stage. But I was extremely thrilled to try out the new style of music that manifests the message we want to deliver to the audience.
How does the concept of the new mini album differ from previous releases?
This album's concept focuses on how the guys from our last album — minisode 2: Thursday's Child — transformed and embraced a new phase of their youth. Check out how "Good Boy Gone Bad" will explore the new stage of life in our new album! The sound and choreography — they are very trendy and stylish — but they still mirror who we are as artists.
It's been almost half a year since we had new music from TOMORROW X TOGETHER, are you excited about this new chapter?
Definitely! All of the members have waited to come back with a new album and meet our fans on stage. We put in a lot of efforts to create satisfying music. I can't wait to see our fans' reactions.
It has been four years since your debut — do you still remember the day you first performed live? What was that experience like?
I remember it felt surreal. We were a new group just starting but our audiences cheered so loudly and passionately for us. We were so thrilled. It's an experience none of us can forget.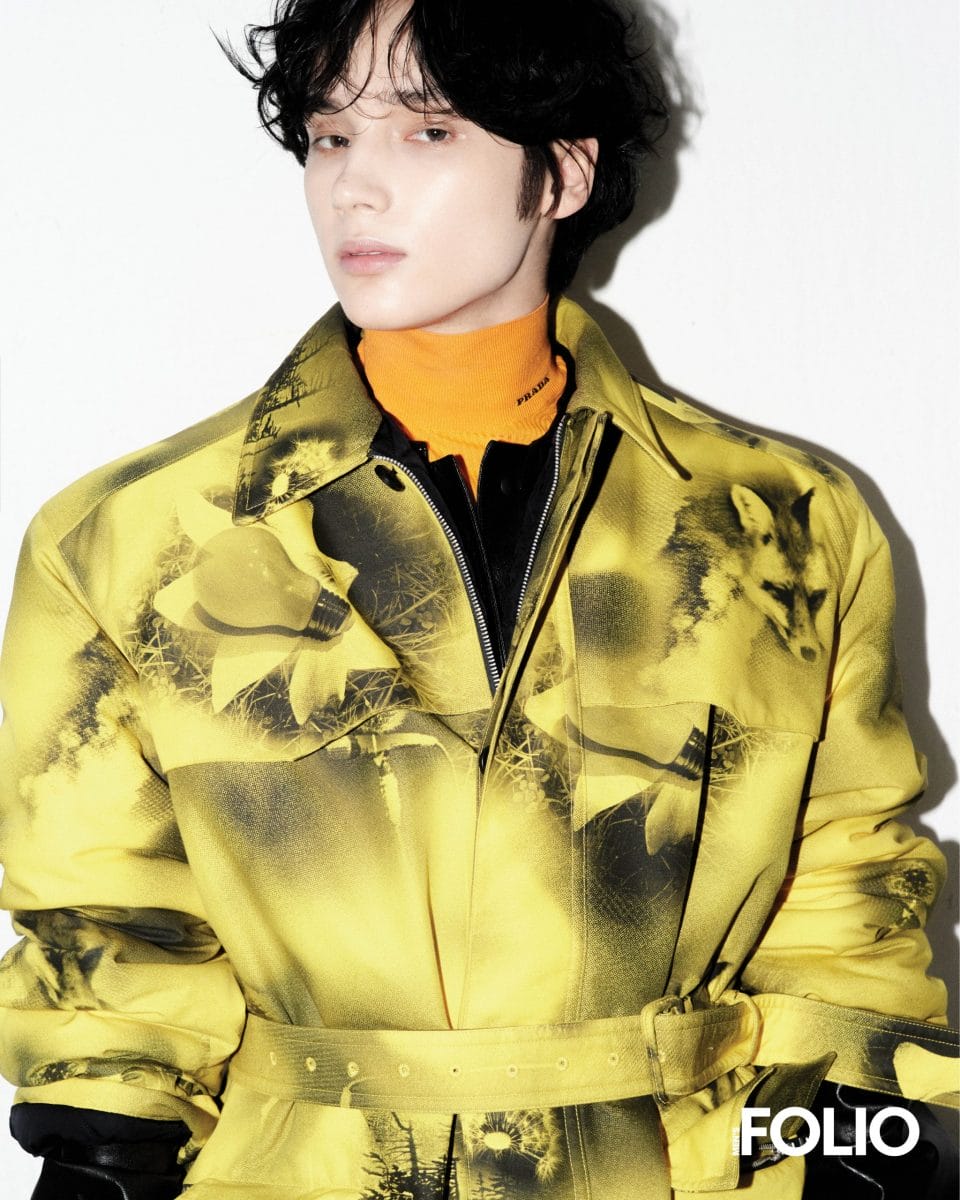 Prada Cotton and wool felt jacket, patent leather boiler suit, wool knit turtleneck sweater
Speaking of performances, what is one dream venue you would like TOMORROW X TOGETHER to perform at one day?
It's really hard to pick one because every stage, wherever it takes place, means so much to me. I would love to perform wherever our fans, MOA are there. I can't wait to be back on stage with our fifth EP!
Do you have a pre-performance routine or ritual before going on stage?
I always remind myself and the team of putting out the best we can for our fans. I like to motivate myself to become a better performer every time.
The fans in South East Asia are wondering if the rest of TOMORROW X TOGETHER and you will ever perform here, is that something we can expect someday?
Nothing is set in stone, but we are all thrilled to visit our fans in cities where we've never been. I just want to thank all our fans around the world for all their wholehearted support and love. Hopefully, one day, we will get to meet you there!
That brings us to the next question: is there anyone in the music industry who inspires you to grow into the artist that you are?
TOMORROW X TOGETHER, of course! We try our best to tell "our" story through our songs and performances. There are so many talented artists in the music industry, but I feel like our group shines most when we sing about our own experiences and the meanings of growing up in today's world. We want people to hear our music and relate to them. It's what we stand for.
You were very young when you first wanted to do something with music, what charmed you about music back then?
I was first attracted to singing and dancing because music is so boundless. It's so dynamic and challenging, and I feel like it helps me grow and learn so much as an individual as well.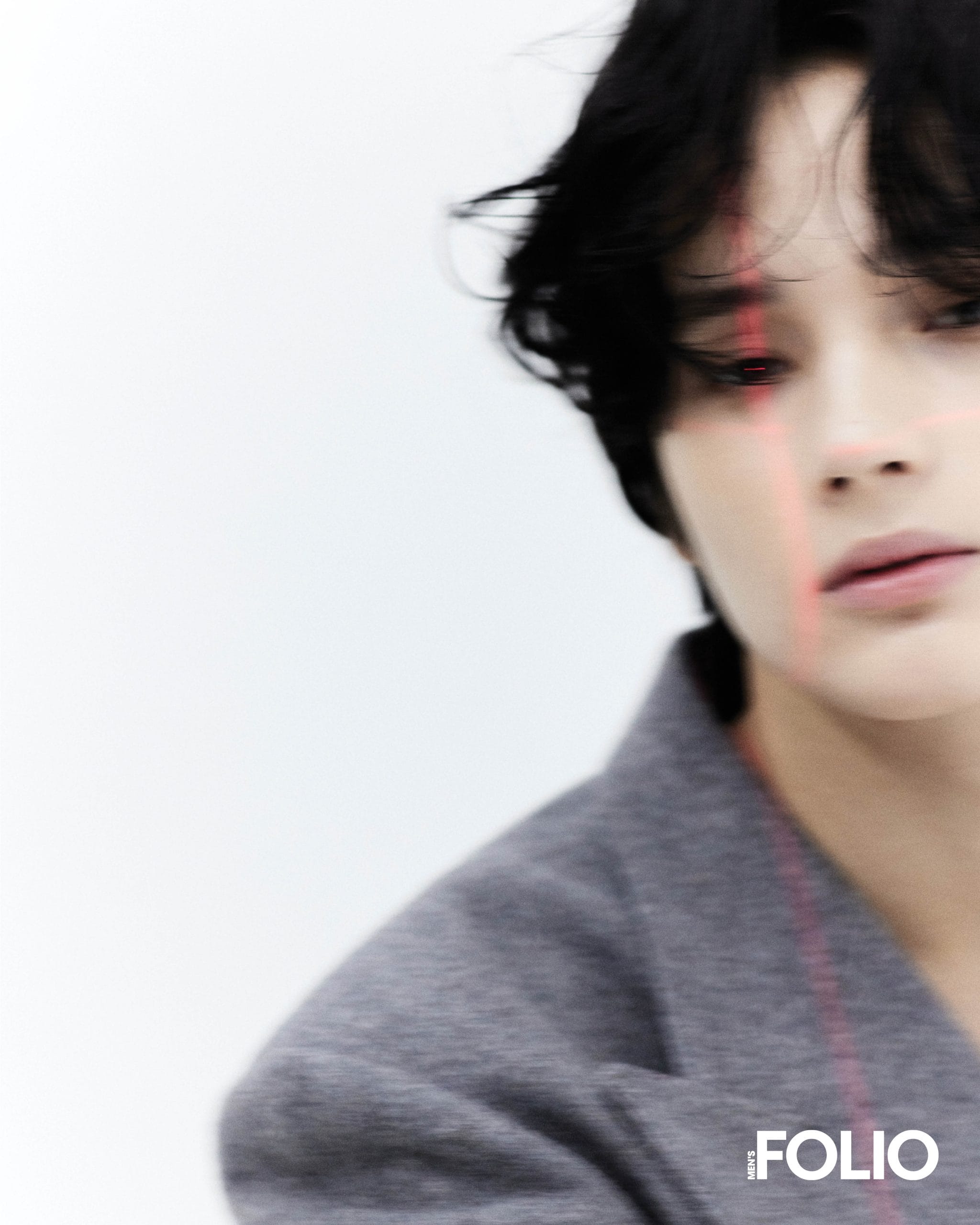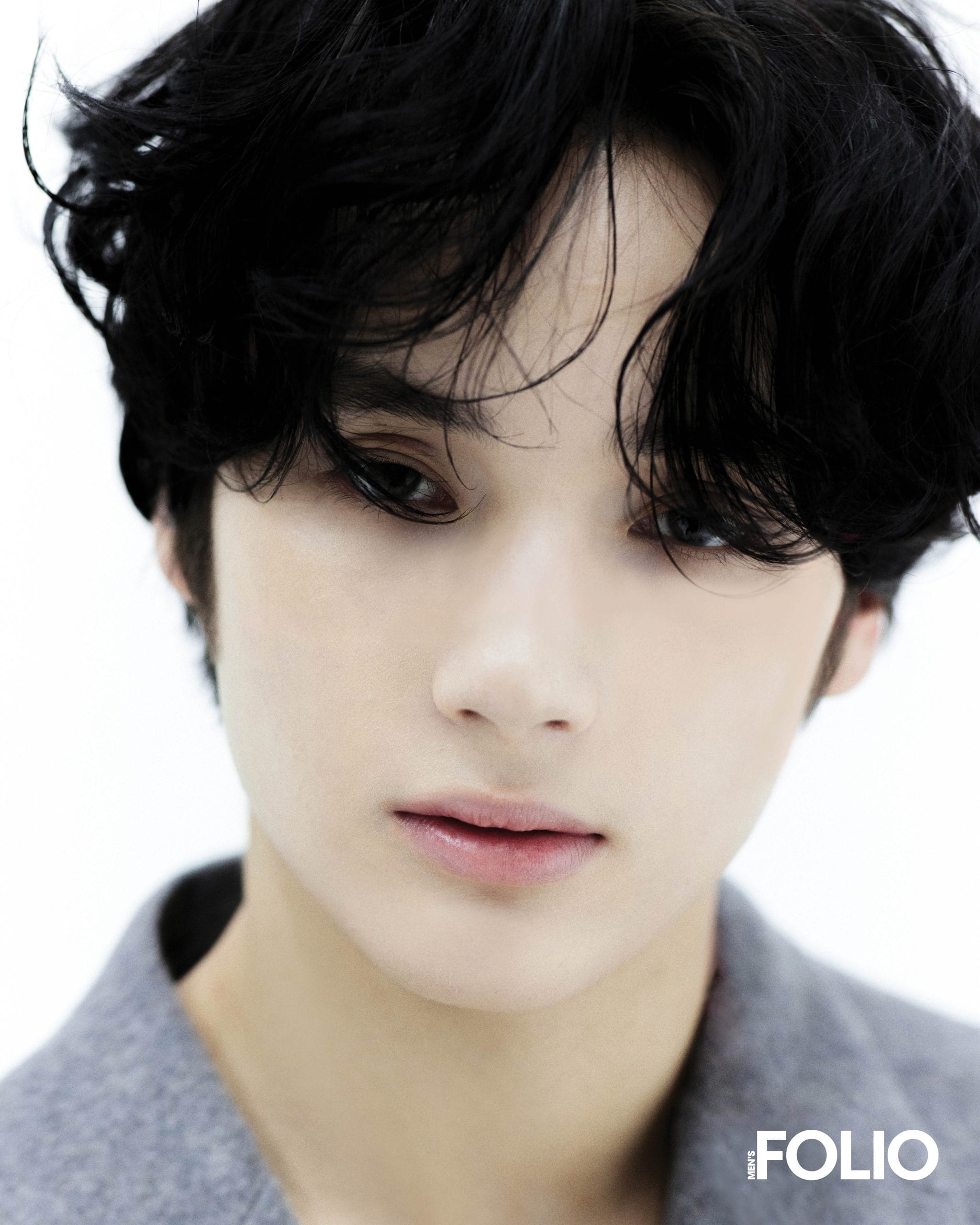 Gucci Wool tweed jacket
How are you keeping up with what inspires you these days?
I have so many interests. I listen to music like everyone else, and watch a lot of TV shows! Aside from all the aspects of my lifestyle, our fans MOA really inspire and motivate me. I love interacting with them not only on stage but also on a more personal level like Weverse live.
How about inspirations in terms of fashion? Has anyone been a style inspiration or muse to you?
Everyone is so fashionable nowadays. You would walk down the street and be amazed by how stylish people are. But, not to pick favourites, our member YEONJUN is such a nice dresser — his outfits are always on point.
Speaking of fashion muses, the rest of TOMORROW X TOGETHER and you are put together stylishly all the time. How does it feel knowing others might regard you as their fashion muse?
I would be flattered if anyone thinks of me as their fashion muse. I do have a few favourites though, like hoodies! All our fans know I own a lot of them. So, if anyone is interested in how I try to be fashionable, my words of advice would be to find what's most interesting to you, because everyone is unique and beautiful in their own way!
How did you develop your sense of style into what it is today?
I'm very focused on what I like. If I like something, I adore it. I guess you could say it speaks about me. I generally prefer comfortable clothes, and comfy attire is what I'm usually found in. It might not be fancy, but I still think it expresses who I am.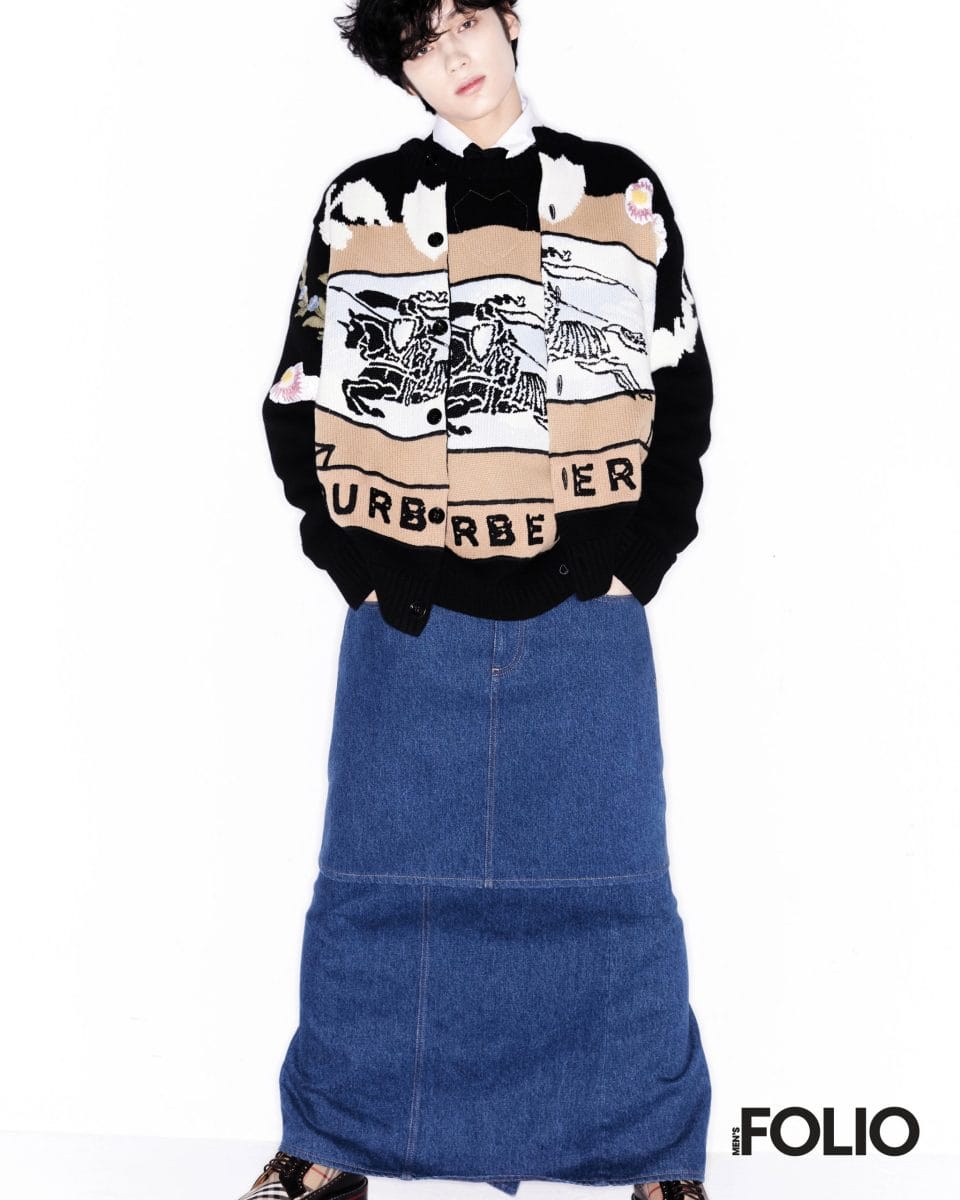 Burberry Wool knit cardigan wool knit sweater, denim skirts, leather shoes
Speaking of trying on different styles, how has fashion been transformative in your experience?
I think fashion has been most transformative for me on stage when we perform. We've tried so many different sounds and genres over the years, and fashion has really helped us to amplify the vibe and mood of the song. Fashion helps complete the visual components of our shows as well as the listening experience of our albums. It helps us enter another zone and put on the best show we possibly can.
Everyone has their unique personas when it comes to personal style — how would you define yours?
It's a tough question. I would like to describe my style as friendly, approachable and very comfortable because I love to get to know people in various settings.
What do you think are your best characteristics?
I'm very flexible. I'm willing to try new things and challenge myself. I believe that I can truly learn to grow as a person once I accept the changes instead of running away. It's so intriguing that the only "constant" in life is paradoxically "change."
What has changed the most about you while being a part of TOMORROW X TOGETHER?
This is a good question, I actually want to ask this question to the other members. I learned so much, yet out of all, I learned to become a team player. There's nothing more rewarding than accomplishing things "together."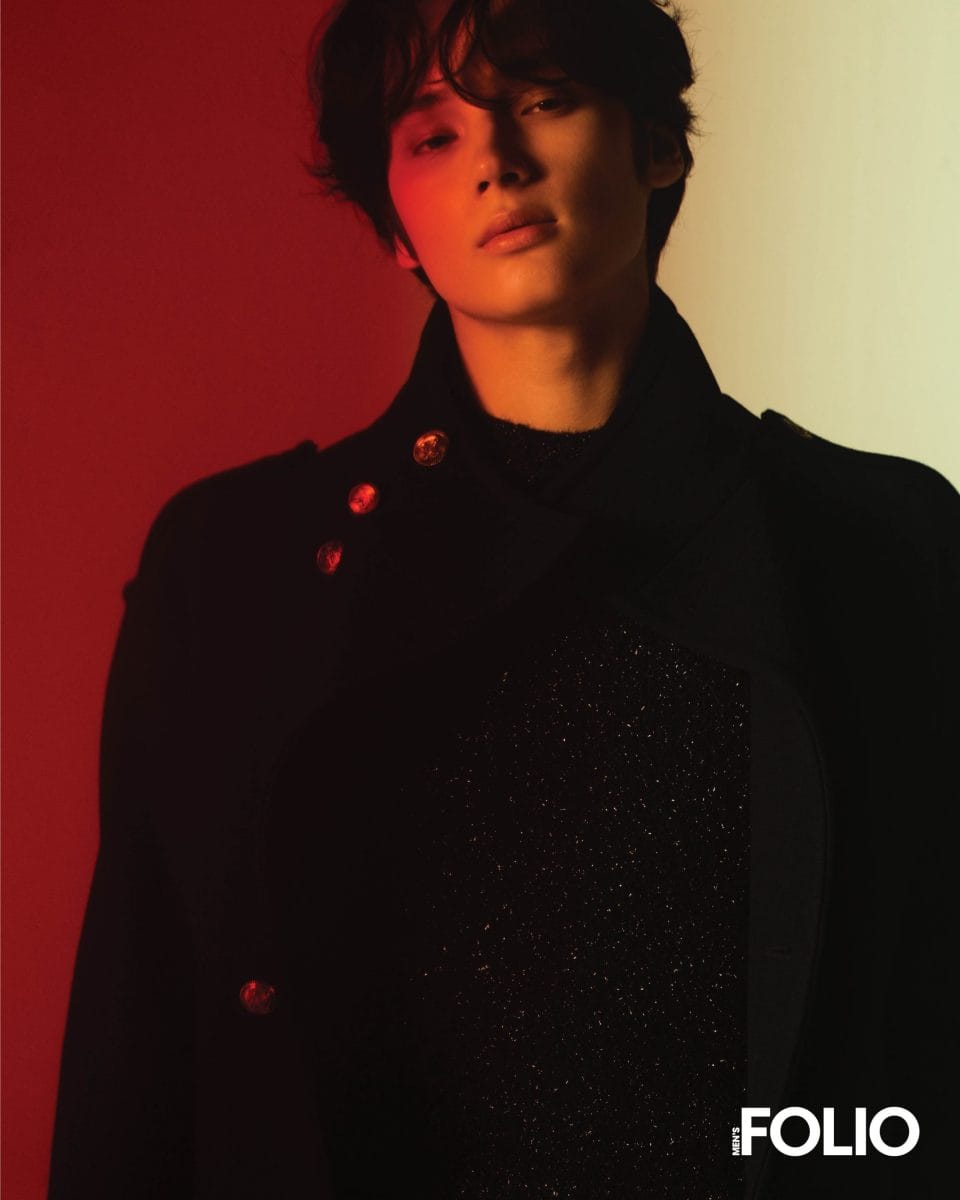 Saint Laurent Wool felt jacket, metal and wool-blend knit sweater
When the group was teased before you were revealed, the phrase "You and I, different but together. We explore one dream" was shared on the introductory website, what might that dream be?
There can be many different interpretations, but I think the biggest and the most meaningful dream "we" can share is finding ourselves through a beautiful journey called growing up. We are all in this together, experiencing the highs and lows life has to offer.
More importantly, TOMORROW X TOGETHER often revolves around building a possible, hopeful future. As the youngest member, what does "TOMORROW" mean to you?
For me, the meaning of "tomorrow" varies from time to time. I always hope for a better tomorrow, a better future and a better me. As the youngest member of the group, I think tomorrow means growth that I get to share with amazing team members and our fans MOA.
Do you hope others will feel the same about what "TOMORROW" means?
Of course! I hope others have a positive view of what tomorrow means to them. It could mean a challenge or uncharted territory, but that itself is an opportunity, right?
K-pop has helped bring Korean culture to the world; I'm also aware that you speak Mandarin and Portuguese, besides Korean and English, how does it feel to be a bridge between multiple cultures?
Language is just a component that shapes an intricate web of culture. There are so many things to consider before you say you "know" a certain culture. Through K-pop, the world is more aware of Korean music and started to get interested in other aspects of Korean culture, like food and the dramas! I'm really humbled and grateful to be part of something that brings people together.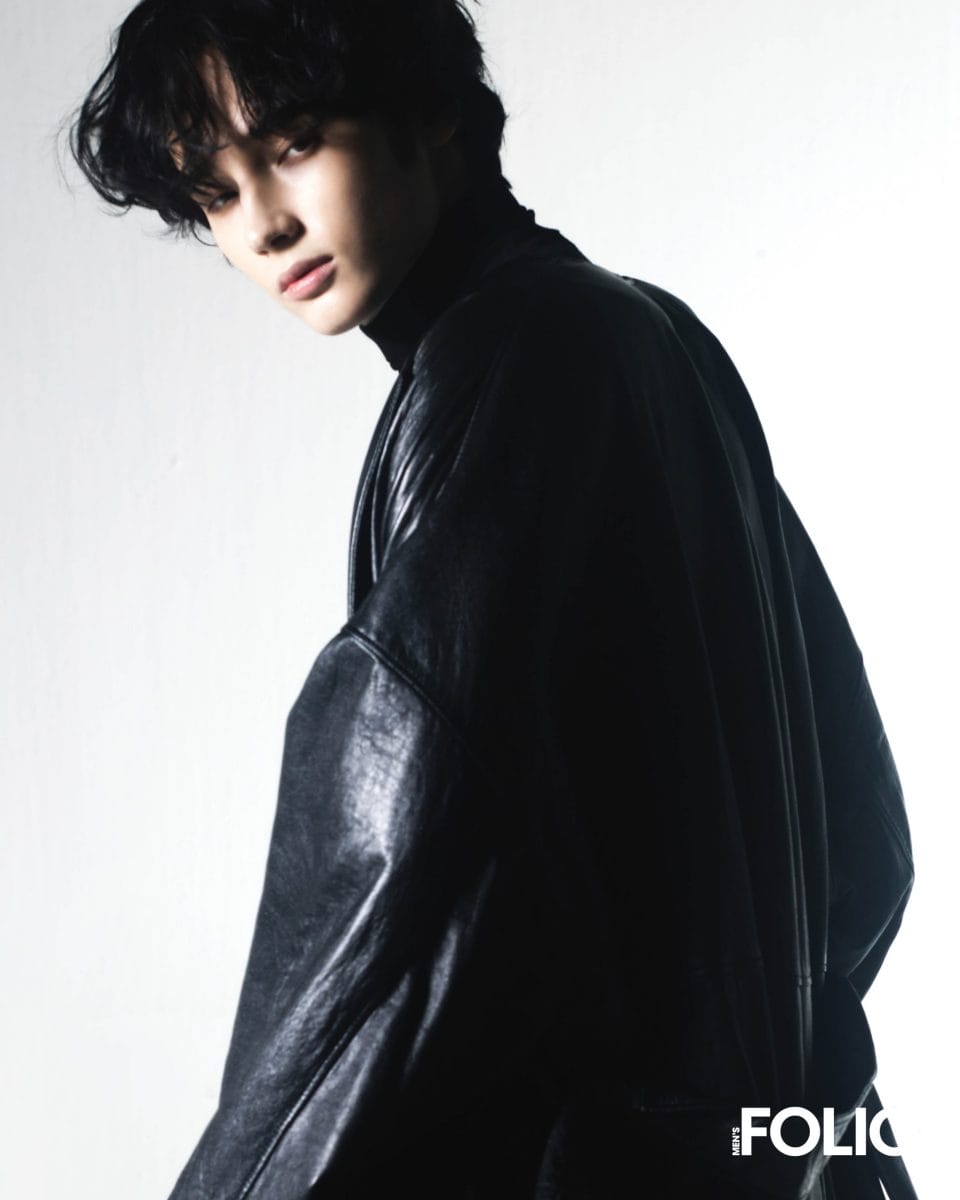 Celine Leather trench coat
What do you think this generation of K-pop can bring to the future of the K-pop industry?
Like how earlier generations of K-pop artists have shaped the industry today, I believe that the challenges the current generation of artists — including TOMORROW X TOGETHER — are tackling now could enrich the future K-pop industry.
Do you have anything you have learned to let go or overcome after debuting?
Every song, every dance and every tour is a challenge I successfully overcome. Yes, they are difficult and sometimes even scary. So, I've learned not to be afraid of anything without trying, I would say.
Lastly, do you have any messages for your fans in South East Asia?
Words cannot express how much I love you MOA! Thank you for always being with us. We hope to see you soon.
For order enquires, please email us at ordersg@heart-media.com. We ship worldwide. Alternatively, visit this link. 
Photography Kim Yoonwoo
Creative Direction & Styling Izwan Abdullah
Interview Manfred Lu
Grooming Noh Seulgi
Hair Kim Seungwon
Grooming Assistant Seo Yeji
Hair Assistants Seong Eunbi & Lee Bongju
Photography Assistants Ryu Jieun & Kwon Jooyoung
Production Manager Oh Seoyul | SY Production
Once you're done with this story, click here to catch up with our December/January 2023 issue.
---
RELATED ARTICLES