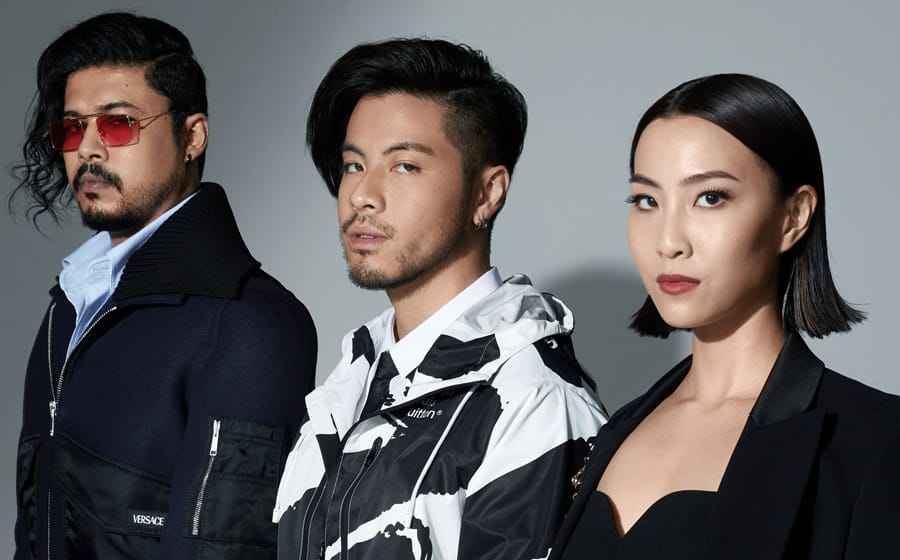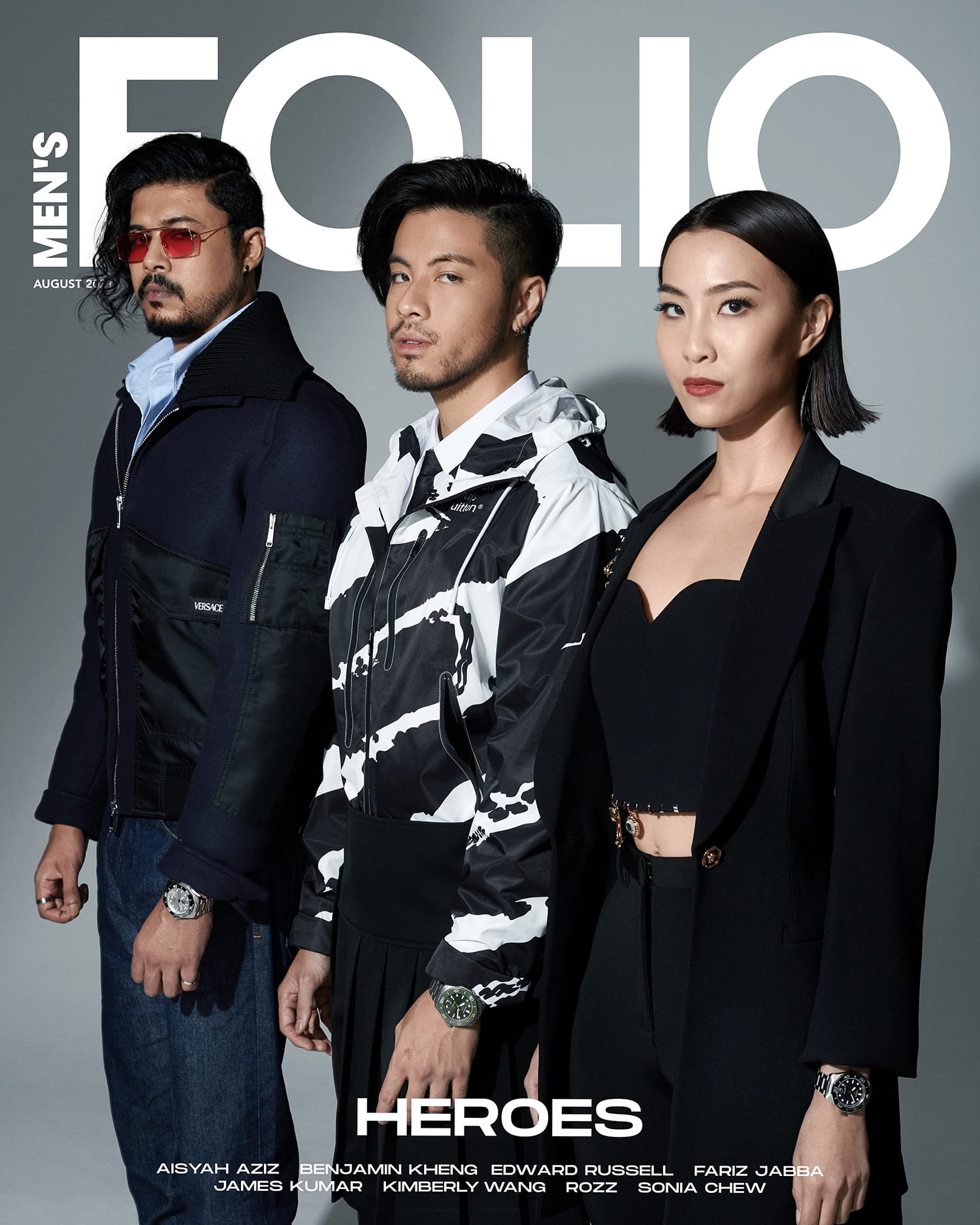 Men's Folio cover stars James Kumar, Benjamin Kheng and Sonia Chew on the third of three August '21 covers, wearing TAG Heuer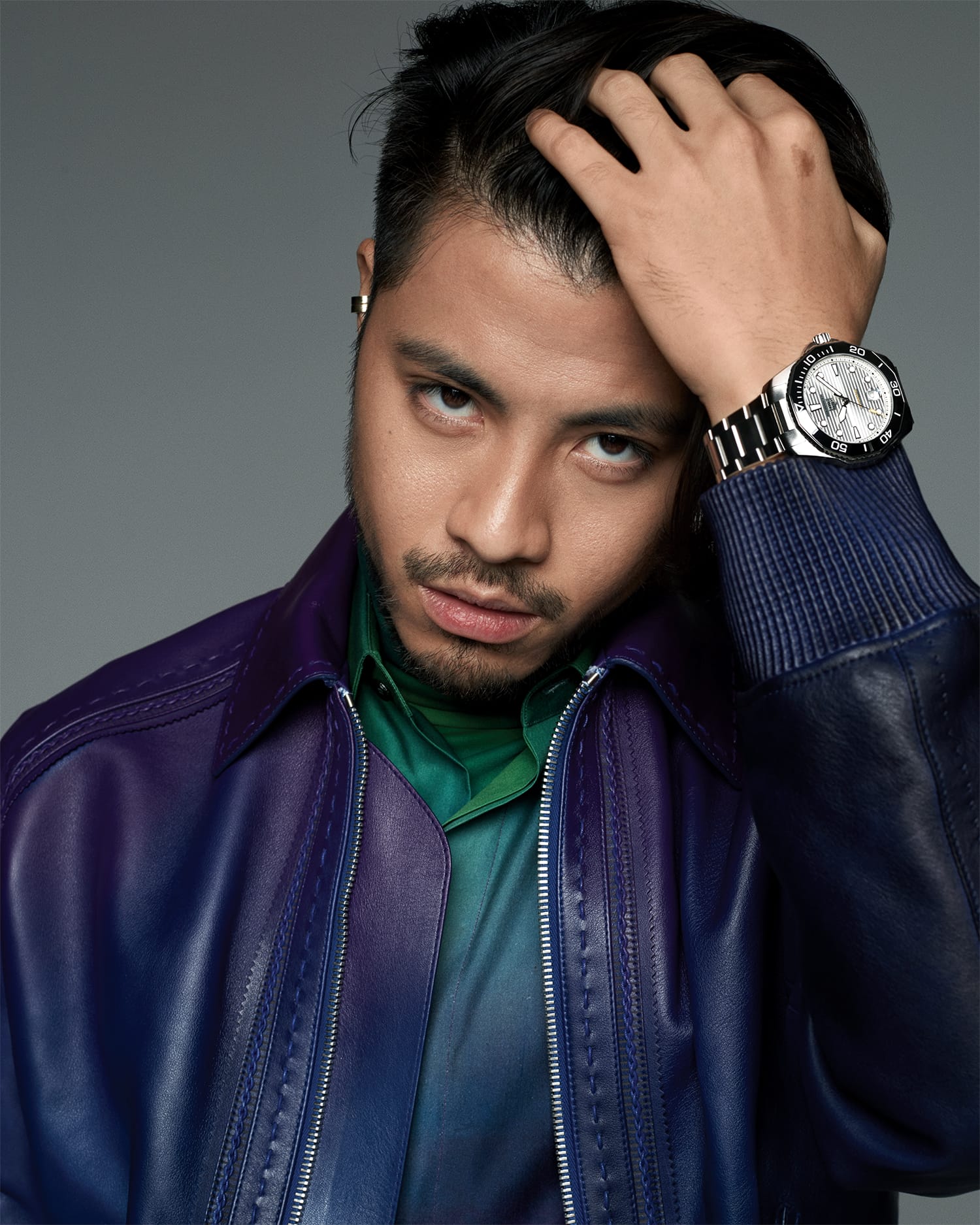 Benjamin Kheng is wearing TAG Heuer Aquaracer Professional 300 in stainless steel case with matching bracelet, Berluti Leather jacket, cotton shirt, wool-blend turtleneck sweater, Benjamin's own Earrings
Benjamin Kheng — Actor, Musician; the exemplar of incremental efforts realising momentous successes.
"I think something that's embedded in the Singapore experience is the fear of losing and being helpless (kiasi) — I can't even count the number of incidents, I can only hope to do better each time. We've been pretty pampered, so we often wait for big policies to make change and forget small actions have the power to effect bigger outcomes — like taking care of the environment or tackling racism."
"Millennials (and Gen Z's) spearheaded many things — reduction in education gaps, greater gender equality and many more progressive fronts. We're very innovative, I think."
"I'm insecure, fearful, selfish and prone to overthinking. I don't know, I'm pretty bendy in life. I'm more of a mediator/reformist, so I believe in a good level of backward bending. It's not about being spineless, it's about cautious kindness. That said I'll only bend once for anything and be very wary the next time round."
"Happiness isn't a one-ingredient bowl and it looks different to everyone but helping others definitely moves the needle. It depends on the state of 'yourself', I think (in reference to the statement of 'Before you help others, you must first help yourself'). If you're both drowning, then yes. But if you're mildly inconvenienced or in your feelings, then sometimes being the help also miraculously helps yourself."
"A hero is someone who never identifies as a 'hero', who fights for injustice, and who probably isn't very active on social media — like Jane Goodall, Michael Phelps, my dad!"
"I'm trying to do the little things, and if becoming a hero is a by-product of it then great! But I'm trying not to make that a central focus. Currently laying down bricks to start my own nonprofit organisation. Hopefully that goes well!"
—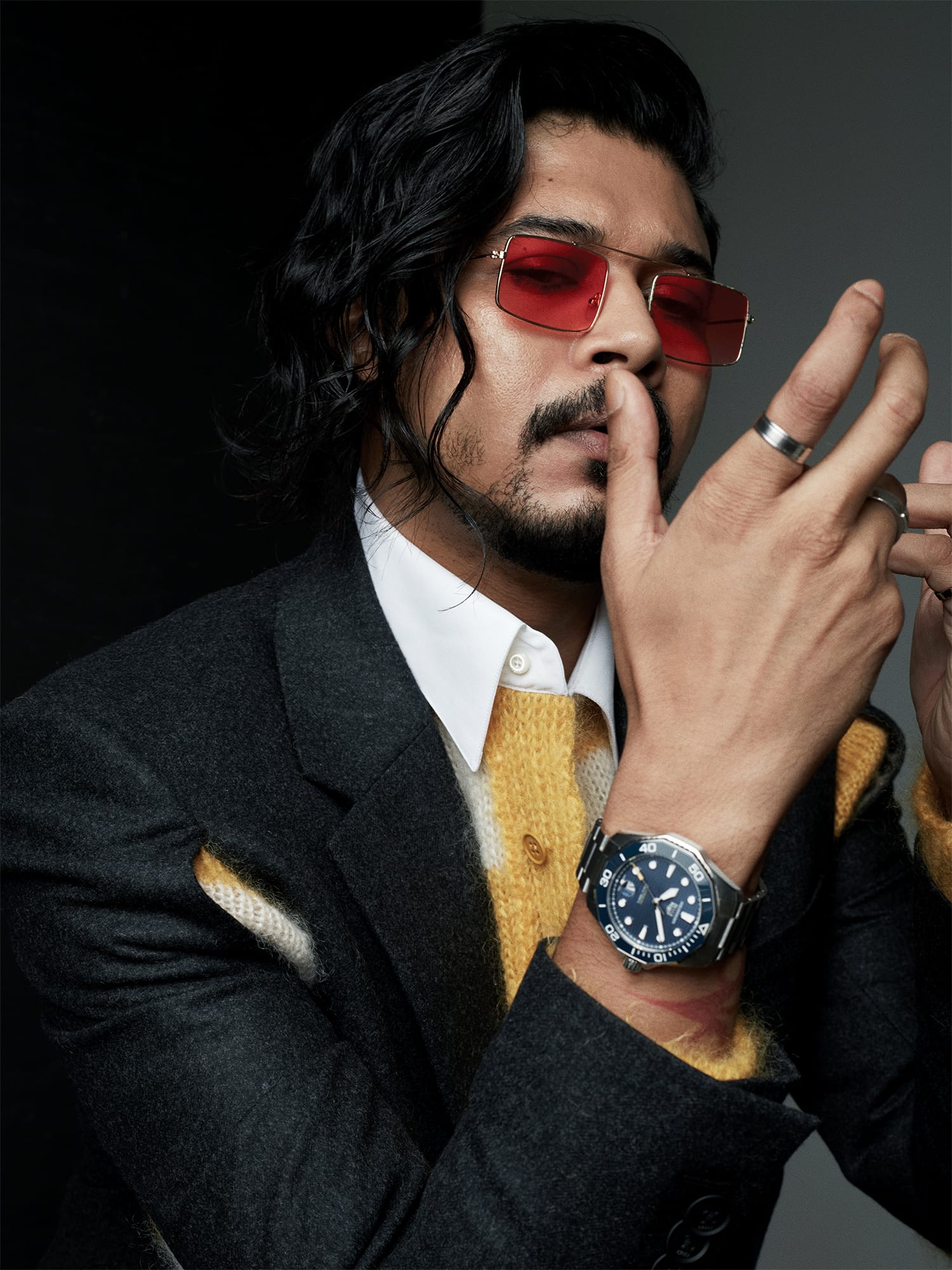 James Kumar is wearing TAG Heuer Aquaracer Professional 300 in stainless steel case with matching bracelet; Fendi Wool jacket, mohair and cotton polo sweater; James' own Sunglasses, rings
James Kumar — Actor, Musician; the well-intentioned pragmatic setting his own path
"I have no plans to become a hero. I think it's a little narcissistic to aim at becoming a hero. It makes light of the journey to mastering your life, your struggles, your thoughts. If my work and efforts help people along the way — great — but my goal has never been to become known as a hero or role model."
"I think I lack the desire to become a hero. I don't consider myself to be self-centred but I tend to keep to myself and try my best to get through each day. If I have enough to give, I will. If I find someone in need and am in a position to help, I will do that. Outside of that, I focus on improving my skills — learning more about the world and surviving the day to day."
"I've failed a lot. I think that's the point though. You try something, it works and you improve or it doesn't and you troubleshoot and try again."
"I don't impose any restrictions on myself. The world restricts us all enough and honestly, I can't say what I will and won't do to survive. No one really knows how they would compromise when push comes to shove and you are looking at surviving one more day. As a creative, your livelihood depends on your freedom to express. Even with these freedoms, there are changes in technology, censorship, agendas and regulations that limit our expression, and so it becomes a crucial skill for us as creatives to find ways and means around the limitations to create a body of work that represents us. So I'll be honest and say I don't restrict myself."
"I think we could use more empathy and compassion everywhere. It helps us all remember we belong to the same race and are all looking for the same thing in our life — happiness. Empathy helps us stop focusing on all that makes us different and teaches us to look at all that we have in common. Understanding someone else's struggles makes us more willing to help each other without conditions. We need more of that."
"I believe that to really, effectively help others, I must first be in a steady place. I need to be in a position to reach out and help people so that I can focus on what they need instead of worrying about myself at the same time. I don't ever want to make a promise to somebody when I'm not in a good place and can't deliver on my word."
"I think that the secret to happiness lies in living in the moment. I've met people who go through the motions of helping people, but their minds are elsewhere worried about something else. To be in the moment, to connect with the life around you, that is a rare ability and if you can manage it, the rest of your concerns are pushed to the backburner and you can enjoy a meal, appreciate someone's company, get wrapped up in a book or movie, laugh with abandon. These are moments of pure happiness to me that I try to treasure."
"This generation is well-intentioned — I think — but the need to prove they are making efforts kind of takes the focus away from the work itself. They are well-informed, they keep up with current events and are good at building communities but I think real change takes both hands. Right now, it seems that most people help with one hand and has a phone in the other to record proof."
"To me, a hero is someone who is completely human. Someone who has fallen over and over again and mastered the art of picking themselves up. Someone who has compassion because of their experience with pain. Someone who appreciates life because they have experienced loss."
"There are many people who embody these qualities. Most of them are everyday people who work hard to make a difference in their own lives and the lives around them. They aren't here to make a name for themselves but want to leave the world a better place than when they found it. If you need a well-known person to understand my idea of a hero, I would say Steve Jobs because he set out to reinvent a data processing machine to be more useful to creative minds."
—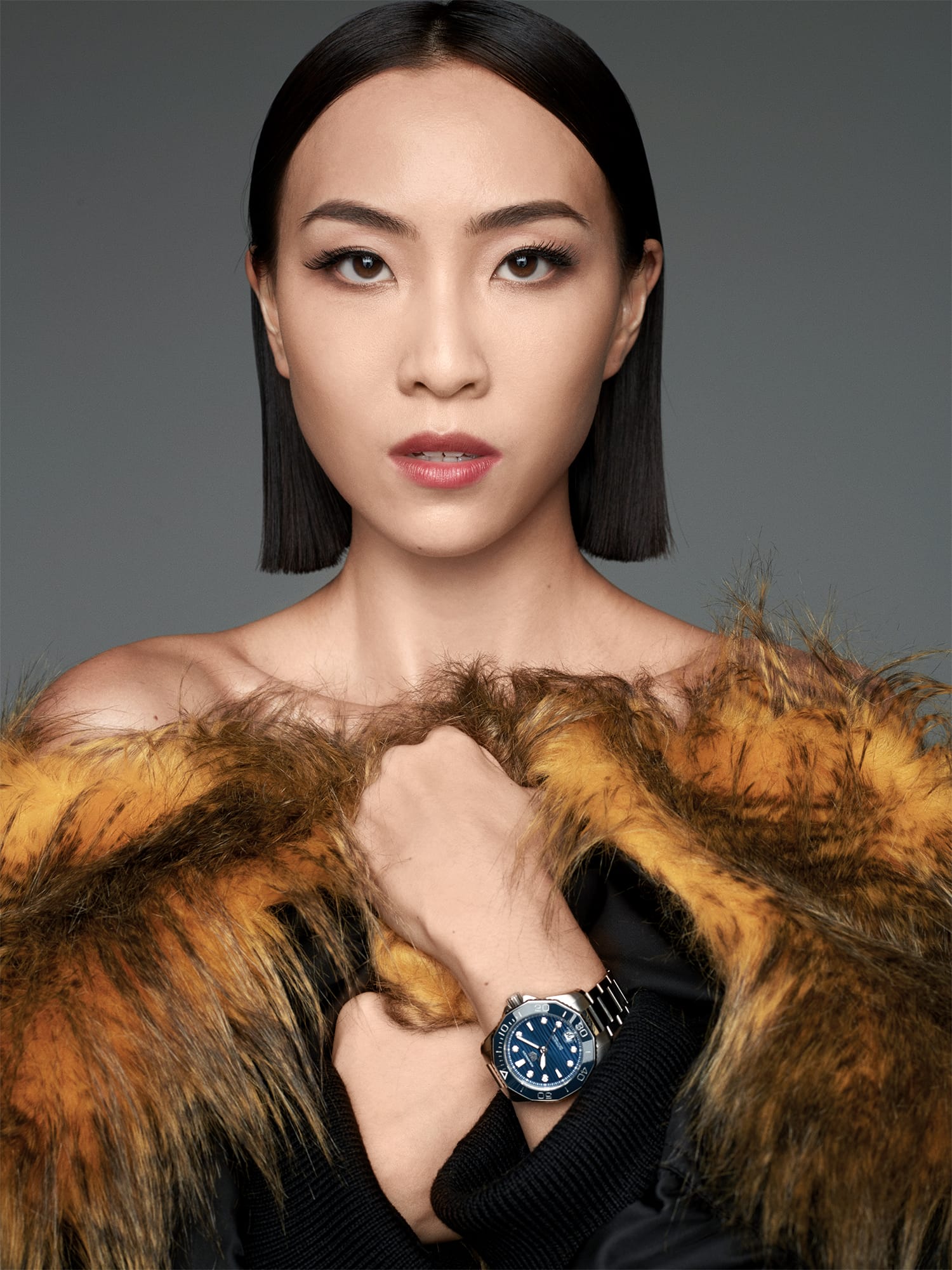 Sonia Chew is wearing TAG Heuer Aquaracer Professional 300 in stainless steel case with matching bracelet; Prada Re-Nylon and faux fur parka coat
Sonia Chew — Mediacorp 987 DJ, Digital Creative; the woman with her eyes on the prize and thinking about her future.
"I've always struggled with self-confidence from the start. I think a lot of it stemmed from me being the quietest kid in class with not many friends — always afraid to speak up (ironic seeing how most of what I do now requires tons of speaking). [Laughs] I'm also a bit of a worrier and the Capricorn in me always needs to know that I have my life planned out. As it turns out though, not everything can be planned and it's only human nature to focus on the bad bits of ourselves instead of the good."
"Mandarin has never been my strongest suit and at one point I had a tutor help me out for some jobs that required me to speak in English and Mandarin! Being too ambitious, I took up a job with a pretty big Chinese brand and had to do the opening speech in Mandarin. 30 mins to the show, I was in the bathroom cold sweating and having a major meltdown because I had never spoken Mandarin in front of a big audience before!"
"I look back at that and laugh… because it goes to show how powerful your mind is. No matter how prepared I was and I even had the han yu pin yin [Mandarin phonetics] all sorted, a tiny seed of fear is all it takes for us to crumble. I managed to pull through and even got some applause after the speech (maybe out of pity or encouragement but I'll take it) so I guess I didn't crack under pressure eventually!"
"I would never do something that doesn't morally sit well with me or that I don't align with or believe in. I still remember very vividly in the early years of my career, a prominent figure in the industry had a lewd proposition for me in order to land a job and threatened that if I didn't do it, he could ruin my career. I stood my ground with no regrets. Putting in honest, hard work and staying true to myself is something that I pride myself in."
"Happiness is also a very multifaceted thing and is usually a domino effect. If your personal life is smooth, you tend to feel better about yourself and therefore thrive at work — or even the other way around. Happiness can be simple or complex — it depends on how we define it!"
"Helping others actually brings an immense amount of joy to me. I feel that in turn, it makes me a better person. If we can all be a little less selfish and kinder to each other, we'd be much happier. It definitely plays a big part for me!"
"The late Princess Diana, Coco Chanel and Michelle Obama are some women I'm absolutely enamoured and inspired by. They are unapologetically themselves and don't just talk about changing the landscape — they did it. On a more personal level, I have lots to thank my parents for. They were forwardthinking in bringing me up and encouraged me to go against the grain."
"With how fast-paced this generation is, it's challenging the world to evolve quicker and that includes mindsets too. Subjects that have been considered taboo for the longest time are now being spoken openly and confidently about, and these are necessary and long overdue conversations to be had. We still have a long way to go, but it's a good start."
"Empathy and compassion — I wouldn't say that it's limited to the Singapore society, but there's a good portion of people especially online who are hypercritical and have a 'you deserve it' mentality. Too much time and energy are wasted on all this negativity online!"
"A hero is someone who constantly inspires others, acknowledges weaknesses, and transcends their own challenges — while staying genuine af. I don't ever want to be stagnant or complacent. On a personal level, I'm taking a business certification to challenge myself and learn something useful for my future endeavours! Can't believe I'm studying again… [Laughs]"
—
Photography Joel Low
Art Direction Izwan Abdullah
Styling Wilson Lim
Photography Assistant Eddie Teo
Styling Assistant Manfred Lu, Bing
Grooming Sha Shamsi using Dior Backstage Hair Sean Ang using KEVIN.MURPHY & Dyson (for Benjamin Kheng)
Grooming Eric Tan using NARS Hair Manisa Tan using Keune Haircosmetics (James Kumar and Sonia Chew)

This James Kumar, Benjamin Kheng and Sonia Chew interview first appeared in the August '21 issue of Men's Folio Singapore.
---