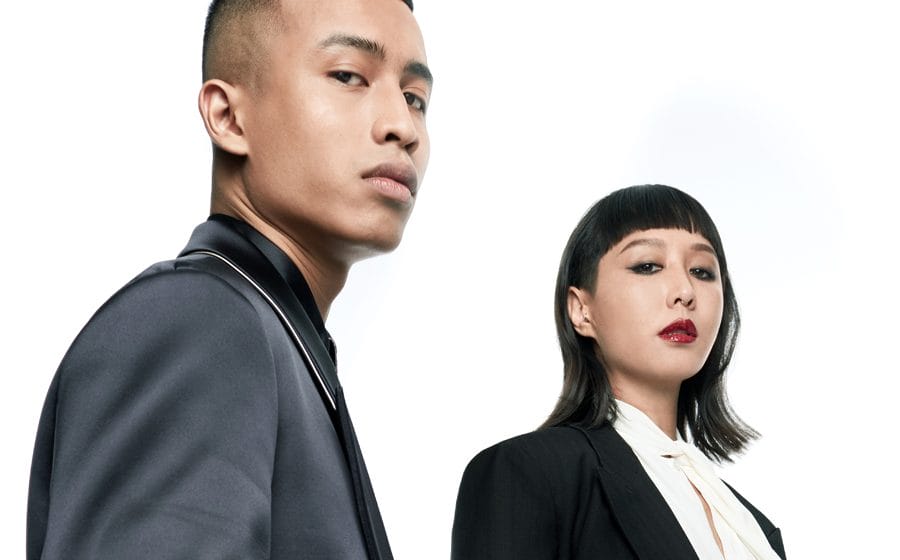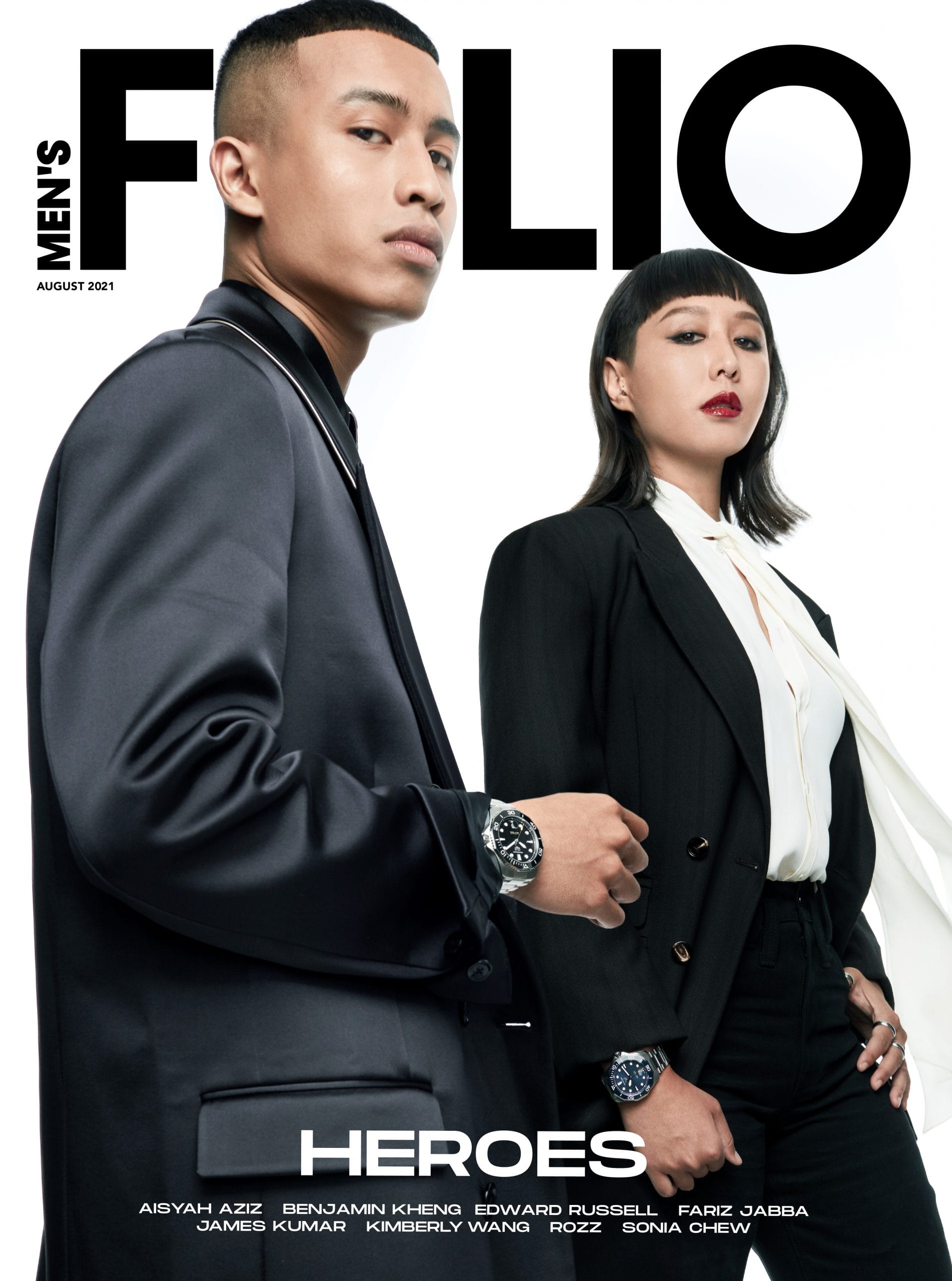 Men's Folio cover stars Fariz Jabba and Rozz on our first of three August '21 covers, wearing TAG Heuer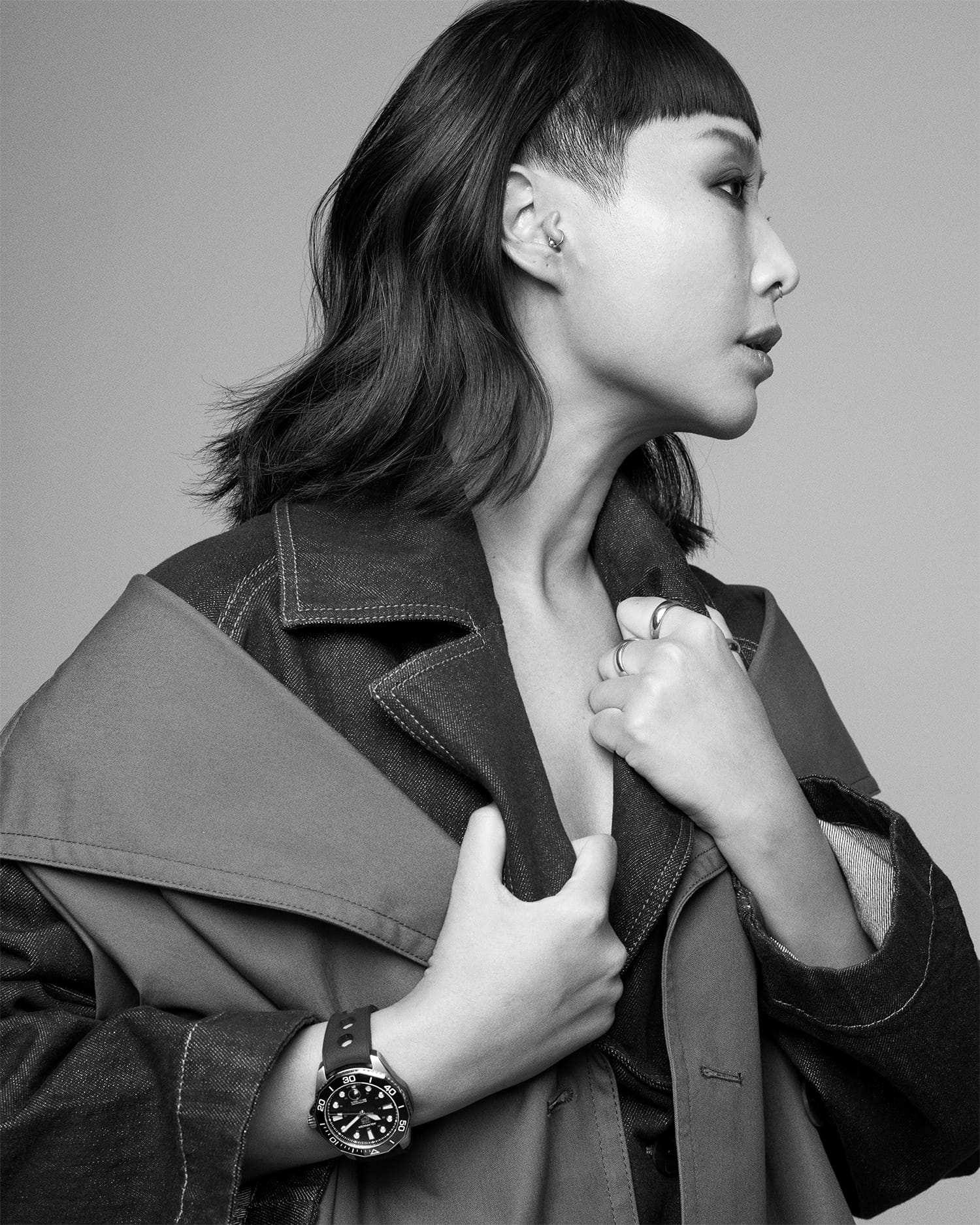 Rozz is wearing TAG Heuer Limited Edition Aquaracer Professional 300 Tribute to Ref. 844 in Grade 5 titanium case with rubber strap; Loewe Cotton-blend cape, denim jacket; Saint Laurent Metal rings; Rozz's own Earrings
Rozz — The fiercely independent woman who defines her own happiness.

"The future is now. I am already my own hero. I would never smile if i don't mean it. People will always know where they stand with me. Transparency is key in my world."
"It took a long time and a lot of hard work in therapy to get to my present level of mental and emotional fortitude. I'd say that having a strong sense of self-awareness, the humility to accept that I do not know everything and the vulnerability to look deep within myself have all contributed to me being my own hero."
"The biggest hurdle I've had to cross was accepting that therapy isn't just for the mentally unsound. Whether it's from our childhood conditioning or our experiences in adulthood, I believe that we're all a lil' bit f***ed up inside. I now think of therapy as 'spa for the mind'. If we take care of our bodies with good food and exercise, it makes perfect sense to extend that self-care to our minds with therapy."
"My dad left us when I was 11. While it wasn't a particularly traumatising incident, it somehow made an impression on my subconscious, resulting in my struggle to maintain healthy relationships with men. My therapist then called it 'daddy issues'. Awareness of this 'issue' was truly my first step towards rising above my hardwired childhood conditioning of my dad leaving me, and me wanting the men I date to fight for me like my dad never did."
"A hero is someone who strives to resolve their own psychological ills, so that they can make space to emotionally elevate the people around them. Fortunately, my inner circle (made up of family and chosen family) is filled with heroic people who lift and inspire me. Charity and kindness begin with self. Happiness is whatever makes your heart full. For me, it's a large bowl of Sungei Road laksa with extra hum."
"I belong to Generation X — the forgotten generation, kiapped [sandwiched] between the boomers and the millennials. We grew up with minimal adult supervision and are fiercely independent as a result. While the boomers and millennials are at each others' throats, the Gen-Xers — now in our 40s and 50s — pretty much rule the world by working hard, playing hard, innovating, learning from the past and planning for the future."
"People always seem to want the government to provide and solve every damn thing. I believe that if you depend on the government for everything, you're also empowering the government to take everything from you."
—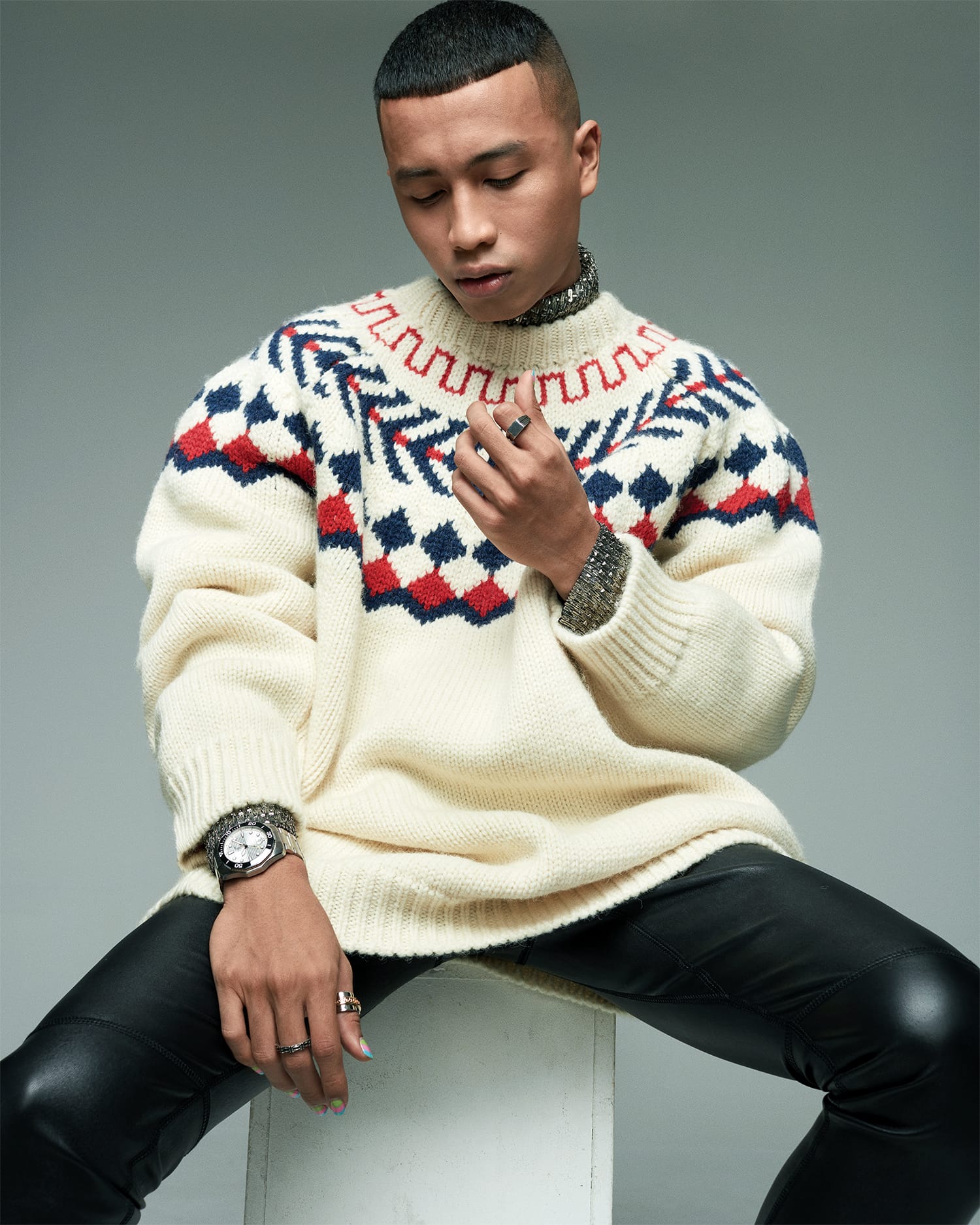 Fariz Jabba is wearing TAG Heuer Aquaracer Professional 300 in stainless steel case with matching bracelet; Celine Wool knit crochet sweater, diamanté embellished top, vinyl pants, metal rings; Versace Metal ring
"Tell your kids that it's important to express themselves artistically — be it in any practice. Painting, cycling, basketball, dance; pick one and delve deep. If it doesn't excite anymore, try more things. That's how we should live life. All of these are mediums of expression. When we open up more, we will find out that we have more, and deeper within than we think."
"I mean I always said I'd cut dairy for health reasons. But I don't, it's too delicious."
"Self-discipline has always been a flaw of mine. Being an enthusiastic wonder-blunder of a person who loves exploring and experiencing things, I tend to hate routines. I'm on a constant search for self-discipline — keeping a mindfulness practice, setting goals for myself and showing up to my objectives has helped me immensely in these past six months. It doesn't matter how many steps you take backwards. What matters are the steps forward."
"Personally, I've never set out to be a 'hero'. The priority was to understand people's love languages — which varies for different people — so I guess the quality of adapting to someone's heart has always been my objective. I aim to be a reliable member of my family till the day I die. Simple as that.
"To me, a hero is somebody who puts the needs of others before himself. Somebody who's constantly choosing to be virtuous and helping to make the environment and society a better place to be in. Anybody and everybody can be a hero."
"I've always been fascinated by mothers and fathers who set an amazing example to their kids — I guess a great example would be Will Smith and Jada Pinkett Smith. Anytime I see somebody do something for their pets or children or whoever they're taking care of — without a sliver of doubt on whether it could hurt themselves or it being a great effort — that to me is heroic."
"I think advice can be pretty dangerous if it's coming from somebody who has gone through something traumatic but still has not made peace with it. Before we help others, we need to inspect our energy on how it's being put out there. We have a responsibility to our friends and family. We are all a part of a beautiful ecosystem of culture, influence and love. As long as we take ownership of our surroundings instead of acting like a visitor, we would be living in a more harmonious world."
"I think in the current times with social media, our voices are heard on an equal plane. I mean, somebody with 200 followers on Twitter could be making a great impact on how people perceive things just by typing some words. It doesn't matter how many followers you got. It's the influence you make. That's what's different about my generation."
—
Photography Joel Low
Art Direction Izwan Abdullah
Styling Wilson Lim
Photography Assistant Eddie Teo
Styling Assistant Manfred Lu, Bing
Grooming Sha Shamsi using Dior Backstage (for Rozz & Fariz Jabba)
Hair Sean Ang using KEVIN.MURPHY & Dyson (for Rozz & Fariz Jabba)
This Fariz Jabba & Rozz interview first appeared in the August '21 issue of Men's Folio Singapore.
---