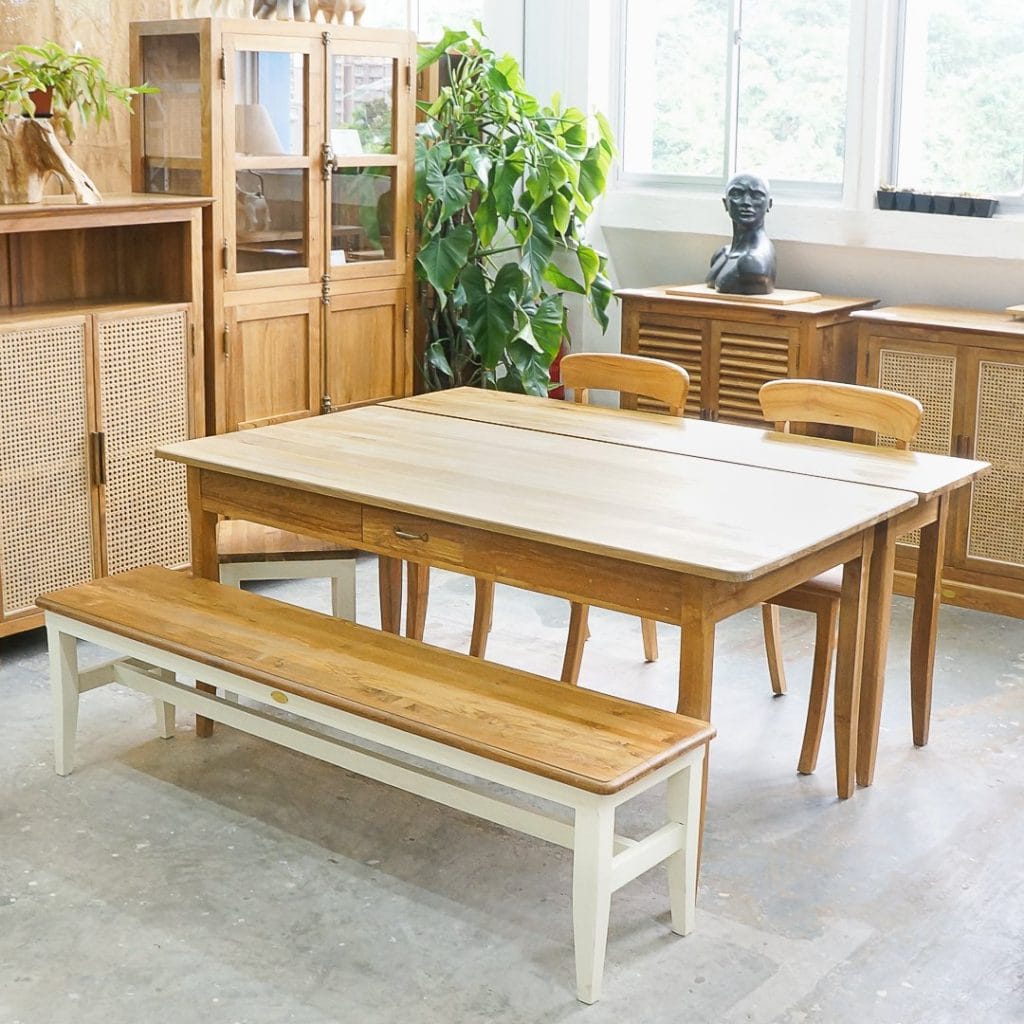 With any of NH Teak's Naturalis Historia furniture, one would be guaranteed a hardy piece of furniture for the perennial summer.

Immortalised in F. Scott Fitzgerald's novel Tender is the Night, venerated by its legions of starry guests (the hotel's Rolodex reads like an A to Z of film actors) and oddly rife with drama that mimics the Cannes festival itself (legend speaks of a manager who would insist on payment in cash for everything but the hotel has allowed cash-free payments since 2006), these are but just three of the charms of Hotel Du Cap-Eden-Roc — the 134-year old resort hotel that overlooks the Mediterranean.
The fourth charm lies within the exclusive Eden-Roc suite. Beautifully crafted teak furniture, a look that is more about style than status and sophistication without the stuffiness. The rustic look of teak furniture is nothing short of the epitome of summer, its lightness matched in both colour (the colour wheel spins from buttery wheat to a honey-gold) and weight.
—
View this post on Instagram

"Teak — is undeniably without doubt — the crème de la crème of timber in the South East Asian region. It has been used in construction from as early as the seventh century and possesses expansive qualities. Our choice to produce primarily in reclaimed teak is a conscious one. We strive to take nothing from nature but only to produce with what has already been taken. This, partnered with our artisan approach to construction and assembly, strikes a winning balance for both parties as we harm not the environment. In return, she provides us with reclaimed teak, dried to its optimum, strengthened and beautified by the elements of nature herself," shares a spokesperson from NH Teak, a reclaimed solid teak wood furniture and home accessories brand.
—
View this post on Instagram

The heavy moisture level in the wind, mercurial boiling points and the occasional heavy rainfall are all but a small inconvenience to teak furniture (it has to be pointed out that teak is often used on boat decks). After all, teak wood — unlike other forms of wood — does not splinter and neither is it affected by moisture or termites. This durability then lends itself to NH Teak's Naturalis Historia collection, "timeless pieces from the Old World that have been married with modern functions and considerations to fit our 21st-century lifestyles while retaining classic features".
—
View this post on Instagram

Could one love his IKEA haul as much as he would an NH Teak creation? Perhaps. But would it incite the same kind of joy? There is the thin veneered Brusali shoe cabinet as opposed to NH Teak's Vauban — one that features octagonal rattan mesh screens handsomely finished with a slender pair of brass cast door pulls and hinges. Can a stack of magazines look as beautiful in the Beaulieau — a four-faced rattan panelled storage chest with classic brass lid stays — as it will on IKEA's classic Rast?
One already knows the answer. No judgement there, the beauty of padding one's home is in the matching and the mixing. "Now that the teak we use has been reclaimed and is part of our Naturalis Historia collection, it is ready to spend another lifetime with you, in your home, documenting experiences and gathering stories to pass on the next."
This story about NH Teak and the beauty of teak furniture first appeared in our June/July 2021 issue. 
---