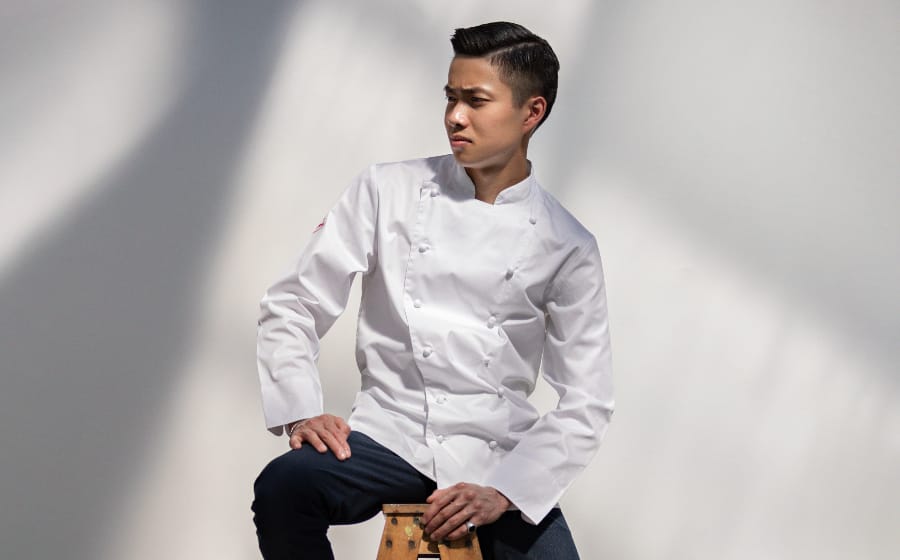 A L'aise, a French restaurant in Norway, Oslo seems like a bit of an anomaly in a country that quite literally stresses on the joy of relaxed and affordable dining. Who wants to suit up to eat cuisine like pickled herring or smoked salmon? But what A L'aise lacks in loosening up its buttons, it makes up for in old school le français grandeur. 
It has wall-to-wall carpeting (no brick walls here, folks), napkins with a considerable GSM thickness (it has been rumoured that people like to pilfer them home, no surprises why) and it has… a …champagne trolley.
Instead of just talking about the superficialities, Chef Mathew Leong (the head chef, by the way) talks us through the experience he has serving up some of the best French haute cuisine in the land of stunning fjords.
—
View this post on Instagram

Do you think there's a level of prestige that comes with working for a MICHELIN-listed restaurant like A L'aise or is it just part and parcel of the job for you?
Definitely, for me I am really proud to be working at the highly acclaimed restaurant A L'aise, a MICHELIN-listed restaurant. For most fine dining restaurants, the ultimate aim and goal is to be listed in the MICHELIN guidebook.
For A L'aise to be a MICHELIN-listed restaurant is already a great honour, this is one step closer to achieving a MICHELIN star, the hallmark recognition of excellence in the culinary world.
In recent years, we have seen how the MICHELIN Guide has been making a splash on the Singapore dining scene and while some may think that it is overrated, it is definitely not. To achieve this elusive star, kitchens must basically operate like machinery — with every person working flawlessly in-sync, and there is no room for errors.
As easy as it may sound, getting a MICHELIN star involves a lot of hard work (literally blood, sweat and tears). The level of pressure and stress is indescribable, and some may even take years just to achieve their first star.
—
What do you think is the biggest takeaway from working in a MICHELIN-listed restaurant then? Do you perhaps think it might be a little overrated?
For me, I guess the biggest takeaway is that as the head chef of A L'aise, I am responsible for the overall style and theme of a restaurant's food, and typically design and refine the signature dishes. This also includes changing the menu for the restaurant through R&D to create new dishes for the restaurant together with co-owner and chef Ulrik Jepsen.
I don't think it is overrated because for a restaurant to be MICHELIN-listed is no easy task. For a MICHELIN-listed restaurant, the next aim at A L'aise is of course to achieve MICHELIN stars. Hence, it is definitely an honour to be part of the team in helping the restaurant to achieve this prestigious award through my creations.
View this post on Instagram

Besides the food quality, cooking techniques and — most importantly, taste — restaurants would also have to ensure consistency between visits, a good ambience and dining experience. One slip-up and it might cost you your MICHELIN star.
Another takeaway is learning to adapt to situations quickly. Each day, I would be faced with different challenges, be it the kitchen operation, food, ingredients or customers. In my role, I need to ensure that every variable that might affect the taste and quality of the food at A L'aise is precisely adjusted to provide the same immaculate standard of flavour and texture for all the guests.
—
How do people in Norway dine differently from the ones in Singapore? What was your biggest culture shock?
To be honest, the way people dine in Norway and Singapore are pretty similar — we love our food a lot and we do know how to enjoy when it comes to eating. While Singaporeans like us cannot live without rice, the Norwegians really love their bread a lot. They can have it not just for breakfast, but for lunch and dinner as well.
Rather than a culture shock, I was very amused to see how much salmon Norwegians eat when I first came to Norway. Norway is world-famous for its fish and besides smoking and grilling the fish, the locals also transform fish into cakes and soups.
–
View this post on Instagram

How are you preparing for the upcoming Bocuse d'Or 2021 both physically and mentally?
I have been preparing for this competition alongside the team for the past two years now since I won the Bocuse d'Or Singapore Selection in 2019. Due to the ongoing pandemic, the competition has been postponed a total of three times.
I work full-time as a head chef at A L'aise, a MICHELIN Plate restaurant in Norway, Oslo from Tuesday to Saturday. During my off days on Sunday and Monday, I will train for the upcoming Bocuse d'Or 2021 competition with my team at my own kitchen ora training ground.
Each training session would usually take an average of 10 hours. During the training, we would do a time trial and prepare the dishes needed to be presented at the competition. We need to ensure that we finish everything within the 5.5 hours given.
This year, candidates will take on tasks inspired by the changes in the industry brought about by the pandemic. The platter challenge for Bocuse d'Or 2021 will centre on a hot dish showcasing a whole braised beef paleron for the first time ever.
For the "plate" challenge, we are given a "takeaway" task designed to echo the new modes of catering that have emerged during the pandemic. We would need to design a takeout menu around three dishes (starter, main course and dessert), and the same seasonal product, tomato. All dishes must be present in a reusable box designed and developed by the candidates from materials of plant origin.
View this post on Instagram

With these new rules in place for the Bocuse d'Or 2021, it has definitely been a challenge — besides having to create dishes with tomatoes as the theme, I'd also need to work with the design team to create a takeout box that's sustainable. Since the design of the takeout box is one of the marking criteria, a lot of work needs to go into it.
It is extremely tough and tiring having to juggle between work and training for Bocuse d'Or 2021, but I am very thankful to have the support from my team — coach Ulrik Jepsen, who's also my boss and the owner of A L'aise; commis Sebastian Skauen Johnsen; and President chef Eric Teo, renowned Singapore celebrity chef.
To keep my sanity, mental and physical health in check, I always make sure to workout at least thrice a week. Working out is really therapeutic for me and I always find myself feeling recharged after each workout session. Every time I feel burnt out because of work and training, I will either go for long runs, or to the gym to sweat out all my stress.
View this post on Instagram

Since I was young, I have been doing a couple of sports including swimming and taekwondo. I have been training in Taekwondo since I was five. I got my black belt when I was six. I currently hold a second-degree black belt. My dad is a certified taekwondo coach, so he was the one that taught me this sport. He is currently a 5-degree black belt holder. Besides being in the kitchen, I really enjoy doing sports, as well as skateboarding and playing the guitar.
On days where I feel myself losing the drive and motivation, I'd take some quiet time out and ask myself why I started this journey in the first place. I have been working and training so hard for the past years, so this is not the time for me to give up. Rather, with all the valuables I have gained, now is the time to showcase my potential and what I have to offer.
—
What actually inspires you? Do you have a quote or someone you look up to?
I was 13 when I had my first brush with culinary — under my teachers' recommendations, I took part in my first culinary competition in secondary school. My first culinary competition was also the competition that gave me my first gold. During one of the competitions I competed in, chef Jimmy Chok was one of the judges. Even though I did not emerge as champion, chef Jimmy Chok saw the potential in me and offered me the chance to spend a day with him in his kitchen at his restaurant located in the Supreme Court.
I remember I was in awe the moment I stepped into his kitchen because it was my first time being in a professionally run kitchen. Chef Jimmy Chok taught me a lot of the industry, as well as culinary during my one-day kitchen tour at his restaurant. This experience ignited my passion to be a chef and achieve culinary excellence. I'd say that, if it's not for the opportunity given to me by chef Jimmy Chok, I would not be where I am today, embarking on this culinary journey.
View this post on Instagram

While Jimmy Chok was the one who inspired me to pursue this career path, the other person who holds a huge influence on my career is chef Geir Skeie.
Throughout my career, I have heard a lot about all the great chefs from Scandinavian, including chef Geir Skeie, a Norwegian chef and restaurateur, winner of the 2008 Bocuse d'Or Europe and the 2009 Bocuse d'Or world final.
Since then, chef Geir Skeie has always been my inspiration. He was only 29 years old when he was crowned the champion at 2009 Bocuse d'Or world final. I remember I was only 15 when I read about this. Since then, I told myself that I want to make history and be the youngest Asian contestant to clinched gold at Bocuse d'Or, a biennial world chef championship that will take place in September in France, Lyon and bring Singapore to the global culinary stage.
This is one quote that I live by and constantly remind myself whenever I feel demotivated — "Stay focused on what you believe in and never give it. Winners make things happen and losers let things happen."
—
View this post on Instagram

What do you eat when you miss Singapore food?
No doubt I miss eating all the local food and drinks that cannot be found in Norway.  Besides my mum's signature dishes — Cantonese steamed fish and stir fry beef with scallions, I really miss eating local food like Ou Jian (fried oyster omelette), Hokkien Mee (fried prawn noodles), Chilli Crab, Satay and drinking my favourite teh-peng (iced milk tea). Although I do make some of these dishes whenever I crave them, they just do not taste like home.
Whenever I miss home and crave to eat something that reminds me of home, I'd always visit Dinner Restaurant and Bar, located in the heart of Oslo's city centre. This is one place that serves amazing Cantonese cuisine that really captures the familiar flavours I grew up eating. The taste really hits close to home.
—
Lastly, any advice for budding chefs?
I always believe that tough times don't last, tough people do. The road during the start may be difficult and full of hurdles and challenges to overcome, but your preservation and hard work will eventually pay off.
My motto in life is that success will only come to those who work hard for it, for themselves. If you want to achieve something, you have to be prepared to be faced with challenges and have a strong mindset to endure every struggle you encounter.
View this post on Instagram

Being in this industry is never easy, you have to undergo a lot of pressure and a lot of your energy due to the long working hours. But if you are truly passionate about it, it is important that you create opportunities for yourself and not just wait for opportunities to come knocking on your door. Be courageous enough to step out of your comfort zone because that's how you will learn and grow.
Once you're done with this story about Chef Mathew Leong of A L'aise and figured out what the Bocuse d'Or 2021 is, click here to catch up with our June/July 2021 issue. 
---