The sun shines brighter on these three athletes — Christopher James Van Huizen, Sheik Ferdous and Luke Chua — with the LAB SERIES Oil Control trio keeping them oil-and grease-free.
—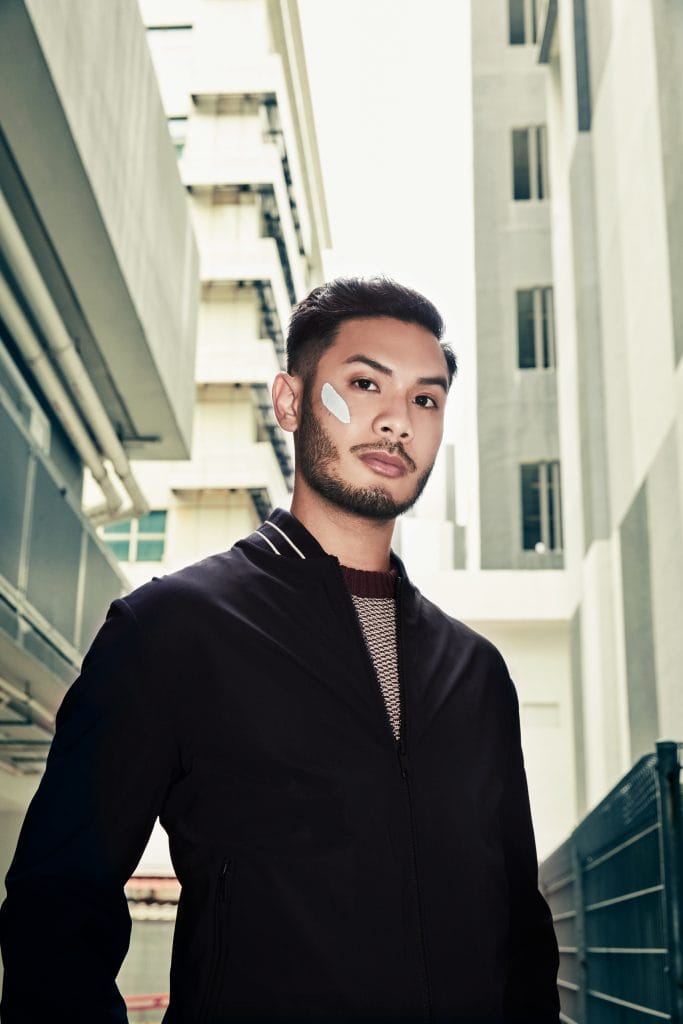 Christopher James Van Huizen (@vanhuizenn) Professional Footballer (Geylang International)
A footballer, a skateboarder and even a cyclist now; how do you juggle all three sports?
It's not easy to do so at once because for me, my professional job is being a footballer whereas skating and cycling is a hobby that I picked up when I was young. For me, I take cycling as a way to recover and skating as a way to meet new people and have fun with my friends.
Perhaps it can be said that sometimes, one needs mental strength more than physical. Do you agree?
Definitely. Being mentally strong is part of what I do as a professional footballer because with the right mindset, it's easier to win games with confidence and form. But, it's also important to be physically prepared.
View this post on Instagram

Do you have the time to pursue other hobbies, and what are they?
I can't draw for nuts so I don't think I'm that artsy but I like to play the guitar.
How much has football changed for you since your time at the Tampines Rovers to Geylang International? What have you learnt about yourself?
I would say it has taught me to be mentally strong. Being a footballer for the Tampines Rovers means you're part of a big club and for me, getting game time or matches was difficult for me. I had to be mentally strong to keep working hard. Once I got spotted by Geylang International, I managed to get some playing time and I just kept going.
I'm not a good dribbler; more of a team player so if you put me in an individual game, it's not something I can do. I'm overcoming this slowly through drills: one versus one or two versus two so that helps me a lot.

View this post on Instagram

Considering how you mostly do outdoors sports, what do you require of your skincare?
I actually have very oily skin and I need a good amount of moisturiser that keeps it hydrated.  I used to have a lot of acne when I was younger so I felt that these sin products are really important. Being a footballer and going live on television, you don't wanna have acne so having the right kind of routine is important for me.
What would you like to say to the next generation of footballers who come after you?
I would say, just keep working hard and to be physically and mentally strong. And, keep pushing yourself to the limit. 

A two-in-one on Christopher's mug: the LAB SERIES Oil Control Clay Cleanser + Mask (five minute on one's face is used as the latter) contains Amazonian white clay to cleanse and detoxify, salicylic acid to slough away dead skin cells and acetyl glucosamine to increase natural cell turnover.
Christopher James Van Huizen  is wearing a Z Zegna Nylon-blend varsity jacket and cotton-blend sweater.
—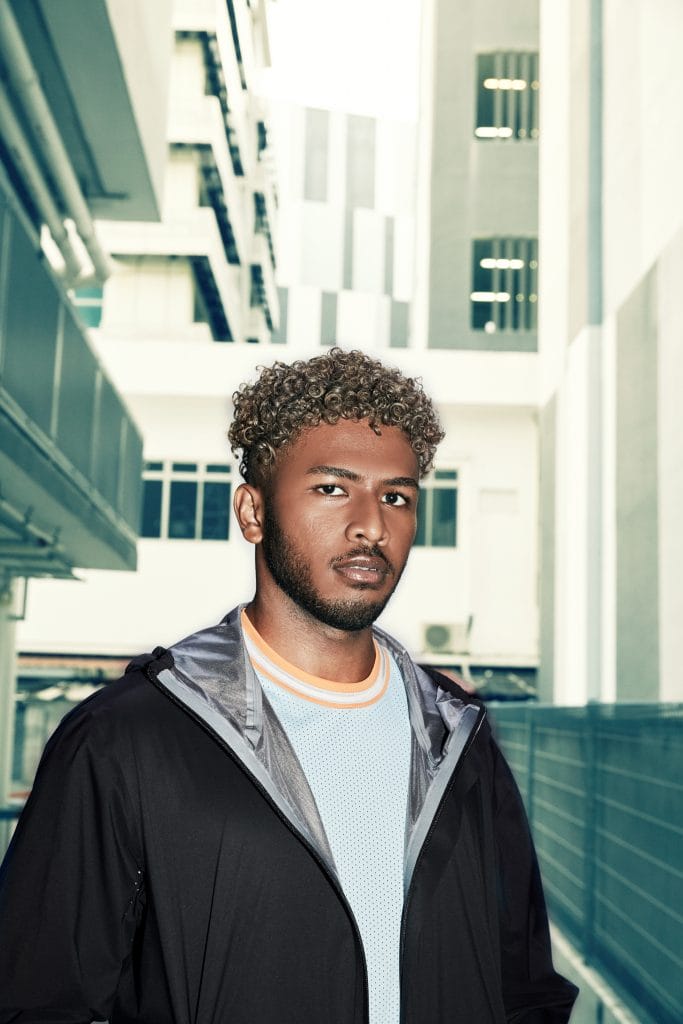 Sheik Ferdous (@sheikferdous) Silat World Champion (Team Singapore)
What do you enjoy the most about silat? Does it perhaps, help you feel more connected to your culture?
 I'm more of a thinking fighter but I like the aggression in the game with moves like dropping, sweeping, punches and kicks. But, I wouldn't say that I'm an aggressive person myself but I do like to express myself in the arena.. My mother is Malay and I feel like silat brings me back to my roots while connecting me to my culture.
Agility, endurance, strength and speed: is silat more of a physical sport than a mental one in your opinion?
We need both. Perhaps though, you can still win a game if you're lacking in the physical department but you're mentally strong.
View this post on Instagram

How does silat shape the body and mind then? Or even, how does practicing it affect you when you're not fighting?
It goes back to training: the effort, perseverance and the driving of yourself every single day till you win. Like every other sport, it shapes your body to be stronger (you have to be able to take in hits) and mental wise, it kicks in when you're winning or losing. The 10 seconds left in a fight can be really long if you're badly injured and your opponent is winning. 
Silat has also taught me self discipline and patience. When I'm provoked by outsiders, I don't get aggressive and start fighting them.
In the span of two years — since you last became a world champion — what has changed for you? Be it physically or mentally.
Physically, I have grown from what I was previously and I'm getting better. Mentally, I feel like there's been improvement. Before I was a champion, I had nothing to lose but now that I'm one, I have everything to lose. Everything just gets harder and that's where my mental strength comes in.
During competitions, we want the to put the best of our selves but I'm not sure if I showed any flaws. But I think I may have shown what're my tactics or my fighting style and my opponents may have gotten a gist of it. I have to constantly change my gameplay then.
View this post on Instagram

Considering how silat requires rigorous practice, what do you require of your skincare?
I would want something that's fuss free, easy to use and efficient but useful.  I'll be sweating a lot during training so I don't want it to be wiped off or have to reapply it all the time. As my skin tends to get oily, I would int a product that prevents it so that I don't get breakouts. Aside from silat, I have to go for interviews or shoots that requires me to go in front of the camera hence I want to look good. I want to portray myself in the best way possible. 
What would you like to say to the next generation of silat trainees who come after you?
You are your greatest investment so the time, training and effort you put into your body is what becomes of it.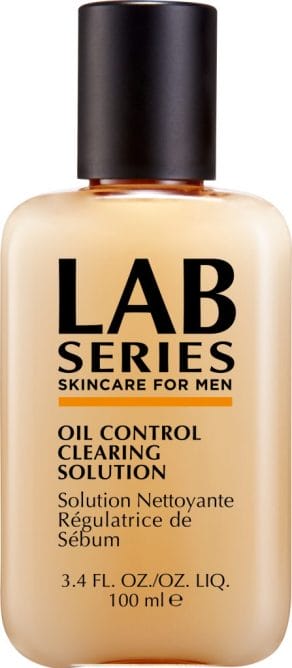 The answer to Sheik Ferdous's request for a quick and efficient product: the LAB SERIES Oil Control Clearing Solution absorbs quickly into the skin (one would notice that Sheik does not have a swatch on his face) with just one swipe of a cotton pad while cleansing it with Amazonian white clay and calming and balancing with algae extract and witch hazel. 
Sheik Ferdous is wearing an Onitsuka Tiger parka and t-shirt.
—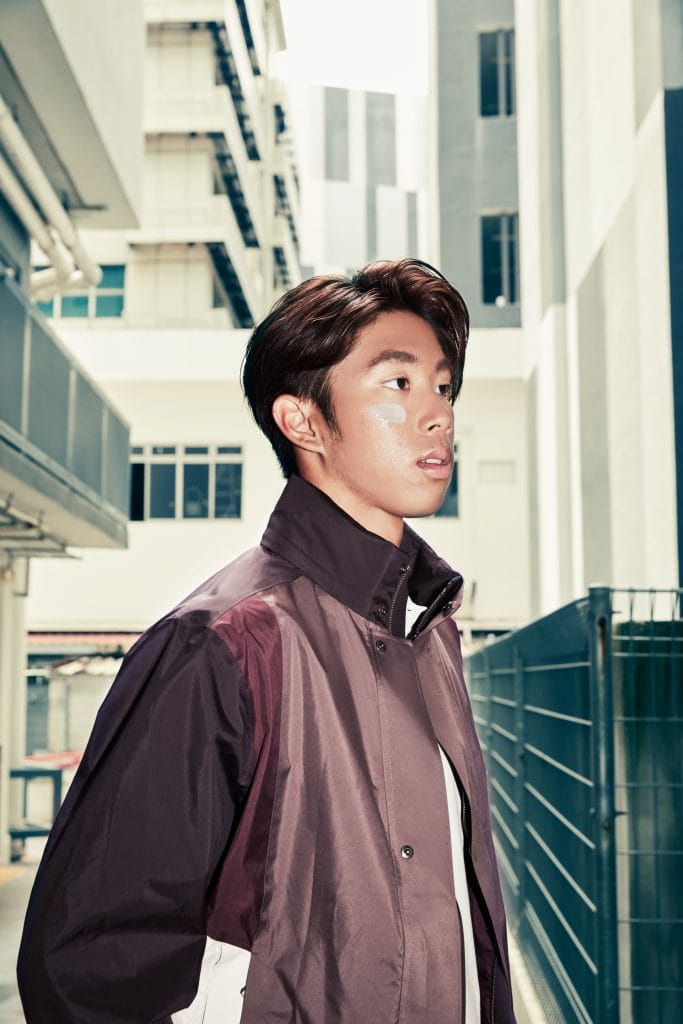 Luke Ambrose Chua (@luke.chuaa) Student and Sea Games Silver Medalist Winner 
Cycling, running and swimming — sometimes, all at in one session — are they all similar in terms of sport to you?
All of them are pretty similar to me because they require you to exercise a lot which puts a strain on your body. The only thing that differentiates them are what parts of the body you use. 
Which is the most physically or most mentally straining then? How do you overcome that hurdle?
In my opinion, it'd be running because I used to be a swimmer and it was the hardest thing for me to pick up. Running is a sport where you can't over train and everybody has a certain threshold to it. You have to find the right amount for yourself and work towards your goal while striving to do better. It was more mentally straining because physically wise, I couldn't take the pain of running long distances. Even till now, it's still mentally draining for me: especially when I'm running under the sun or with people whereas swimming or cycling has a lower impact on my body. 
Sometimes, I will just plug in music to distract myself from the pain I'm feeling. Other times, I try to keep a conversation with my friend if I'm running with him. 
View this post on Instagram

Do you have the time to pursue other hobbies, and what are they?
Yes! For my training sessions, I can't do it 24/7 so I'd usually have a good two or three hours a day to do my own things. I actually picked up photography so I'd do some home shoots even though I'm resting. Sometimes, I would shoot behind the scenes of people walking or the ways of life. Or even, I'd find something interesting to shoot like coffee mugs. 
Top Local Singaporean Triathlete in 2019 and a Sea Games Silver Medallist winner in the same year : was there anything you discovered about yourself during both wins?
At that point of time, I was training alone and it was a really tough time mentally. I needed a lot of help and my friend and friends did so which I'm thankful for. What I've noticed about myself is that as long as I put my mind to it and if I do a lot of small things that amount to huger things, it'll get me to where I want to be. As much as everyone says to never give up, it's really a phrase that relates to me because I've been struggling and stagnant as some point in my life for me. That was a big year for me as I kept working hard, keeping my head done and taking the right steps at a time that helped me achieve greatness.
After winning the championships, I got a little overconfident and it came to a point where every athlete thinks here the best. But you have much more to do. I had another race after the win that made me eat humble pie and it told me that yes, I achieved this but I still have to work hard and remain humble. And, not to be overconfident or underestimate others.
View this post on Instagram

Considering how you mostly do outdoors sports, what do you require of your skincare?
I go outdoors a lot and I'm always under the sun. Hence, I need my face to be moisturised as it gets very dry. Moisturising my skin is important and I need my skincare to be fast and efficient — especially since we're always wearing masks — and I have to apply moisturiser before and after I go out. 
How important is skincare to your routine? What do you feel like it does for you?
I think it's important because image is everything. Especially as an athlete. We all have to look after our skin no matter the situation and I think having good skin to me means you can wake up feeling like you've accomplished something. You have that head start because you're looking good and feeling moisturised and clean. I can do things better if I feel like I look better. 
What would you like to say to the next generation of triathletes who come after you?
No matter what comes in your way, try to face it head on. Never give up and you should always remember that no matter how hard you work, fruits will bear from your labour. Never quit because you'll reach there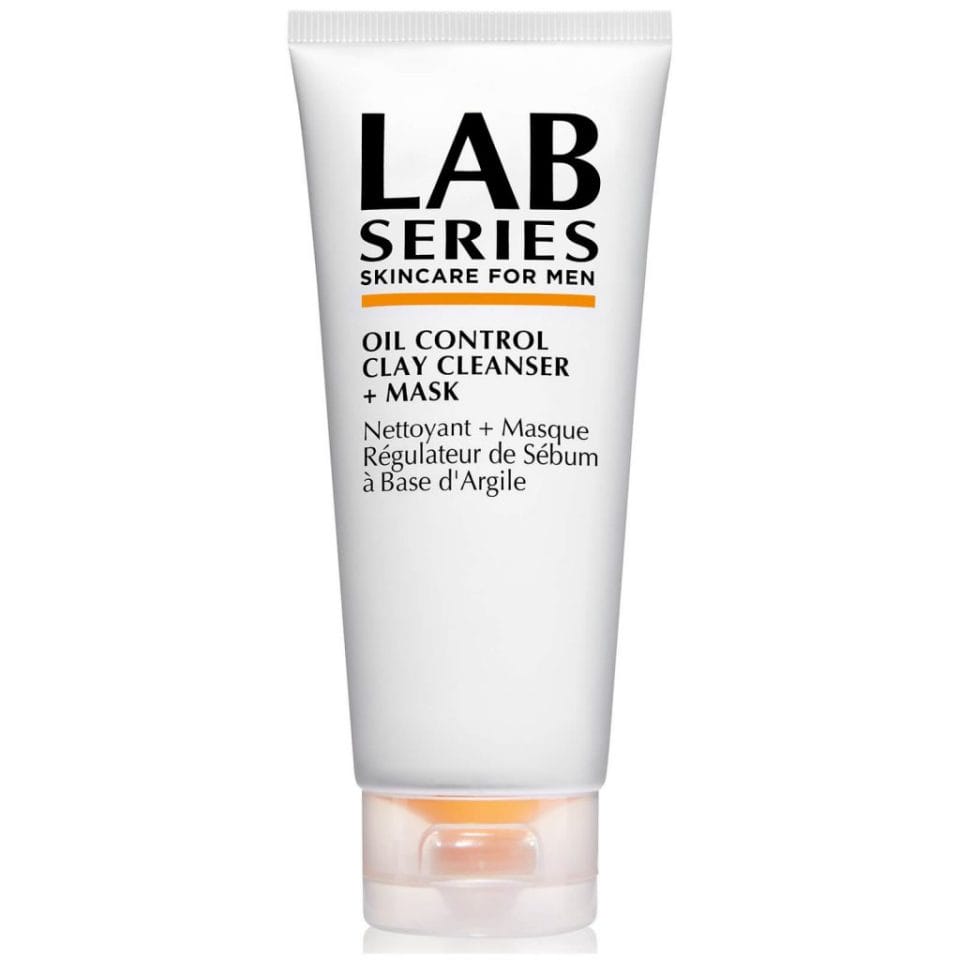 Eight hours of shine control and refreshing hydration with just one dollop of the LAB SERIES Oil Control Daily Moisturizer. Oil-free and non-greasy for Luke Chua's needs, sea whip extract calms and reduces visible signs of irritation from long hours under the sun with Amazonian white clay reduces the production of oil. 
Luke Chua is wearing a Z Zegna Nylon-blend jacket; Moncler Collection Cotton polo shirt
—
Photography Jeff Chang
Styling Manfred Lu
Grooming and Hair on Christopher James Van Huizen, Sheik Ferdous and Luke Chua Larry Yeo using LAB SERIES Oil Control Series and Hanz de Fuko
This story about Christopher James Van Huizen, Sheik Ferdous and Luke Chua and the LAB SERIES Oil Control Series first appeared in our April 2021 issue. To redeem samples today, click here. 
---
RELATED ARTICLES