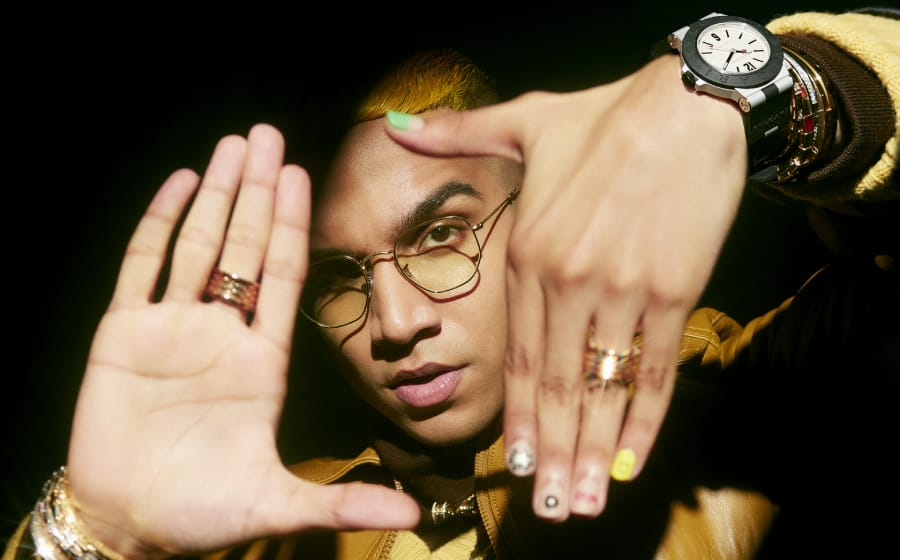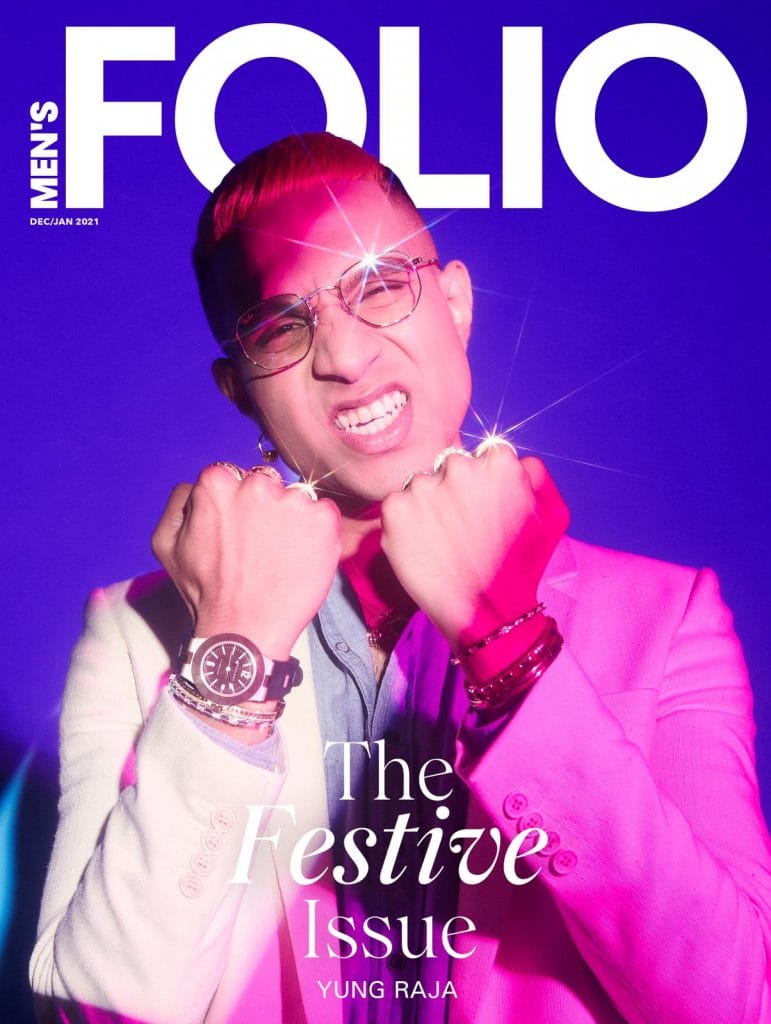 Happy holidays ya filthy animals!  To round off a tumultuous year, we have enlisted Yung Raja with his charm, swagger and wit to remind us of the joy of positivity: a vibe that he has made a signature with his bass-thumping trademark sound.
First off, congratulations on "The Dance Song". How long has it been in the works?
The first time we got in the studio and made The Dance Song was sometime around the beginning of this year.
What was the most enjoyable part of creating The Dance Song?
It's difficult to choose but I would say it's shooting the music video. Our director Jasper had all these crazy ideas and it was very fun to see how his vision panned out.
Take us through the inspiration for the single.
Well, The Dance Song was made during a time when there were a lot of things happening in both our lives. Flightsch (pronounced Flight School) was making his transition to being the A&R of Universal Music Singapore while I was figuring out where to go from Mad Blessings, sonically.
We created an uplifting and entertaining vibe for "Mustafa" and "Mad Blessings", and wanted to push that to another level. When we made The Dance Song, we had an epiphany — we both knew this kind of sound is the next thing for us.
I would like to take a moment to talk about Flightsch's influence since he has done so much for not only you but for the rest of the crew as well, what is it like to be with him and have him constantly around?
You know you don't get to meet that many mentors in one lifetime… I would say meeting Flightsch was one of the biggest life-changing events in my life thus far.
This man pointed me in a direction that I never thought I could go by myself. He took me under his wing not just as a friend, he took me in as a brother and made sure it's not only about making music. It's about being a better person at every juncture. He always gave me opportunities to learn and grow and to be better at everything and anything
This makes him one of the most special people I've met. He is the big brother I never had.
This year, you've been involved in several collaborations, how was it like working with so many different artistes?
I've always wanted to put out more music. I think I'm finally at a place where my team and I are stepping up in terms of the kind of collaborations and projects we take on.
Being a creator is amazing because people get inspired by it. While I'm here in a very privileged position, it's always a joy to constantly want to give people something to enjoy.

Tell us more about the single "Amazing" because we feel it warrants more attention.
Well, Amazing was a project I partnered with ALYPH and Trifect Music on. It was a sound I've never explored before or thought I would sound nice on! [Laughs]
It was at the peak of COVID-19 when we made Amazing. Every day was filled with scary news. It helped us cut through the noise and the bad lukewarm vibes that were all around us.
The last time you graced the Men's Folio cover was for the November 2019 "Art" issue, this time you're on the year-end Festive issue. What does December and festivity traditionally mean to you?
[Grins] Oh, December is one of my favourite months because it's my birthday month and I love Christmas.
All of us had a rough year regardless of what you do. It's been tough and now that we are approaching December, it's a great time for us to get together and forget about all the things that we've gone through this year and look ahead.
My favourite part of December is the idea of coming together and celebrating something, and we need that now more than ever.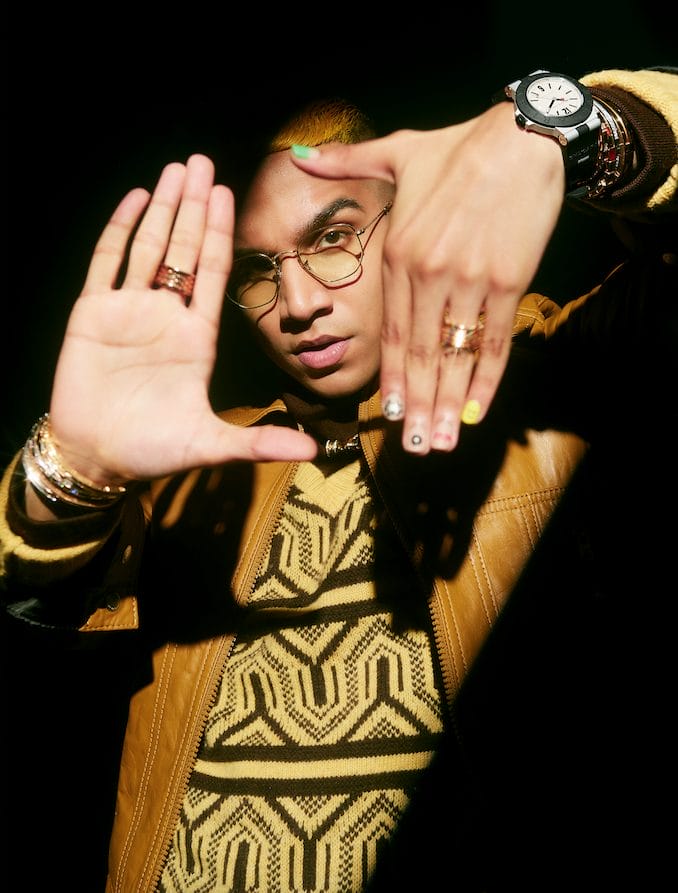 Coach Leather jacket, wool sweater, wool turtleneck sweater; Raja's own Sunglsses; Bvgari B.Zero1 B.Zero1 white gold bangle with pavé diamonds, Serpenti Viper bracelet in rose gold and pavé diamonds, B.Zero1 rose gold bangle with pavé diamonds, Bvlgari Aluminium Chronograph in grey dial, B.Zero 1 Rock 4 bands ring with yellow gold and pavé studs, B.zero1 Rock pendant with studs in yellow gold and pavé, B.zero1 Design Legend rose gold pendant necklace, B.zero1 necklace in rose gold, white gold & yellow gold, Bvlgari Aluminium in grey dial with rubber strap, Serpenti Viper bracelet in rose gold and pavé diamonds, Serpenti Viper bracelet in rose gold with carnelian, B.Zero 1 rose gold bangle
Which explains why I had to use the word "traditionally" because 2020 is such a big exception. Are you letting the pandemic dampen your mood? On a personal note, how has it been coping with the pandemic?
The first half of the year was very strange. There was so much uncertainty in the air, you don't know what's going to happen next. I wouldn't necessarily say it's a bad vibe that killed my spirit but the first half of the year was dampening spiritually because to be creative you must be in a headspace where you are constantly trying to get inspired and be inspired to create, right?
You can't be stressing out to be at that place mentally, emotionally and spiritually to create. My peers and I understood the new norm and we rolled with the punches. The workflow has changed and we've normalised things like making songs through Zoom sessions.
Is that the plan going into the new year where things are more fluid rather than having a structured plan because there's still so much uncertainty?
[Nods in approval] For sure. Fear and uncertainty will always be there, bad **** on the news will always be happening right?
As we are moving towards the new year, we need to adopt a positive mindset to influence one another to have better vibes. We can start a chain reaction of affecting the people around us and it can have an impact on how we move forward as human beings together.
I want to share this statement I read — "I thought 2020 would be the year I get everything I want. Now I know 2020 is the year I appreciate everything I have." This speaks volumes, doesn't it? Volumes, man. Especially when you choose a path where everything is happening so fast and you don't get a chance to pause, reflect and look at the big picture. This was the biggest pause I've gotten since I started this career and it's wonderful that it isn't for a day or a week.
I've never felt my message — which is to be grateful — as intensely as I've ever done. Nowadays, I journal it down daily because I want to remind myself to be appreciative. It is so dope to be where I am right now and I never want to take that for granted, especially when the climate is as such around the world.
Earlier on off-camera, we were talking about getting on and off the wave. You're placing more emphasis on getting off the wave to appreciate the moments you have with your family and to recharge. Moving forward, do you think this is the mentality we should adopt, especially as a creative?
Yeah, man. At the end of the day, it's about what is important to you. Career, along with family and friends, are my top three priorities. It's very important to have equal energy put into these priorities, one shouldn't supersede another.
Switching off, defining spaces and drawing lines are important things any creative needs to be able to do. I don't want to bring Yung Raja and whatever that comes with Yung Raja into my house because that's not what my family and friends see me as.
There are different parts of your life that you have to protect, you can't mix those.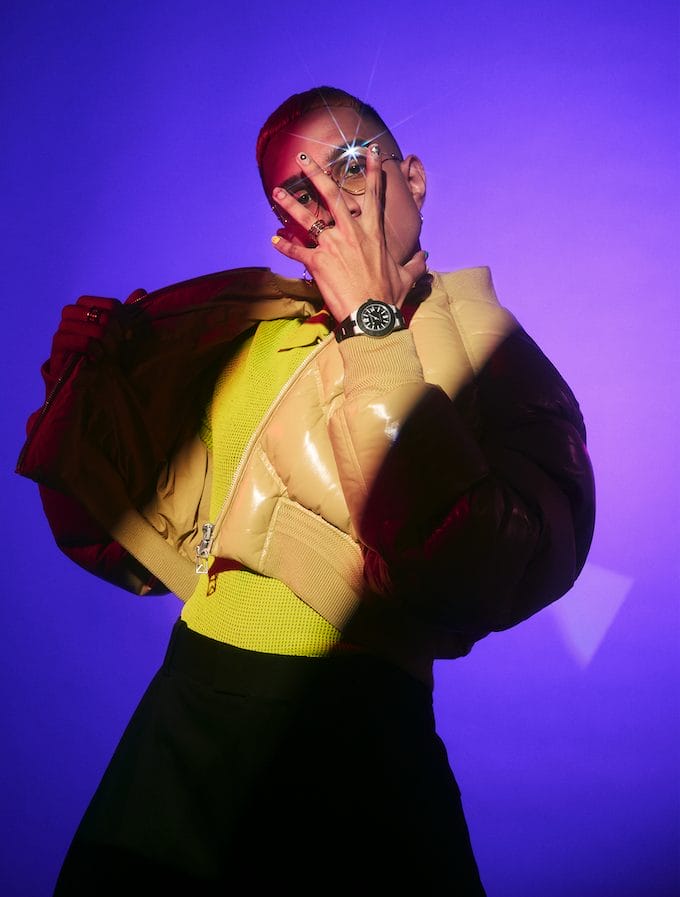 Bottega Veneta Leather jacket, cotton polo shirt, cotton pants; Raja's own Sunglasses; Bvlgari B.Zero1 Rock 4 bands ring with yellow gold and pavé studs, B.Zero1 hoop earrings in rose gold, B.Zero1 Rock 4 bands ring with pink gold and black ceramic studs, Bvlgari Aluminium in black dial with rubber strap.
Let's talk about the cover shoot and Bvlgari. Can you explain the relationship between a rapper and jewellery?
[Grins] Jewellery is one of the most important elements when it comes to the style of a hip-hop artiste or rapper. It's always been that way — traditionally speaking — ever since the dawn of hip-hop.
Just like any other genre of music, being a rapper is very personality and style-driven. Period.
Wearing jewellery is a question of taste, and because of how wide a variety of jewellery there are in this world, it showcases what your taste is.
At what point do you think a man has gone overboard with jewellery?
[Inhales] Spending too much on jewellery. It would work for gold but it doesn't work with diamonds. It is subjective to who it is — guys like Drake have millions of dollars of jewellery.
It depends on where you're at in your career, no?
For sure. I don't always want to flex jewellery. It's about carefully curating your style and taste. It could be very nice even if it's one bracelet, one ring or one chain, you know what I mean?
If diamonds are a girl's best friend, what is the equivalent for guys?
I would say… [Nods head in deep thought] watches are a guy's best friend.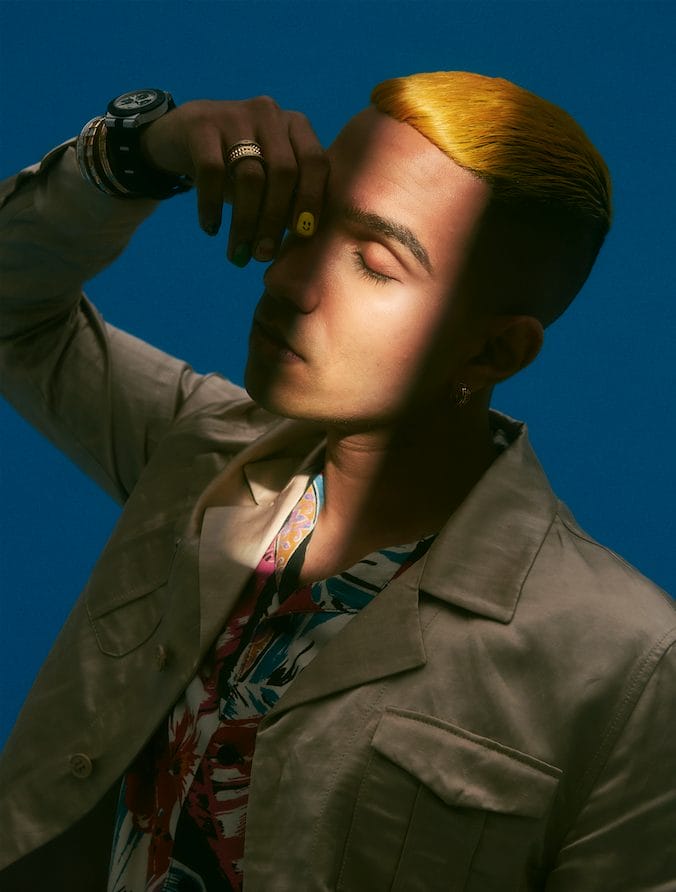 Saint Laurent Satin jacket, cotton short sleeve shirt; Bvlgari B.Zero1 white gold bangle with pavé diamonds, Serpenti Viper bracelet in rose gold and pavé diamonds, B.Zero1 rose gold bangle with pavé diamonds, Bvlgari Aluminium Chronograph in grey dial with rubber strap, B.Zero 1 Rock 4 bands ring with yellow gold and pavé studs, B.zero1 Rock rose gold earrings with studded spiral and black ceramic 
How do you like your Bvlgari watch?
I love that watch. I've had a bunch of watches before but they don't look as classy and stylish as this one.
Does it project your lifestyle and personality?
Definitely. The Bvlgari watch is so simple, elegant and bold. It speaks to a part of me that no other piece of accessory or anything I've owned did. Sometimes I'm pretty mellow and it reminds me of the sides of me that I don't pay much attention to.
What is the most understated piece of jewellery a man can own?
Underrated? A choker, be it blinged out or a regular one. I think it is such a cool piece to add to your collection.
Finally, what is Yung Raja's three-step guide to flexing like a rapper?
Step one: be confident. That's one and that's the foundation for everything.
Step two: don't put yourself in a box.
Step Three?
And step three… hold up. [Chuckles] Never trying too hard. It's a no-no. People in general are smart and they can tell.
—
Editor-In-Chief Wilson Lim
Photography Mun Kong
Art Direction Izwan Abdullah
Styling Bryan Goh
Grooming and Hair Sha Shamsi  using Dior Beauty and I.G.K/Sephora
Photography Assistants Melvin Leong and Perrin Tan
This story with Yung Raja first appeared in the December/January 2021 issue of Men's Folio Singapore that's dropping soon on Magzter and news stands! Follow us on the 'gram at @mensfolio for updates/
---