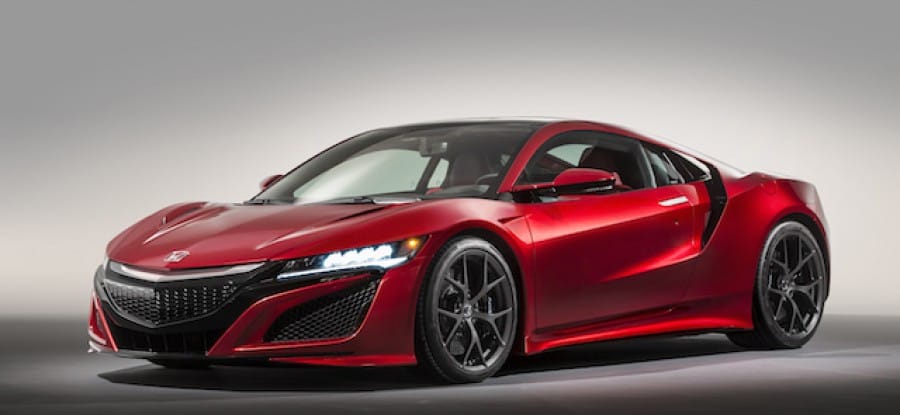 After an absence of over a decade, the mercurial Honda NSX is finally ready for its comeback this year. And much like its groundbreaking predecessor, the new NSX is poised to lead the way with its cutting-edge design and engineering technologies.
Unveiled in production form at the 2015 North American International Auto Show (NAIAS) in Detroit, the new NSX, which will wear the Acura badge in the United States, signals Honda's intentions at injecting new life into its brand by making its cars exciting again. The NSX will sit as a halo car in Honda's range, and its presence will ensure that Honda will be one of the few Japanese carmakers to have a bona fide supercar in its current ranks.
In very much the same way that the original NSX pioneered the extensive use of aluminium in its monocoque body design, and saw the first high-profile use of Honda's then-fledging VTEC engine technology, the new NSX continues the tradition of offering leading-edge engineering solutions, which could potentially lay the foundations for the future of the carmaker.
Its unique space frame body design is constructed out of a multitude of materials including aluminium, steel, and carbon fibre, which are specially combined in a patented process that ensures that the best qualities of strength and litheness are achieved to the desired level.
Powering the new NSX is a new Sport Hybrid powertrain system with primary propulsion coming from a mid-mounted 3.5-litre V6 twin-turbocharged petrol engine. It is assisted by three electric motors that send drive to all four wheels via Honda's Super Handling All-Wheel-Drive (SH-AWD) system, as well as a nine-speed dual-clutch transmission. According to Honda, its total output is rated at "over 550bhp".
Ultimately though, the new NSX captures the imagination not just through its engineering breakthroughs, but also through its futuristic, head-turning design, and the fact that such an automotive creation worthy of idolisation has come from a mainstream Japanese carmaker. For that, we accord Honda with our utmost respect.
---