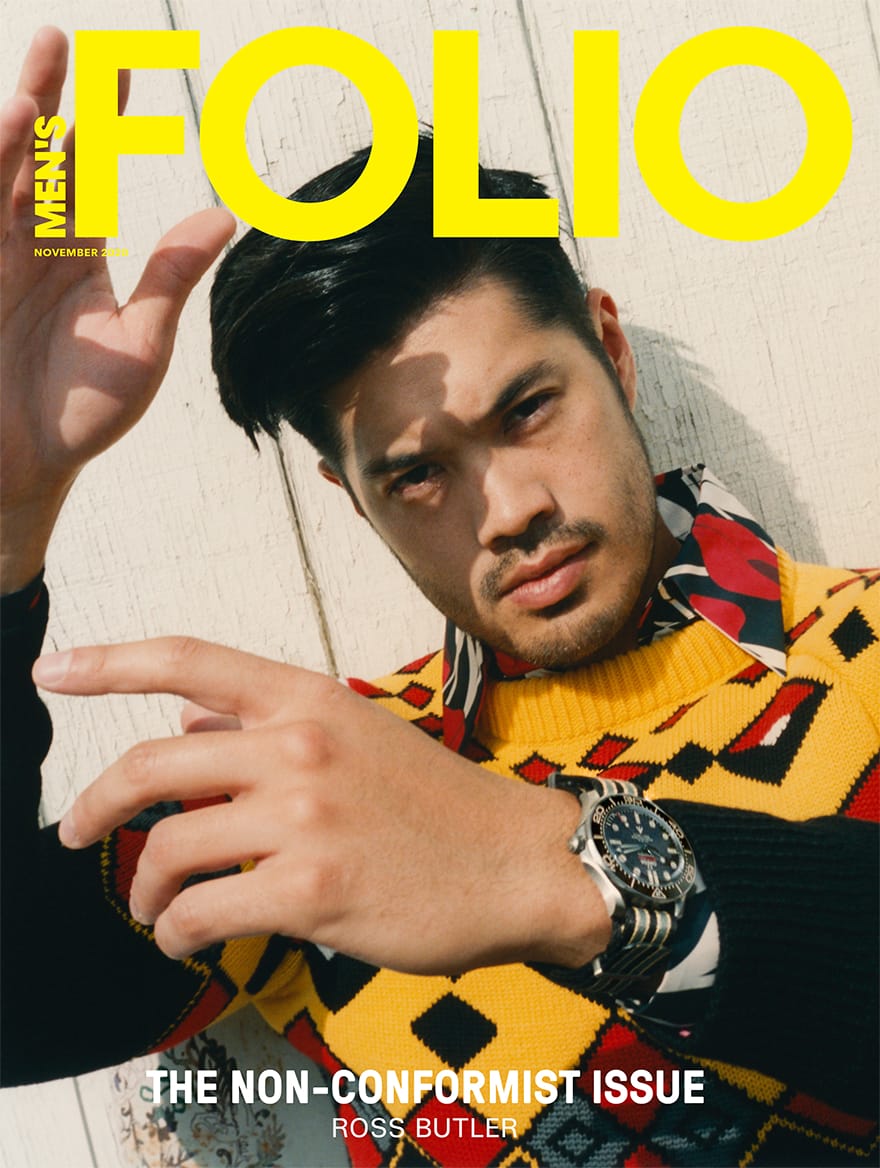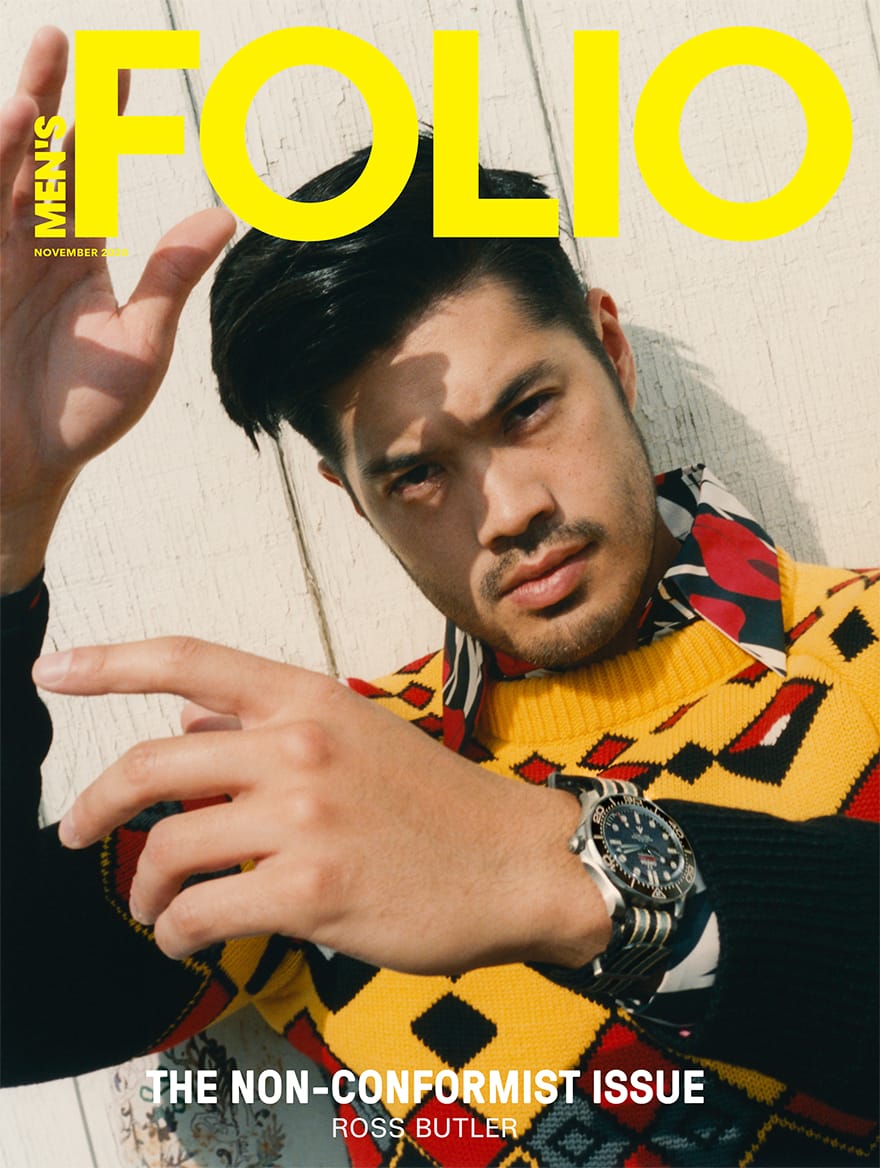 Ross Butler is wearing a Prada Wool knitted sweater, silk shirt and anOmega Seamaster Diver 300m 007 Edition Co-Axial Master Chronometer 42mm above.

There is a commonality between the likes of Ben Affleck, Mel Gibson and John Krasinski. Apart from being established actors, they have taken up directing roles behind the camera lens of movies such as Argo, Hacksaw Ridge and A Quiet Place.
Incidentally, it is an area that has piqued the interest of our latest cover star, actor Ross Butler of 13 Reasons Why fame. Though Butler has not cut his teeth in production just yet, who knows what the future holds for him given his recent meteoric rise.
The narrative does not get any different with enforced lockdowns happening across the globe — especially when people are forced to retreat inwards physically, mentally and psychologically. Some escape into the virtual world that video games offer while others embark on a fitness journey or deep dive into the science of sourdough bread making. Butler on the other hand decided to pick up two rather unconventional quarantine hobbies — learning Arabic and getting a grasp on the production side of the entertainment industry.
"My days are varied when I'm not on a production schedule," shares Butler. "I'm always picking up new hobbies or learning something new instead of doing the same thing for a long time." His inquisitive nature has seen him pick up a host of hobbies prior that include wood carving, capoeira and playing the classical guitar. You can certainly include acting to the list which he has successfully managed to craft a career out of.
Born in Singapore and raised in the American state of Virginia, acting came to Ross Butler in the form of a birthday present from his friend. His enrollment to Ohio State University left him rather disgruntled with life as he could not find a connection with what he wanted to make his career out of.
"I didn't know I wanted to act until my friend bought me an acting class for my 21st birthday. [Acting] was creative which was the opposite of everything I was raised to believe could be a career and it was the first thing that felt fulfilling."
Though he found his calling in life, what ensued was bittersweet for the young actor. His relationship with his mother soured as he faced resistance from her as well as his friends. "My mother had an idea of what she wanted for my career, but perhaps she did not consider my happiness," he says. "As a result, we didn't talk for quite a while. My friends supported me — albeit reluctantly — but I knew I wasn't happy with what I was doing prior."
"It's hard to imagine what my occupation would've been had I not become an actor. I hope for my happiness it was something creative."
—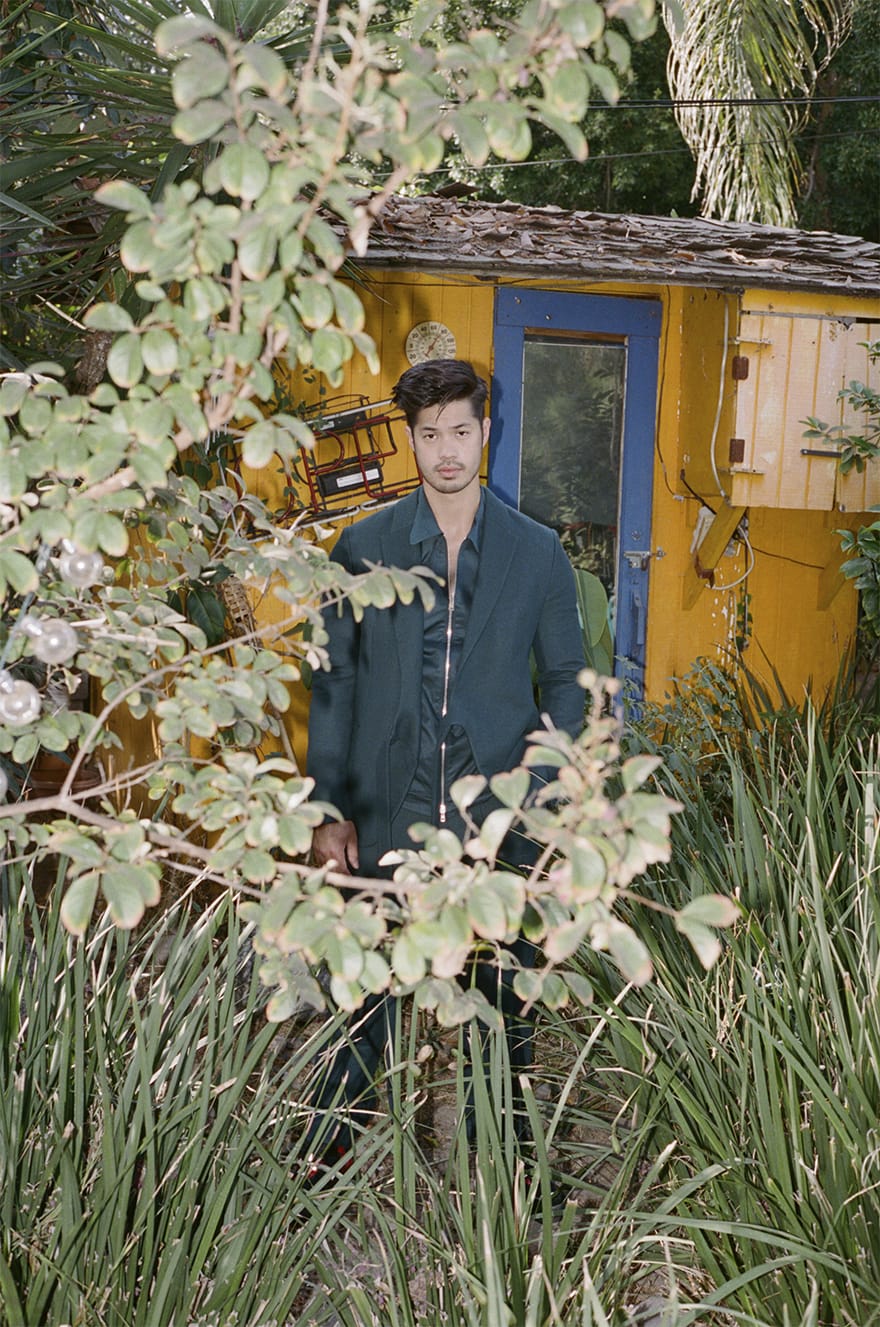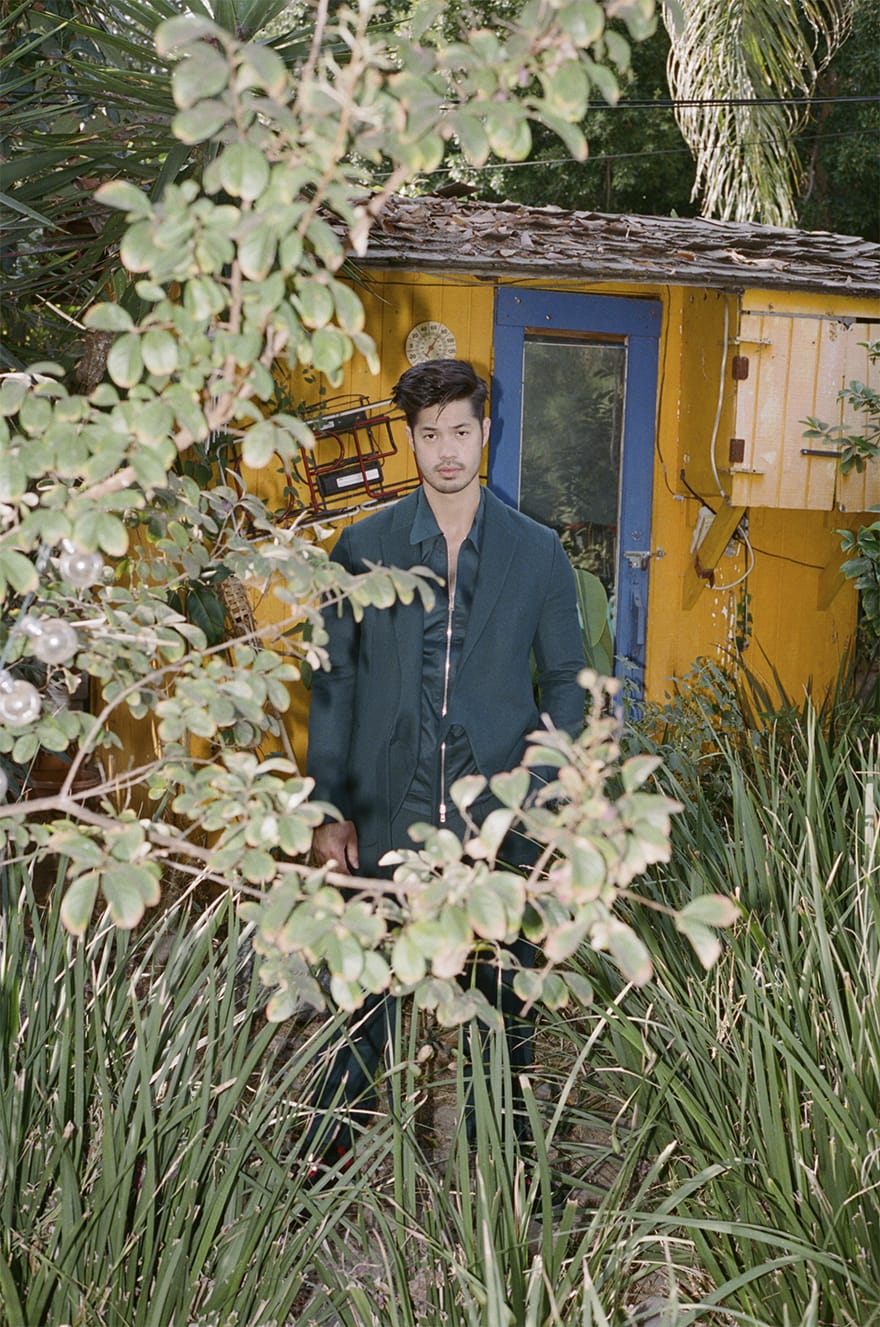 Ermenegildo Zegna XXX Wool-blend jacket, silk-blend overshirt, wool pants; Emporio Armani Leather lace-up shoes
Butler's newfound passion fueled his courage to leave university to pursue an acting career in Los Angeles. Since 2012, Butler has enjoyed a steady stream of acting roles including Disney's K.C. Undercover, Teen Wolf, Riverdale and his latest project, an upcoming appearance in Swimming with Sharks.
The Quibi series takes the same name as the 1994 classic film directed by George Huang that tells the story of a Hollywood executive who is an assistant to an abusive and abrasive movie producer. "I wouldn't say there is pressure because [the Quibi series] has been modernised," says Butler who is cast alongside Diane Kruger and Kiernan Shipka.
"The original was a great film and a staple about our industry, but this retelling is its own entity. You run into trouble when you are trying to be creative and then start comparing yourself to other people's work so I tend to avoid it."
Staying on the topic of adaptations is 13 Reasons Why, based on Jay Asher's 2007 bestselling novel Thirteen Reasons Why. It is difficult to not mention the recently concluded Netflix series in the same breath when referring to Ross Butler. The young thespian's portrayal of jock Zach Dempsey — which he left Riverdale for — solidified his status as not only a Hollywood rising star but an Asian one.
—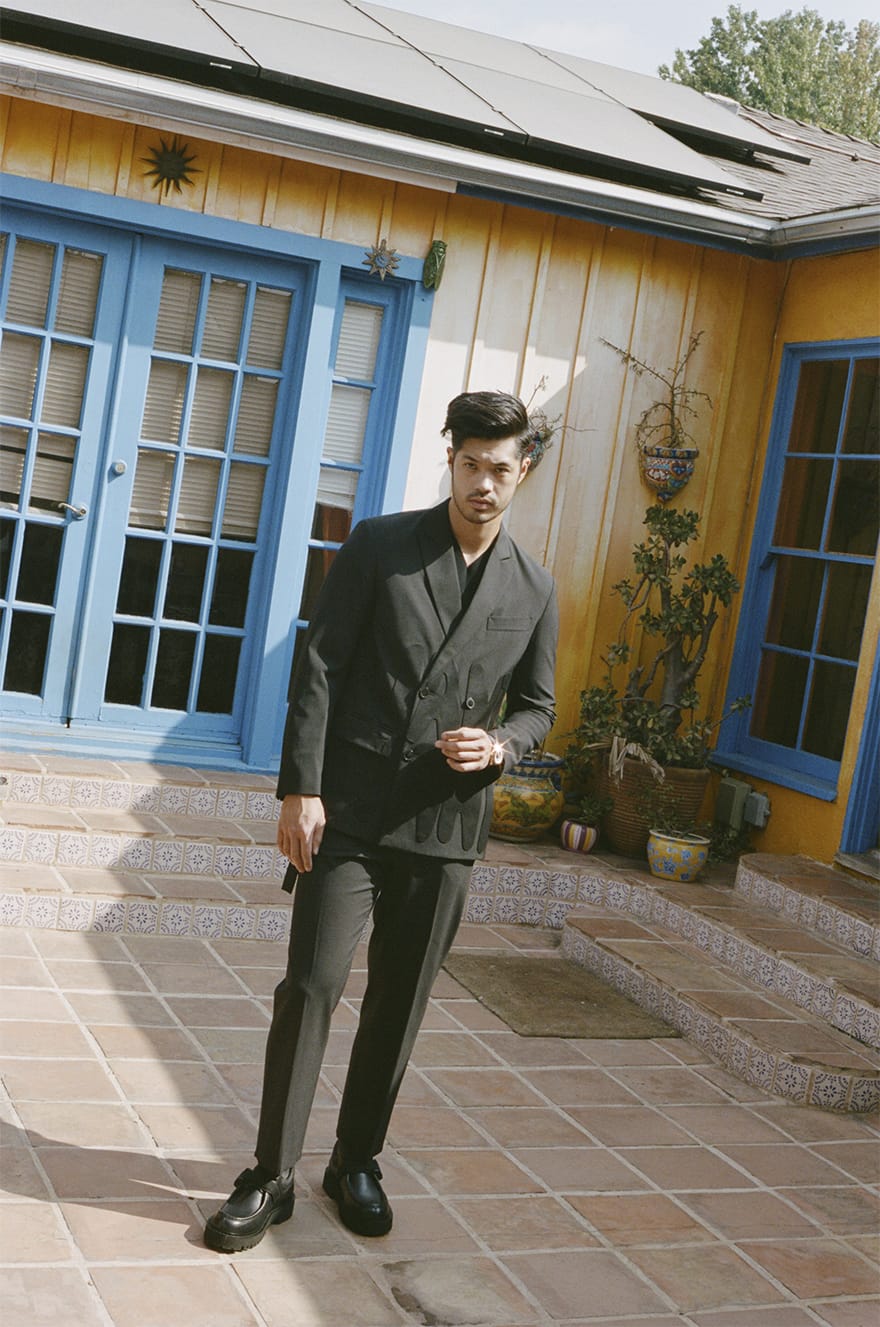 Valentino Wool jacket, wool knitted sweater, wool pants, leather derby shoes; Omega Seamaster Aqua Terra 150m Co‑Axial Master Chronometer GMT Worldtimer 43mm
Though it was reported that Butler left Riverdale for a meatier role in 13 Reasons Why, there were similarities and parallels within Dempsey that persuaded him to trade Riverdale High for Liberty High School.
"The biggest aspect of Dempsey that I connected with was the feeling of being misunderstood. I think people have expectations of how I am as a person because of how I look or because of my job."
"It can be hard to walk into a room of strangers when you know how people think you should be because most times, you adhere to this idea, or fight so hard against it that they overcompensate."
"This is also an idea I talk about when it comes to stereotypes — it can be hard to be yourself. That's something I saw in Dempsey."
As the series reached its natural conclusion after four seasons spanning three years, Ross Butler had nothing but fond memories to look back on. The cast grew and matured as the show progressed through the years. "I will always remember [13 Reasons Why] for so many reasons," quipped Butler.
"It's magical to be in such a large cast that was growing up in this industry as the show went on. I was one of the oldest so it felt like being a big brother to a lot of the younger cast as we all experienced and navigated the fame that came with the work."
With fame also came scrutiny as the media tore into 13 Reasons Why like a pack of ravenous wolves for the many societal issues it highlighted, experienced by teenagers around the world. Bullying, abuse or mental illness are the tips of the iceberg as the list stretches beyond.
When quizzed about one issue he felt strongly about, Butler brought up loneliness as he highlighted the negative impact social media is having on teenagers.
"With social media and the age of living on the internet, it's easy to become emotionally isolated from everyone and your community without even realising it," he says. "We're all putting up a facade online to show how happy we are in our lives that we feel we aren't showing how we feel. We have to be wary and vigilant about this moving forward because I think not connecting with others and ourselves is the root of a lot of mental issues."
—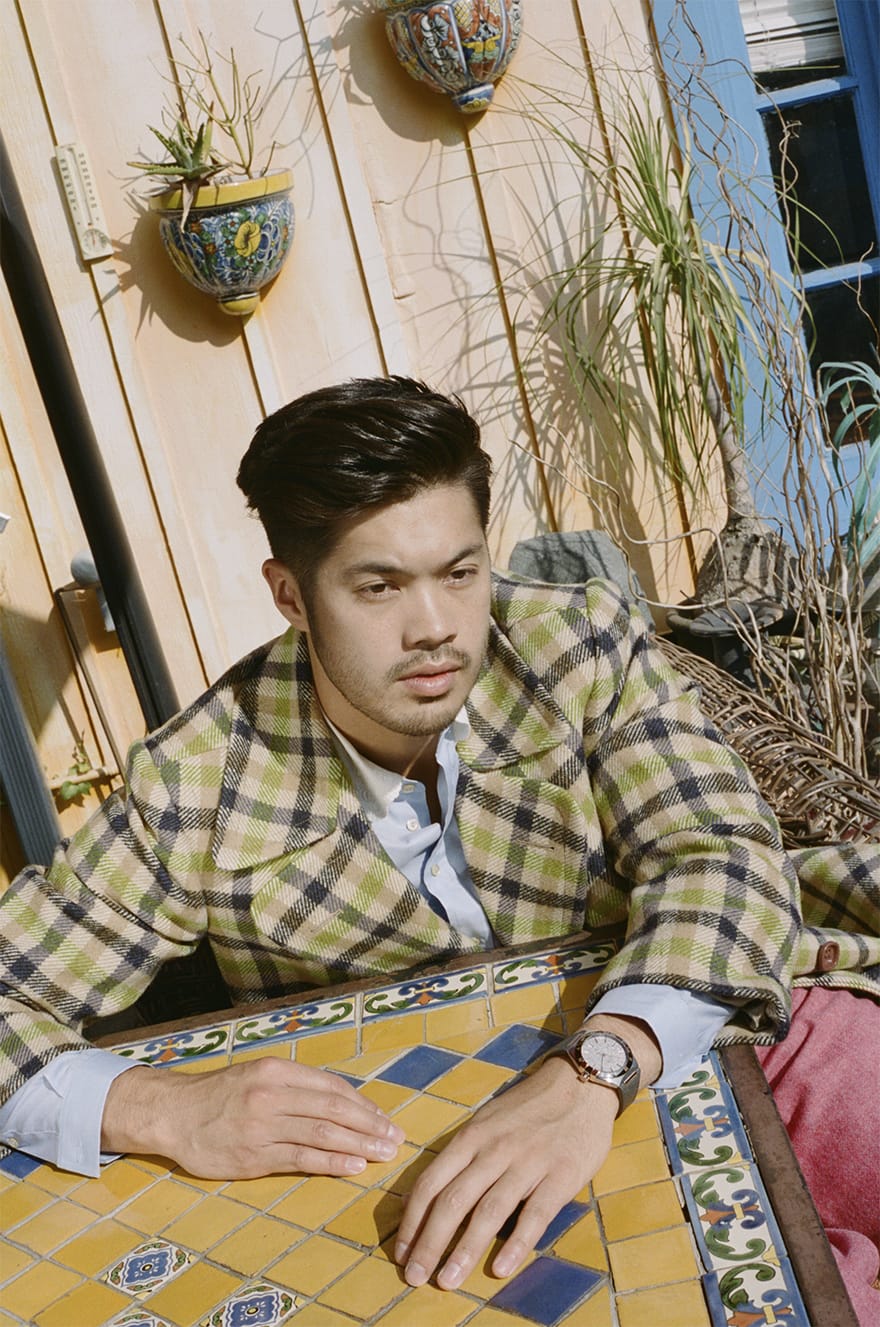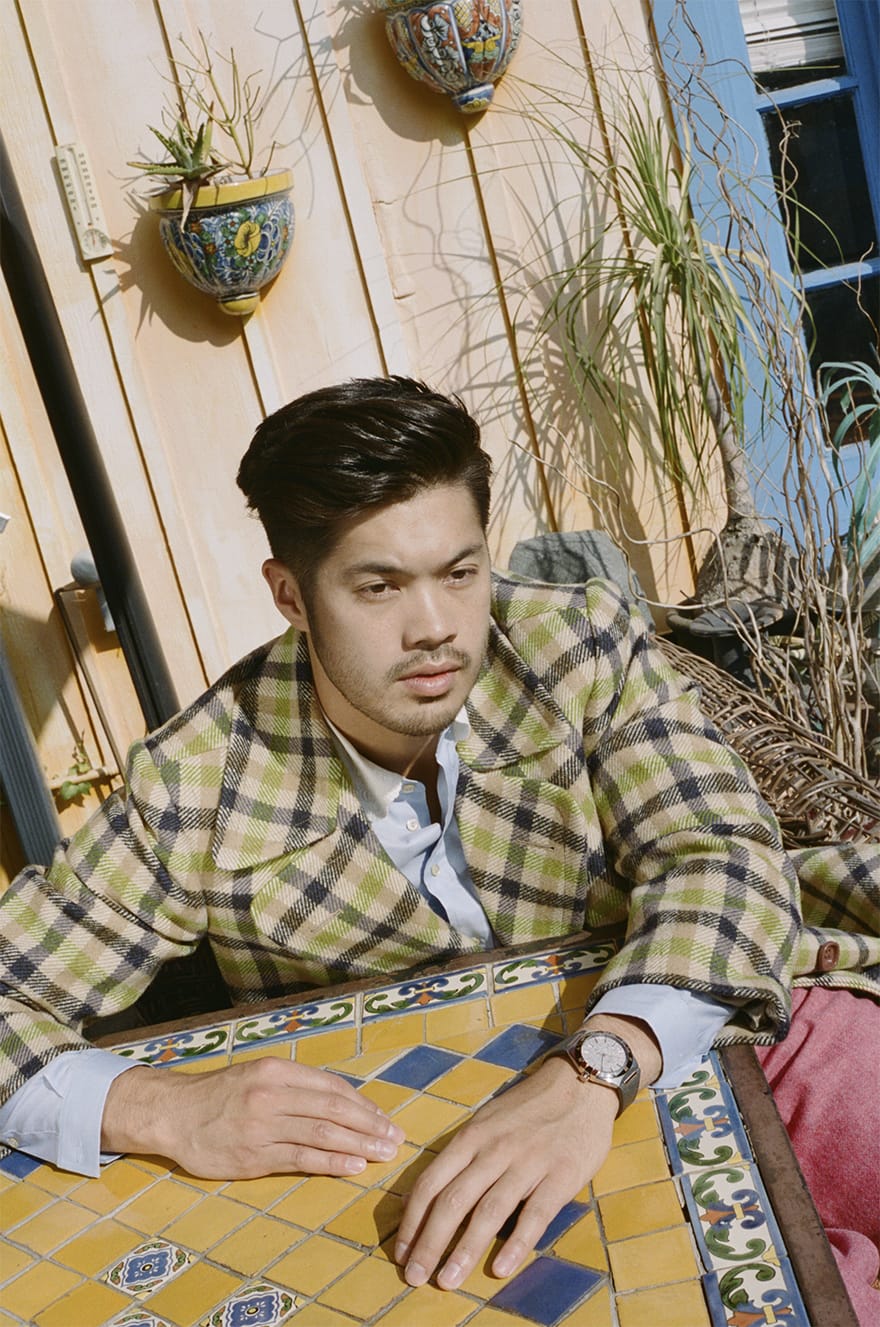 Gucci Wool jacket, cotton-blend shirt,wool pants; Omega Constellation Co‑Axial Master Chronometer 41mm
Therein lies the question of consciously seeking help despite the number of resources, support and avenues available to teenagers' disposal. Ross Butler cites "being shortsighted" as a possible reason for not doing so, but sympathises with their rationale.
"As a teenager, it's almost impossible to see the bigger picture given their relatively short life experience," Butler points out, "so when it comes to long term mental health and creating good mental hygiene habits, I understand why it is ignored at an early age."
"I think constantly moving the needle towards helping teens realise this is all we can do. I have a lot of hope for the next generation as they are more in touch with the nuances of their minds and are accepting of mental health wellness and getting rid of its stigma."
Butler's advocacy for creative cultivation in teenagers — especially in Asian families — is perhaps one solution to address the problem brought up by him.
"As the world trends towards automation, our one true human resource is creativity. Creative expression is something we all crave, even if you aren't a creative person. Creativity makes any job more enjoyable, even if it's coming up with more efficient ways of crunching numbers. Math requires a creative mind at times."
"If we can't express ourselves creatively or to show what makes us uniquely us, it leads to frustration. I believe a lot of the hate we see on the internet stem from wanting to be noticed or feeling they aren't being seen for who they are, so they turn to other forms that they think will get a reaction. If they find other means of self-fulfilment or expression, maybe there wouldn't be as much pent-up anger."
"From the outside, creative expression may seem innocuous, but I truly believe it may be part of the solution to a happier world."
—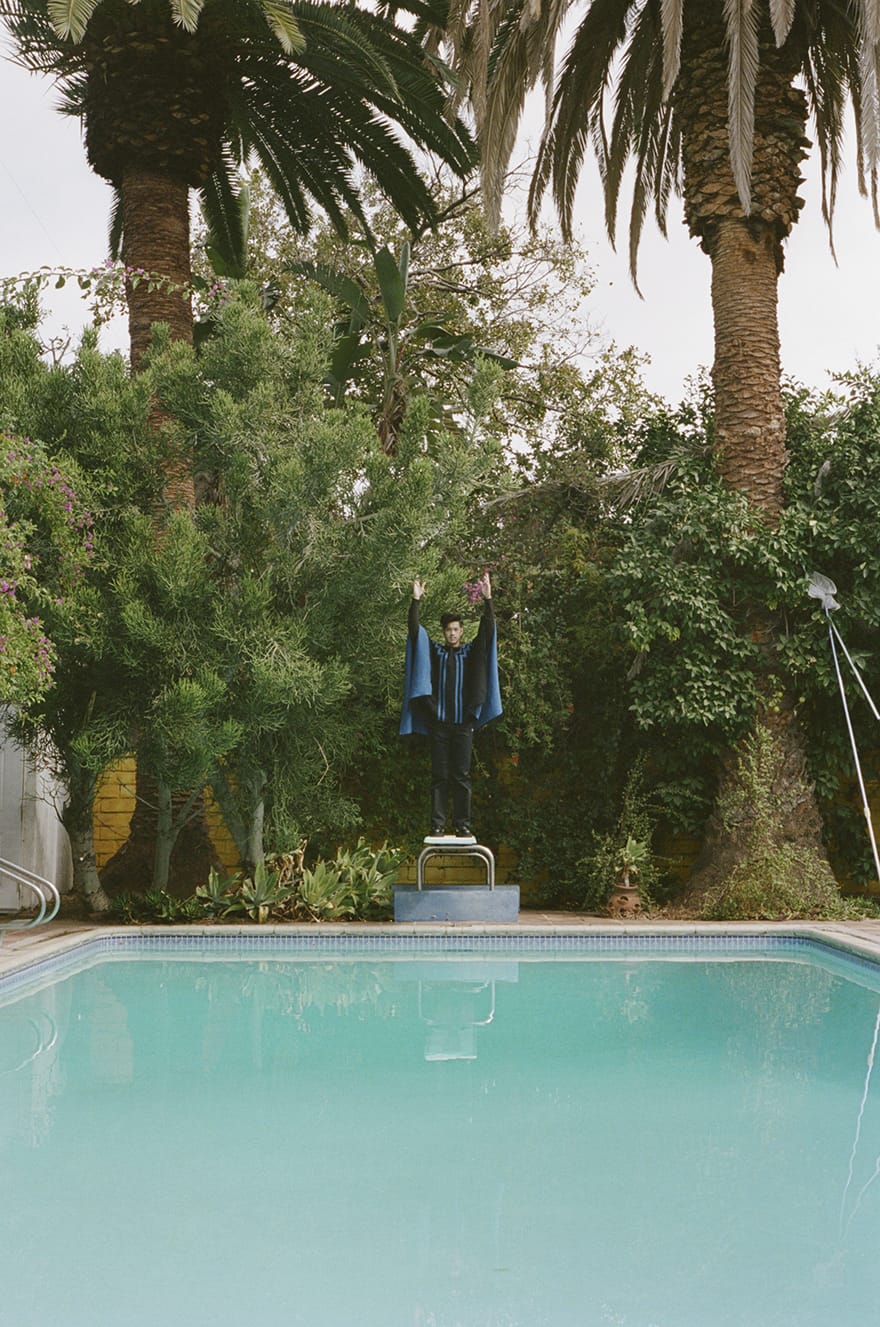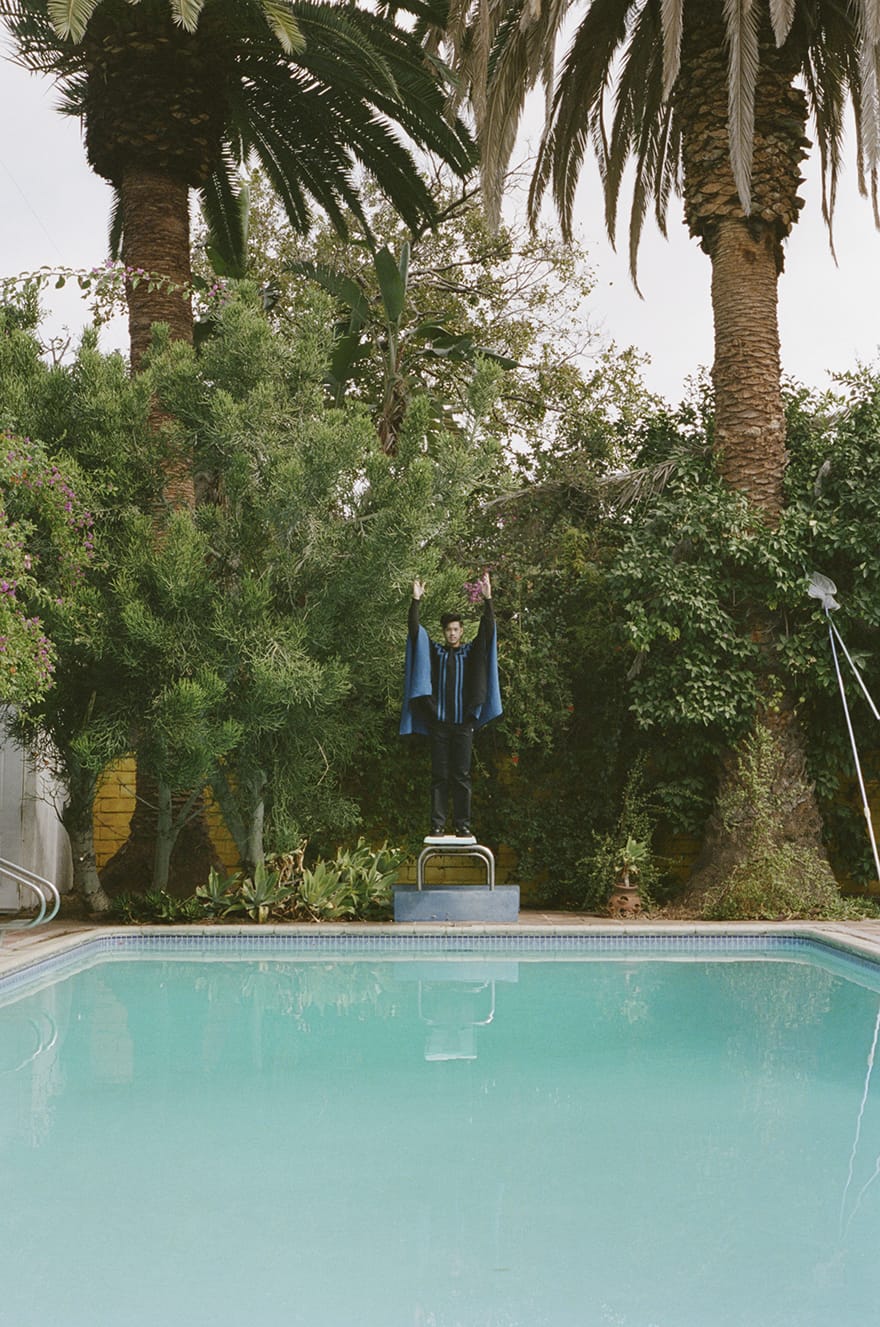 Marcelo Burlon Cotton-blend cape, wool pants; Ermenegildo Zegna XXX Wool knit sweater; Valentino Leather derby shoes
The conversation soon turned as discussion geared towards Butler's heritage as an Asian-American wading through Hollywood. In the face of inequality and racism, the struggles and difficulties of being an Asian-American are stark.
In the 2018 "Barbecue" episode of Netflix's Ugly Delicious, created and presented by James Beard award-winning chef David Chang, two instances of inequality were brought up.
The first was over a meal with actor Steven Yuen, artist David Choe and restaurant owner Jenee Kim about Yuen's "historical moment" in The Walking Dead.
Choe: [Yuen] had sex on TV with a white girl.
Yuen: It was very positive for Asian-Americans, I agree.
Choe: I heard that on the show The Walking Dead, the most popular TV show in America, that a Korean guy was going to have sex with a white girl. I need to see him do it with passion and vigour, and he did it!
Dave: That's a historic moment for Asian men. It has never been documented, you were the first! The other was during Chang's and Choe's trip to Beijing, China to discover the wonders of Peking duck where both men had a moment on the streets to talk about Asian stereotypes.
Chang: People expect Asians as a whole to be subservient, right? Quiet.
Choe: If you're Asian and you're on television, you either have to talk with an accent, know some form of martial arts or you have to be homosexual. That's what's accepted.
—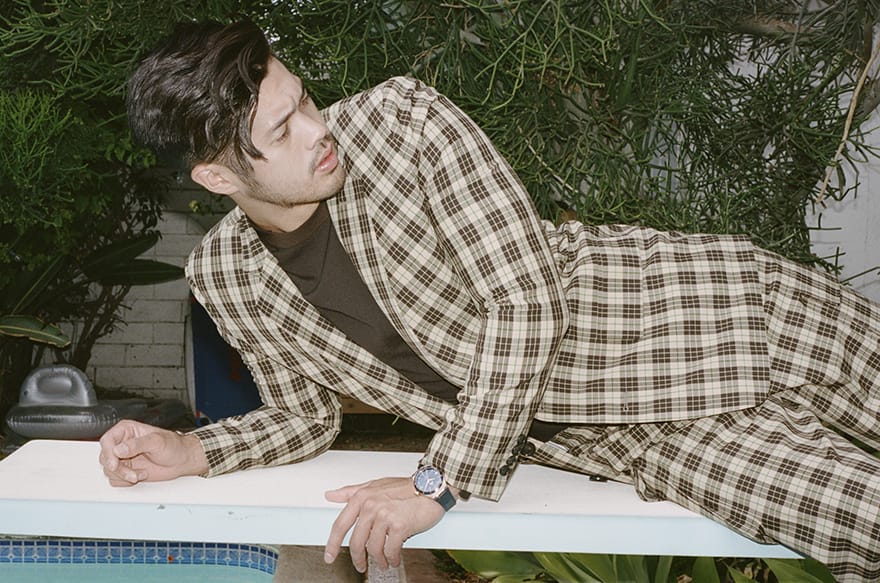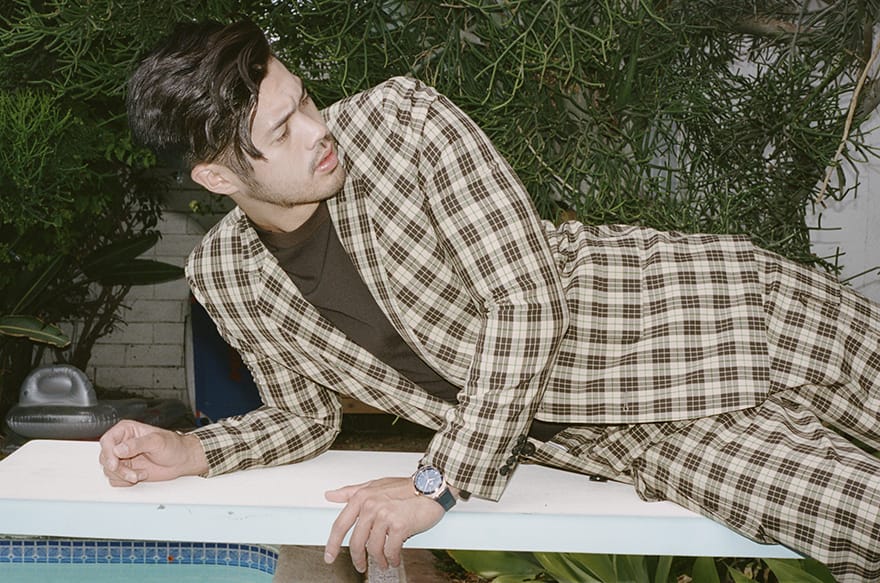 Tibi Wool jacket, wool pants; Ermenegildo Zegna XXX Cotton T-shirt; Omega Constellation Co‑Axial Master Chronometer 41mm
As damning as both recounts sound, they reveal the extent of prejudice Asian-Americans face, given the number of years in their respective industries and having to fight tooth and nail for the respect and recognition they deserve.
It was the same sentiment for Ross Butler as he was "forced" to set himself apart from the crowd due to his Asian roots. "Growing up feeling left out forced me to work harder to be accepted or be unique," reveals Butler, "being Asian in this industry forces you to go above and beyond."
"At first, I used to think the work ethic was an Asian thing. But it is because there are so little roles and so much competition. This creates a feeling that you always have to be ready and you can't give them a reason not to hire you."
"Maybe it's just me, but I feel like I need to have all these skills available and always have to be in shape in case, by any chance one role comes along and if I don't book it for some reason, it'll be forever till that chance comes around again."
This speaks volumes of Butler's portrayal of Super Hero Eugene in the DC Comics superhero film Shazam! as he spoke of his pride of being cast as a non-stereotypical superhero.
"In many ways, yes, we've made progress. But I still think we have a long way to go before Asian-Americans are seen as cool. You still won't see an Asian lead in a non-Asian role today. Maybe soon, but I still haven't seen it."
In an Instagram post dated 16 April 2019, Ross Butler was quoted as saying "I can finally express how amazing it has been to be a part of #Shazam and to be (one of?) the first on-screen male Asian superhero in film. Not a martial artist, not a swordsman, but a full-fledged, traditional, non-stereotypical superhero. When I was younger and pretended to be superheroes with my friends on the playground, I didn't have an Asian superhero to pretend to be. I didn't want to be a karate master. I wanted to have claws come out of my hands or shoot lasers out of my eyes. So to dream, and I'll keep shooting lightning out of my hands for all my Asian American little brothers and sisters out there, keep dreaming anything you want"
—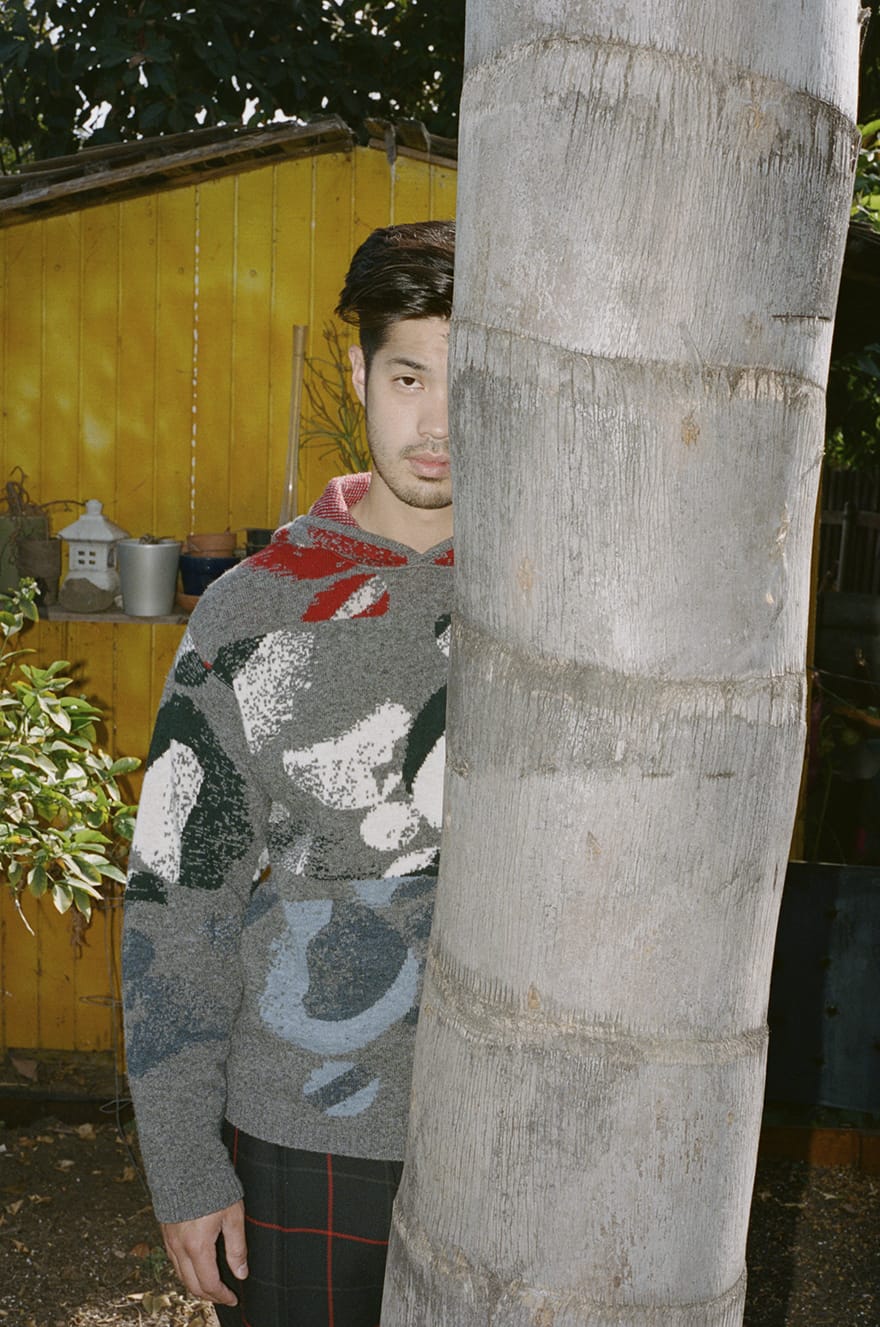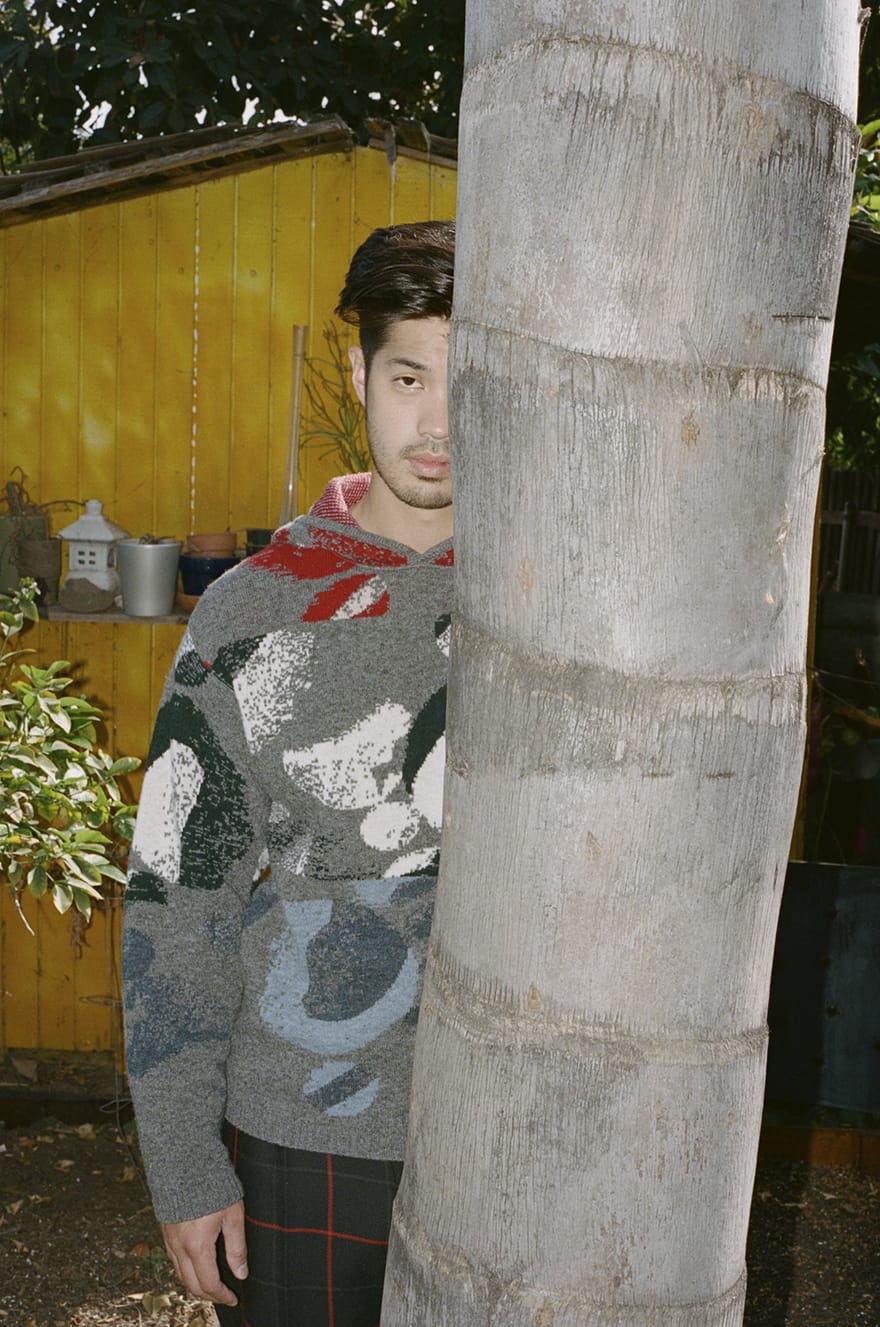 Emporio Armani Wool knit sweater, wool pants
Given the non-conformist theme of our Men's Folio November '20 issue, we had to ask Ross Butler for his definition of a non-conformist and if he views himself as one.
"I have felt like an outsider my whole life and I used to try desperately to fit in, and it never worked. As I grew older, I realised why."
"I wasn't authentic and it was obvious to others that I was trying to be someone I wasn't. So I decided to actively do the opposite and be myself as much as I could. I suppose that's being a non-conformist. Doing things like trying to break Asian stereotypes is just something I believe in because I didn't feel the stereotypes reflected who I was, not out of some grandiose plan to get work. Not conforming to what was put in place before my time was me just not accepting limits on what I could do."
"I haven't thought of myself as a non-conformist before today. It's an interesting contrast of ideas. By wanting Asians to be more prevalent in non-Asian roles, being included in the cool club per se, that is non-conforming. And it's weird and kind of annoying to think that just wanting to be included is a non-conformist idea."
"I'm not too worried about being typecast. I am focusing on taking roles that break that image, and it just takes time."
—
Photography Cameron Postforoosh
Styling Jungle Lin
Grooming Marina Migliaccio using Oribe & Kosas
Photography Assistant Barrett Loose
This story with our cover story Ross Butler first appeared in our November 2020 issue! 
---