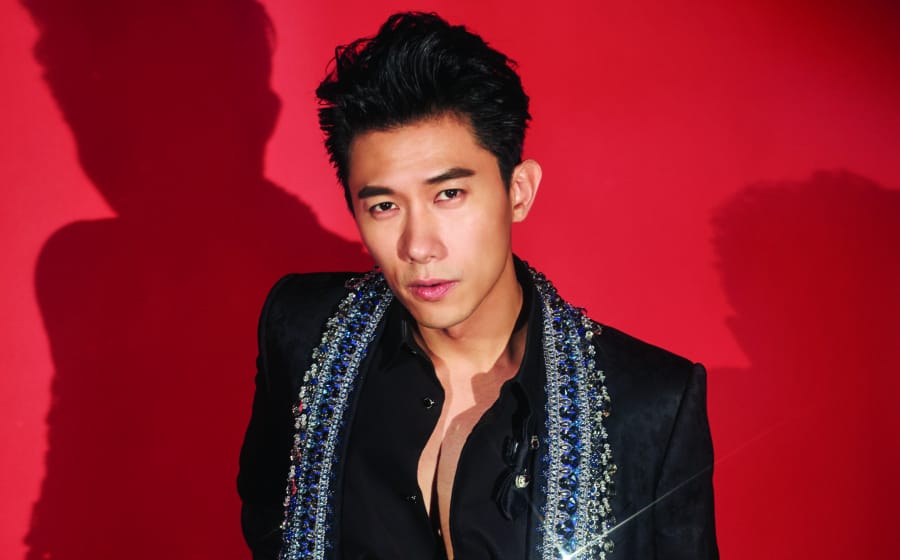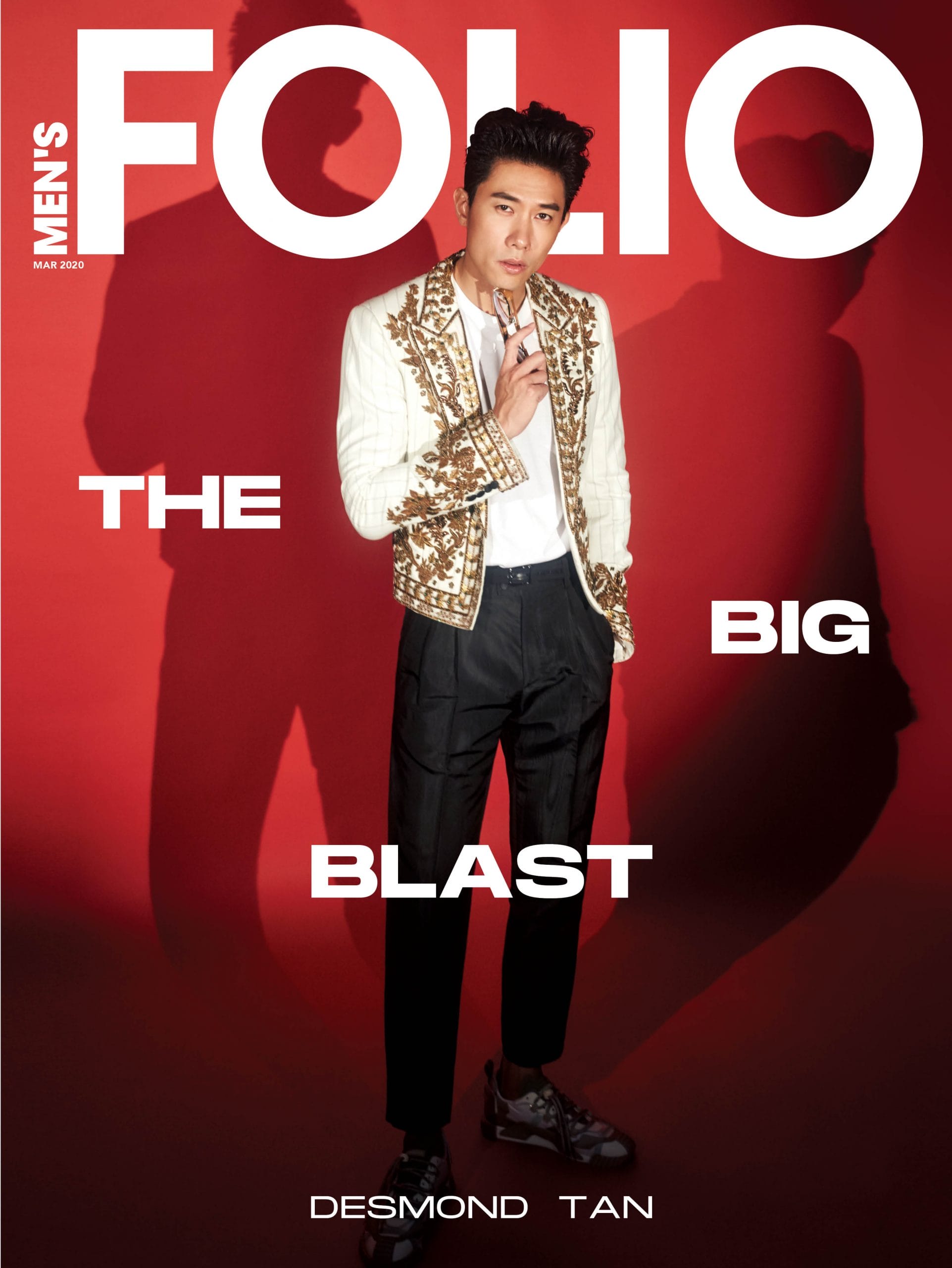 Dolce&Gabbana Wool embroidered jacket, cotton T-shirt, canvas belt, wool pants, leather sneakers, acetate sunglasses.
From bringing his own prop fishes to the set and sitting on a fire hydrant on the streets while reading scripts to subsisting on a diet of tuna and salt crackers for months to play a WW2 role, the industrious Desmond Tan proves why the stars are shining brighter for him.
—
View this post on Instagram

—
For anybody who has had the pleasure of being within a 30cm radius of Desmond Tan like this writer, the first thing one will notice is electricity crackling up his own body. The 33-year- old's eye contact is intense – one part masculine swagger, one part boyish charm – and he answers questions without a moment of hesitation.
While one can chalk it up to savviness accrued from a 13-year career in the media industry, talking to Tan feels more like catching up with a friend. He is interested in what one has to say (his eyes will light up), he is curious when one talks about a topic he is unfamiliar with (his eyebrows wriggle), and he is refreshingly earnest with his words.
"A line on your Instagram profile says '1/7.5 billion'. That is quite a high level of self- awareness," this writer posits. While other celebrities might be affronted by such a question, Tan shrugs it off and answers matter-of-factly.
"7.5 billion is actually the worlds' population. That line simply points out how, individually, we are a small part of the whole, yet unique."
What else is Tan interested in besides the cosmic machinations of humankind? How about longboarding – a hobby he picked up as a tropical extension of his love for snowboarding. "I recently got a longboard, and I really enjoy the experience so far! I enjoy learning new stuff which could possibly be elements I could use for future roles. I usually watch loads of videos and dig hard into reading materials online."
Longboarding has been a point of contention in the past for some skateboarders who claim that it is a way for the "less apt" to hop onto their culture, but Tan does not seem to bother. Instead, it is a way for him to relax after a gruelling filming session, to feel a sense of freedom from the hyper rigidity of his career and to have some quiet moments to himself.
"To me, longboarding is a form of liberation. I have been staying in my hood for six to seven years, and I frequently walk, drive, and run around it. But when I board, I see more things I usually don't pay attention to. The properties in the area, the sea, and how things are slowly changing."
"In a world that's always changing in small or big ways, it's quite nice to know that I remain myself – a constant."
—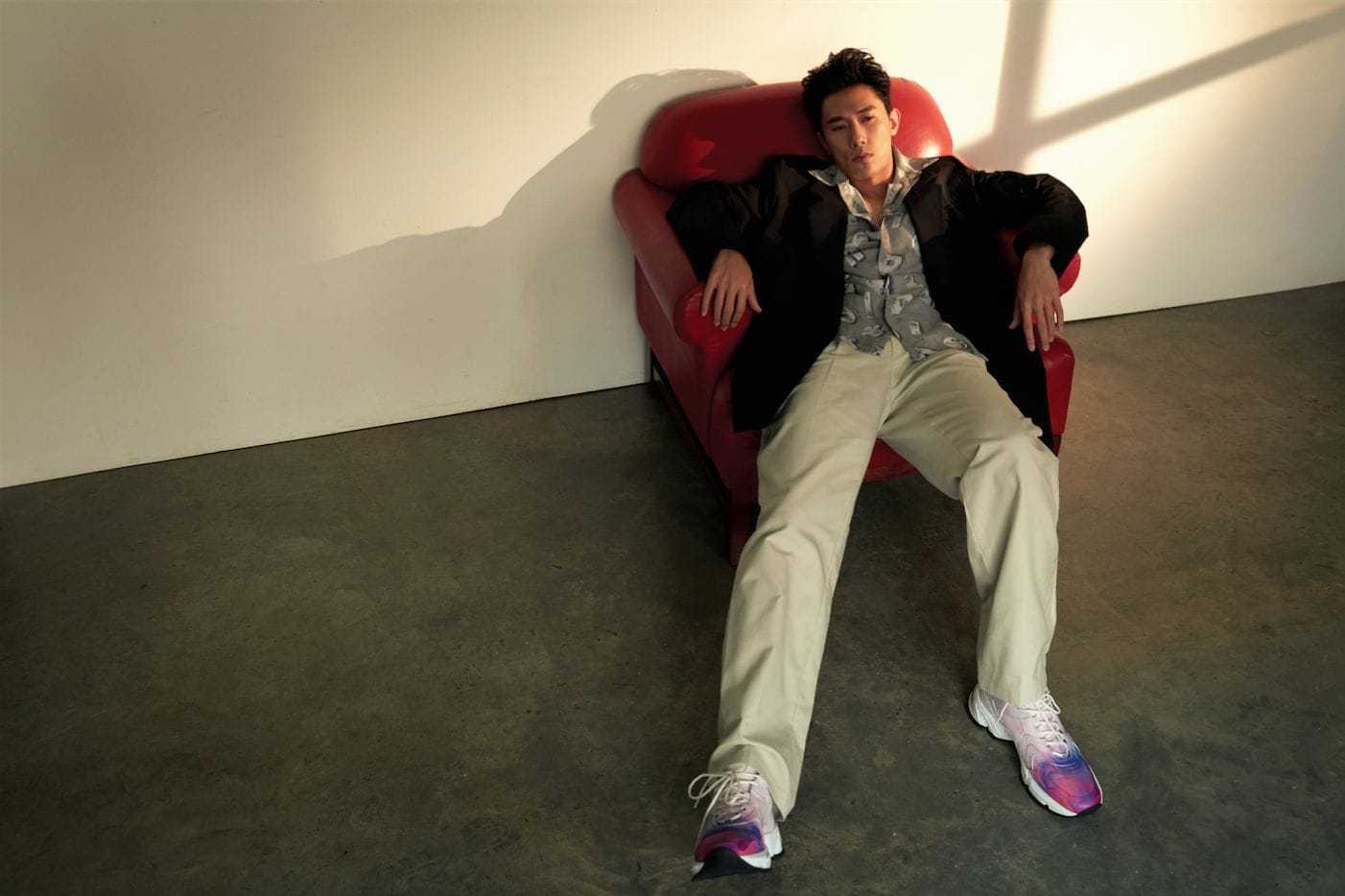 Bottega Veneta Wool jacket; Dior Men Cotton shirt, cotton pants, leather sneakers.
"I feel like me and my fellow Star Search alumni are like meteorites that have sprang out from the same meteor at an astronomical event years back. We started off from the same place and time but eventually took different flight paths on our own unique journeys."
—
All Around You
On set, Tan has vigorous energy, chameleon-like ease in the shoot's different looks, and sober conscientiousness to how he looks even when his line of sight to the monitor is blocked. (Fun fact: the actor can whistle to the chorus of Justin Bieber's Yummy) He shifts between being brooding, playful, and pensive within 10 frames, and with the final burst of a flash, he is back to being Desmond Tan – the boy next door that the nation has come to love.
What is this formula to racking up awards and charming the hearts of an audience base that stretches from millennials to boomers? Well, it is a secret that only Teoh Ze Tong – the winner of Star Search 2019 – is privy to on filming sessions of All Around You that stars both lads.
"I do actually see the younger me in Ze Tong. He reminds me of my earlier days when I was learning the ropes in a new career – hustling to learn as fast and as much as possible, a time when the curiosity and supercharged drive shines on the face."
Is this answer a stretch considering the world both men have or are living in when they debuted? According to Tan, it is not because social media is a new vernacular for which newcomers can sharpen their craft.
"Social media allows newcomers to instantly connect with an audience. It also acts as a training platform for them to get used to working with a camera and being comfortable enough to be in front of one. There's always a choice to what you want to show on your social media."
When asked about his new-found role in shaping a new crew of actors and actresses, Tan's answers are filled with genuine humility.
"Do you enjoy mentoring the new-gen?"
"I prefer the word "sharing" because I feel that I'm also still constantly learning from the veterans of the market."
"What is an important lesson you have shared then?"
"I enjoy sharing with them what I've experienced to help them shorten unnecessary steps at work or in life."
"Do you ever feel you've taken on the role of a big brother?"
"I feed off their youthful energy!" [Laughs]
—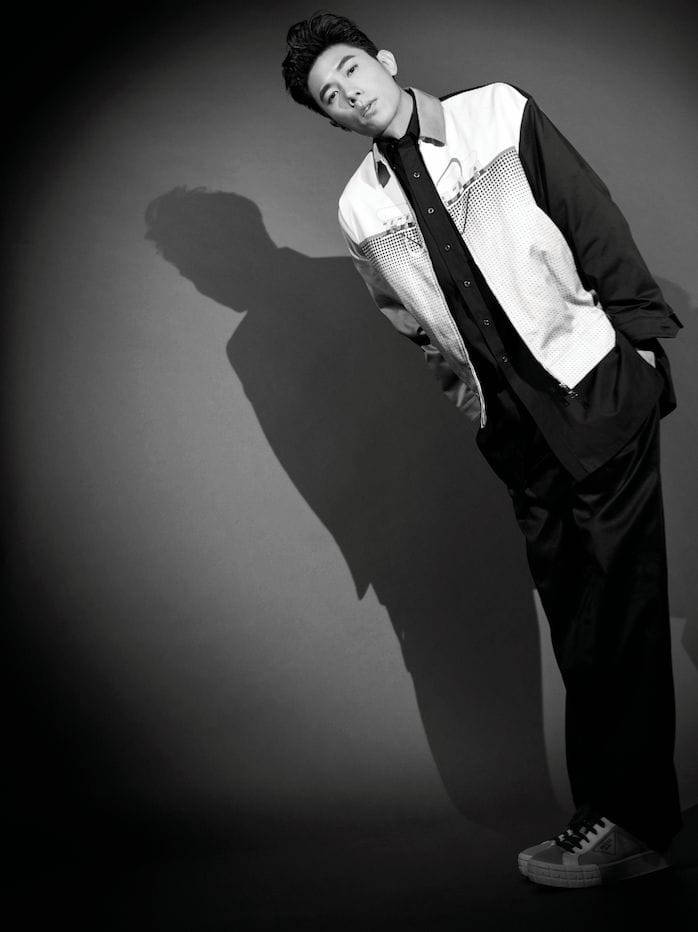 Prada Cotton jacket, cotton shirt, cotton pants, coated canvas sneakers.

—
Skin Deep
Season one of Derek – a TV series starring Tan as a serial killer – began even before the pilot episode, with the launch of a viral social media campaign that featured the strapping actor and a group of young bucks donning an apron shirtless. The many milestones of the show have then included cold-blooded killing, saucy love scenes, and a gratuitous shot of Tan's derriere.
With his chiselled jawline and defined pecs very much on display for a big bulk of Derek 2's scenes, it is not a stretch to assume Tan has gone into full Avengers mode to achieve the physique. For perhaps the first time in the interview, he winces when he recounts the figurative and literal lengths he had to go to.
"It wasn't easy to achieve that body because it required me to work out for up to two hours almost every day for months while maintaining a strict low carbohydrate diet. I don't usually recommend people to follow that regime because it cuts us off from our social lives, and it ironically creates more stress when living too healthy, if you know what I mean."
"But do you enjoy being a formidable Instagram thirst-trapper now?"
"Never really thought of myself as an IG thirst-trapper, to be honest. [Laughs] But thank you. If Derek had an Instagram account, I bet he would be one though! His profile picture might be a bare naked picture with just an apron. [Laughs harder] I am vain by national average standard, though. However, I always "blame" my job for requiring me to be so. I just like looking my best, man! Even when I feel terrible!"
—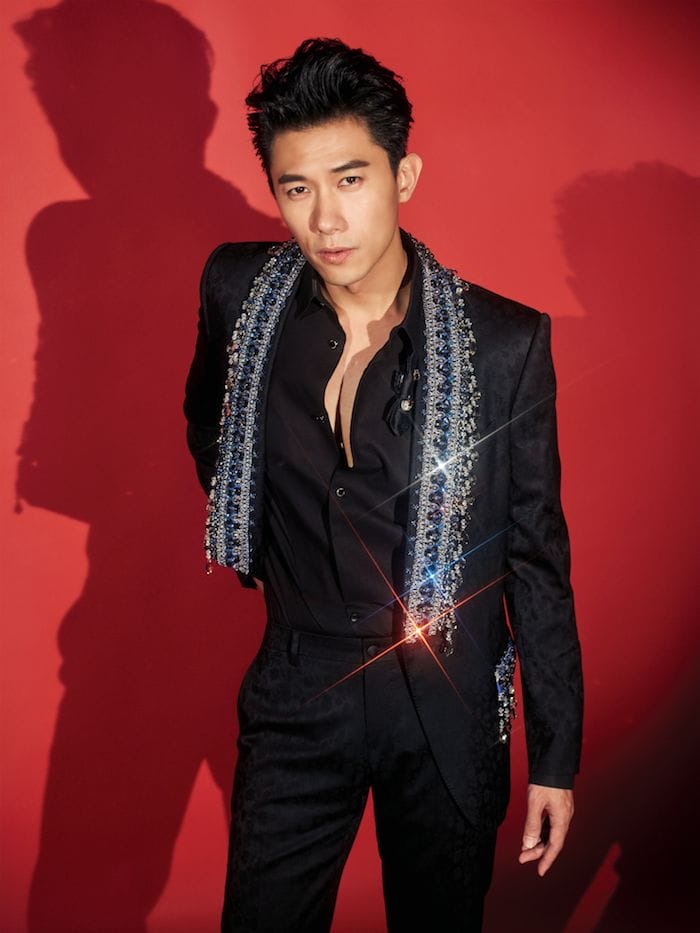 Dolce&Gabbana Wool embellished jacket, silk shirt, silk bow tie, wool pants.
"I usually take references from my acting heroes like Christian Bale in the Machinist and Joaquin Phoenix in Her — both of whom almost transformed their entire body shapes and facial contours for roles. I love the challenge and I'm still awaiting for such roles that will need me to put on or shed loads of weight."
—
Inner Workings
The rise of documentaries about serial killers has proliferated theatres and the Internet in recent years, thanks to a growing morbid fascination with "damaged but shockingly intriguing men". Zac Efron has captivated and disgusted the world as Ted Bundy in Extremely Wicked, Shockingly Evil and Vile, and it takes a certain level of courage to sit through The Reykjavik Confessions.
This is all fodder for Tan who dug deep into the crimes and campaigns of highly documented serial killers. He has done the necessary reading, understood their backgrounds, grasped their motivations, and these made Derek a more believable character with a stronger story arch.
"Derek is a very local representation of this breed of people. With his profiling, it narrows the proximity we have to such people, and it makes us believe that such crimes could happen close to us."
"Do you feel he's different in the new season then?"
"Derek hasn't changed much in the latest season. It's an extension of his life story as he goes on to kill more people. It's the new people in his life that have sadly moved him towards the darker path. I never want people to sympathise with his wrongdoings, but I wish people would understand that he never chose to be a serial killer. He is human, after all, and he just struggles more than any of us.""
"What then do you think is the strongest pull for a viewer to catch up with Derek?"
"Well, there are more killings, more torture scenes, more sexy scenes, and more unexpected twists." [Laughs]"
—


Dolce&Gabbana Cotton shirt.
—
Photography Joel Low
Styling Wilson Lim
Photography Assistant Alfie Pan
Styling Assistant Manfred Lu
Grooming John Lee using Laura Mercier
Hair David Gan
This story first appeared in the March '20 issue of Men's Folio Singapore. 
---