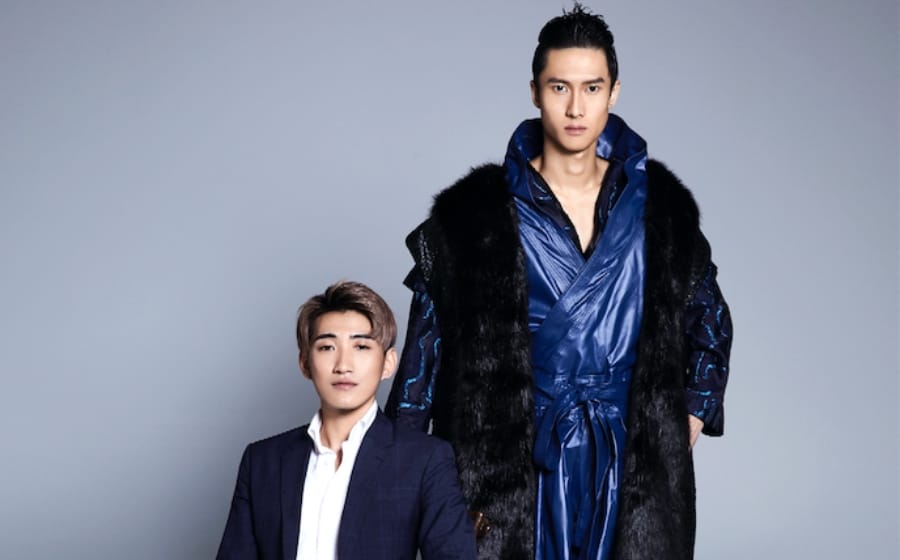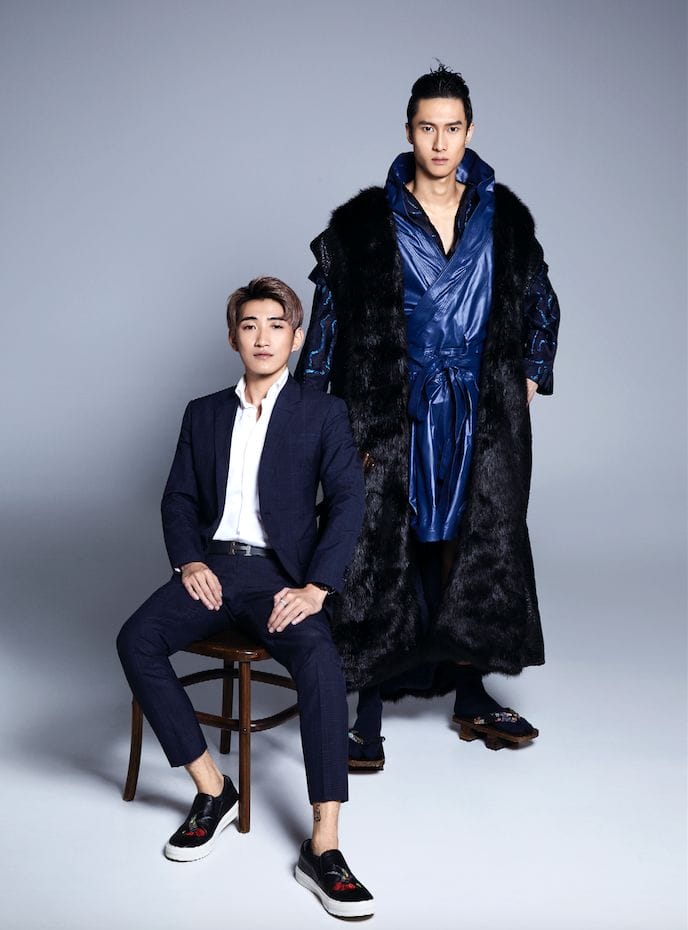 The winners of Men's Folio Designer of the Year and Male Model Search 2019 quip about the love of their craft.
—
Jeremy Jiang — Winner of Men's Folio Designer Of the Year 2019
Held in conjunction with the Men's Folio 22nd Anniversary Party on 22 October 2019, the Men's Folio Designer of the Year and Male Model Search 2019 concluded with a bang as designer Jeremy Jiang and model Ng Su Yu were crowned as winners of their respective competition.
"I am deeply honoured to have participated in the competition. I'm grateful for the opportunity to showcase my collection, and I'm glad I won the competition," reflects Jiang. The entire collection, which consisted of six outfits, combines western tailoring with Japanese pattern-making inspired by traditional Kabuki dyes. The win marked the culmination of six months of sketching, construction, and production.
Though Jiang has been in regular contact with the Men's Folio team since June 2019, it is this writer's first meeting with the designer. His impression of Jiang – shy and reserved, but he is fully in his element as he dresses Ng for the photoshoot. His eye for detail is apparent from using fabrics of different textures and weights in his outfits. "I specialise in menswear; I pay attention to the silhouettes, pattern-making and try to incorporate interesting details into my garment designs."
—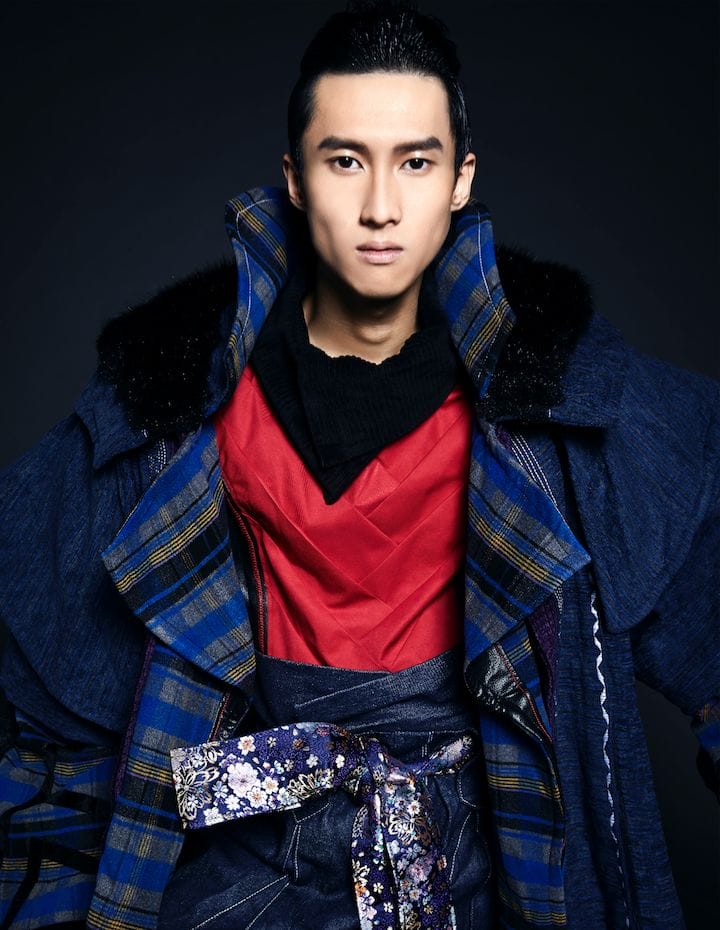 Yong Joon J. Faux fur, wool and denim trenchcoat, polyester and corduroy T-shirt, denim pants.

—
Design Days
Jiang's journey as a designer began with his enrolment in Nanyang Academy of Fine Arts, and he had a stint at the University of East London after. "It was tough for me at the start because I barely knew the basics of sewing," recalls Jeremy. "It took me years of practice and mentoring. However, I believe that practice is more important than talent. Talent alone is not enough to attain your dreams – you need both practice and hard work to succeed."
Being a fashion designer in Singapore is no easy feat as the local fashion scene dwarves in comparison to fellow Asian countries such as Korea and Japan. "Singaporeans' dressing is generally dictated by the weather, and we tend to be more conservative about fashion. However, the scene is changing with greater freedom of expression and acceptance in Singapore. There is a lot more that fashion designers can contribute to the Singapore art scene pertaining to fashion. There are a lot of talented individuals; we need to work hard to create a positive image for Singapore's fashion scene."
The start of the new year marks an exciting journey for Jiang as he embarks on new projects. "I'm designing a set of costumes for the performance dancers of the upcoming River Angbao event. My goal is to establish my own label, Yong Joon. J. Currently, I am designing made-to-measure clothes for my long-term customers."
—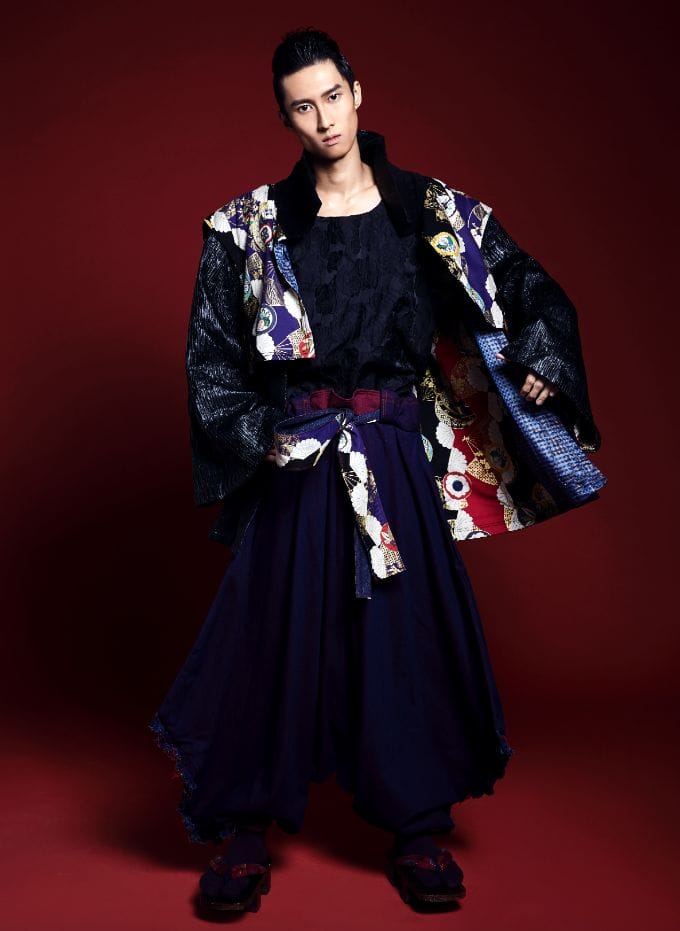 Yong Joon J. Polyester and silk jacket, polyester sleeveless top, denim pants.

—
Love and Travel
As with the creative nature of his job, countless hours are invested in sketching and pattern-making. A lack of inspiration can be frustrating, but everything pays off when Jiang sees his designs walking down the fashion runways. "What I love most about my job is seeing my works come to life. It is worth all the hard work, and it is very heartening to see them at various showcases."
"I love to travel as a means to pamper myself – it is an enriching and profound experience as I get inspired by other cultures and am able to disconnect at the same time. On a personal note, love has to be selfless and unconditional."
—
Ng Su Yu — Winner of Men's Folio Male Search 2019
Anyone who has gone through National Service would know that whatever one is pursuing, it has to be put on hold for at least 22 months. This was also the case for Ng's modelling career, but an opportunity to be featured in the Men's Folio Male Model Search 2019 came along. "To participate and win the competition was unexpected; I was very surprised and shocked. Everything had to be on hold because of my obligations to the nation. The opportunity allowed me to reconnect with my passion for modelling," shares Ng. "It was special because my mum, sister, and close friends were in the crowd to witness my crowning moment."
—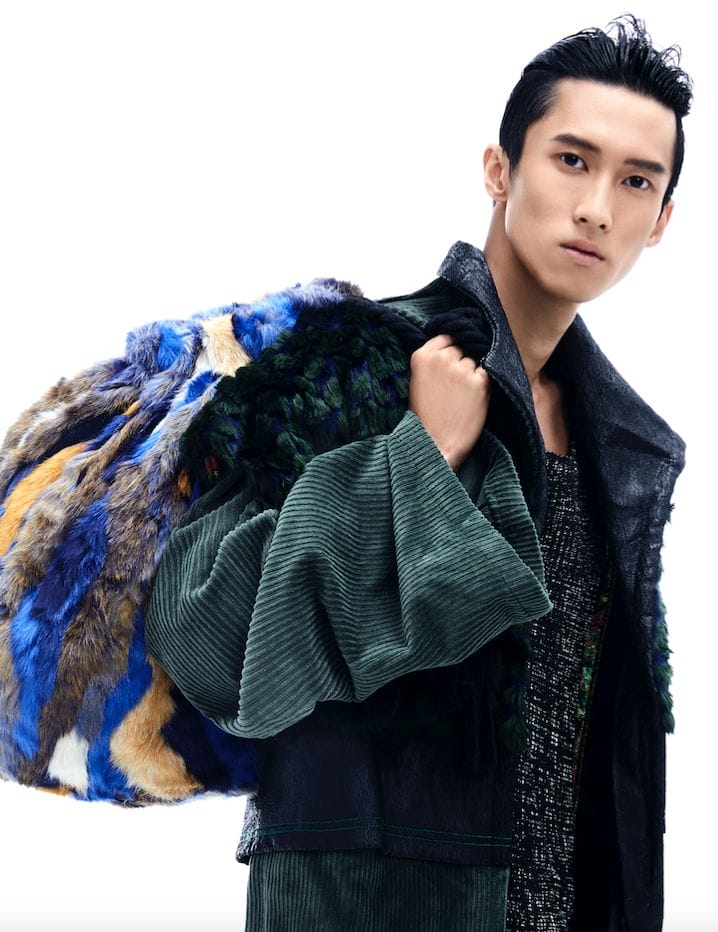 Yong Joon J. Corduroy and faux leather jacket, polyester sleeveless top, faux fur tote bag.
—
Model Behaviour
Contrary to popular belief, being a model is not as simple as looking good. Unstable income, coupled with working long and odd hours are just the tip of the iceberg. Overcoming inferiority complex and working against stereotypes are also part and parcel of a model's career. "It is easy to suffer from the lack of confidence as it is inevitable that we come across models who are better looking than us. It has taught me to be self-confident and secure," Ng points out. "I accessorise a lot with earrings, rings, and bracelets; people might be hypercritical if it is excessive or out of the norm, but fashion is about being comfortable and going with what you like."
Rather than focusing on what he lacks, Ng is grateful for what he has. "I'm very blessed to have the support of my family and friends. I love my job and the freedom that comes along with it. More importantly, I get to work alongside very talented people from designers to photographers and stylists. There is a lot to learn from seasoned professionals in the industry."
2020 is filled with a positive outlook for Ng. He plans to kickstart his modelling career when his stint in the military ends come April. "I am enrolling in a university in August, and my energy will be heavily invested during the four-month period prior to school."
—
Cartoons And Love
"To love is to be free and happy," Ng chuckles when asked about what love means to him, and what he does to pamper himself, in view of the theme of this issue – Modern Love.
"I love to watch Disney cartoons – it brings me back to my childhood when everything was so simple and free," reminisces Ng. "I treat myself to a good meal occasionally, but I binge- watch cartoons on a regular basis – Family Guy, Archer, and The Simpsons are among my favourites."
---