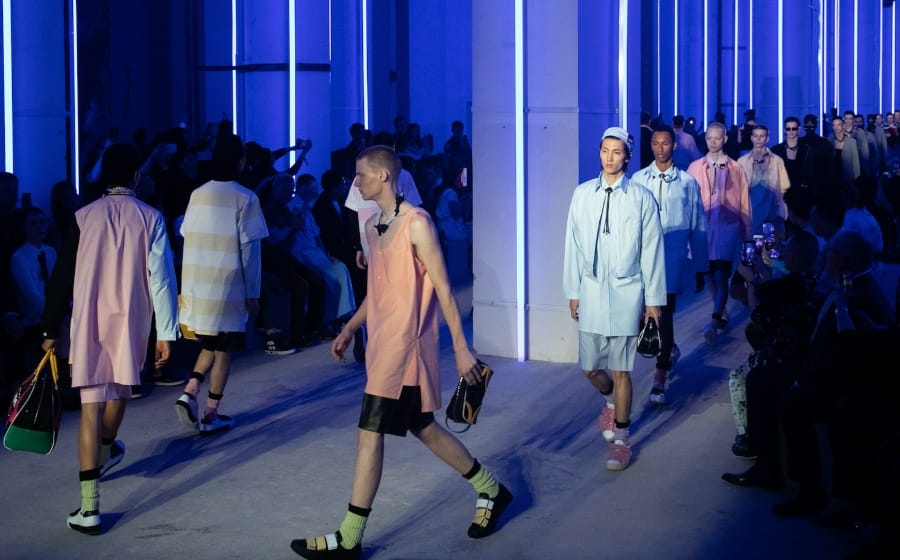 Upon arrival, invitees of the Prada Spring/ Summer '20 menswear-dedicated show were greeted by the 80,000-ton silo warehouse of Minsheng Wharf bathed in an AMO-devised light installation, which heightened the rawness of the industrial structure.
Guests sat in the central nave in an amphitheatre reflecting the silhouette of the silos above. The colossal, labyrinthine chamber was made more impressive with models gliding through the space punctuated by an arrangement of neon lights which went on as far as the eye can see, almost vanishing in the immersive architecture.
—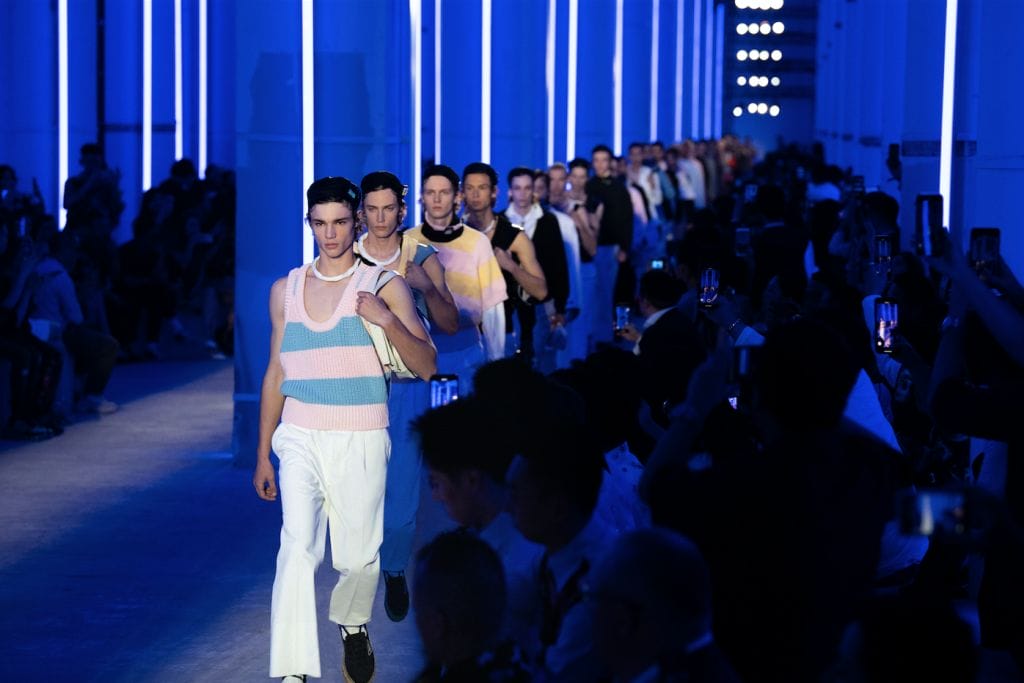 —
Animated by a spirit of boundless positivity and possibility, the collection took the aesthetics of youth with a hint of transgression and remodel, through elegance, yet another Prada masterpiece with an uncommon sense of modernity at its core. As seen in the Prada Resort '20 collection, classic wardrobe pieces were dismantled before being reassembled in a youthful but sophisticated manner to show off new proportions. The varying lengths were layered through various tops as if to challenge the preconceived notion of shape.
From twills and tweeds to a series of uniform khaki looks with badges and patches placed like abstract trophies, the clothes were menswear essentials but cut with the freewheeling boyhood state of mind. The elongated shirts are worn under tailored suit jackets while polo shirts and sweatshirts in macro volume compelled a re-examination of the body form.
—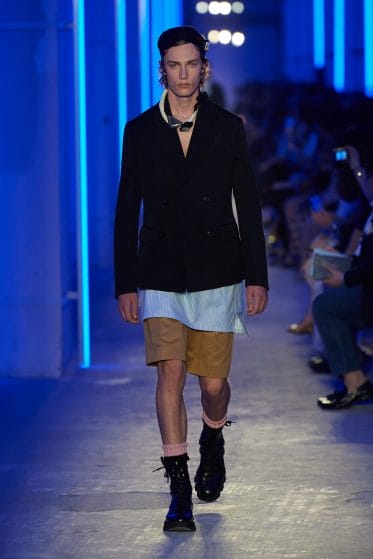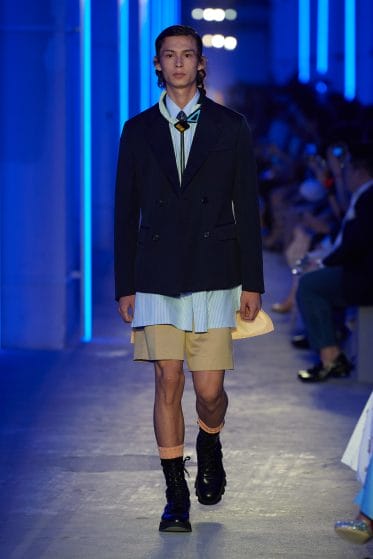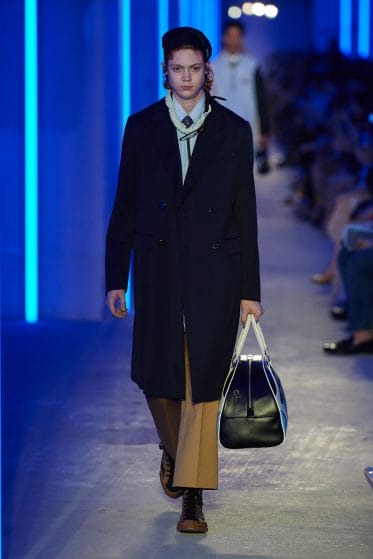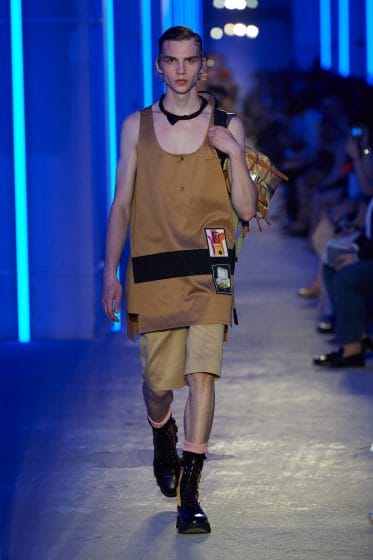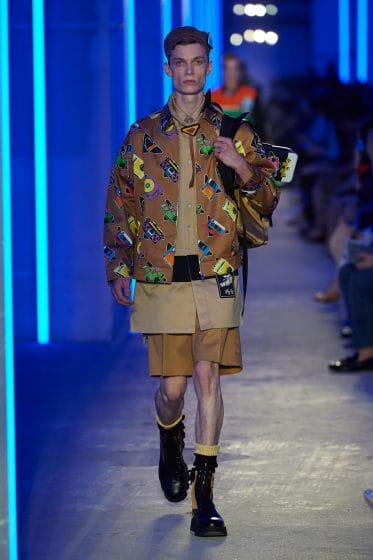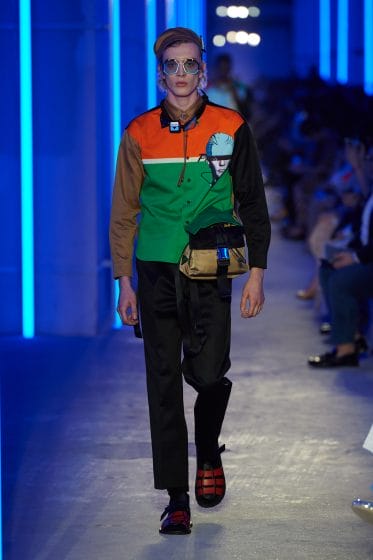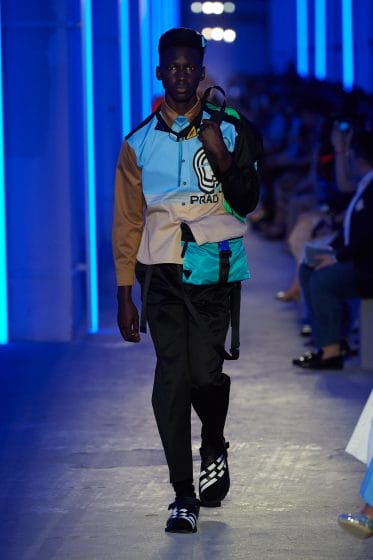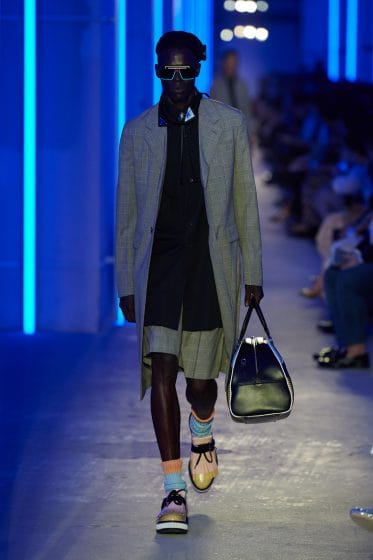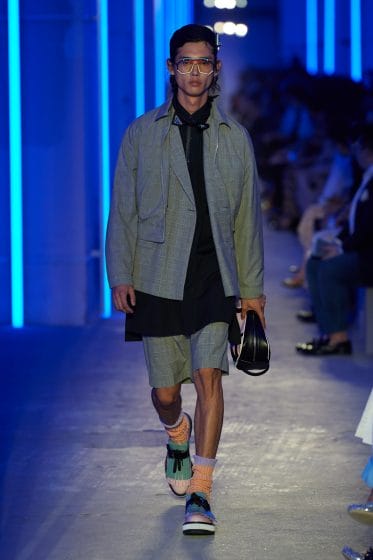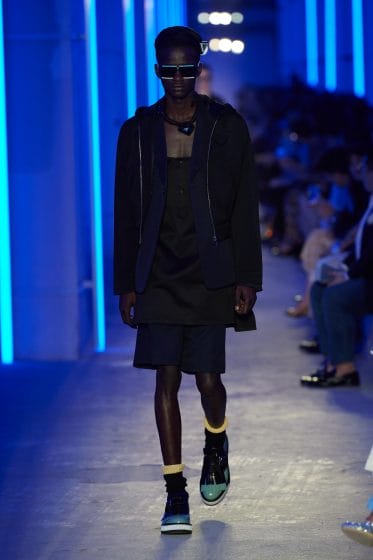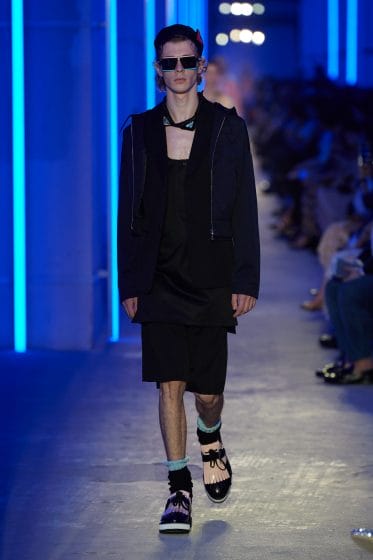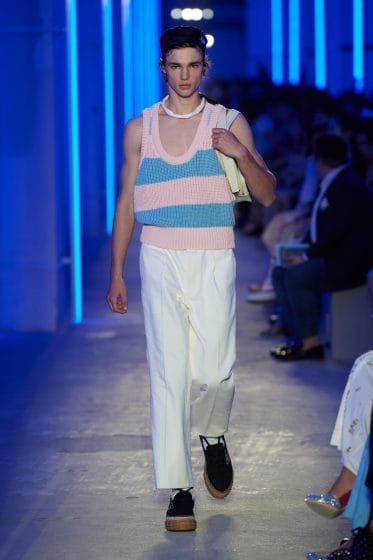 In the vein of a 1980s vibe – the shirts were adorned with roomy pockets and pouches, shoes were chunky, symbols of lo-fi outmoded technology such as video cameras and cassette tapes were sewn or printed onto various pieces, and the brand insignia was reimagined with a retro-futuristic mood.
The collection was colourful with a lively palette comprising soft neutrals, pale tones alongside khaki, black, and synthetic hypercolour – the dynamic juxtapositions were pure yet potent and resulted in a gripping appearance. One such example was the footwear which was elevated to new heights and saw Prada's signature colours combine with some of the most compelling hue variations.
—


—
After the show, guests were invited to the seventh floor of the Silo where they settled into dinner. Intended for a one-night-only takeover, the space was organised around different performances that took place on multiple stages and unannounced throughout the event space.
The acts included contortionists performing over a mirrored plane and two-time Grammy Award-winning multi- instrumentalist and composer Dana Leong on the electric cello, who took the stages around the hall. DJ Craig Richards and DJ Ben UFO concluded the class acts.
---