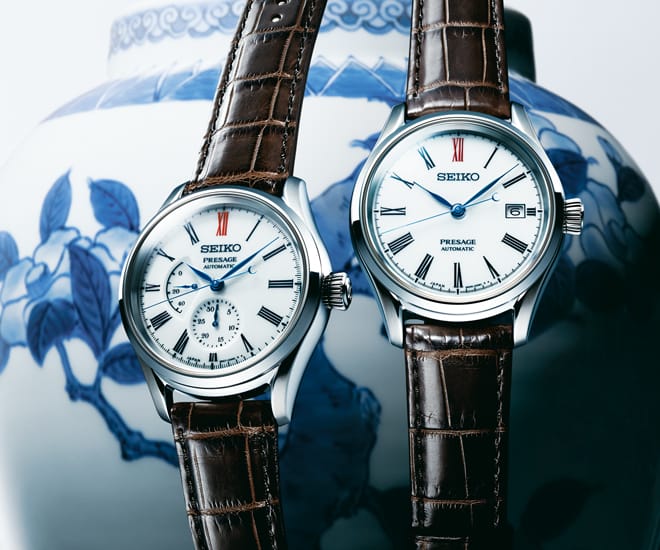 Pictured Above: Seiko Presage SPB093 and SPB095 (left to right)
Japanese pottery and porcelain making is an age-old craft and artform dating as far back to the Neolithic period — or in literal sense the Stone Age. Its artistic tradition remains relevant till today because of the enduring popularity of tea ceremonies that is deeply rooted in the lives of the Japanese. A popular porcelain that came to prominence in Japanese history was unearthed in the small town of Kyushu known as Arita. It was prized for its pure white colour with hints of blue subtleties and ever since, it was known as Arita porcelain.
That same Arita porcelain has since found its way to the dials of the Seiko Presage SPB093 and SPB095 that were released in BaselWorld 2019. Combining Japanese aesthetic with traditional craftsmanship and Seiko's watchmaking skills, the Presage collection represents the beauty of Japan. Having worked with materials of similar guises – enamels and Urushi lacquer – for its watch dials, it was natural for Seiko to infuse the beautiful heritage and craft of Arita porcelain to the dial of it Presage collection.
To ensure the Arita watch dials are able to hold up against the rigours of everyday wear, master craftsmen Hiroyuki Hashiguchi and his team developed a new form of Arita porcelain which is four times harder than the typical.
–
Crafting the watch dial is a painstaking process involving skill, patience and artistry. A special mould was created for the watch dials, with a recess for the power reserve indicator. The dials are then dried and fired in kilns heated up to 1,300 degrees to harden the substrate and develop the whites in the material.
A glaze is then applied by hand before being fired again to give the dials a deep, rich finish and the subtle blue tinge. The dials are then fired one last time after the holes for the date aperture and watch hands are laser cut to smoothen the cut edges.
The beauty of the Arita porcelain dials are further accentuated with the use of inky black Roman numeral indexes and blued steel hands. Keeping in line with the signature of Seiko Presage watches, the 12 o'clock index is highlighted in red as well as the use of the crescent ended sweep seconds hand.
The two Seiko Presage are powered by Seiko's high performance 6R calibres. The multi-handed Seiko SPB093 is powered by the automatic calibre 6R27 with a power reserve indicator at the nine o'clock position and a date indicator at six o'clock. The time only Seiko SPB095 is powered by the 6R35 which delivers 70 hours of power reserve. The fine finishing of the 6R calibres can be admired through an exhibition caseback.
Cased in stainless steel, the 40.6mm Seiko SPB093 is a hair width larger than the 40.5mm Seiko SPB095. Both watches are water resistant to 100 metres and are protected with a dual-curved sapphire crystal.
---