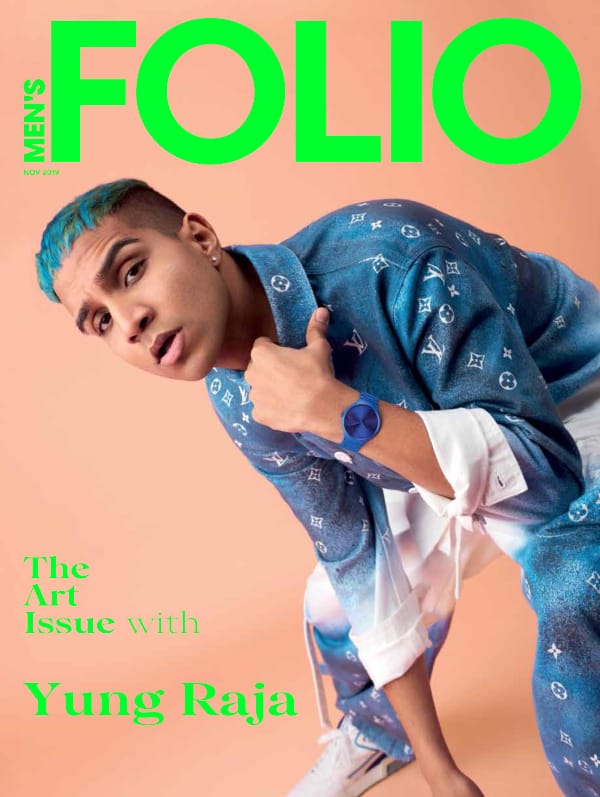 "The beauty of art lies in the infinite number of ways it can be interpreted and understood," shares Yung Raja with a chuckle. This statement held profound meaning, and it also encompasses the very essence of Men's Folio's first Art Issue. This line has stuck in this writer's head since meeting Raja during the photoshoot for our cover.
When I was assigned to interview Raja, I was excited yet nervous. I knew nothing about him, other than that he is a singer/artiste of sorts. Therefore, I did my due diligence prior to our meeting – "Singaporean Rapper Yung Raja In The Spotlight" reads the headline of a Rolling Stone India digital article; another one reads "Meet Yung Raja, One Of Singapore's Promising Rappers". It became apparent that I was going to meet a star in the making.
The moment finally came when Raja walked through the studio doors. How should he be addressed? Yung? Raja? Or his first name Rajid? "Raja, please to meet you," Raja introduces himself when shaking my hand; Raja it is then.
Having just landed in Singapore from Europe at 6am, the rapper was in the studio later that morning for the cover shoot. He was full of energy – grooving and rapping along to Travis Scott's Sicko Mode in the studio. There was nary a sign of jetlag or fatigue.
When Raja got in front of the camera, his gaze intensified as he effortlessly toggled between poses with aplomb. He is a natural after all, having started acting at the age of 13. "Being in front of cameras was what I wanted ever since I was young," he says.
Throughout the shoot, there was an infectious energy emanating from Raja that made the crew gravitate towards him. A request was made by the photographer for a reshoot; there was never a groan or complaint from him. "It stems from the fact that I wanted to be a star. It's all I've wanted, and for me to do this and get these opportunities is something I don't take lightly," Raja explains.
Raja's hunger, desire, and passion as he hopped in front of the camera for the umpteenth time – confidence peaking – were undeniable and irresistible.
–
Family Ties
It was at the unlikeliest of venues, National Day Parade 2019, that I came across Raja. In fact, it was not on 9 August but during one of the preview shows. He was performing with his good friend and fellow Singaporean rapper Fariz Jabba. "I'm grateful I had the chance to perform on National Day. That platform is proof that all artistes have a fighting chance to succeed in Singapore. If I could inspire the next wave of aspiring artistes, then I'm all for it," says Raja.
Not taking his newfound fame lightly, he continues, "I have the responsibility not to take the fame and the privileges associated with it for granted. It is a fragile thing; it is here today, but it could be gone tomorrow."
"Personally, it [performing at the National Day Parade] was a dream come true for me. It was special as it meant so much to my parents and family. It felt surreal every time I went on stage to perform knowing my family is watching, whether it was for the rehearsals or the actual performance," shares Raja, a first-generation Singaporean in his family.
As with all rising stars, coping with stardom and attention can be an overwhelming experience, and that is the case for Raja today. "Yes! I tell that to people all the time. Within a short span of two years, everything has changed and is moving so fast."
Although Raja still finds it difficult to comprehend how things have fallen into place for him, he knows where he can find solace when the going gets tough. "I live with my parents; home is my safe haven that I retreat to amidst the emotional highs and lows."
Half-expecting his manager to pause the interview as it was getting too personal, we were allowed the chance to witness Raja's more sentimental side. "My mum constantly pushed me; her support was unwavering. But when it's too overwhelming for me, she was also there for me," he reveals.
It became apparent how much his family means to him – especially his mother – because it was impossible not to notice the quaver in Raja's voice.
–
The Art of Rapping
Closing the year and going into the new decade is an exciting time for Raja and his label, MADEYOUFAMOUS, as they entered into a partnership with Def Jam South East Asia in September. "It is a big deal when you look at the list of international names that have worked with Def Jam."
It is slightly over a year since Raja released his debut hit single Mustafa, and the "brown superstar" (no pun intended) was proud to confirm that he will be dropping a new single soon. "We have some material, but I can finally reveal my new single will be released on 8 November. It is different from Mustafa, and it talks about the great things that have happened in my life, especially over the past year and a half," he says, beaming with pride.
Those who have heard Mustafa or Poori Gang will be quick to note how Raja infused his South Indian roots and culture into his songs. "I've been part of the Eastern and Western worlds; it's a fusion of those two worlds."
"The song has to be beat-driven; people remember it when the song is played in clubs or on the radio," shares Raja when pressed to rate the importance between the beats and lyrics in a song. "The beats are more important, in my opinion, but a great song has a combination of both beats and bars working in great synergy."
He reckons the naturality of his creative process to be similar to that of other art forms such as paintings and films. "For me, the process is never forced. We throw around ideas in the studio, and we try to understand where it would lead us. Everything falls into place when inspiration strikes."
He quoted sources outside of music like Quentin Tarantino, Steven Speilberg, Martin Scorsese, Al Pacino, and Virgil Abloh as his inspirations. "I'm inspired by architectural structures, designs, or anything that looks out of the ordinary."
–
Does Art Need a Message?
Taking the interview in a different direction, I posed the question of whether art needs a message. "Art definitely needs a message." Raja pauses momentarily before adding, "The beauty of art lies in the infinite number of ways it can be interpreted and understood; everyone digests art differently. Given that beauty, I feel creating art has to come with a purpose or an intention."
What is Raja's message then? "I want to be an inspiration and a role model to kids and others around. When I was younger, I remember feeling hopeless and unsure of how my life would turn out. I remember being that lost kid, but now I'm in a position to inspire and to spread positivity, hope, and happiness to others. As clichéd as it may sound, dreams do come true."
One thing is for sure, Yung Raja is definitely in "Sicko Mode" right now.
–
Photography Joel Low
Styling Wilson Lim
Photography assistant Alfie Pan
Styling assistant Joe Tan
Grooming and Hair Sha Shamsi using Dior Cosmetics and IGK
---