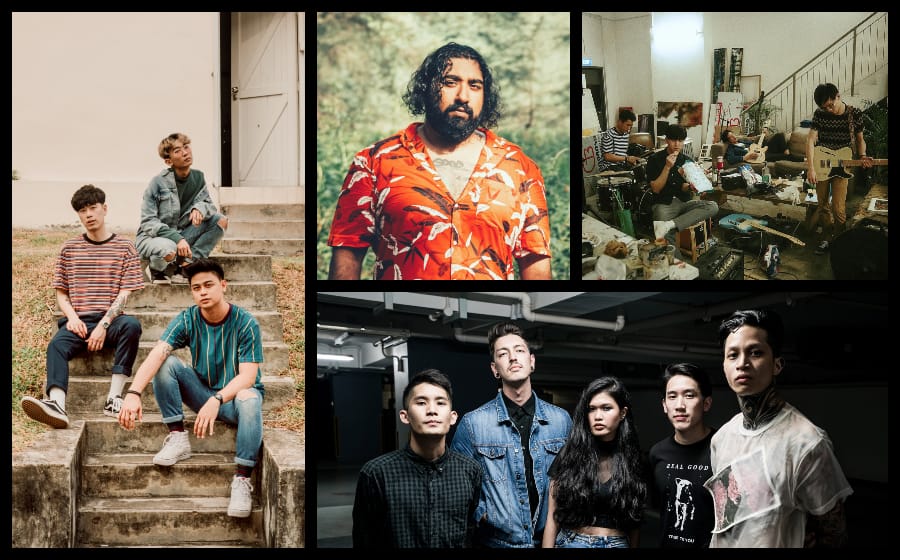 The creative scene in Singapore, specifically the music scene, has been expanding exponentially in the last decade with the emergence of many local acts. Through every decade from the 1970s to the 2000s, many local acts have come (and gone, for some) to pave the way for today's homegrown artistes to express themselves. The "Singapore sound" these acts have soaked up is born of the music of their predecessors, and one thing is for sure – one will definitely be bopping to the familiar hooks and licks that are reminiscent of those times. Rooted in the Singapore sound, local acts bring in new elements such as electronic and poppin' melodies to mark the dawn of a new era. It is time Singaporeans from all walks of life embrace them with open arms.
BRB.
Describing its sound as soulful R&B meets electronic beauty in blues-influenced pop tracks, brb. resonates strongly with the motto, "good vibes for a good time". This is evident from the trio's debut single, Cool With It, in 2018 to the latest release, Whoops, this June.
With a love of R&B, the group's tracks feature smooth vocals by Clarence Liew, elaborate synths and polished beats by Auzaie Zie, and drizzles of guitar by Marc Lian. The depth in its music comes from songwriting informed by the 1970s blues bands, Fried Rice and The Straydogs, who were dubbed Singapore's Jimi Hendrix, and the tunes are reminiscent of that bluesy phrasing sitting atop contemporary lyrics and electronic instrumentation.
One may question the contrast in melody and musical arrangement, but brb.'s current popularity proves the successful formula of bringing back the 1970s Singapore sound while pleasing a wide audience in the local music front. Staying fresh is pivotal for brb., and the new generation of listeners will not be disappointed with their playlist on Spotify.
DANIEL SID

The busker-cum-artiste is quickly becoming one of Singapore's most recognisable acts with his breakout debut single, Greener Grass. Sid's soulful voice has transcended the Singapore streets to paid gigs at the Esplanade and various bars; he is living proof that buskers are contributing to the local music scene today.
Singing about matters close to his heart, Sid lays his heart out for all to see and expresses the emotions he feels in the pursuit of happiness. His music hits home for many by drawing inspiration from classic music heroes such as Queen as well as contemporary recording artistes like John Mayer. The singer-songwriter's indie-pop arrangement is heavily influenced by the classics, which some might find reminiscent of Lion City Hardcore (the 1993 homegrown compilation that saw many Led Zepplin tributes).
If one is already anticipating what is to come after Greener Grass, keep a lookout for Sid's EP, which is set to drop in late this year.
M1LDL1FE

Formerly known as Take Two, indie-pop band M1LDL1FE stands out in the local scene with an exciting sound that cuts across electronic textures and eclectic dance grooves while encompassing the early 2000s guitar-driven Singapore-indie music.
Garnering a sizable fanbase with hit singles Distraction and In Your Arms, M1LDL1FE is set to release its first full-length album in 2020. It is changing the sound of the local scene with its unique brand of music influenced by old- school Singapore indie acts like The Padres and updated with popular contemporary electronic sound. Revolving around hooky guitar lines and emotional melodies reminiscent of the 1990s to early 2000s indie music, M1LDL1FE's tracks express the musical divergence of our time to establish its own voice in Singapore's pop scene.
Coming up strong in that regard, its 2020 album will be one to keep a lookout for as a culture- shaping musical record.
CARACAL

This melancholic post-hardcore outfit is nowhere near soft-spoken. Caracal turns introversions into a loud blitz on stage with heavy riffs and soaring emotions. The rock scene in Singapore is studded with bands that try too hard to be flashy and contemporary, but Caracal has been blazing the trail for other post-hardcore bands to follow while staying true to its sound since its first release in 2007.
While its music alternate between electrifying riffs and sweet melodies blended with raw lyrics, some can also sense the underlying influence of Lion City Hardcore popularised by bands like Sweet Charity in the 1990s. This is the post-hardcore rock sound in Singapore, and many are embracing it, with Caracal inspiring recent bands such as Exhibitors and Losing End.
It is also making waves in Singapore via Daily Essentials 2019, a series of shows that the band hosted on 21 July, which spotlighted upcoming rock acts representing new-age rock sound, with Caracal at the forefront. Caracal is a band to keep one's tabs on with the music it brings acting as custodians of Singapore's founding hardcore sound while influencing the local rock scene.
---