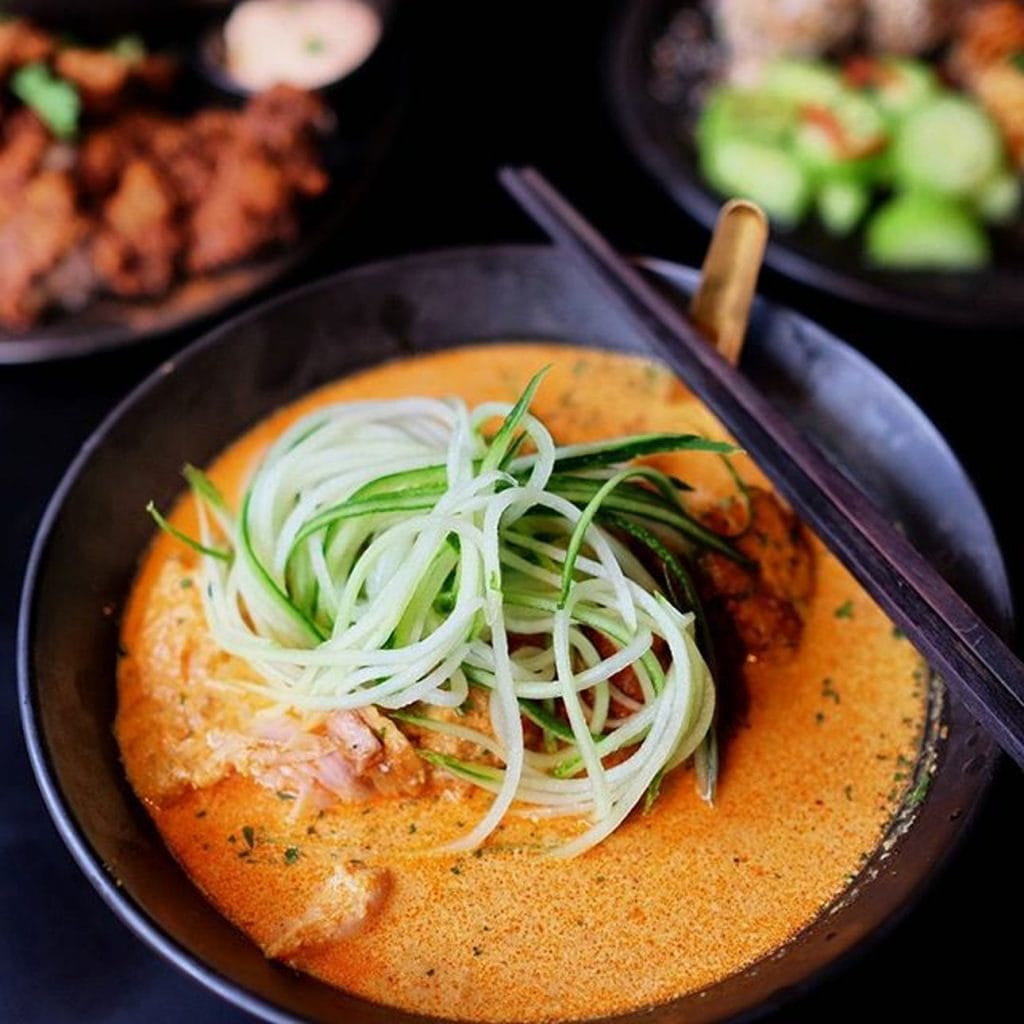 Singaporeans and hawker food are like two peas in a pod — they cannot be separated. Synonymous with Singaporean culture, a sumptuous meal in an open-air setting is a familiar setting that we all enjoy. But in our cosmopolitan city, there are those who take to elevate these local delights in a bid to keep up with the times.
Nowadays, people are becoming more conscious of their health but do not want to resort to a less tasty meal. Why settle for either healthy or a sinfully-tasty meal? Here are six chains that take the classic hawker dish to the next level, proving that there is a way to make the food that we love taste even better while being mindful of our bodies.
Nasi Lemak by The Coconut Club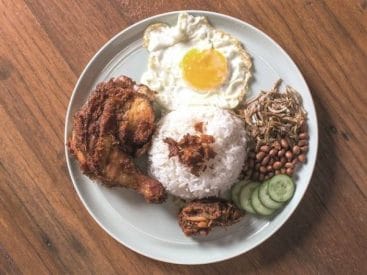 The traditional Malay dish franchised and served in a chain would usually be disfavoured, but not the one by The Coconut Club. The juicy chicken leg oozes of rubbed herbs but does not come off as excessively oily. Exquisitely fragrant coconut rice makes the dish, with a runny sunny-side up and sweet-spicy chili to give the dish a little extra zing. One would also be surprised at how many locals wouldn't bat an eyelid to devour this elevated local dish that captures tasty and healthy at the same time.
Dig in at The Coconut Club for $12.80, located at No. 6 Ann Siang Hill, Singapore 069787 from Mondays to Saturdays (11am to 3pm, 6pm to 930pm) and 11am to 3pm on a Sunday.
Lobster and Big Prawn Soup Noodles by Sumo Big Prawn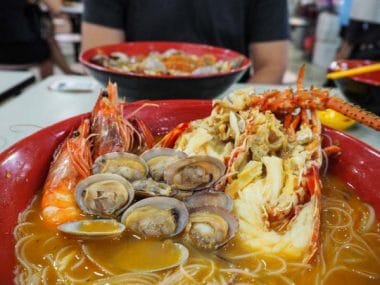 Lobster and Big Prawn Soup Noodles by Sumo Big Prawn defines the "atas" prawn mee, including a lobster in the list of fragrant ingredients contributing to the all-time favourite. An extremely flavourful and savoury broth captures the essence of these crustaceans while retaining its natural sweetness. The aroma of Chinese wine tops the soup off well. Not only do you get a whole lobster, you get two big prawns and plump, juicy clams. All that sounds extremely enticing, and to top it all off, there is zero MSG in this dish.
Tantalise tastebuds at Sumo Big Prawn for $24.90, #01-72 Blk 628 Ang Mo Kio Avenue 4, Singapore 560628 from Tuesday to Sunday (9am to 4pm, 430pm to 9pm).
Oyster Omelette by Chui Huay Lim Teochew Cuisine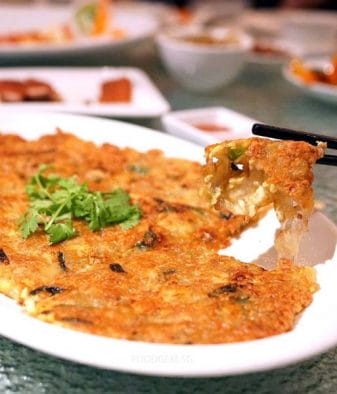 Behold, the oyster omelette of your dreams. With a uniform crisp over the surface and a lightly chewy beneath flavoured with tapioca, it presents fat oysters on a silver platter to an ogling customer. Chui Huay Lim Teochew Food gives a generous serving of these jewels (much more than the average oyster omelette) with quality to match and it's heart-stoppingly good. Though any oyster omelette dish is already inherently sinful, it did not stop Chui Huay Lim's dedicated oyster omelette chef from retaining the richness of this dish while not having it drenched in oil — Mmajor plus points for cushioning the blow.
The oyster lover's delight goes for $22 at Chui Huay Lim Teochew Restaurant at Chui Huay Lim Club, 190 Keng Lee Road #01-02, Singapore 308409. Open Monday to Thursday (12pm to 3pm, 6pm to 11pm) and Friday to Sunday (1130am to 3pm, 530pm to 11pm).
Chicken Rice by Chatterbox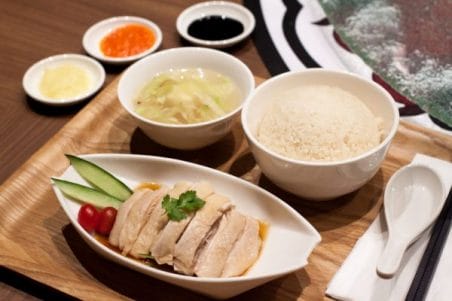 Situated in the heart of town atop Mandarin Orchard Hotel, this will find a way into the heart of the premium traveler. The meat is firm but tender with just enough oil over the entire dish making this a well-balanced meal with generous portions — one that you will not find in the everyday hawker. Coupled with great table service, light ambience and elegant presentation, this will make for a exquisite dining experience for an elevated and healthy hawker dish.
Priced at $25++, savour the unique Chicken Rice by Chatterbox at Level 5 Mandrin Orchard Hotel, 333 Orchard Road, Singapore 238867. Open from 11am to 11pm (Sunday to Thursday) and 11am to 2am on Fridays and Saturdays.
CreatureS Laksa by CreatureS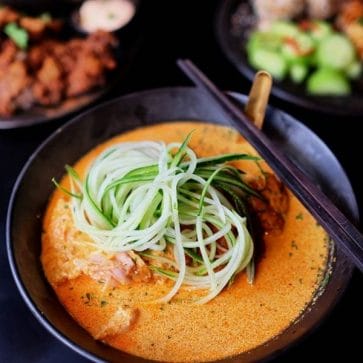 Savour comfort in a bowl with CreatureS, serving up a quintessential Nonya laksa that gives a modern take of the traditional Peranakan classic. CreatureS takes laksa up a notch, bringing in ingredients such as quail eggs to change it up. On top of this, they took the effort to reduce the amount of oil and went with a lighter broth to make the dish a healthier choice. Bearing resemblance to a flaming sunset, it invites diners in with a rich colour and classy dressing; and it taste nothing less than it looks.
Indulge in the Nonya experience for $24, located at CreatureS, 120 Desker Road, Singapore 209639 from Sunday to Tuesday (12pm to 10pm) and Friday to Saturday (12pm to 11pm).
Noodle With Shredded Abalone, Char Siew and Wanton by Chef Kang's Noodle House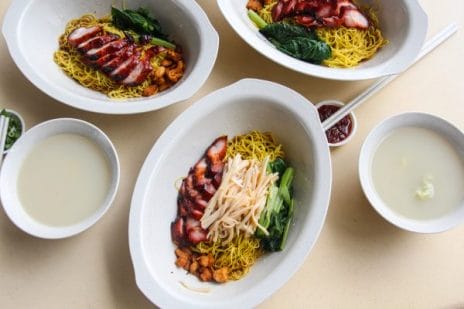 This hawker classic on steroids has been hailed as Michelin star-quality, which makes other versions of char siew wanton noodles pale in comparison. A hawker stall birthed under the Chef Kang name (a one Michelin star restaurant), it certainly lives up to expectations. With noodles that are extra springy and thin, coupled with melt-in-your-mouth slices of pork belly and shredded abalone, it is no doubt that this is a cut above the rest. Chef Kang bears in mind the healthy trend of today and places the traditional lard at a corner of the dish, leaving customers to mix it in if desired. Additionally, there are also no excessive streaks of oil glistening across the dish — one simply does not get that with the average hawker.
Try the Michelin star-quality dish for $10 at Chef Kang Noodle House located at Block A Jackson Square, 11 Toa Payoh Lorong 3 Singapore 319579. Open from 8am to 4pm on Tuesday to Friday, 8am to 2pm on Saturday and Sunday.
---