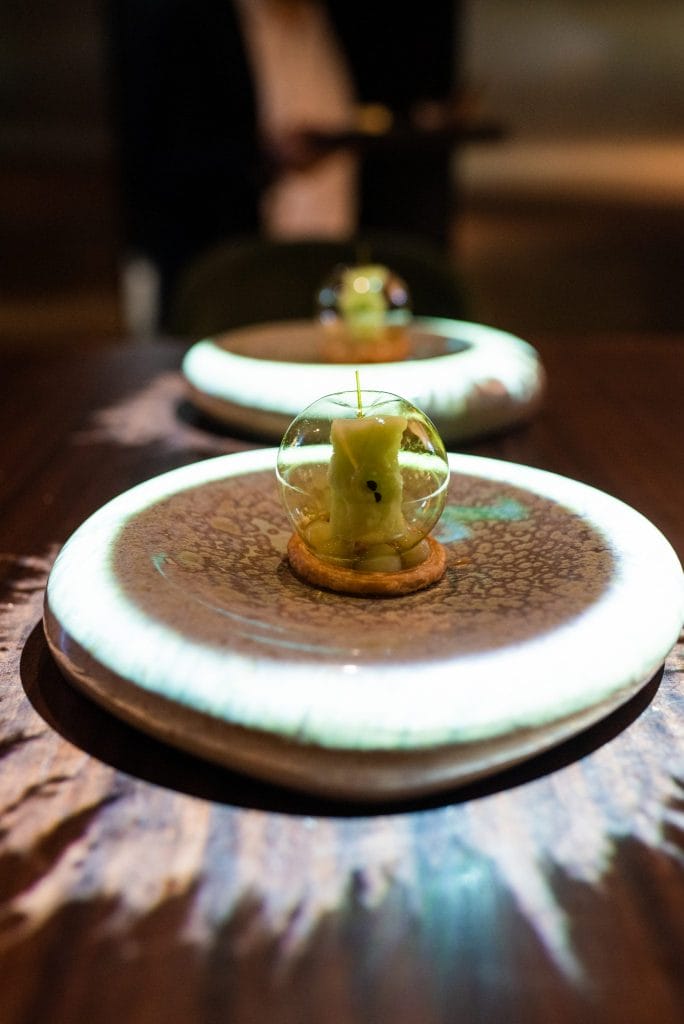 In this day and age, nothing seems impossible to even in the culinary world; technological advances both in and out of the kitchen have changed the game completely. As much as we love to chow down on some traditional comfort food, we are simply impressed by these local joints that are raising the bar by whipping up inventive fare with a little help from new-fangled gadgets and innovative techniques.
FUTURISTIC TECH: V-DINING
Save for a sprig of cherries forming the letter "V" in a discreet corner on the third floor of Scotts Square, one could easily mistake V-Dining as an extension of the V-Zug showroom just next to it. And there is some truth in that as the restaurant was set up by the high-end Swiss brand to demonstrate the prowess of its appliances. Helmed by culinary director Ryan Clift and Tippling Club alumnus Lee Jing Peng, it offers modern-European fine dining. Plunge into the depths of the ocean with Hamachi – Japanese amberjack compressed into a perfect square and mixed with the deep earthy flavours of kombu powder. Placed between avocado purée, miso curd, and nori crackers, the delicate fish is also served with a refreshing yuzu sorbet that enhances its freshness.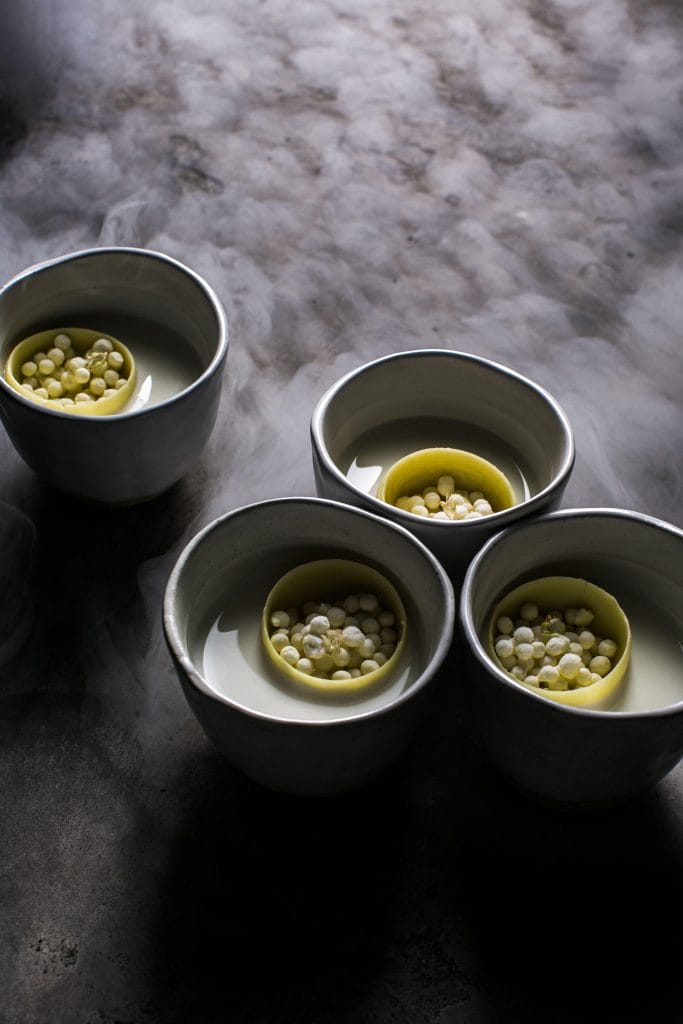 MOLECULAR MIXOLOGY: OPERATION DAGGER
Located at bar-strewn Ann Siang Hill, this speakeasy can be accessed via a non-descript glass door and a flight of stairs. Luke Whearty is the reason why many have sought out Operation Dagger; the head mixologist draws inspiration from his day-to-day life, from a home cooked meal to art, to create innovative cocktails that push the envelope. For instance, one might question if he had received the wrong order with The Inaki. It looks more like a sorbet than a drink as this concoction of egg-yolk pumpkin sake and white chocolate pumpkin liqueur is chilled with liquid nitrogen to a semi-solid state. Spoon the one-of-a-kind cocktail into one's mouth and sit back to enjoy the burst of unexpected flavours. The dimly lit interior with a sleek minimalist look is the perfect backdrop for the bar's multitude of impressive tipples with aromatic smoke and homemade tinctures, so just one night is not enough for anyone to discover his new favourite drink.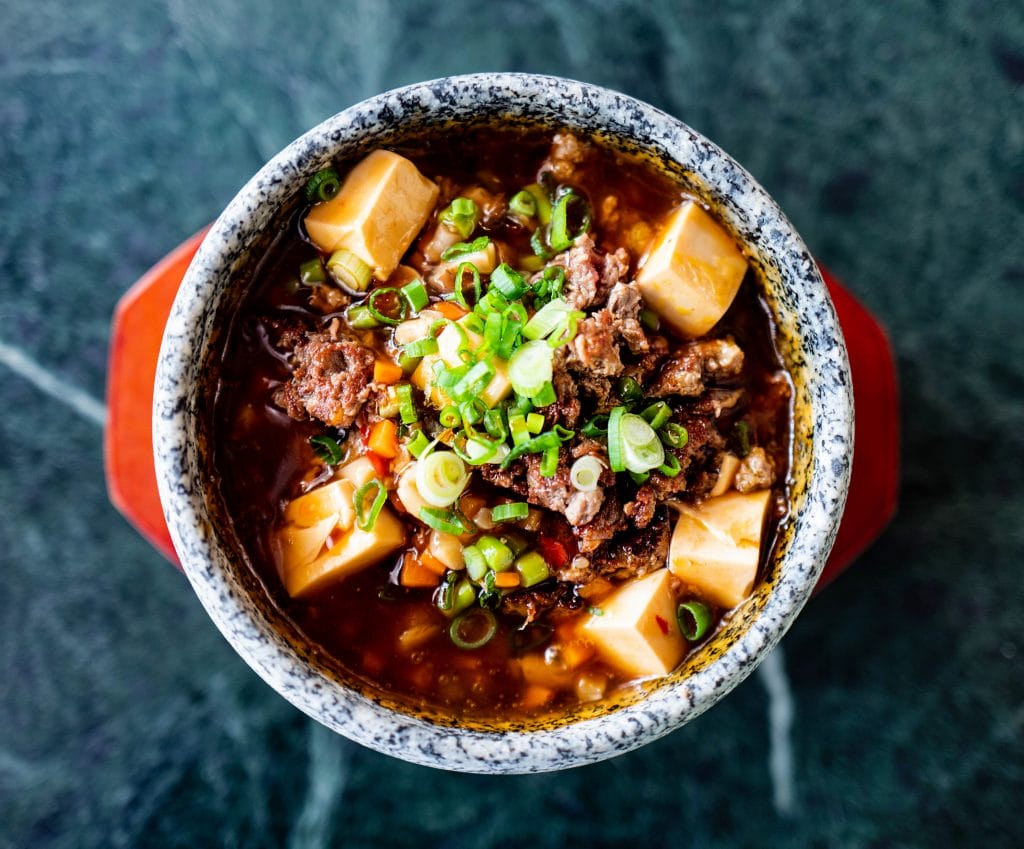 NOTHING IS IMPOSSIBLE: EMPRESS
Impossible Foods has arrived in Singapore, and it is causing quite a culinary storm. Made by a Californian start-up, the Impossible Meat has opened new doors to local establishments looking to extend their vegetarian menu. Made from wheat protein, coconut oil, and potato protein, it also contains heme, the ingredient that makes it "bleed" and taste like meat. According to Yuan Oeij, chairman of The Privé Group, the decision to use Impossible Meat at Empress was an easy one – a progressive and versatile product, it can be easily manipulated to take on different flavour profiles, which is necessary for Chinese cuisine. Rather than the usual mock meat or tofu, Empress is using Impossible Meat in familiar dishes like Mapo Tofu to provide gluten-free options to its customers. Those with an insatiable appetite for local grub will fall in love with the creatively named Dragon's Breath Fried Kuay Teow with Impossible Meatballs. The springy rice noodles and fresh bean sprouts are cooked to perfection, elevated by umami and spice-laden flavours. 
Read more in our May'19 issue, out on newsstands now. 
---