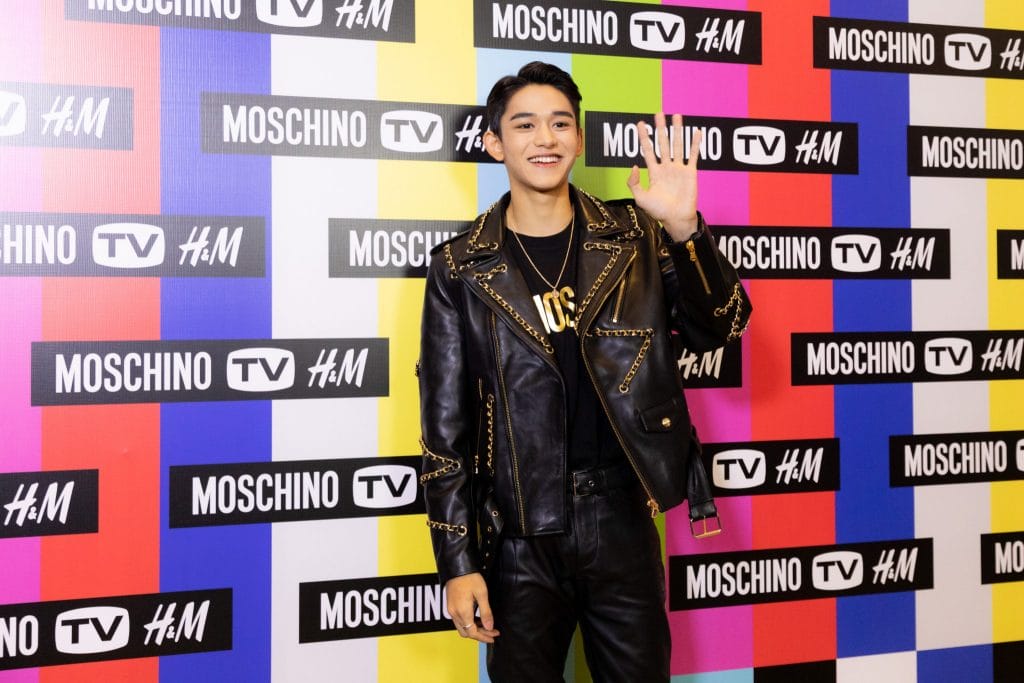 As NCT LUCAS' flight descended into Singapore, the brightly lit island-city suddenly lost its glow, only to break into a more dazzling spectacle upon landing. NCT LUCAS recounts his first experience in Singapore and swears he wasn't hallucinating, "it only emphasized how beautiful the city was. I'm not lying!" Like a mirror, his tale of Singapore breaking into radiance acts as an imagery for his current fame since his debut earlier in 2018.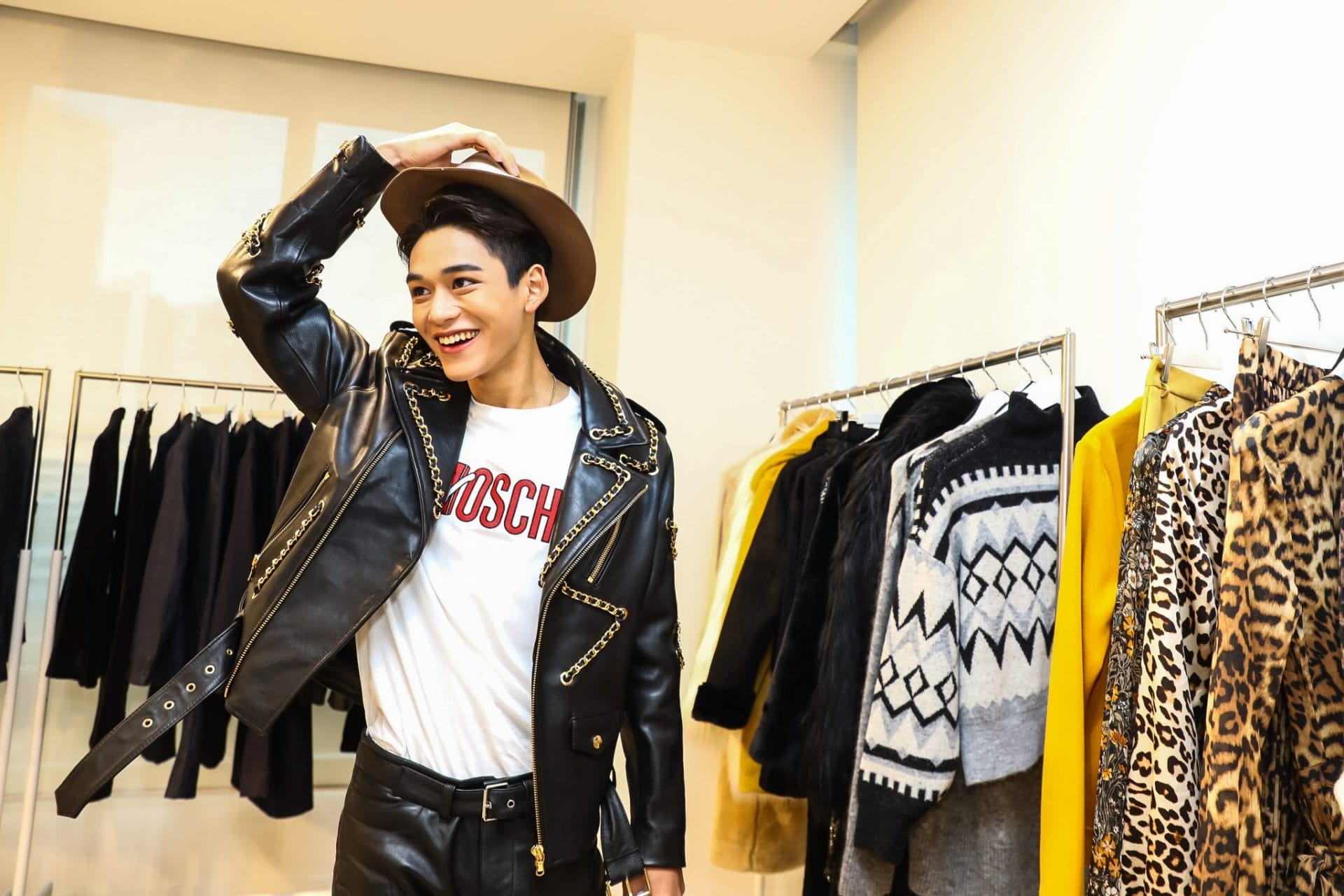 NCT LUCAS arrived for the interview all decked in the MoschinoTV X H&M collection; leather jacket with gold chains, white t-shirt with a H&Moschino logo, leather pants and leather boots. Accessorised with a brash confidence one would only see between close friends, his casual answers to the interview questions came through like banters which relaxed the atmosphere. When asked about his personal style, he replies, "anything is fine, because I'm that good looking! Sometimes, I'm cute; sometimes, I'm stylish. So it really depends on how I feel at the moment. If I wear something with Mickey Mouse, I'd look cute, and if I wear this (leather jacket), I look handsome."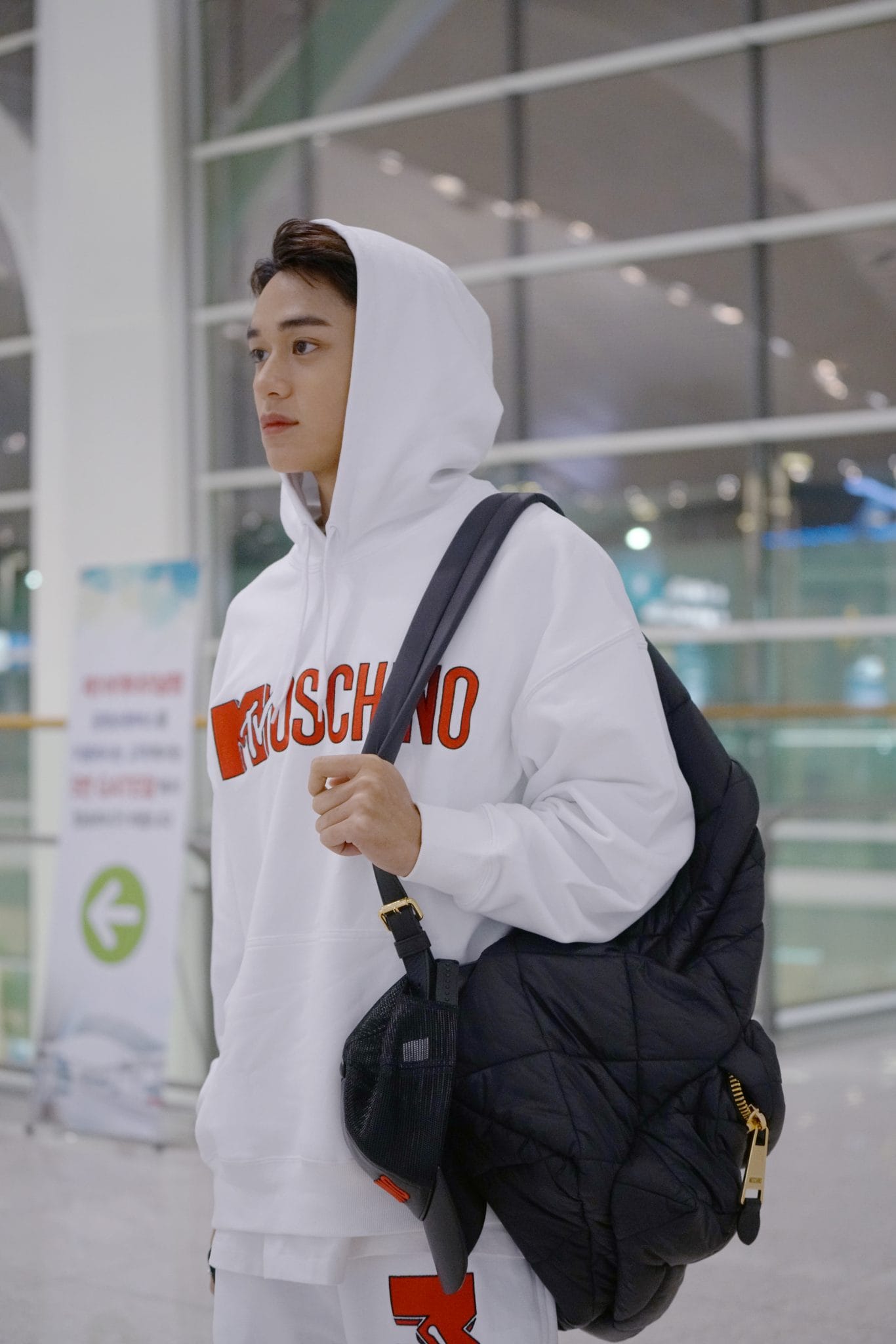 Seems like NCT LUCAS has no reservations about his good looks, "when I was younger, a lot of people told me I was handsome, but I didn't really feel that way. My confidence only came about after I debuted. I thought I had to be confident about myself so other people would feel confidently about me too. If I didn't have any confidence, people will also feel that way about me." His boldness is self-made but behind his onstage persona is a more down-to-earth LUCAS. During his downtime, he goes back to his company, in his casual uniform of hoodie and jeans, to do more training or play some video games. 
NCT LUCAS is not letting the fame get to his head though and it comes through with his gratefulness for for every opportunity he is given, "I'm delighted to attend this event held by MoschinoTV X H&M in Singapore. I'm really really grateful to be invited by them! I never would have thought that they would invite me! I went "oh my god!" when they did."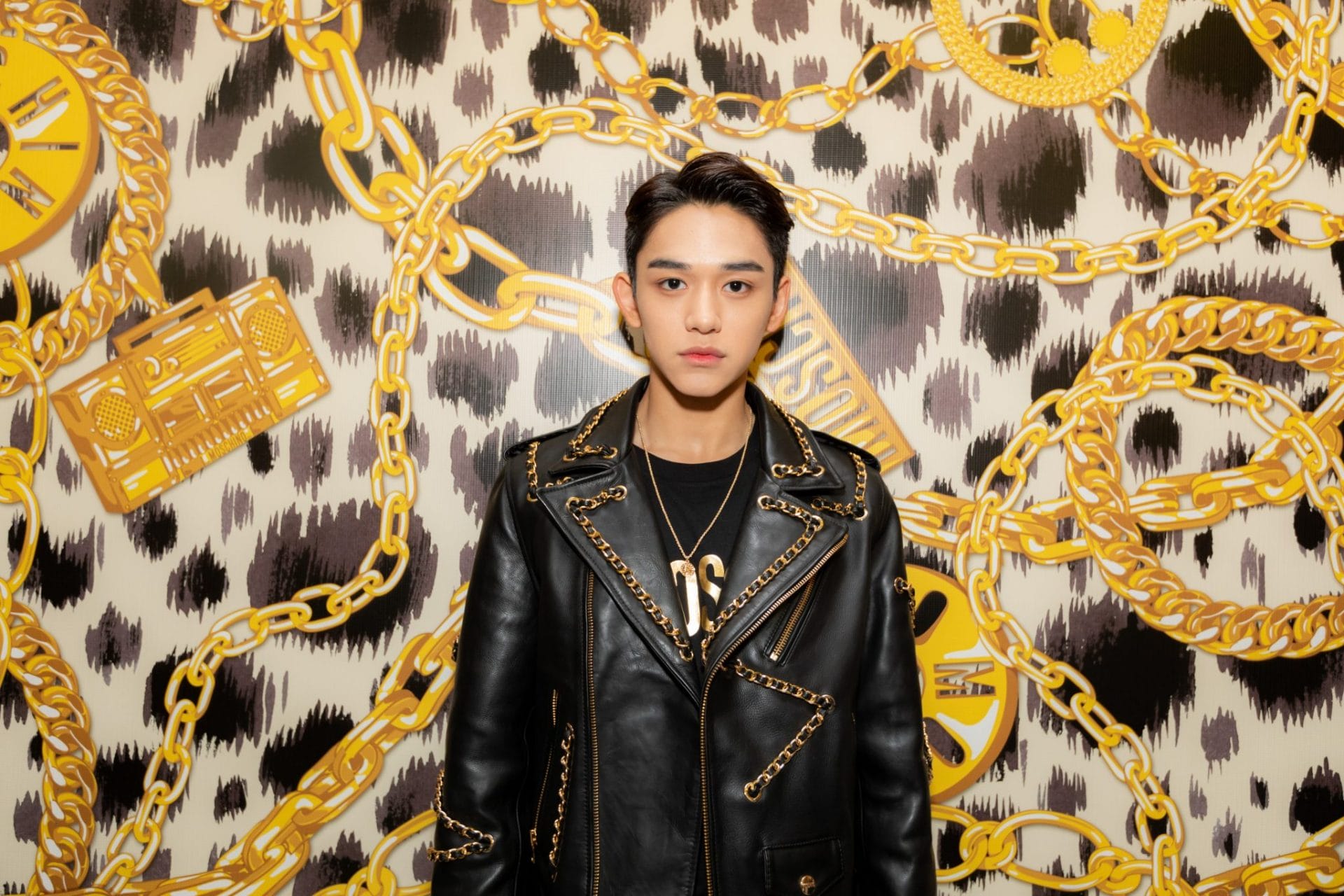 LUCAS later recounts his journey as a trainee to his debut as NCT LUCAS. Not many people know this tidbit but when he first joined SM Entertainment, he signed up for their modelling division, "later I found out I was much better at rapping, singing and dancing, so I ended up in their artiste division." However, things seem to have come full circle as LUCAS ended up modelling during the recent Seoul Fashion Week. His reason for choosing to be an idol? To spread good vibes, "I can become a role model for teenagers, to teach them to spread good energy. Today's teenagers my age are worrying about their careers or studies and I just want to show them that actually life can be pretty happy too."
NCT LUCAS, the Korean pop star shares that he also has his own "non-idol" moments. He too felt nervous when he shared the runway with famous models in Seoul Fashion Week and he also has a K-Pop crush, "my idol is EXO's KAI! When I was still a trainee, I would watch his videos to learn how to dance. KAI would turn into somebody else the moment he got on stage and I wanted to be like him. I have seen him before, but he was just too handsome! He has a completely different charisma about him!"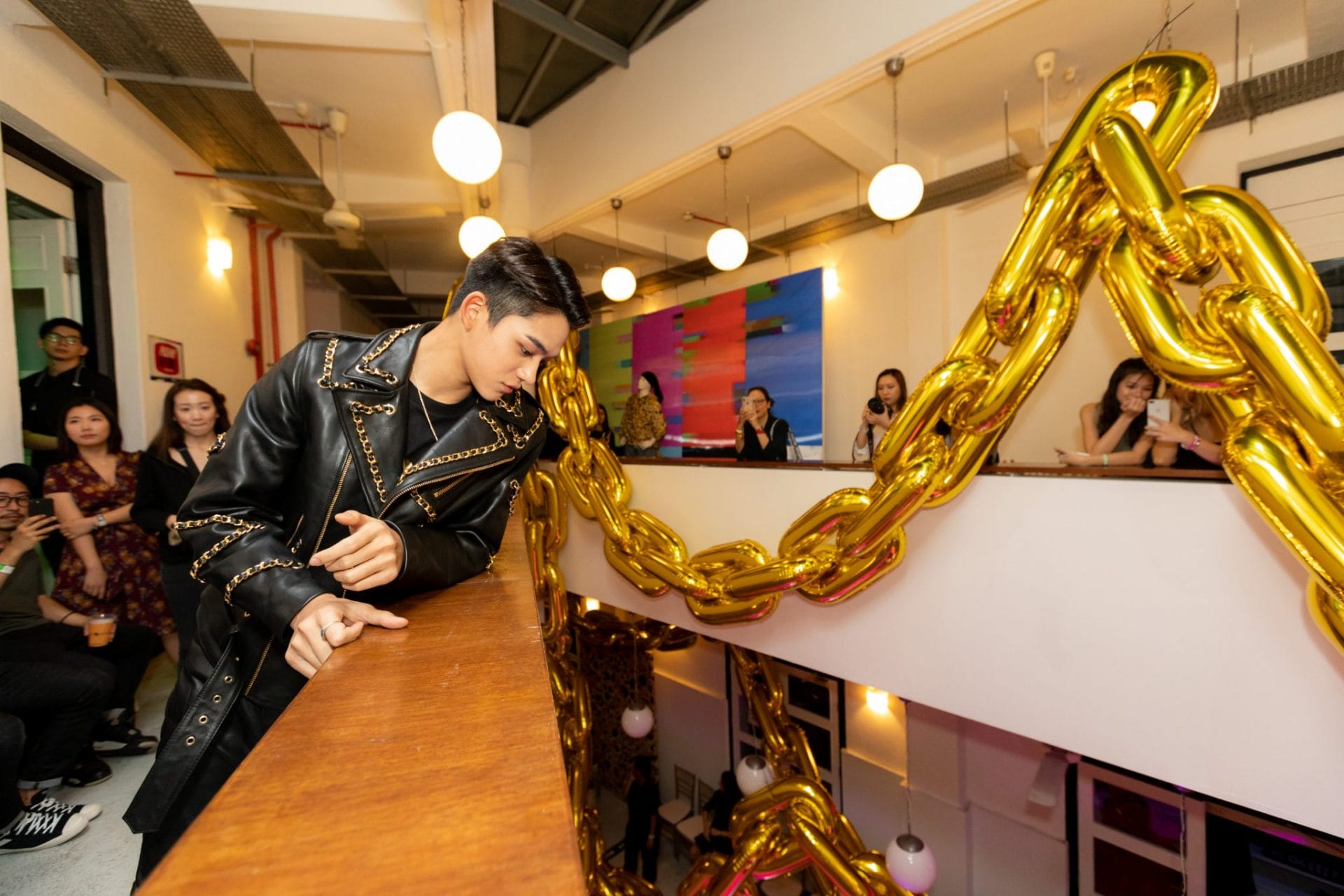 NCT LUCAS' debut earlier this year still feels like a dream to him, like a movie that he watches on replay, "my feeling is quite special because sometimes when you debut, it doesn't really feel like you have debuted. Only when you are on stage, you see all your fans calling out your name and you see yourself crying on stage, then you have a feeling that you have finally debuted and now that I'm a little bit more famous, I feel that when I am on stage, I have to show that I am now NCT LUCAS."
He shares that the proudest moment in his careers was "when my mom and dad saw me on stage, it made me feel like I've finally made it. I felt proud because my parents felt proud of me." Family is important for this jet setting K-Pop star as can be seen with the constant reference to his parents throughout the interview. When asked about his best feature,"I've said this in other interviews that my best feature is my eyes. They look exactly the same as my mum's!" and cheekily adding after, "I have the same womanly charisma in my eyes."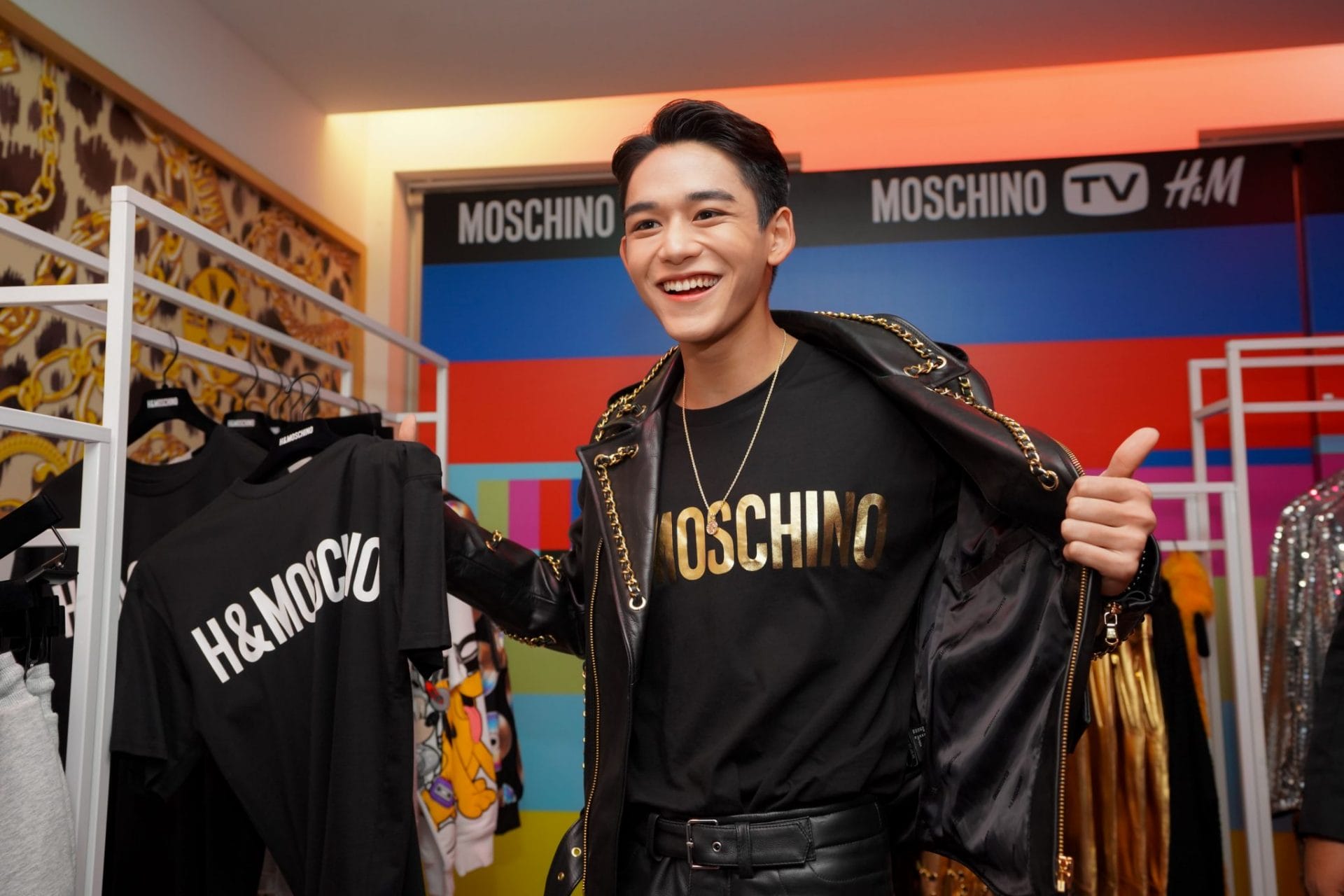 Even his preference for food is firmly rooted in his multicultural background, having spent his childhood alternating between Thailand & Hong Kong, 3 months each time. "Because my mum is Thai, I love Thai food, or food that has a strong flavour. I also love dim sum! After arriving in Singapore, I heard the Hainanese Chicken Rice is famous and wanted to try it. I had a try just now and it was really tasty! But it was also because it had a very Cantonese taste, so it was very suitable for me," he shares.
As the interview came to a close, NCT LUCAS muses on becoming 20 years old. With his rigorous schedule, he shares that he finally understands what it means for life to go by in a blink but that is not NCT LUCAS being jaded. In fact, he is happy of all the invaluable experiences that he has gained the last few years and wants more, "my life goal is to experience all types of things. My career goal right now is to do a concert with 50,000 people together with NCT, and have worldwide fame." 
Teasing fans on which other NCT member would be spotting the MoschinoTV x H&M collection, NCT LUCAS enthuses, "I feel that everybody from NCT has their own unique charisma and personality, All we have to do is to wear something and we will be able to conquer the look of the clothes, because we are all that handsome!" 
---