There is only so much food one can consume at the local food court or hawker centre. Somehow, a plate of chicken rice, pork chop with fries, carrot cake, ice kachang, and a can of coke can prove too much for one to devour in a single sitting. However, when one enters a buffet restaurant, it feels different. It is as if one has entered into an energy field that slows the stomach's ability to feel full by 500 per cent. Perhaps, it is mind over matter. As carbs are consciously avoided to set minds free, we can eat as much as possible. Whichever your poison, a list of unique buffet places to stuff faces full of quality food is at hand.
The Carvery
The Carvery's focus on meats and roasts will appeal to the carnivore in us. Roam through pastures around the globe from September 28 to October 21 as The Carvery holds its long-awaited Great Meat Feast serving a wide variety of premium beef and unique cuts. Whet your appetite with a 150-Day Grain-Fed Beef City Black Angus steak, cooked dirty style, before sinking into the supple and tender Yukimuro Snow-Aged Wagyu Beef, grown using an ancient 200-year-old Japanese technique. The buffet includes free-roam and grass-fed Ana Paula Black Angus from Uruguay and Australian Tajima Wagyu. When the hunt for prime beef no longer holds your interest, The Carvery tempts you further with other signature roasts like the succulent Rotisserie Chicken as well as complementary salads, charcuterie, and cheeses in its buffet line.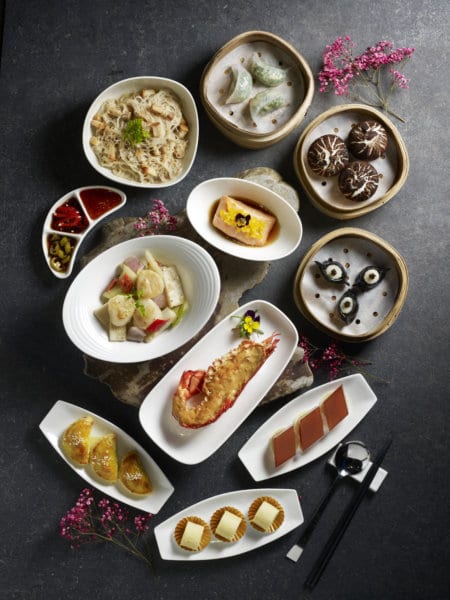 Mitzo
For those who enjoy good-quality dim sum (five Feng Zhao and 18 Har Gow, thank you very much), Mitzo presents a contemporary take on Cantonese cuisine with an artisanal cocktail programme. Step into a futuristic oriental setting tinged with Wong Kar Wai's vivid colours and order an artisanal cocktail (shaken not stirred) specially selected by Mitzo's mixologist to complement the meal. What is uniquely Mitzo is its modern reinvention of Cantonese cuisine, while staying true to its culinary philosophy – expect the food to seem familiar but with a twist. Feel like a crazy rich Asian as you select from the over-the-top menu that features over 40 selections of dim sum, wok dishes, and supreme seafood delicacies such as salmon, live lobster, and abalone.
Colony
Be transported to the late 18th century when the British travelled the East Indies looking for trade and commerce at Colony. One will feel as though he is a part of the British-colony community when he enters the charming restaurant. Featuring seven stationed mix of eclectic buffet fare, Colony lets one explore exotic and new oriental locations without the need to travel via boats for weeks on end. Its key selling point, which sets it apart from other buffets, is its "live" culinary narrative that journals the evolution and heritage that gave birth to Singapore's melting-pot identity. Start the journey at the Ice Bar station that offers a wide variety of crustaceans on ice with highlights like king crab legs and black mussels, a nod to Singapore's fishing village heritage. End the feast with The Patisserie, which is filled with highlights like Taiwanese Peanut Wrap and Homemade Chocolate Truffles for a sweet ending. At Colony, feasting is not merely about taste but also about engaging all senses; it is a must-go for anyone looking to have a little fun to go with his meals.
Sky 22
Ever had an urge to try all the delicious cuisine Singapore has to offer without travelling across the island? Sky 22 is the one-stop solution. With a focus on Singaporean cuisine, it uses premium local ingredients to whip up quality renditions of nostalgic delights. Try signature dishes like the "Nasi Ulam" Wild Rice Salad with Charred Octopus, sprinkled with crushed peanut and toasted coconut; Tiger Prawn Laksa Lemak, an elevated version of the iconic creamy-spicy-coconutty Nonya delight; and Sky 22 Burbur Cha-Cha Cup. In addition, you can also take in a panoramic view of the city while dining in front of its floor-to-ceiling windows.
---