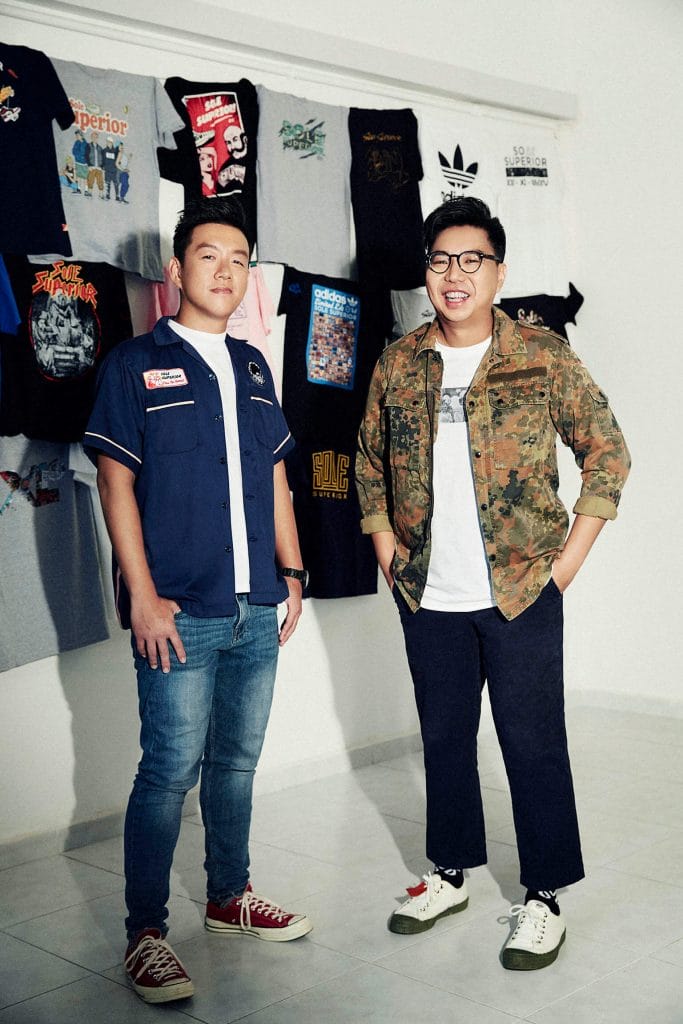 Are your ambitions for Sole Superior still the same as when you first started in 2012?
Jonathan (J): Our realistic goal in the first year was to hopefully have 500 people show up, just to cover costs; over 1,400 showed up, and last year we crossed the 5,000 attendance mark. We are small dreamers who are proud to have created something distinctly refreshing for the community and enthusiasts. I can say with certainty that we hold the same ambitions in 2018 as we did when we started out: to have a fun time; to curate exciting, informative and fresh elements for the event; to make cool merchandise and work with amazing local talents from widespread fields.
Dexter (D): Every year we seek to put on a better show, whether it's with new programmes or experiences. But our baseline has remained the same: to provide an all-encompassing street culture experience.
What's needed for streetwear in Singapore to grow?
D: We need to be more open to the community aspect of the culture. Streetwear isn't about wearing the most hyped items or showing off (even though a bit of it is perfectly fine). We see people fighting over queues and sneakers, which is sad. To grow, we need to start talking to each other, share knowledge and be nicer in general.
J: A thirst for knowledge is a good place to start. Having a keen interest in finding out the design roots, cultural relevance and history [of streetwear]. Support for independent labels and local retailers (a.k.a. buying s*** from them). Authenticity and good manners are also positive traits to adopt.
Thoughts on those who buy streetwear to seem interesting versus actually being interested?
D: If it makes you happy and you want to dress like Kanye West, Travis Scott or A$AP Rocky, then so be it. That's your personal take on what style is. But I'll admit it's nice if people learn more about what they wear; I believe knowledge adds flavour to fashion.
J: Trends come and go, and those who jump on bandwagons will latch onto the next platform shoe/flip flop/"gentleman's pride" craze that comes along. The world is a messed up place and there are bigger things to worry about than if the Thrasher tee-wearing kid can tre flip or has a 24-month subscription to The Pint magazine.
Is chasing hype healthy for streetwear?
D: To be honest, it's like drinking. Everyone knows it's not recommended but we still do it, and those who do have that certain draw to them. But like I said, if you like chasing trends instead of setting them, then do you. I've been guilty of chasing hype myself.
J: The important question to ask is: who determines the hype? It's your responsibility as a grown person to question if you're living out the real-life version of The Emperor's New Yeezy's. Advertisements got a bad rep in the 1980s and 1990s for brainwashing people with subliminal messaging; in the 2010s, that's masked in the form of sponsored content and slick Facebook videos from "media outlets". It's consumerism and it's meant to feel good — just think a little for yourself: do you really like something or do you like it because everyone else does?
So what's your take on the current "dad sneaker" trend?
D: I don't get it, but I won't dismiss it. Sneaker trends have always been hit or miss for me. Just last year there was this slipper-with-socks trend and it confused me, but hey it worked and Gucci must've sold a ton of their slides. I just think it's funny that people are buying sneakers that have a passing resemblance to the Bata clunkers I used to wear in primary school.
J: As a dad (I have a three-and-a-half year old), I feel that this "normcore"/"dad" trend is pure crap. But hey, to each his own. Personal tip: if you want to get the chunky shoe, go back to the OG — the Osiris D3 — which will set you back less than $120.
Photography  Jacqueline Chang
Styling Belda Chung
Grooming Benedict Choo using MAC Cosmetics
---