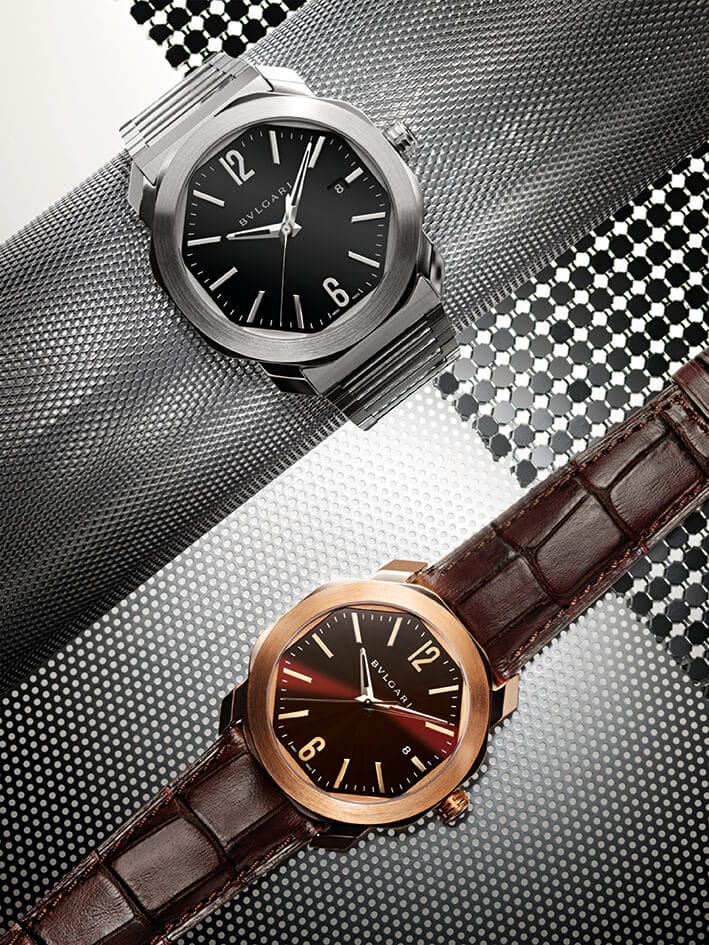 In over a decade now, the Octo has established itself as the preeminent men's watch collection of Bulgari. It first captured the collective horological consciousness with its cutting-edge design, using infinite facets and angles to form its iconic circle-in-octagon case, then launched itself to prominence with a series of ultra-thin record breakers. Yet, as desirable as the watch is now, its bold geometry is still too expressive for most daily wearers, which is why the Italian jeweller-watchmaker is introducing a less dramatic version in the Octo Roma.
Without undercutting the immense aura of the Octo, the Octo Roma tunes down the eye-catching case by having only 58 facets (instead of 110), softened edges and a narrower lug placement. The result is a more understated, more traditional expression on the wrist, while keeping the same overall proportions at 41mm. The octagonal core topped by a round and brushed bezel is still present, but it is less striking to the eye, allowing it to fit seamlessly into most occasions. Essentially, where the Octo proudly flaunts its Roman style and sensibility, the Octo Roma whispers it with minimal ostentation.
The Octo Roma further expands the Octo palette with its multiple executions. In addition to the usual black and white, it debuts a new brown dial colouration, produced in-house using the same multi-layer lacquer varnish technique as its now-signature blue. It leverages on the bi-colour trend with a two-tone variant, sandwiching a sliver of rose gold between two steel case parts. An articulated bracelet is available on the steel model, similar to the Octo's but once again with a softened and simplified construction.
The entire collection runs on the automatic manufacture calibre BVL 191, with 42-hour power reserve and a classic three-hand and date layout. Overall, the Octo Roma's accessible appeal is perfect for those who want a taste of the Octo's inimitable style but find the original simply too bold to bear.
---