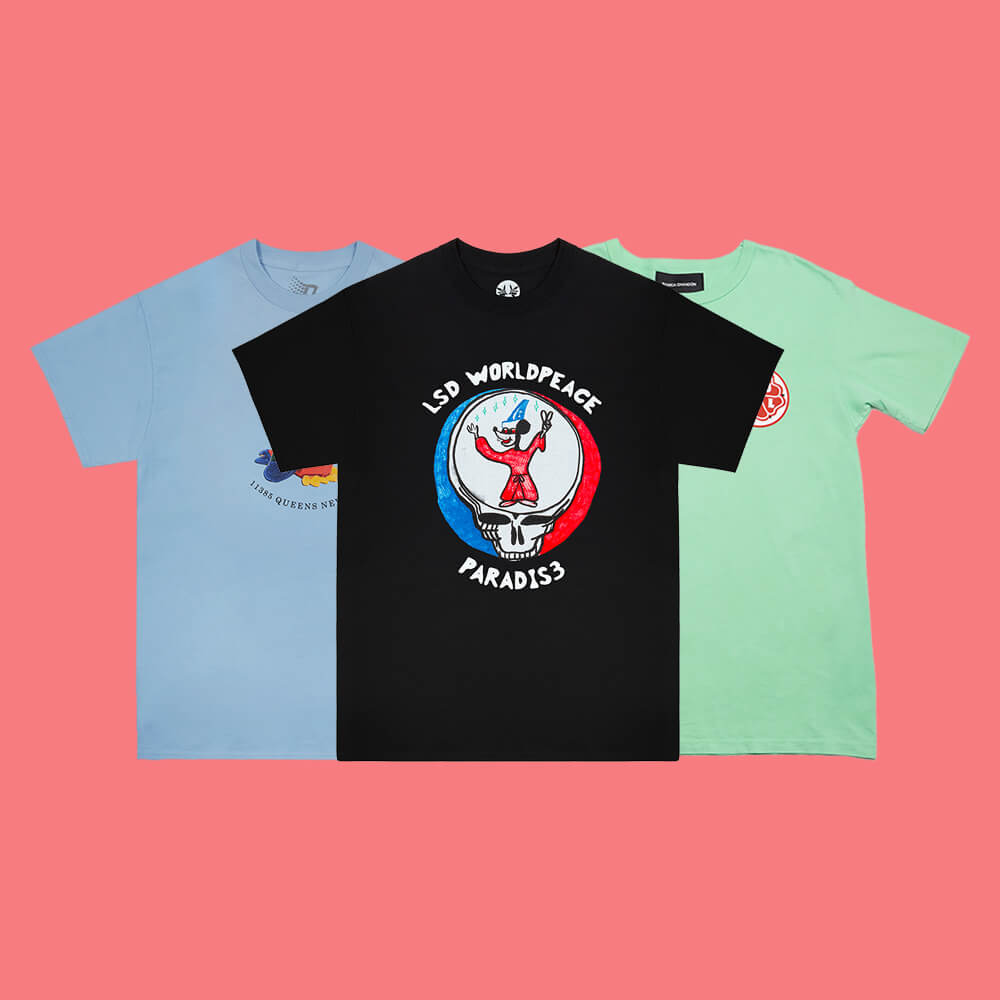 T-shirt designs are the easy medium of self-expression and identity amongst the  fashionably cool. The designs convey personal or commercial ideals and even relay political messages, and they've been a social phenomenon for subcultural groups as such the Punks and Hippies – think ripped and acid washed tees.
Nowadays, we associate the second wave of T-shirt culture with streetwear, skateboarders and luxury labels who have found success within the fashion industry at a time when famous personalities and artists front the trend. With high summer approaching, the MF team curates 10 best T-shirts at Dover Street Market, shifting away from souvenir messages and putting the focus firmly on: design, quality, and attention to detail.
Featuring a cropped image of a religious symbol styled with highly- saturated tints, Jakarta-based label and music collective 'Pleasure' encompasses the essence of pop art and 80s disco fun all in one  T-shirt.
Indie Label Dreamland Syndicate adopts a D-I-Y sensibility to convey their political and social beliefs. They've upgraded your staple black tee with minimalist prism-shaped illustrations. 
The collective behind Pleasure knows a thing about good clothes and good design, featuring its distinctive minimalist logo, the label adds stylistic detailing to an essential plain white tee. 
Sick of clichéd graphic Ts filled with Metal iconography? Paradis3 X LSD World Peace taps into our imagination through tongue-in-cheek cartoon imagery laced with dark themes.
For lovers of the Punk movement, Surf-punk label Noon Goons collaborates with Cliff Roman from The Weirdos to design a limited edition silk-screen range portraying a taste of modern youth rebellion.
Integrate your T-shirt collection with the 917's Logan Supply design in Pre-fall 2017's trending colour. Founded by Alex Olson, the designer launches an affordable line depicting an authentic skate culture.
Cult New York radio station Know Wave dropped a range of summer-ready Ts focusing on its trademark Wavelength logo. Boasting different colour options, we'd cop the label's classic design.
Known for its nostalgic lo-fi 90s adaptation, New York skateboard company Bronze 56k, releases its Zoo T-shirt in a powder blue hue, a vibrant summer colour alternative to stock up this season. 
Founded by Professional Skateboarder Alex Olson, Bianca Chandon Ts are constructed in 100% cotton. The comfortable tee makes a sensible choice as a hot weather solution. 
Bianca Chandon releases a range of to-die-for quirky tees silk-screened with dinosaur and soul motifs, and in summer-approved hues like grey, pink, cobalt or mint.
---