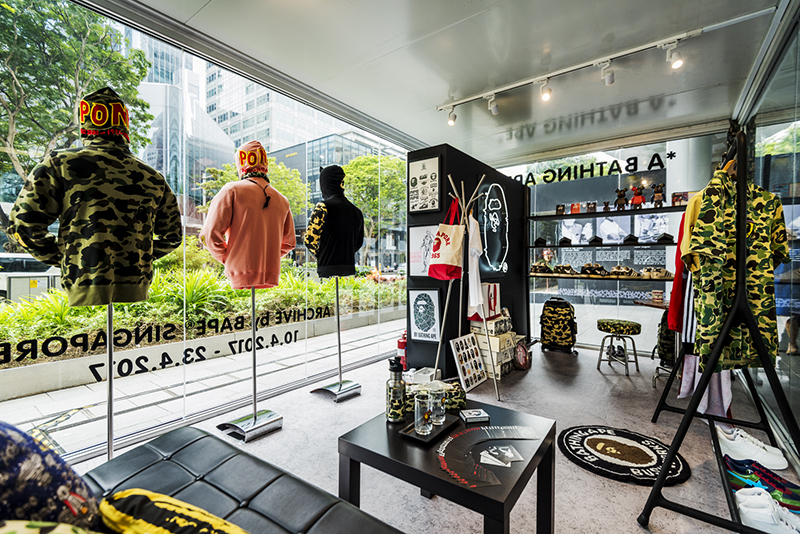 Fans of streetwear brand BAPE will be pleased to hear that the brand is holding a pop-up exhibition showcasing limited edition BAPE merchandise and memorabilia archived by BAPE Singapore and contributed by Singaporean fans of the label. The pop-up is held in conjunction with BAPE Singapore's 7th anniversary and will showcase a series of 26 BAPE tee shirts from 2005 – 2014 by some of the prolific local VIP collectors. The collection was curated via a social media contest held by BAPE Singapore in March.
Get an up-close and personal glimpse of some of the rarest BAPE pieces such as the World Wide BAPE Heads Show tee (featuring caricatured versions of the founder Nigo and hiphop icons such as Kanye West, N*E*R*D, and the Teriyaki Boyz), BAPE x Chrome Hearts, BAPE x Mastermind Japan and BAPE Teriyaki Source (a special collection celebrating the release of Teriyaki Boyz's highly anticipated album, Serious Japanese). You'll also be able to spot the legendary BAPE x Adidas Superstar (2003), [email protected] X BAPE and other limited edition accessories.
Another highlight of Archive by BAPE Singapore is a Mercedes-Benz G-Glass wrapped in the label's iconic camouflage print, parked outside the exhibition, sure to set the hearts of BAPE-heads on fire.
Archive by BAPE Singapore will run until April 23 Mandarin Gallery Shopping Centre.
33A Orchard Road, Singapore 238897
---