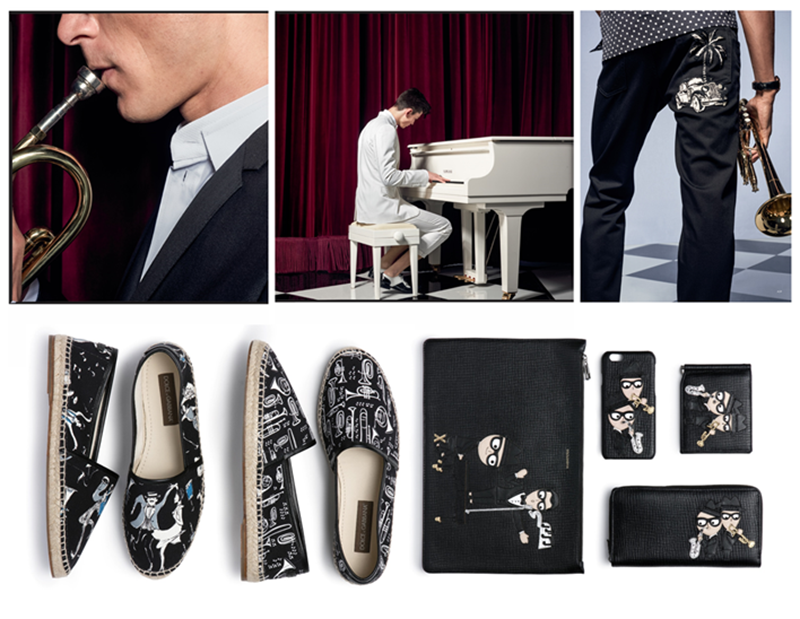 Of all the genres in music, fashion has not displayed any favouritism towards any particular one – the community just loves music in all its forms. The '70s saw the iconic fusion of punk music and culture (popularised by punk icon Vivienne Westwood), while the enchanting Victoria Secret runway shows today always feature multiple artistes from the pop industry. Now, we get to hum even more to Dolce & Gabbana's Cruise 2017 collection. 
Featuring a range of illustrative designs and motifs of dance and musical instruments across the collection, it does not take a keen eye to deduce that Dolce & Gabbana were prioritising old school jazz, blues and swing. You'll see this in the campaign shots styled with dandy ensembles, saxophones and fedora hats. In addition, the vibrant collection also includes palm trees prints for a reminiscent mood of festivals or concerts under the night sky of Sicily. The collection comes with an array of accessories from colourful footwear with gold or silver sheens to a black leopard print pouch with leather patch-on motifs.
The Dolce & Gabbana Cruise 2017 collection Is in stores this month.
---