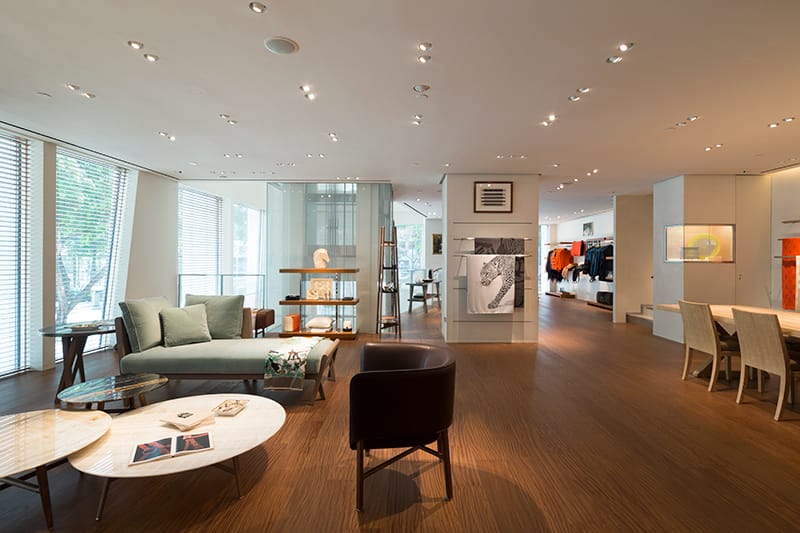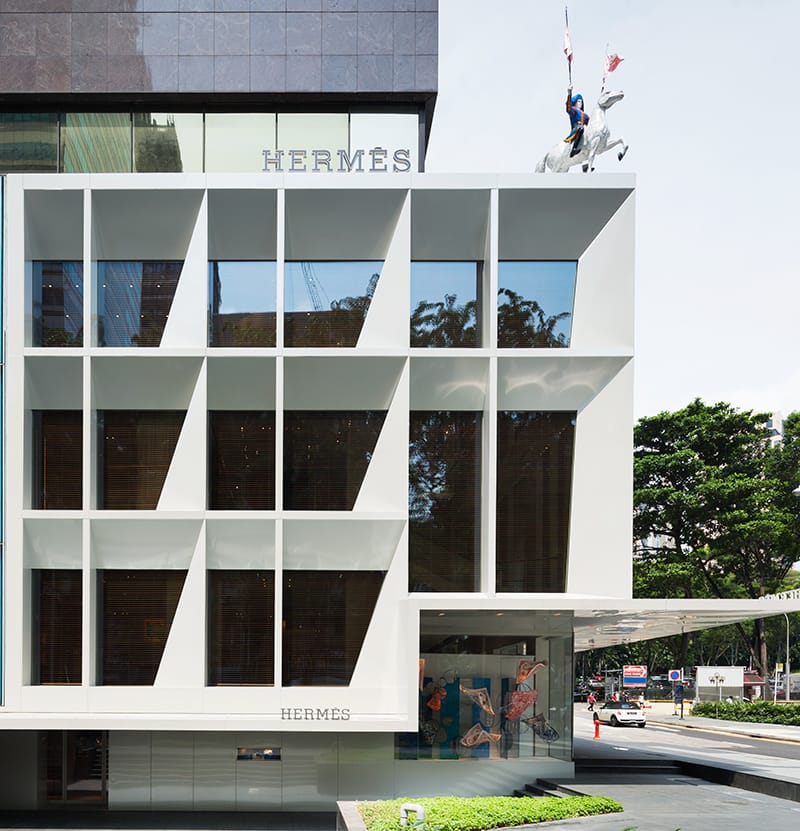 The luxury goods company Hermes has re-opened its store in Liat Towers at 541 Orchard Road, featuring a new look of striking architecture and impeccable interior design. Now it goes all the way up to four floors, with a whole new loft for contemporary artists and art. All this comes after a 15-month renovation, and, to celebrate this, the brand will be releasing a limited edition scarf entitled Jardins du monde – designed by Annie Falvre.
The new exterior, which seems to meld straight into the tower itself, is set in chalk-white and glass, and even sports a sculpture of the Hermes firework-maker on horseback. Each floor aims to provide a different set of products from the Hermes universe – from jewelry, watches, silks and perfume etc… all the way to a new open space for homeware that's being presented for the first time in Singapore. There's also an intimate VIP suite on the third floor, with walls covered in ecru velvet and gauzy silk.
All of the design choices made in the renovation of the Hermes store is thanks to the Paris-based agency RDAI under the artistic direction of Denis Montel – totally transforming the 670 square meters of space into the perfect platform for the brand to demonstrate the variety of its 16 divisions.
Aloft at Hermes – Artist Dawn Ng
As one of the Fondation d'entreprise Hermes' five art spaces around the world, Aloft is the perfect place for contemporary artists to test out the full scope of their expressive abilities and bring their sublime visions to life. The first work to be exhibited in this new space is an installation by local artist Dawn Ng – entitled How to Disappear into a Rainbow. The exhibit will run from 20 May to 14 August with free admission.
Huge pastel blocks and mirror panels are juxtaposed into one another to create the sensation of a floating world of color – a mix between the purity and the hues as well as the emerging of the reflective image. The inspiration comes from the work of abstract artist Yves Klein, who believed that colors are portals and can transport viewers from one realm to the next.
Each year, two artists will be invited to interpret an annual exhibition theme, with 'Horizon' being the theme for this year.
---