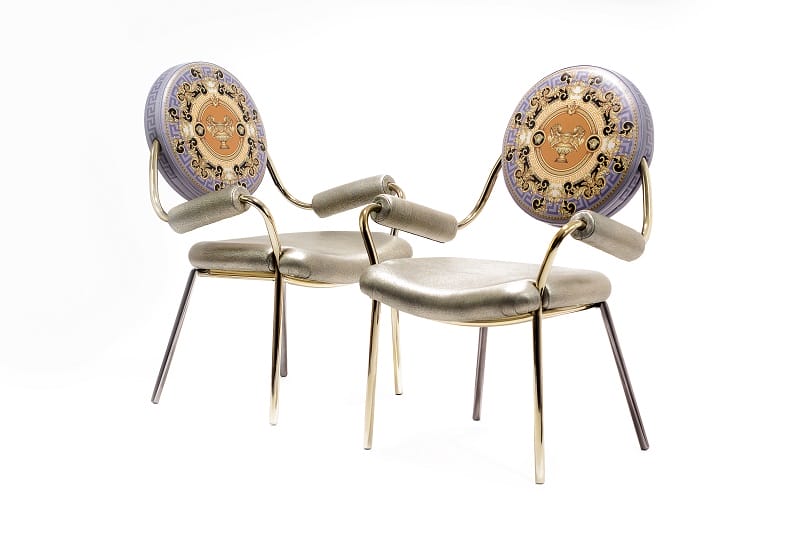 In the past two years alone, we've seen several large names in the fashion industry crossing the fine lines in design to show that they're not just capable of putting together beautifully crafted clothes, but also works that extend more strongly to interior design lifestyle pieces as well. Just last year, Alexander Wang produced at set of furniture for Poltrona Frau; Ralph Lauren opened his third restaurant, The Polo Bar, which is strongly reminiscent of the gentlemen clubs of old; and the Armani Group announced that development has begun on the luxurious Armani/Casa Residences in Miami, Florida.
These are but a few of the more recent examples involving some of the bigger names in the industry. Meanwhile, Versace's Home collection isn't exactly a new development. Starting out with a collection of textiles for home interiors, the line was first unveiled in 1992, and soon after, it expanded to furniture designs. Some of its latest offerings were displayed fairly recently at last year's edition of Salone del Mobile in Milan. The pieces were all sleek, unabashedly stylish, and carrying design cues and graphic prints that are signature to Versace.
This year, the Versace Group has decided to bring this arm of the company back to the source, so to speak. "Versace Home has been part of Versace's DNA since the very beginning," says the brand's CEO Gian Giacomo Ferraris. "To bring it in-house is a natural step forward".
The results of this reunion include the La Coupe des Dieux chair (pictured) and the Palazzo Empire sofa. The latter is a dramatic piece that draws on the aesthetic and lines of the new Palazzo Empire women's bag and comes in soft blue leather upholstery.
Working closely with producers Cassina Contract of the Poltrona Frau Group for its Furniture and industry giant Nemo for lighting, Versace will now be taking on all aspects of the Home collection business, from the stages of creative design all the way to the sale and distribution of the products through authorized dealers, retail and franchised channels.
This article was originally published in Men's Folio Magazine April 2016
---