Mediacorp 987 DJ Joakim Gomez goes through the paces together with Longines and their next generation high-frequency dive watch, the Longines Ultra-Chron.
Ultra-Accuracy, Ultra-Resistance, and Ultra-Chronometry are the main attributes of the Longines Ultra-Chron. Which of these do you relate most to in your life?
I'm going to go with Ultra-Resistance. Over the last 16 years of being in this industry as an 18-year-old, it takes a certain kind of character to not be affected by naysayers. People, whether close to you or not, will sometimes try and bring you down. You got to build resilience and, in turn, resistance to keep moving forward. I might have been very broken if I only had half the resistance I did in my early years in the industry.
View this post on Instagram
The Longines Ultra-Chron is Longines' next-generation dive watch designed to handle whatever is thrown at it with ease. How much do you appreciate such a creation as someone who leads an active lifestyle?
I can always appreciate such an intricate thing of beauty that has been crafted with the fullest attention to detail. I resonate with that because as a presenter who deals with content day in and day out, I need to make sure I don't miss out on any bits of details for my audience. Such is the respect and love I have for my craft of hosting and radio.
Longines is a pioneer of accuracy in watchmaking with more than 100 years of expertise in the field of high-frequency watches. How important is timekeeping accuracy to you?
Being a leisure competitive runner, timings are important to me. Accurate time measurement is a must. Even the slightest second off makes a huge difference to my morale. I pride myself in always being early, so here's to having this as a bonus to have this habit stay with me.
As Longines celebrates 190 years of watchmaking excellence this year, the Swiss manufacture released the Longines Ultra-Chron, their next-generation high-frequency dive watch. The Longines Ultra-Chron aims to push the boundaries of time keeping, and its namesake combines the ultra- prefix with the chronometer. Their latest foray into high-frequency watchmaking is a renewed commitment to timekeeping accuracy and precision that stretches close to two centuries.
Chronometers are watches that are the gold standard of accuracy and were first developed in the late 1700s. Since then, they have played a significant role in modern-day played a significant role in modern-day time keeping and continue influencing chronometric developments and innovations today. In 1961, a high-frequency Longines chronometer was awarded first place in the Observatory of Neuchâtel chronometer competition which paved the way for the birth of the Longines Ultra-Chron. The Longines Ultra-Chron is not an entirely new creation, as it came to the fore in 1968 in the form of the Longines Ultra-Chron Diver. Decades later, the Swiss manufacture is reviving the Longines Ultra-Chron as a modern-day sports watch, befitting its prefix as a next-generation ultra-chronometer.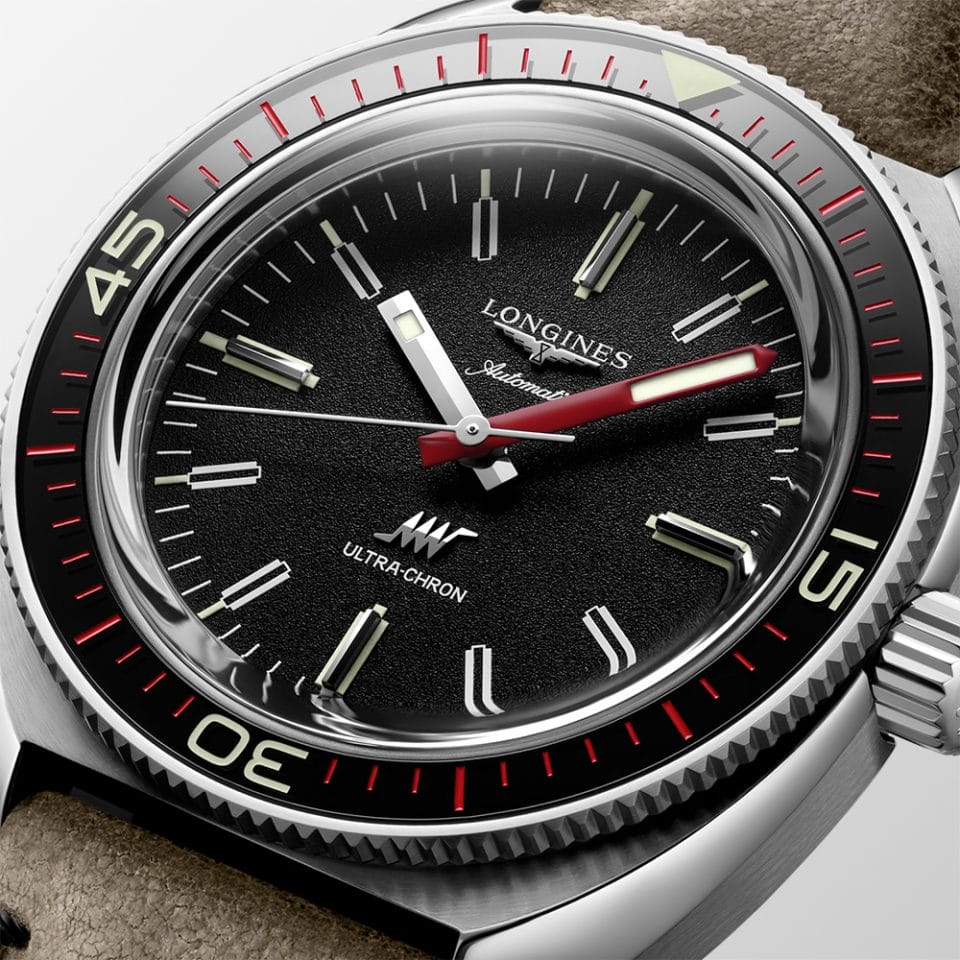 At first glance, the Longines Ultra-Chron shares similar aesthetic and specification codes with its vintage predecessor but hides subtle yet significant upgrades. Its cushion-shaped stainless steel case is instantly recognisable amongst others and is fitted with a sapphire dive bezel — a departure from conventional aluminium or ceramic inserts. Water resistance is rated to 300m, as one expects from a dive watch, yet its relevance extends beyond the sea as it is just as viable for land adventures. A predominantly black textured dial features a rhodium-plated hour hand and a striking red minute hand set against a white minute track with alternating Super-Lumi Nova batons and rhodium-plated appliques for legibility. The original Ultra-Chron logo proudly sits at the bottom of the dial as an ode to the amped-up calibre.
The Longines calibre L836.6 powering the Longines Ultra-Chron is a culmination of over 100 years of expertise in high-frequency watches. Such watches are categorised by their balance spring operating at 5 hertz (36000 vibrations per hour) compared to normal watches that run between 2.5 to 4 hertz (18000 to 28800 vibrations per hour) for increased accuracy. A higher frequency allows variances and deviations to be negated more effectively, allowing a watch to be more accurate. A mono crystalline silicon balance-spring prized for its structural stability against deformation, thermal fluctuations and magnetic interference ensures the calibre operates at peak performance. These are confirmed by the chronometer certification awarded by the Geneva independent testing laboratory TIMELAB, which subjects the Longines Ultra-Chron to a 15-day test period ensuring it meets the strict precision criteria under ISO 3159:2009 standards.
This story of Joakim Gomez and the Longines Ultra-Chron first appeared in our Men's Folio September 2022. Click here to read it!
Photography, Videography & Editing Jaya Khidir
Producer Asaph Low
Photography & Videography Assistant Justin Neo
Hair & Makeup Benji Oo
---
RELATED ARTICLES