After trailblazing the path for the booming industry we now know as "K-pop", we check in with actor, singer, host and member of 2PM Nichkhun on life before and beyond the fame and fanfare, as well as his latest plans to scale new heights as an artist and human.
Hello Nichkhun! How have you been lately?
I've been good and happy balancing between work and quality time with my family and loved ones.
A very belated congratulations on 2PM's comeback! What was the preparation for the album like? It must have brought up so many fond memories from the past, having all those rehearsals and recording for music shows.
After almost five years of waiting for all the members to finish their military service, it was like a dream come true for me to be able to drop a comeback album together. We had so much fun preparing for it and promoting it. It felt like we were never apart at all.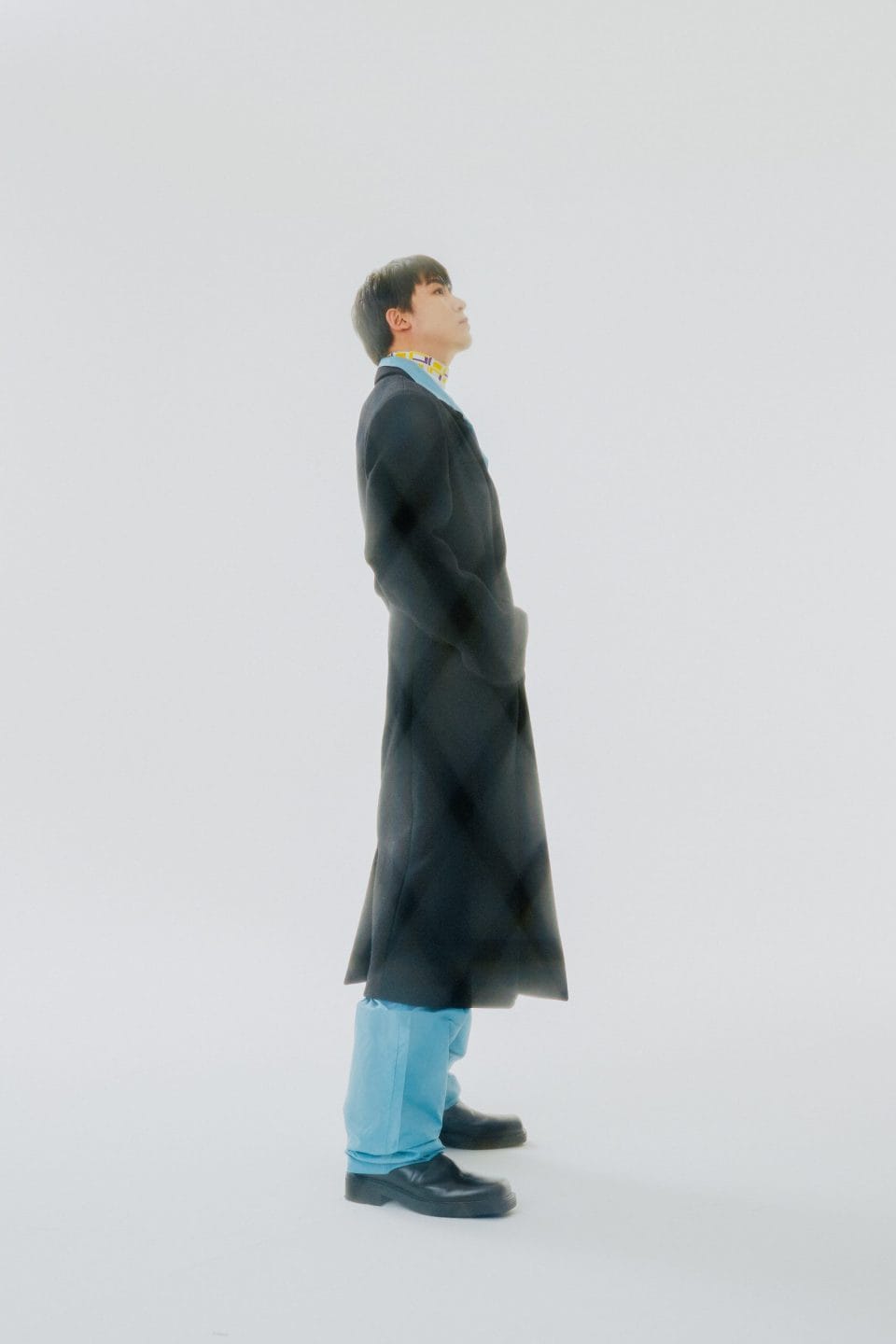 Nichkhun is wearing a Prada wool coat, nylon-blend top, wool turtleneck sweater, nylon-blend pants and leather boots.
How has it been pursuing your newfound passion for acting?
I've always been interested in acting, but while we were busy with 2PM's activities, I wanted to focus more on the group's work. So naturally, I pursue my acting career when I have time off from working on 2PM albums.
Most of the members in the group are accomplished actors as well. Do you guys share tips amongst yourselves?
We respect each other's works so instead of sharing tips, we support each other.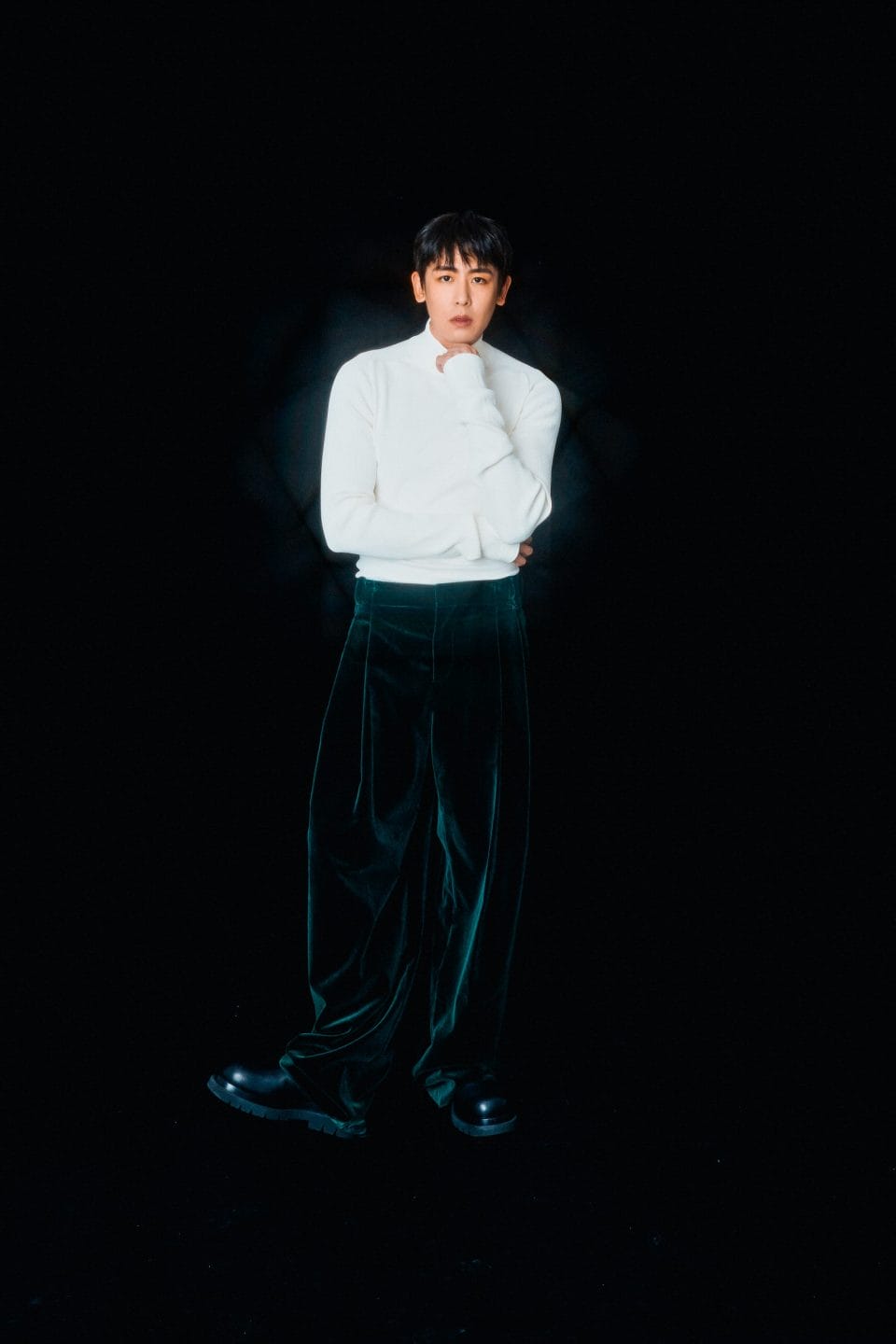 Nichkhun is wearing an Zegna Oasi cashmere turtleneck sweater, Louis Vuitton velvet wool pants, and Bottega Veneta leather boots.
What does it feel like to see the K-Wave explode worldwide? Did you ever see it coming?
Well, when I started, we didn't have the word "K-pop". Now it's become a huge part of the music industry worldwide, and I'm proud to be a part of it. I saw that the K-Wave would become something big after seeing Rain dominating the Thai market with his music and his drama Full House at that time but I never expected us to make it to the top. All I thought about was doing my best and making my family and the Thai people proud of me.
You diversified your portfolio with many gigs, not just singing and dancing — hosting and acting in different languages are now part of your resume. Is it challenging to manage interacting with so many kinds of audience profiles?
I can't say it is easy to shift between languages, traditions, and cultures but it is so exciting to interact and learn about new cultures. It expands my horizon of understanding myself and how to make myself a better person. It helps me understand how different people think and feel about certain things. Overall, it's just very refreshing to jump back and forth between different countries.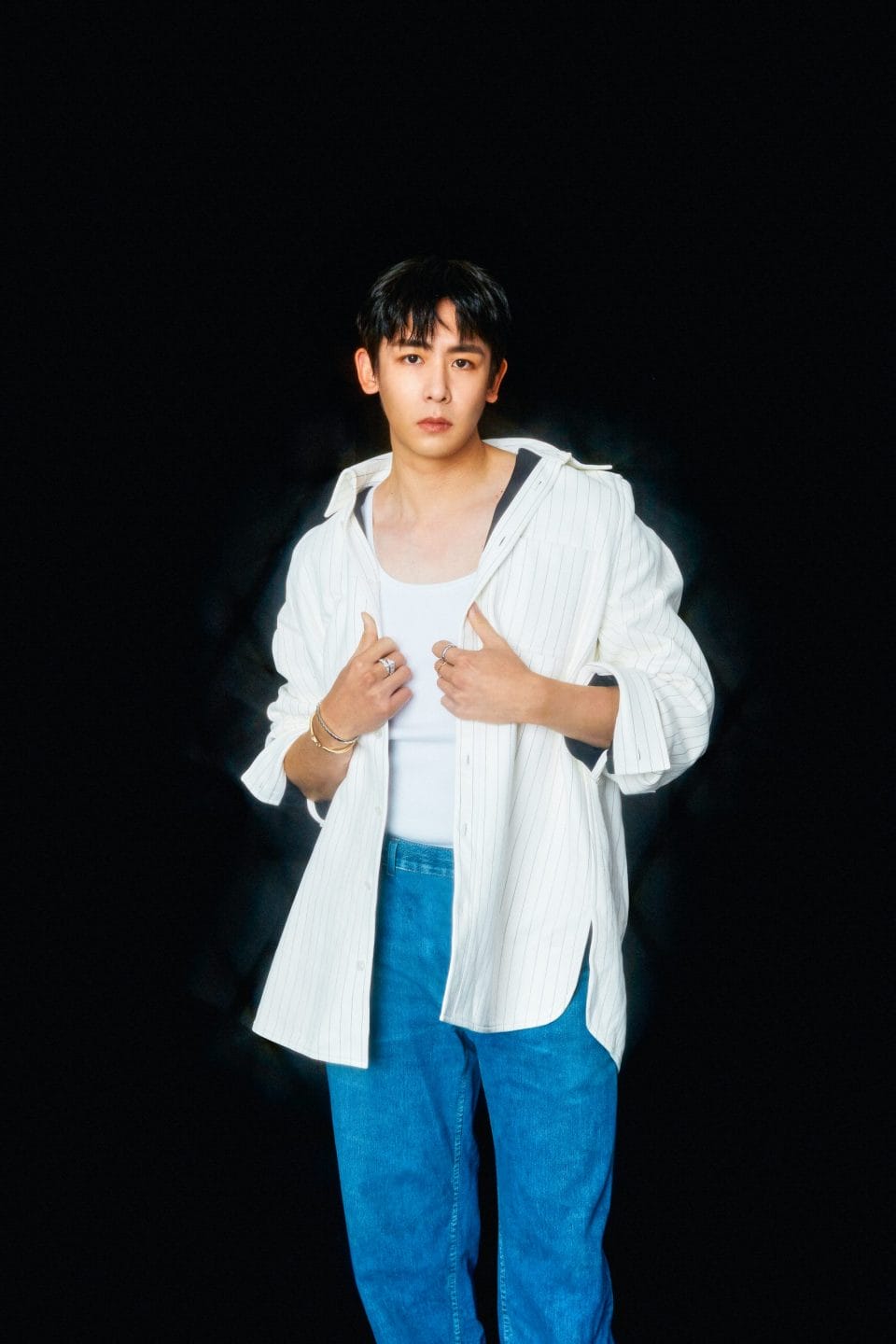 Nickhun is wearing a Bottega Veneta Leather shirt, cotton tanktop, leather pants and a Bvlgari Serpenti Viper white gold ring, Serpenti Viper gold ring, Serpenti Viper white gold one-coil ring in 18 kt, set with full pavé diamonds, Serpenti rose gold bangle with malachite, sapphires and pave diamonds, Serpenti Viper white gold bracelet.
Did you pick up any shortcuts or tricks to help you overcome those challenges?
Being in the moment, perhaps? And being respectful of the places and the cultures; the rest comes naturally. And always doing my best at everything I do.
Having worked with production teams from so many places, are there any stand-out similarities or differences?
I get a lot of questions like this. I always say no because I judge primarily on their work ethics, and every team I've worked with always wants to do their best.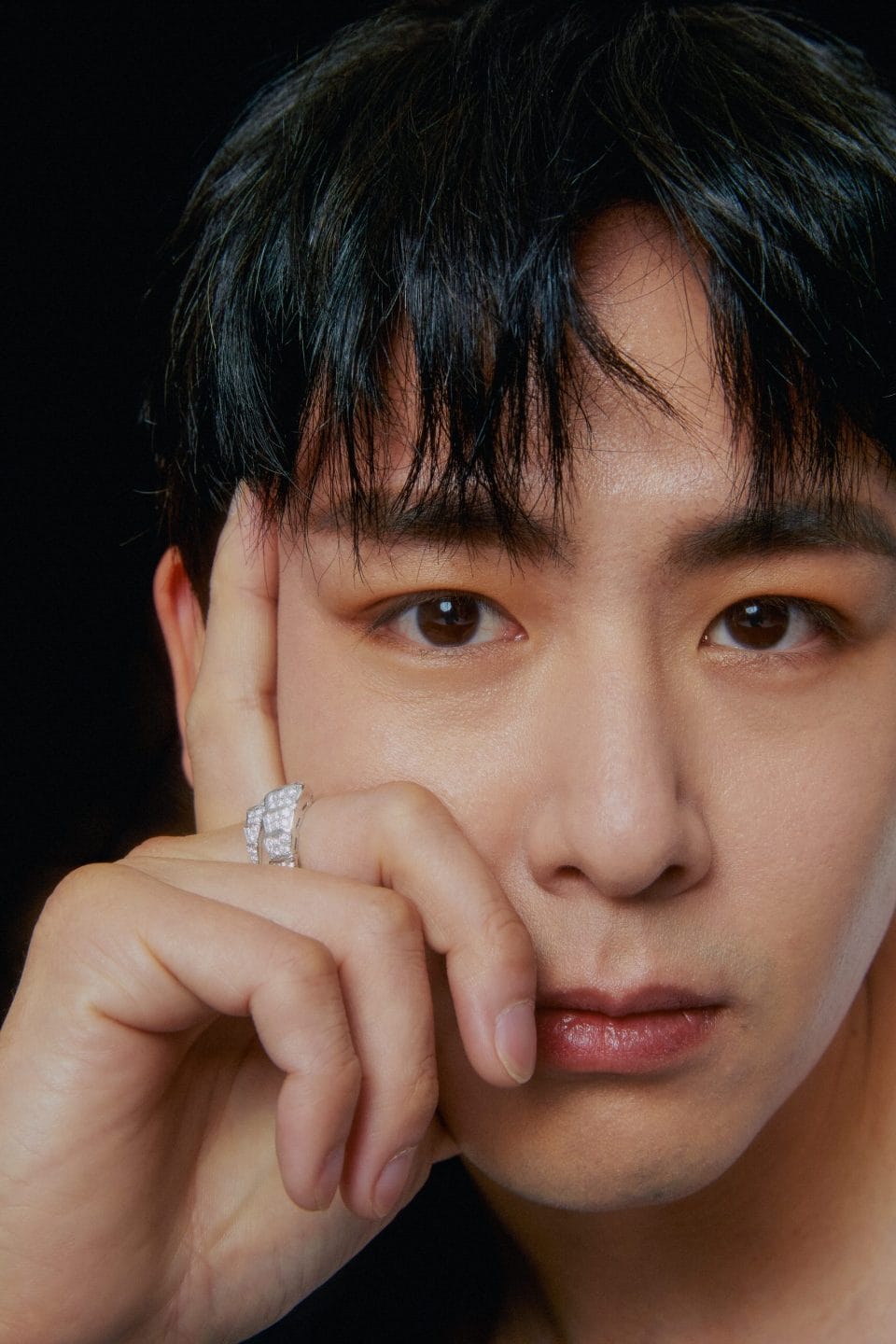 Nichkhun is wearing a Bvlgari Serpenti Viper white gold one-coil ring in 18 kt, set with full pavé diamonds.
As for your film projects, what made you try out the horror genre with Cracked?
I always want to challenge myself and not repeat the same or similar roles. When I first read the script, I wasn't sure I could do well but I thought it was something that would help me with my acting career no matter what.
And My Bubble Tea as well. What was the draw to this project?
My Bubble Tea was a good script, and the character I portrayed was interesting.
You also have an upcoming Viu drama coming out. Can you tell us more about that?
It's called Finding The Rainbow. It's a bit heavier than my previous Viu drama because it talks about several tragedies around the world since the 1990s and a love line that goes on for decades. It's challenging because I have to play this character from his late 20s to late 40s, and we filmed in both Thailand and New York City.
Before being in the entertainment industry, you lived in many places and grew up in both the East and West. How has that affected you as a person and artiste?
Well, speaking different languages helped me understand both Eastern and Western cultures. Now that my career takes me all over the world, I don't get homesick.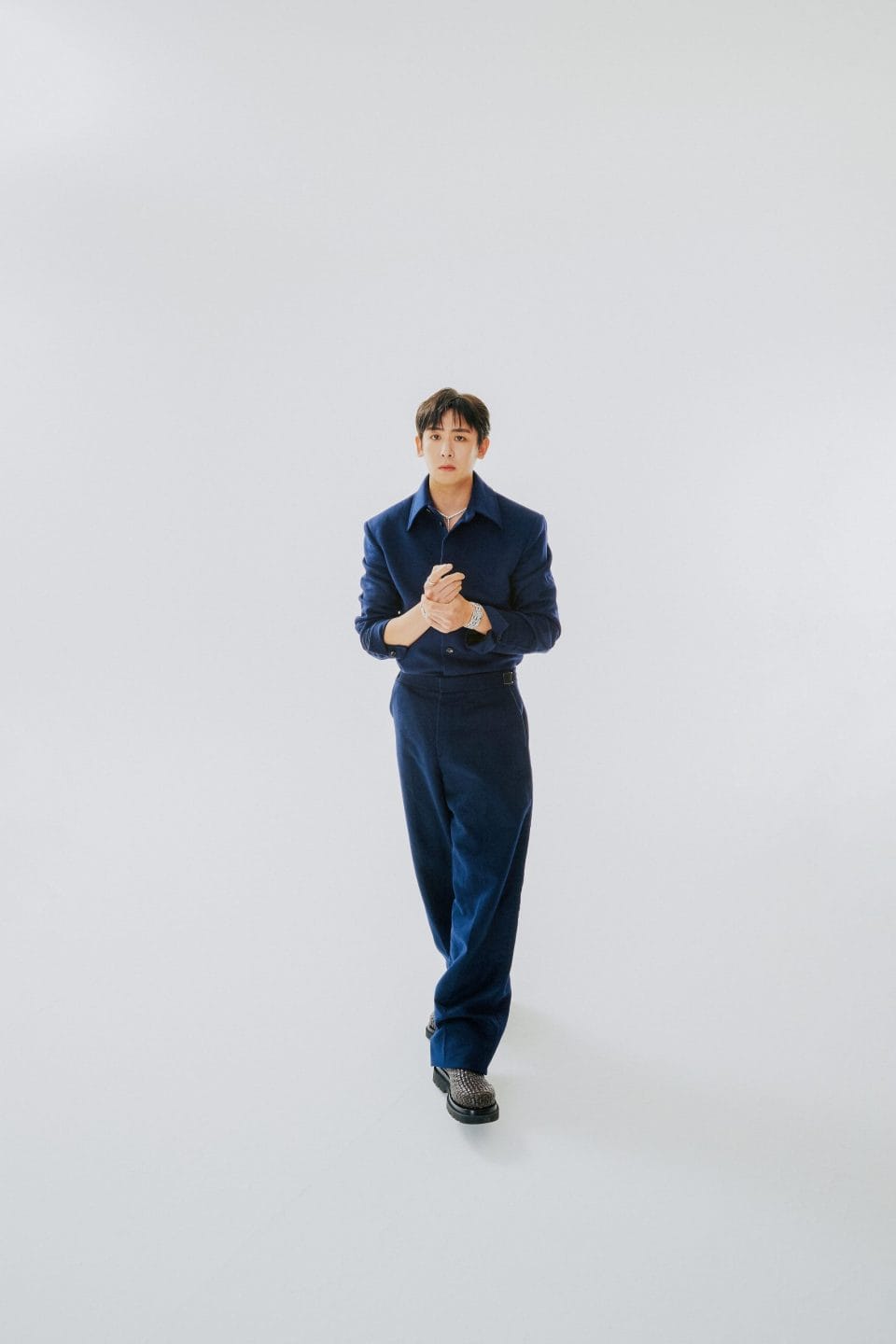 Nichkhun is wearing a Bottega Veneta wool shirt and pants, and a  Bvlgari Serpenti Viper white gold slim necklace in 18 kt withfull pavé diamonds, Serpenti Viper white gold wedding band in 18 kt,Serpenti white gold bangle with emeralds and full pavé, Serpenti Viper white gold bracelet.
What would you have chosen as a career had you not been in entertainment?
I would still work in the creative work industry, whether it is photography, music or art.
What is comfort food to you?
A good grilled chicken burrito, a hot dog, or Pad Krapow, a Thai dish.
Do you have any favourite songs to recommend?
"Easily" by Bruno Major, "San Francisco Street" by Sun Rai and the piano version of "Smile" by Johnny Stimson.
Finally, what other future projects are you preparing for? What is next for you?
I'm expecting the American movie, The Modelizer to hit theatres soon and am considering a couple projects right now. I'm at a place where I only want to do the things I would enjoy and spend the rest of the time on myself and with my family and loved ones.
Photography Park Jawook
Fashion Direction Izwan Abdullah
Sittings Editor Sungmin Choi
On-set Stylist Hwang Jin joo
Fashion Assistant Manfred Lu
Hair YANG HYOUNG SHIM(yangyangsalon)
Grooming KIM DOH-YEON (yangyangsalon)
Production Jeannie Ang
Once you're done with this story about Nichkhun, click here to catch up with our September 2022 issue or here to purchase the issue. We ship worldwide. 
---
RELATED ARTICLES