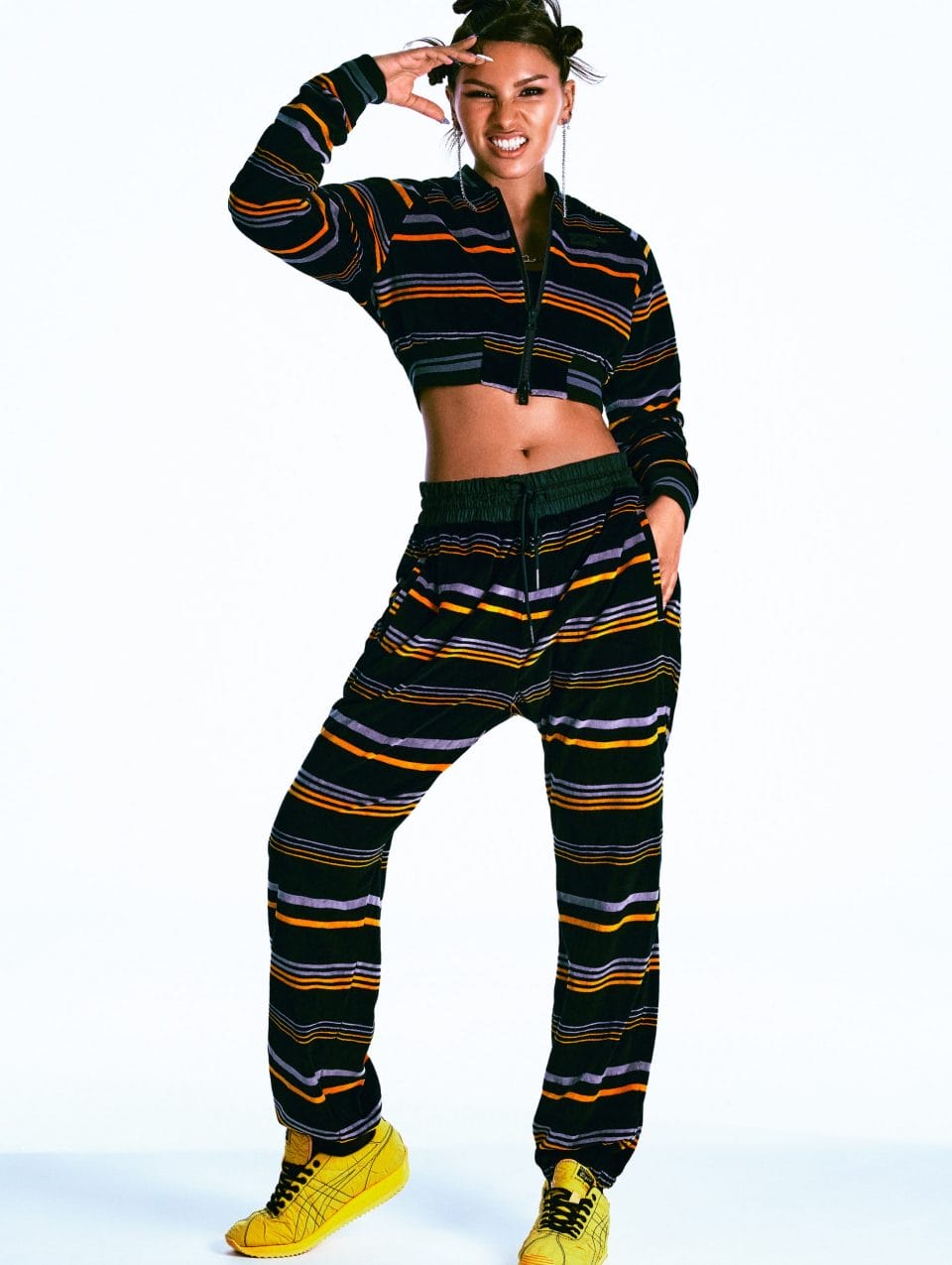 Tabitha Nauser is wearing an Onitsuka Tiger Wool-blend zip cropped jacket, wool-blend pants, MOAL 77 NIPPON MADE canvas sneakers; Stylist's own camisole, crystal earrings; Tabitha's own metal earrings, metal necklace.
The Men's Folio August issue is traditionally focused on locals, as a vast majority of the magazine content curation shines the spotlight. Fronting the Men's Folio August '22 cover are Dharni, Tabitha Nauser, Glenn Yong, and Shye who share their connections with Singapore, and how that has shaped their identity and career.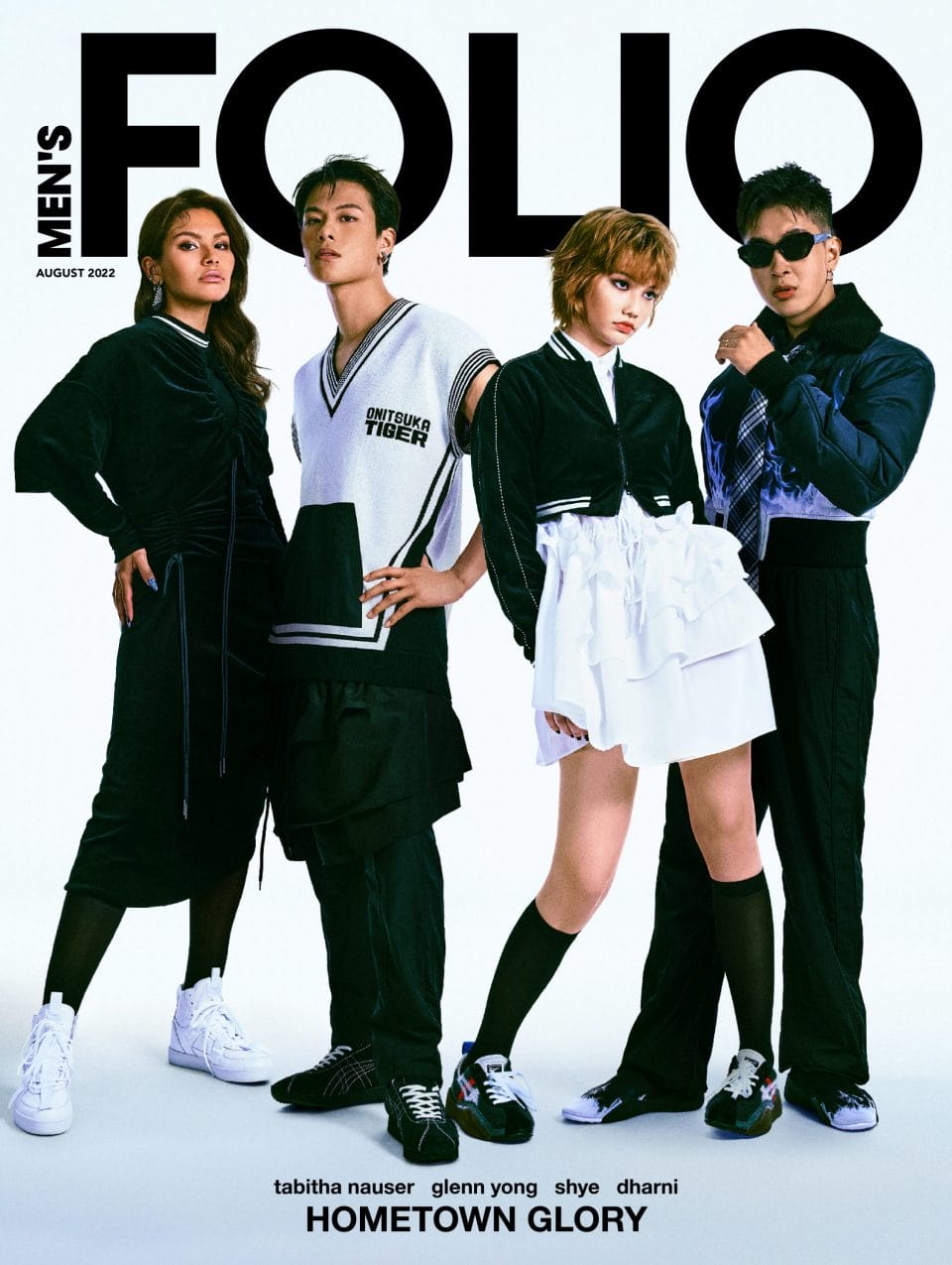 Click here to purchase our August '22 Hometown Glory issue featuring Tabitha Nauser, Glenn Yong, Shye, and Dharni. 
Here, Tabitha Nauser talks to us about homeliness, the fame game, and supporting her fellow artistes.
View this post on Instagram

Homeliness is anywhere that feels safe and feels comforting. I want to say home isn't a particular place. But then whenever I come back to Singapore, I go, "Yeah, this is home". I travel quite a bit and I refer to Singapore as home whenever I talk about it. I also believe that home is what you make of it; it doesn't matter where you are.
A lot of my favourite memories growing up were going over to my grandparent's place because my family is very close and tight-knit. We would see either my grandparents, aunts, or cousins at least two or three times a week. Sunday was the day everyone would come down in the afternoon and then have dinner. Both my grandparents have passed now so it's not as common that everyone meets. Also, everyone's older, we've got jobs and our own families.
So that's still one of my favourite memories of growing up — just being around family and around really great food because everybody in my family can cook very well.
View this post on Instagram

I've realised the older I've gotten, maybe there are certain things I shouldn't be doing as much like taking for granted the fact that I can have a roof over my head or I'm able to provide food for myself and my four animals [laughs]. I always tell myself I shouldn't be complaining as much, I'll be like, "you have so many things to be happy about, why are you complaining about small little things?" But at the same time it makes us Singaporean — everybody shares this thing. I'm not going to lie, if I see a queue I feel inclined to know what's that about and stand in it and figure out what's going on.
It's these small things that connect all Singaporeans in a weird way and it's nice to connect like that, especially if you're outside of Singapore for long periods. It's nice, it reminds you of home.
View this post on Instagram

I think about that quite a bit, and because of how badly I wanted to prove myself that I could work in this field as an actual job. My parents were very supportive but up to a point. When I left school, they said "Okay, it was fun. We supported you with the music stuff but you're an adult now, you need to go get a job." There was something in me that went, "No, I'll show you I can do this."
I feel even if I hadn't done Singapore Idol, I still strongly believe I would be either in music or entertainment and somehow still end up here, maybe not in the same way. I do believe this would still be my job in some way or other.
View this post on Instagram

I dealt with fame horribly during my younger days. It was so sudden, so much happened overnight and it was overwhelming. I'm naturally quite introverted and it takes a lot for me to be out there and socialise. Even now, I still find it hard sometimes.
I had to understand that if I wanted to be in this line of work, this was what was going to happen anyway. The older I've gotten, the better I've managed it and I feel I have to dial up Tabitha to 20 out of 10. Because otherwise, I will be to myself, and that doesn't help, especially when trying to get into the industry during the early stages. I needed to put myself out there.
But I think how that's changed me now as a person — I've got thick skin like nobody's business.
View this post on Instagram

I don't take criticism and praise well at all and it's something I've been working on. I think as artistes, we are so invested personally and put so much of ourselves into it that if somebody says something, it really feels like they're attacking us as a person. I don't think anyone takes criticism well but I've been learning to listen to constructive criticism from people that have my back and want the best for me because they see you in a way that you don't see yourself.
I think it's important to be able to look at that and say "Okay, I need to work on this". It's a whole other thing with praise. I get really awkward and rather not talk about it — I don't know why but it's also something I'm working on.
I think it depends on what you want to get out of it. It's okay to take a step back and say, "this is a little bit too much for me, I need a break", there's nothing wrong with that. Try to find the right people that help you enjoy the process. Back then I didn't really have any friends in the industry, it was just me and my parents at that time. If you can find people that can help you navigate and find the joy in it, then it's great because it literally doesn't feel like work.
It's like waking up and doing what you love every single day, and I wouldn't trade it for the world.
View this post on Instagram

I think making sure our local talents have the recognition and also the support, that's the most important thing. They need the support to be able to get to that point, and it starts from here, it starts from home. A lot of the time we've forgotten or overlooked the people we have here because there are so much mainstream media from the US or UK. We've got such great talent here, and I think if people knew that — I think they don't have enough chances to see them — but if they could and knew of these talents, there would be so much more support.
I feel that's what's needed — the artistes here need just that little bit of lift from our own, and I think then, international recognition will come. It really needs to start from here first, look at people like JJ Lin or Stefanie Sun, it all started from here. They had such great support. They were seen almost everywhere, and then bam! Now, look at them, they're like icons, and I think it can be done.
It can be done. We just need more avenues where artists feel like they can be seen.
Photography Zantz Han
Styling Izwan Abdullah
Grooming Eric Tan / Palette.Inc using M.A.C Cosmetics
Hair Den Ng / PREP LUXE
Photography Assistant Dennis Er
Styling Assistant Manfred Lu
This story about Tabitha Nauser first appeared in our August '22 Hometown Glory issue. 
---
RELATED ARTICLES