Whoever said beachwear had to be for the beach? The poolside is just as good, especially when coupled with an extraordinary view and warm sunshine. These pools offer the best part of being at the beach — suntanning and showing off your magnificent bod — while offering a scenic view or beautiful environment. They are the urban options that sun-lovers can keep in mind for summer.
If you're reluctant to let go of feeling warm sand between your toes, Hard Rock Hotel at Resorts World Sentosa retains that bit of detail by giving you a pseudo beach to soak in the sun. Perch on a stretchy beach chair and embrace the great vitamin D — there ain't no turning back once you've laid down for an afternoon snooze.
One can find poolside solace on the 25th level of Andaz Singapore, overlooking Marina Bay and other beautiful Singaporean attractions. To further elevate the tranquility of your evening, grab a quiet drink at Mr Stork on the 39th floor for some peace and romance.
The Westin Singapore may be lesser known, but it is not short of the things you'd love about an infinity pool, such as soaking in the sun and experiencing a luxurious environment. Overlooking the Marina Bay Financial district, one could peer over the edge and have a laugh at those poor saps stuck at work.
The Fullerton Hotel's infinity pool is certainly no beach, but the surrounding lush greenery and signature cocktails put you right in a beach-y mood. The colonial vibe is a mini throwback to British-rule and a reminder that Singapore has come a long way, which leaves you on the beach chair thinking, "Look ma, we made it."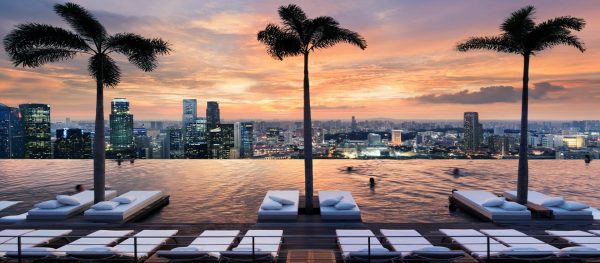 The world's longest elevated pool has attained worldwide recognition, to the point where it became a cliché. Of course, there is a reason for the acclaim. Perched 55 stories high, the Infinity Pool at Marina Bay Sands provides an unparalleled view of everything the light touches. With exquisite poolside dining and relaxing beach vibes, what more can you say other than "simply magnificent". 
---
Luxify listings
Powered by