Here's a roundup of our favourite fashion ad campaigns this season.
1) Calvin Klein
A curious play with scale through an otherworldly lens, Calvin Klein's Fall 2018 Campaign titled 'Landscapes' is one that's meant to challenge. The series of images bear allusions to the 1960s Space Race and modern day technology advancements, nudging viewers to consider how new and old worlds clash. With creative powerhouses like Willy Vanderperre and Olivier Rizzo in on this, you can expect the campaign to be nothing short of captivating.
2) Raf Simons
The vivid floral arrangements set against a plain black background mesmerises, but with deep unease. A closer look reveals that the colourful flowers are in fact wilting, and surrounded by half-peeled oranges and various drug paraphernalia. This is complemented by the hostile lighting of the moody close-up shots which shrouds certain features of the model but showcases the collection's knitwear. Colourful latex gloves that peep into frame further augments the underbelly of discomfort, making the images all the more  beguiling. 
3) Gucci
Opulence, obsession, oddball – if we had to describe Gucci's campaign in three words. Inspired by quirky personalities who fervently seek out art and artefacts, the series of images provide an intimate peek into worlds where passion reigns supreme. It is difficult to not find yourself spellbound by the elements of excess and ardour.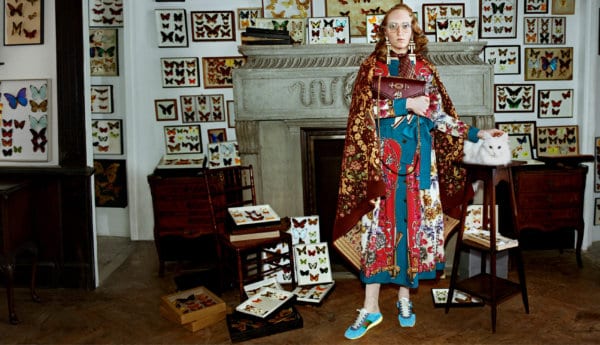 4) Versace
This is when your phone's zoom-in feature really comes in handy. Featuring a cast of fifty-four models shot side by side, Versace's Fall/Winter'18 campaign is the longest ever advertising image. The medley of personalities, from supermodels like Gigi Hadid to budding talent like Shanelle Nyasiase, screams diversity and inclusivity – something the House has always strived to embody.
5) Givenchy
Clare Waight Keller doesn't seem to be lost even in the thrill of it all. Celebrating the spontaneity, edginess and seduction of the night, Givenchy's Night Noir video campaign is a fresh take on the urban couple that is brimming with Studio 54 vibes.
6) Fendi
Fendi's Fall/Winter'18 campaign is taking "travelling in style" to a whole new level. Decked in luscious fleece and decadent leather, the sharp models hustling around the made-up Fendi airport seriously makes you hope this is what your next transfer will look like.
7) Prada
Set in the make-believe world of 'Prada Warehouse', Prada's Fall/Winter'18 Menswear Advertising Campaign is an investigation of uniformity and individuality. Incorporating Prada's emblematic nylon, the material never ceases to provide a futuristic vibe for notions like illusion and reality to be considered.
8) Dsquared2
Donning big hair, fitted denim and yoked shirts, these Western belles have just checked into a motel room and are ready to party. The juxtaposition between the cheap setting and the elevated Western garb makes the series incredibly magnetic; so much so that you almost yearn to know how the story might unfold.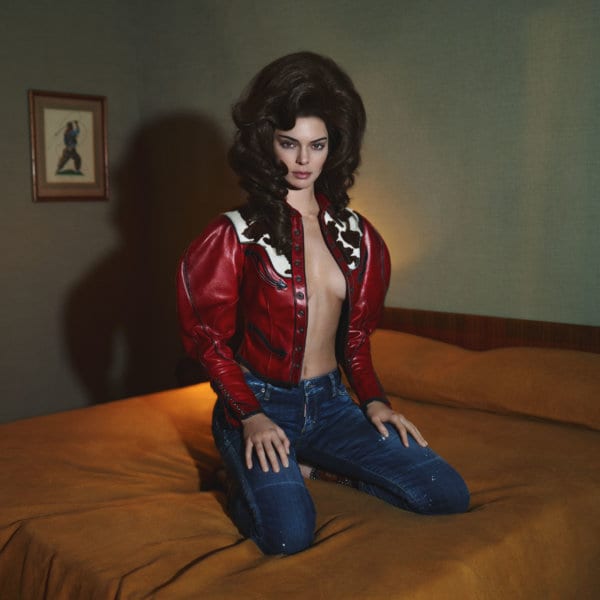 9) Loewe
Set in an old-style elevator with cage-style doors, Loewe's Fall/Winter'18 campaign images are dominated by the lift's scarlet interior. But that is not the only thing that draws you in. The top-down series of images have models like Elise Crombez gazing intently, almost unforgivingly into the camera, making it hard to turn away.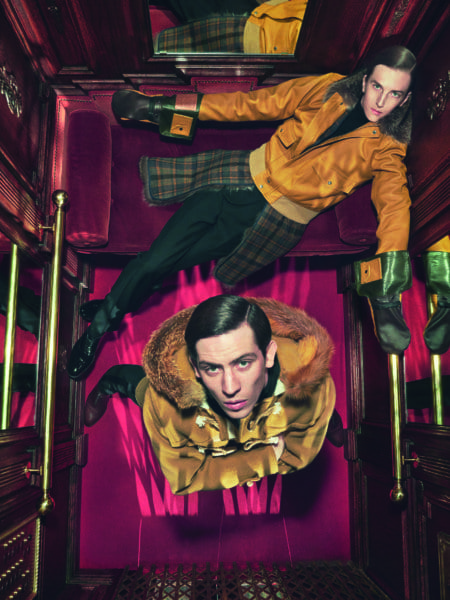 10) Dior
There is something sexy about the way Dior Men Fall/Winter'18 is dabbling with the notion of contrast. Featuring two generations of models demarcated by black and white, and coloured photographs, the tailored yet street-influenced collection is symbolic of the ever-changing man. 
Words by Akashdeep Bal and Valerie Wong 
---
Luxify listings
Powered by