The 8th Edition of Art Stage Singapore took place from 25 to 28 January 2018. Its theme of 'Intersections' was a full-fledged force in establishing the fair's identity as the flagship art fair for Contemporary Southeast Asian Art. 
A strong highlight of the Intersection themes was the fair's showing of Thai artists, the country of focus selected by Art Stage Singapore, to tie national art scenes together as well as to propel Thai Art to an international platform. This excitement is evident in Richard Koh Fine Art's stellar display of Natee Utarit's works, and as long-time supporters of Utarit's work since 2014. Their outing at Art Stage with the debut of Utarit's 'Untitled Poems of Theodore Rousseau' was not just a sight for eyes due to its impressive scale, but also being a comprehensible introduction to the artist and his significance in the Thai Art scene.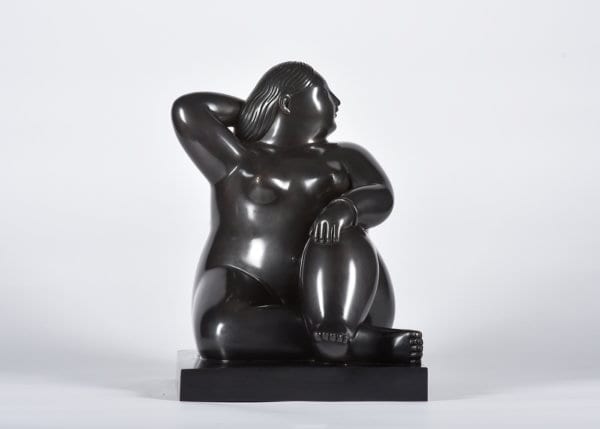 The fair also presented many masterpieces, from the well curated space dedicated to a wide collection of Alexander Calder's works, to celebrated artist Fernando Botero's immediately recognisable works such as  'Donna Seduta Che Guarda Fianco, Ed 2/6'. The Tiroche DeLeon collection, the first internationally recognized private collection and art fund to collaborate with Art Stage, was also received particularly well, with Manit Sriwanichipoom's 'Pink Men vs. Pink Buddha' being a crowd favourite.
Several prominent Singaporean participants in the fair dedicated to promoting Southeast Asian Art such as international gallery Sundaram Tagore Gallery, Singaporean gallery Gajah Gallery and art agency Art Agenda, S.E.A. had successful showings at the fair. 
Whilst both Southeast Asian Forum exhibits were strong representations of the region, and the displayed work itself inoffensive, the need for persuasive curatorial insight explaining its relevance to the art fair was found lacking; inevitably becoming more confusing than perturbing for art enthusiasts and layman alike. Their inclusion in the fair develops the discourse on the future form of art fairs in Singapore, which was met with some skepticism from fair visitors. However, despite the possible dismissal of less conventional artwork due to the aforementioned exhibits, the work of clearly interdisciplinary artists was not sidelined. 
Other established art fairs, such as Art Basel, have consistently included specialised Film sections in their lineup, hence the showing of Chikako Yamashiro's winning short film 'Mud man'. Art Stage Singapore 2018 also saw particularly engaging live events, from the Forum series of talks by Fernando Botero Jr, Ole Scheeren and William Lim to the riveting live-painting performance by Miwa Komatsu, presented by Whitestone Gallery.
Art Stage Singapore reported a renewed commitment to nurturing the Singaporean audience through various educational aspects, drawing many local education institutions to attend the fair. UOB also returns as a main partner of the fair, also dominating a large portion of the fair's space with their UOB Art Space. The section boasted a large display of UOB Painting of Year awardees from Singapore, Malaysia and Thailand, demonstrating the bank's continual support of the arts regionally.
Yet, there is still more to be wanted in terms of an absence of the fair's partnerships with local art institutions, and one should hope to see a greater collateral impact on the concurrent Singapore Art Week and the general local public, beyond the confines of its home in the Marina Bay Sands Expo and Convention Centre. 
Adapted from Toby Wu
---
Luxify listings
Powered by