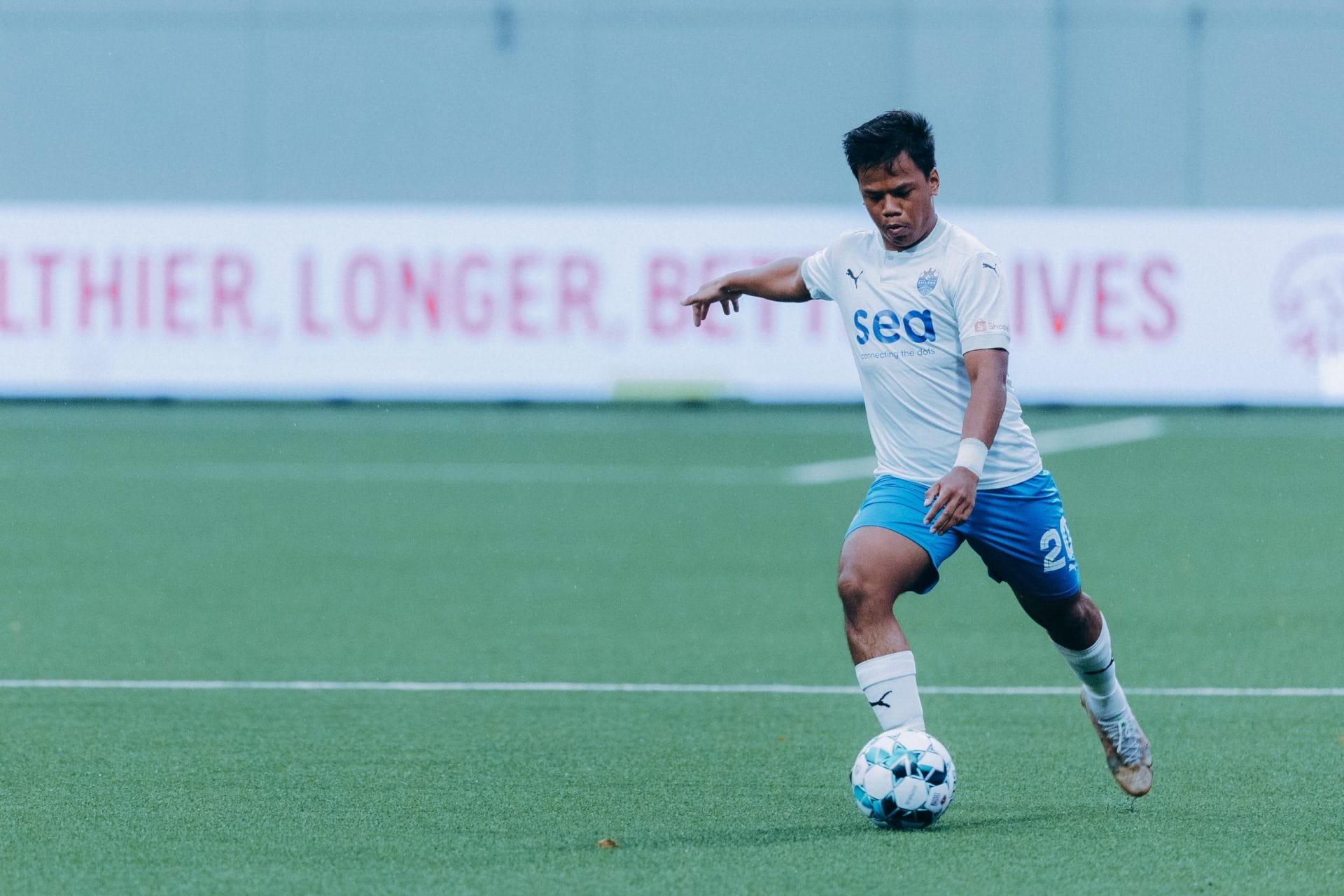 Nur Adam's — the defender For the Lion City Sailors Football Club — accolades reads like an Asian parents' dream especially if you realise that hey, he is only 20 years old. We could actually go on to talk about it: 91 defensive challenges won, clinching his first cap against Kyrgyzstan, being recognised as one of the best young talents in 2018 and most importantly, winning Young Play Of the Year 2021.
Instead, we're just going to let him do the work to explain himself: the wins, lows (hey, every athlete has them) and most importantly, his vision for the year 2022.
Hi Nur Adam, please introduce yourself!

My name is Muhammad Nur Adam Bin Abdullah and I am 20 years old and a defender for Lion City Sailors Football Club. I am also currently a student at Republic Polytechnic / Singapore Sports School.
View this post on Instagram

By the way, congratulations on winning Young Player of the Year 2021, how did winning it make you feel? What do you think are the expectations of you by your fans in 2022 then?
It felt incredible to win it of course! As we all know winning this award is not easy because we have a lot of talented young players in the team who have performed well this season. It was one of my goals this year to win this award, but I was doubtful that I would be able to accomplish it at the end of the season.
View this post on Instagram

It'll be a new season soon and I believe the fans' expectations will be much higher than before because they'll be expecting me to play at a higher level. I don't feel the pressure though because all I care about is giving my best for the club and country. We all know that if we give it our best and leave it all on the field, the fans can see the effort that has been put in. And thankfully so far, they've been super supportive and I hope to keep meeting their expectations.
With over 24 matches in your career, can you perhaps let us know your favourite memory from one?

Being champions of the Singapore Premier League in 2021 was, without a doubt, my favourite moment as a team because it was such a unique experience for both us and myself. This was due to the fact that it had been a long time since a local team won the league and it was a special moment for me because it was my first season with the team. I was able to win the league with a group of talented and experienced players who I've watched play since I was a child.
Despite the loss against South Korea this year during our afc u22 qualifiers, I managed to score against the defending champions which was unexpected because I did it with my weaker foot and it was a wonderful goal. It was a memorable one as i was the only Singaporean u23 player to score against them and also, the only player to score during the group stage.
I mean it was bad result but at the same it was a learning experience for me as it was my first time facing against such a big footballing country with quality player. However, it gave me hope that one day the national team, the club and myself can compete at that level. So there are some positive things I took from that match.
View this post on Instagram

What's the prep work like for the Singapore Premier League 2022 as part of the Lion City Sailors Football Club? What have you learnt bout yourself while training for it in terms of strengths and weaknesses?
I'm currently working hard with the national squad for the AFF Suzuki Cup 2020 so that is my primary priority for the time being before returning to the Singapore Premier League in 2022.
For me — and not only the league but also the year 2022 — will be interesting because we are competing in the Asian Champions League as well. In the broad picture, I'm excited for the AFC Champions League with Lion City Sailors because it will be a completely different level of football than I've ever seen or played in my football career.
So, I'll be concentrating on improving myself so that I can compete at that level. I'm also very lucky to have experienced players guide me as well as receive coaching tips on how to improve on my weakenessess and be better than before.
View this post on Instagram

What's it like being a young soccer player then? Since you know, you're only 20! How do you think new-gen players like you differ from old-school players?
The difference between today and then would be the help offered to us new-gen players such as the support provided by the backroom staff who use sports science to improve our performance on the pitch and the attention to details like our diet as well.
That is the main difference for me.
View this post on Instagram

What's your warm-up routine before stepping onto the court? Is there a special routine you do?
To be honest, I don't think I have a unique routine. Listening to music has been really beneficial to me because it helps me to visualise my game, think about what I should do in the field, my movements and gets me hyped during my preparations. There is no specific genre because it all helps me.
Tajeli is the DJ in the locker room — he usually picks the music.

How do you think then, soccer, you and the Lion City Sailors Football Club will evolve in the next five years? Or even the 10.
The Lion City Sailors are currently on a unique journey never seen before in local football. I'm ecstatic to be a part of this and I'm convinced that if we continue to recruit top players in the country and overseas, I too will be able to learn from them and become a better player.
Lastly, out of curiosity, what's the #1 song on your Spotify this year?

Numb / Encore by JAY Z on repeat.
Once you're done with this story about Nur Adam of Lion City Sailors Football Club, click here to catch up with our December/January 2022 issue.
---